Google is no longer *just* a search engine; in this day and age, Google is a proper household brand name. If you're looking for the top Google apps, this post is for you.
Is there anyone in modern societies that don't use their products and services daily? Seems unlikely, especially with their recent expansion to mobile apps, and if some of their applications are genuinely useful, others are nothing short of game-changing.
If you're wondering exactly which are the most popular and exciting Google applications currently available, this article will show you all the details. Download these into your smartphone or tablet, and all your friends will have trouble keeping their chins from dropping in amazement!
Top 15 Google Apps Every Blogger Should Use in 2023
Whether you're using an Android or iOS device, Google Chrome is a must for you. Although there is a wide range of mobile browsers available, including Firefox, Opera, and so on but Chrome gives you a fast, easy-to-use, and secure web browsing experience.
It easily syncs all your bookmarks, saves all your passwords and you can load thousands of tabs at once without crashing. That's why most bloggers use the Google Chrome browser over other browsers.
Google Chrome browser gives you access to personalized news articles (along with trending searches in your country), quick links to your favorite sites, downloads and also provides you Google Translate built-in so you can translate to English or your preferred language when you're browsing information apart from your preferred language.
What are the benefits of using Chrome?
Here are a few solid reasons why most people use Chrome over other browsers.
It is one of the high-speed browsers and it loads and displays pages very quickly
Safe and secure
The biggest benefit is you can easily integrate with a ton of Google apps
It is a cross-platform browser that can run across multiple cross-browsers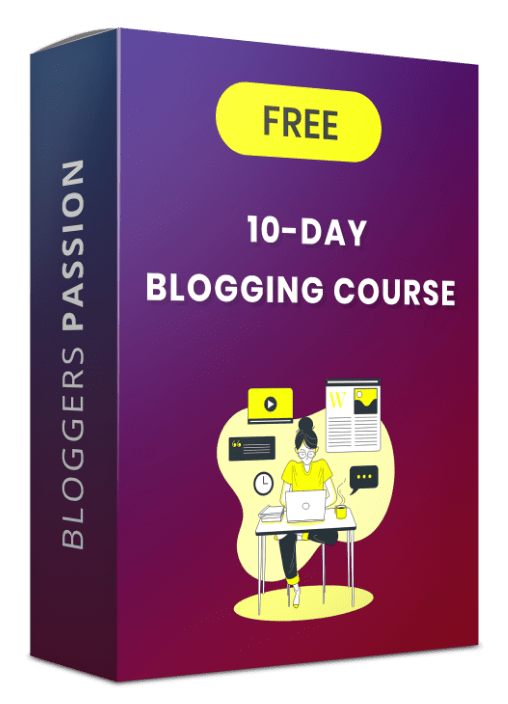 Learn How to Start Your OWN BLOG & Start Making Money (WORTH $197)
If you're a blogger who deals with a lot of files along with documents, you must install Google Drive which is free to use and you can access your files from any device including mobile or tablet.
What are the benefits of using Google Drive?
Here are a few things you can do with Google Drive;
Store all your files (images, videos, documents and so on) and access them from anywhere safely
You can easily search for files by name and content
You can easily share files and folders with others.
You can quickly view your content from any device be it laptop, PC or tablet or mobile
You can also set access levels for who can view, comment or edit so your data is always safe
---
Google Wallet (formerly Google Pay) is one of the popular digital wallet platforms developed by Google. 50+ millions of people use Google Pay because it's encrypted and secured by Google.
You can use Google Wallet to send money to friends, pay bills, shop online and it is one of the most essential Google apps to use in 2023.
What are the benefits of using Google Wallet?
Here are some of the benefits of using it;
All of your transactions are made directly to and from your bank account
Your money is not stored in any wallet, hence it is always safe
You can do anything you want such as booking a trip, grabbing a meal, and paying bills (without your wallet)
Instant transfer of money can be carried out through the app
Free money transfers and the list goes on
Whether you're working online, running a business, or want to communicate with others, you need one thing: email. Gmail is undoubtedly the king of all apps which is used by millions of people to send and receive emails.
What are the benefits of using Gmail?
Here are some of the benefits of using this top Google app Gmail;
It gives you amazing spam filter to prevent spam emails arriving into your inbox
It gives you literally unlimited email storage
It's the one email service which is used by billions of people worldwide (currently there are over 1.4 billion users are using GMail)
Google Keep is a note-taking service developed by Google and launched way back in 2013 to help people online to take notes.
What are the benefits of using Google Keep?
Here's a list of notable features of Google Keep;
You can take notes instantly and the data is saved automatically
You can use a voice memo on the go and have it automatically transcribed in Google Keep
You can also share ideas with others using Google Keep
You can easily organize your notes by adding labels to them as labels are quickly accessible in the main menu of Google Keep
6. Google Maps
If only Magellan had an Android device with Google Maps, back in the day… who knows how the world would have shaped up? Simply put, Google Maps takes advantage of the GPS in your Android to provide you with state-of-the-art charting capabilities.
You can go to your current whereabouts with a single tap, and from there… the road is yours for trekking! You can request directions anywhere, you get a choice between different types of maps, and more importantly… you'll never ever have to get lost (at least not until the battery on your device is depleted).
What are the benefits of using Google Maps?
Here are some of the benefits of using Google Maps;
It provides you turn-by-turn navigation, street view, and more
You can check current traffic levels of any location you want to drive (soo out can avoid heavy-traffic routes)
You can download the route maps so they can be viewed even when you're offline
It provides you accurate most of the times (better than any other maps) and it's completely free to use
7. Google Earth
In the same measure, as Google Maps is useful for practical exploring, Google Earth is an awe-inspiring tool for dreaming of new destinations. You can use it to peek at the satellite view from anywhere in the world, zooming in so close that you can almost see your neighbor snoozing in the backyard.
One of the greatest "wow" moments for newcomers into the Android world-first happen when they click the "find y location" button from a full view of the God's green orb we call Earth. Watch the software take you plummeting from outer space to your country, to your city, to your neighborhood, and up to above from your Home. So this is what feels like to be a part of the future!
What are the benefits of using Google Earth?
Here are some of the benefits of using Google Earth;
It renders a 3D representation of Earth-based primarily on satellite imagery so you can look at buildings, cities, attractions in a 3D view.
Also offers you creation tools that help you draw on the map, add your photos and videos
Free to use
Up-to-date maps and data
8. Google Docs
If you're still carrying thumb drives to update your working files on the go, you're doing it all wrong.
In this future present of ours, online backups are the way to go: just keep your files stored online, and you'll be able to access them anywhere (unless you're out in the open desert, away from wi-fi signals). Regarding the online storage of documents, Google Docs is your all-in-one toolkit.
What are the benefits of using Google Docs?
Here's a list of benefits you'll get;
You can edit your word documents, spreadsheets and presentations on-line… and that's only the tip of the iceberg!
You can share your documents with anyone you choose, and if you're so inclined, you can permit collaborative editing and work on a document with multiple users, irrespective of their location
It's free to use for all those who have a Google account
Works offline too (so your data is never lost)
9. Google Lens
Soon, your Android will become a full-blown robotic assistant, ready and willing to attend to all your research needs and demands. Oh, wait… that time has already come, and this app is another good example of why. Simply put, Google Lens is a reverse image search… and what does it mean?
In practical terms, this app combines Google's sophisticated image recognition capabilities with a hint of Geo-tagging, to conjure something akin to magic: you can photograph a monument and it will present you with its name and bring up available information; you can shoot a billboard or poster and it will translate it for you. All in all, this amazing app will help you see the world through the eyes of Google!
What are the benefits of it?
Here are a few benefits of using Google Lens;
Google Lens lets you search for what you want see
Translate words you see
Identify and learn about landmarks, restaurants and more
And if you regularly find yourself staring at the night sky in contemplation, this will most certainly come in handy. Google Sky is the outer space counterpart to Google Maps, and you can use it to learn the name of stars and constellations and see what the sky looked like on any given day in the last few hundred years.
But this is not merely an encyclopedia of the stars, mind you; it would be more accurately described as an intelligent window into the night sky. What does it mean? You can point your Android anywhere and the software will use gyroscope sensor data to create a precise overlay detailing which starts you're pointing to. Try this application and you'll never quite look at the sky in the same way again.
What are the benefits of using Google Sky?
Here are some of the benefits of using it;
Google Sky is literally the space version of Google's Earth application where you can see space images
Use it to identify stars, planets, nebulae, and more
You can have a "street-view" of the universe, visiting planets, and more
It's free to use
11. Google Slides
Google Slides is a presentation tool developed by Google that helps you create online presentations for free. It is one of the best Google apps to use for online presentations.
It also offers a free Google Slides app that helps you create, edit and collaborate with others on presentations using your Android phone, iPhone device, or tablet.
What are the benefits of using Google Slides?
Here are some of the benefits of using Google Slides;
You can create presentations for free where you can add text, slides, images, and more to make your slides look appealing
It's free to use (all you need is a Google account)
Easy to collaborate and share your slides with others
Easy to access anywhere (from any device)
12. Google Sheets
Google Sheets is a spreadsheet program that lets you create online spreadsheets for free.
Using Google Sheets, you can create, edit, share and collaborate with colorful charts and graphs. If you're looking for a free and better alternative to MS Excel, you should definitely try this ultimate Google app.
What are the benefits of using it?
Here are some of the benefits of using it;
Completely free to use (all you need is a Google account)
Access from anywhere anytime
Create and format spreadsheets and collaborate with other people
13. Google Ads
Google Ads (formerly known as Google AdWords) is an online advertising platform developed by Google where you can show paid ads, product listings, or videos on Google search results.
These Google ads are also known as PPC (Pay Per Click) ads as you pay per each click that you generate from ads.
What are the benefits of using it?
Here are some of the benefits of using it;
Google ads help you quickly generate a ton of targeted traffic to your site, app, product, or online stores
You can target a specific audience from specific countries to target your audience
Google ads work faster than SEO and help you increase your brand awareness
14. Google Forms
Google Forms is a free survey administration software that's used to create online surveys for free. You can use Google Forms to create surveys, quizzes, or forms to collect data online.
What are the benefits of using it?
Here are some of the benefits of using it;
You can pick a variety of pre-made themes or you can create your own forms
It's completely free with a Google account and you can access it anywhere, anytime
You can use forms for surveys, quizzes, and questionnaires
You can create Google forms, share them from a link, or you can even embed them on your website
15. Google Meet
Google Meet is the video conferencing app provided by Google that lets you create and join high-quality video meetings.
With Google Meet, you can share your video, desktop, and presentations with others and it is one of the essential Google apps for those who want to conduct video meetings online.
What are the benefits of using it?
Here are some of the benefits of using it;
The best reason to use Google Meet is security as all the meetings are secure including audio and video streams
You can share your meeting with up to 100,000 viewers
It is simple, light, and effortless to use
It's incredible how far we've come in the past decade regarding technological developments, right? These apps can be used on a regular computer, although they're arguably much more impressive on a mobile device.
---
FAQs | Best Google Apps to Use in 2023
Here are a few questions you might want to refer to if you want to know more about using the top Google apps listed here.
What are the 3 must-have Google apps in 2023?
Here are the 3 essential Google apps everyone should use.
→ Gboard
→ Maps
→ Files Go
What's the #1 essential Google app for bloggers and writers?
Undoubtedly it's Google Docs as it allows you to create, edit and collaborate with others on documents from your Android phone or iOS device. You don't even need to worry about losing your work as everything is saved automatically as you type and it also gives you access to store your data offline so you won't lose anything!
What is G Suite?
G Suite is a collection of cloud computing, productivity, and collaboration tools which are developed by Google.
What are the main Google apps?
Here are some of the leading google apps.
→ Gmail
→ Calendar
→ Hangouts Chat
→ Hangouts Meet
→ Docs
→ Sheets
→ Forms
→ Slides
→ Keep
→ Drive
Browse more Blogging Resources:
Final thoughts on top Google apps for 2023
Although there are a ton of Google apps available, most of them are entirely free to use but help you a lot.
We highly recommend not skipping top apps like Calendar, Google Docs, Sheets, Google Drive, and Gmail if you're working online. These top apps help you work productively and smartly.
Let us know your favorite Google apps that you can't live without. Share them in the comments below.