Are you searching for the best Grammarly alternatives in 2023 for mistake-free writing?
Well, your search ends here!
Grammarly is undoubtedly one of the best proofreading tools available in the market but that does not mean there are no other websites like Grammarly out there.
So, if you're not happy with Grammarly for any reason or just exploring the best apps like Grammarly before making a final decision which software you should go with – we have got you covered.
That's why, in this post, we have included the best premium alternatives to Grammarly along with it's free alternatives.
So, without further ado, let's dive in.
But before that, let's have a quick overview of Grammarly so that you can differentiate Grammarly from the other sites like Grammarly mentioned below effectively.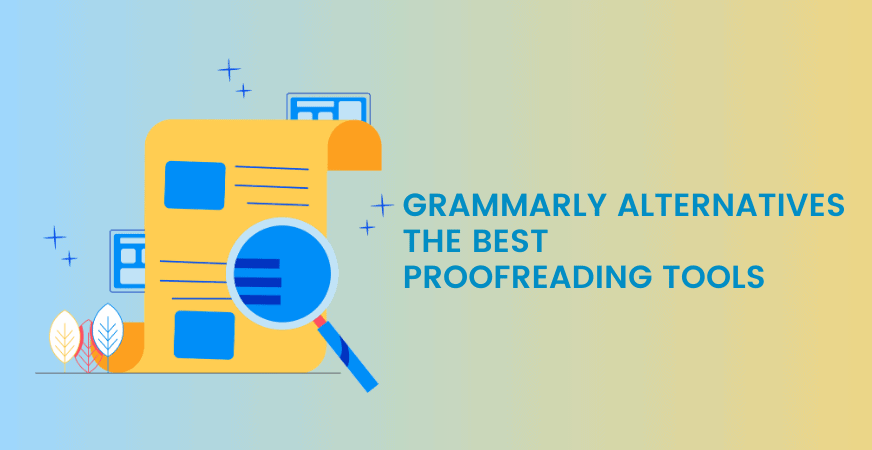 Grammarly in Action (2021)
Grammarly is an AI-powered online writing assistant that helps you express yourself with ease.
It will strengthen your writing by eliminating errors, from grammar and spelling to style and tone.
That is the reason, 30 million people use Grammarly around the world every day.
Grammarly Features
Correctness, Clarity, Engagement, Delivery, and Plagiarism detection
Browser extensions for Google Chrome, Firefox, Safari, and Internet Explorer
MS Word and MS Outlook add-in
Google Docs support
Native apps for Windows and macOS
Keyboard for iOS and Android
Grammarly Pricing
Grammarly offers three different plans that ensure everything you write is clear, engaging, and polished.
1. Free
This is the free version of Grammarly with basic writing suggestions, best for individuals.
Spelling
Grammar
Punctuation
2. Premium (Starting at $11.66 / month)
Grammarly Premium plan facilitates you with style, tone, and clarity improvements, best for writing at work and school.
Everything in Free
Clarity-focused sentence rewrites
Tone adjustments
Plagiarism detection
Ensure your work is fresh and original by checking it against 16 billion web pages.
Word choice
Formality level
Fluency
Additional advanced suggestions
3. Business (Starting at $12.50 / month)
This is the most advanced plan for professional and clear communication for teams of 3 to 149.
Everything in Premium
Style guide
Admin panel
Centralized billing
Priority email support
SAML SSO (for accounts with 50+ users)
So, this is a brief outline of Grammarly. Furthermore, you can explore our detailed review on Grammarly to know more about it.
---
11 Best Grammarly Alternative [Free & Paid]
Hereby presenting you with our handpicked list of the best alternatives to Grammarly you may opt for.
1. ProWritingAid
ProWritingAid could be the first choice when it comes to Grammarly alternatives, especially when you are short on budget.
Like Grammarly, ProWritingAid is also included with a fantastic grammar checker and also helps you improve the style and clarity of your writing.
Furthermore, you are allowed to integrate it with the majority of premium software like MS Outlook, MS Word, Google Chrome, Safari, Edge, and many more.
In-depth reports, and the unique combination of suggestions, articles, videos, and quizzes make ProWritingAid different from other Grammar checker tools available in the market.
That makes it a great choice for Fiction/Nonfiction Authors, Bloggers, Content Writers, Students, and Business Writers.
Read: ProWritingAid Discount 2023: 20% Off On Premium Plans
ProWiringAid Features
Real-time delivery of 1000s of grammar, spelling, and readability improvements
20 In-Depth Writing Reports
Style suggestions to improve the power and clarity of your writing
In-app suggestions, explanations, videos, and quizzes
Word Explorer and contextual thesaurus to find the right words
Better Integrations
ProWritingAid Pricing
ProWritingAid pricing is quite cheaper and flexible as compared to Grammarly.
Here are the three different packages you may go with;
1. ProWritingAidFree ($0/year)
This is the basic plan that will help you to improve your writing.
Summary Report of Key Issues
19 Writing Reports
Edit 500 words at a time
Use online only
2. ProWritingAidPremium ($79/year)
This is the premium plan by ProWritingAid that will help you to save time for writing error-free, starting at $6.58 per month only.
And the best thing about this plan is that you can get it for a lifetime including all future updates for just $399.
All of the free version
No word limit
Desktop version
Integrations for: MS Word, Google Docs, Chrome, and Scrivener
3. ProWritingAidPremium+
Next, they offer the Premium+ plan which is included with a plagiarism checker, starts at $7.42 a month only.
Again, you can subscribe to this plan for a lifetime for $499 only.
All of the premium version
50 plagiarism checks per year
Perfect for academics
In addition to these plans, you can also choose the ProWitingAid Business plan which is best suited for the teams.
ProWritingAid Pros
Lifetime subscription is available
Costs less in comparison to Grammarly
Packed with contextual suggestions, thesaurus, in-depth reports
Quick integrations across multiple platforms
ProWritingAid Cons
Word limit (500) in the free plan
ProWritingAidPremium plan is not included with the Plagiarism checker
---
2. QuillBot
QuillBot is a fantastic paraphrasing tool trusted by over 10 million people worldwide that includes students, professional writers, and business people to write better.
It uses state-of-the-art AI that helps millions of people rewrite and enhance any sentence, paragraph, or article.
Whether you're writing emails, an essay, or social media posts, QuillBot has your back.
QuillBot Features
Paraphraser and Summarizer
Grammar Checker Beta version
Vocabulary enhancements
AI-powered thesaurus to find the right synonym
Quick integration
7 Writing modes
QuillBot Pricing
In addition to the free plan, you may upgrade to the QuillBot Premium to gain the full power of QuillBot.
1. Free Plan
This is the basic plan good for casual writing that facilities you with –
5000 Summarizer character limit
700 Paraphraser character limit
2 Sentences processed at once
3 Word Flipper options
3 Writing modes
Google Chrome & Doc Extensions
2. QuillBot Premium
This is a high-end plan great for papers with high time sensitivity that costs you
Monthly – $4.95 USD billed monthly
Semi-Annual (Save 16%) – $4.15 per month or $24.95 billed every 6 months
Annual (Save 32%) – Best Value $3.33 per month or $39.95 billed every 12 months
25000 Summarizer character limit
10000 Paraphraser character limit
15 Sentences processed at once
4 Word Flipper options
7 Writing modes
Freeze Words and phrases
Compare Modes (only on Desktop)
See longest unchanged words
Google Chrome & Doc Extensions
QuillBot Pros
Google Docs and Chrome Extension
MS Word Integration
100% Money-Back Guarantee (3 days)
QuillBot Cons
Free plan is quite limited
---
3. Ginger Software
The next alternative that we have in our list of Grammarly alternatives is Ginger, trusted by 10 million users.
It is an AI-powered writing assistant that helps you correct your texts, improve your style and boost your creativity.
At a first glance, the Ginger Software site looks quite similar to the Grammarly website but if we look at the pricing of this software, it will cost you almost half as compared to the Grammarly pricing.
Ginger Software Features
Grammar Checker
Definitions
Synonyms
Sentence Rephraser
Translation
Ginger Software Pricing
Apart from the Ginger Free plan, you can upgrade to the Ginger Premium plan that will assist you to write faster and better.
Here how much Ginger Premium will cost you;
Monthly: $13.99 /month
Annual: $7.49 /month (Billed as one payment of $89.88)
Two Years: $6.66 /month (Billed as one payment of $159.84)
Features:
Unlimited Grammar Check with advanced grammar suggestions
Unlimited Rephrasing for more creativity, clarity, and style
Expanded AI-based Synonyms
Instantly Translate your text
Ginger Software Pros
Free version available
Premium plans are quite cheaper as compared to the Grammarly plans
Correct all your mistakes in just one click
Magical rephrasing
AI-based Synonyms
Translation to 40+ languages
7 days Money-back Guarantee
Ginger Software Cons
Free plan is limited, even Grammar checks
Translation feature is not included within the Free plan
---
4. WhiteSmoke
WhiteSmoke is an all-in-one English writing tool that not only provides grammar and spelling checks but goes beyond grammatical and typographical corrections by improving the style, tone, and clarity of our users' writing.
Its translator feature makes WhiteSmoke a great alternative to Grammarly, consist of Dictionary and Thesaurus, and supports over 50 languages.
WhiteSmoke Features
Integrated With Microsoft Word & Outlook
Spelling, Grammar, Punctuation, Style & Plagiarism Checker
Over 100 Document & Letter Templates
Translator & Dictionary For Over 50 Languages
Video Tutorials, Error Explanations, and Text Enrichment
Works On Mac OS, Windows, and All Browsers
WhiteSmoke Pricing
WhiteSmoke offers three fully-featured plans comprised of Grammar Checker, Plagiarism Checker, and Translator.
1. Web
This is a complete online writing solution for any operating system that costs $5.00/Month if opted for an annual subscription.
Compatible With
Features Included
Grammar Checker
Plagiarism Checker
Translator
2. Premium
This is a fully integrated writing solution for Windows or Mac billed as $6.66/Month only.
Compatible With
Windows 7, 8, 10
macOS Sierra (10.12)
All Browsers
MS Office
Gmail
Features Included
Grammar Checker
Plagiarism Checker
Translator
One-click instant Proofreading
Integrated with all writing platforms
1-Computer License
3. Business
This is the most advanced plan that facilitates you with Phone Customer Support and an Extended Download Warranty.
It will cost you $11.50/Month with annual subscriptions.
Compatible With
Windows 7, 8, 10
macOS Sierra (10.12)
All Browsers
MS Office
Gmail
Features Included
Grammar Checker
Plagiarism Checker
Translator
3-Computer License
One-click instant Proofreading
Integrated with all writing platforms
Phone Customer Support
Extended Download Warranty
WhiteSmoke Pros
Allows Full-text and word-to-word translation to and from 55 languages
Grammar, spelling, and punctuation checker
Style checker for making your text flow and sound good
Plagiarism checker
WhiteSmoke Cons
It is a premium software which means no free access available to this tool
---
5. PaperRater
PaperRater.com is one of the best free Grammarly alternatives that utilizes Artificial Intelligence and Data Science to improve your writing, loved by 99.9% of users from over 140+ countries.
Plagiarism checking, automated proofreading, grammar check, and automated scoring ensure your submissions are analyzed in real-time, usually within 5 to 15 seconds.
The best thing about PaperRater is that it is 100% free and you don't need to signup, login, or download to use it.
PaperRater Features
Grammar and Spelling Checker
Plagiarism Detection
Feedback and Writing Instruction
Automated Scoring
Vocabulary Builder
PaperRater Pricing
Though PaperRater is a free resource, they also offer a premium subscription for users seeking more advanced features.
1. Basic
This is the free plan by PaperRater that allows you limited resources.
50 Submissions per Month
5 pages/submission
10 Plagiarism Checks per Month
2. Premium
PaperRater Premium plan offers more resources and a lot of advanced features, that costs you $11.21/mo or $71.55/yr.
200 Submissions per Month
20 pages/submission
25 Plagiarism Checks per Month
Plagiarism Check Integrated into Proofreader
Ad-Free
Enhanced Plagiarism Check: Matching Text Displayed
File Upload (doc, docx, txt, rtf)
Premium-Only Modules
Faster Processing
PaperRater Pros
Always Free
No downloads required
Plagiarism checker is included in the free version
Vocabulary builder to improve spoken/written English
PaperRater Cons
No integrations available
Limited number of submissions, length, and plagiarism checks
---
6. Reverso Translation
Reverso Translation is a web-based instant translation platform, powered with Artificial Intelligence, that significantly improves communication and collaboration among global teams, their clients, and suppliers worldwide.
It is packed with various linguistic tools such as instant translation, bilingual and monolingual dictionaries, smart spell-checking, conjugation, grammar, and pronunciation features.
And that's why it is used by 45 million users (5 million corporate users) every month and 12 million apps have been downloaded so far.
Though it does not have all the features that you get from Grammarly but works great to quickly check short documents for basic errors.
Reverso Features
Neural Machine Translation (NMT)
Integrated spell-checker
Listen to pronunciation to improve your oral skills
Integrated dictionaries
One-click synonyms
Conjugate verbs in all modes and tenses, in 10 languages
Reverso Pricing
It is a free service mostly financed by advertising. That being said, they have already invested € 30 million in R&D.
Reverso Pros
Translation in a variety of languages, such as English, Spanish, French, Arabic, Russian and more
Comprehensive resource library about grammar and syntax
Synonyms and conjugations to eliminate repetition issues
Build your own personal dictionary with frequently used terms and phrases
Reverso Cons
1200 characters at a time restriction
No support for plagiarism
---
7. GrammarCheck
GrammarCheck is an online editor that helps you check your text for grammar, spelling, and punctuation mistakes.
For doing so, all you need to enter your text into the form, hit the Free Check button, and you will be immediately presented with underlined spelling errors, style suggestions, or grammar suggestions.
Then simply click on those errors to see correction options and apply where you need them.
GrammarCheck Features
Spelling error
Style suggestion
Grammar suggestion
GrammarCheck Pricing
GrammarCheck is absolutely free – no sign-up needed.
GrammarCheck Pros
GrammarCheck Cons
Very basic editor
Plagiarism checker is not there
No browser extension
---
8. LanguageTool
LanguageTool is a multilingual writing assistant, used by millions of people around the world.
It will assist you to check grammar in various languages including English, German, Spanish, French, and Portuguese that makes it an impressively versatile tool.
Not only grammar errors but they will also mark spelling errors and style issues in different colors along with synonyms at just one click.
LanguageTool Features
Multilingual grammar, style, and spell checker
Personal dictionary
Quality scoring for your texts
Texts are securely stored
Picky mode to access even more suggestions
LanguageTool Pricing
LauguageTool offers 3 different plans to take your writing to the next level.
1. For Beginners (₹ 0 / month)
This plan is best suited for users who just need a basic grammar and spell checker.
Basic grammar, punctuation, and style checking
Only up to 10,000 characters per text
2. For Individual Users (₹ 91.58 / month)
This plan is perfect for everyone who wants to noticeably improve their writing.
Enhanced grammar, punctuation, and style checking
Up to 60,000 characters per text field
Suggestions to improve style and tone
Detection of incorrect names and titles in emails
Detection of incorrect numbers (e.g. IBAN, ISBN, …)
Add-in for Microsoft Word
Add-on for Google Docs
3. For Teams (₹ 164.85 / month)
This is the best choice for small teams of up to 20 members.
Enhanced grammar, punctuation, and style checking
Up to 60,000 characters per text field
Suggestions to improve style and tone
Detection of incorrect names and titles in emails
Detection of incorrect numbers (e.g. IBAN, ISBN, …)
Add-in for Microsoft Word
Add-on for Google Docs
User management
LanguageTool Pros
Add to Chrome Firefox, Safari, Edge – It's free
Google Docs Add-on
Microsoft Word Add-in
OpenOffice & LibreOffice Add-on
LanguageTool Cons
Only 10,000 characters are allowed in the free subscription
Plagiarism checker is not included
---
9. Druide Antidote
Druide is a Quebec-based company, specialized in developing and marketing writing assistance software.
Antidote, Typing Pal, WebElixir, and Éditions Druide are the four renowned products owned by Druide Informatique.
Among these, Antitode is a powerful writing assistant included with grammar corrector, high-quality dictionaries, and language guides that work directly with your software on your computer, mobile, and tablet.
The best part about this tool is that you can use it without having Internet access that makes it a good alternative to Grammarly.
Another good thing about this software is that it supports English and French. So, if you write in English or French, this software could be a great pick.
Druide Software Features
Antidote – Complete writing assistance software suite Grammar corrector, Dictionaries, and Guides
Typing Pal – Learn to type or improve your keyboarding
WEBLIXIR – Detect errors, flag broken links, and identify all changes from your site
Editions Druide – Fiction, non-fiction, children's literature, and reference works
Antidote Software Pricing
Buying Antidote for the first time will cost you;
1. Antidote+ Personal: $59.95/year (For 1 user)
2. Antidote+ Family: $99.95/year (For 5 users)
3. Antidote 10: $129.95 (One-time purchase)
Druide Software Pros
Can work offline
One time purchase available
Available in English and French
Supports Windows, Mac, Linux, phones, tablets, and Chromebook
Synchronization
Druide Software Cons
Antidote 10 One-time purchase is not included with upgrades
Available for Windows, Mac, and Linux only
---
10. Hemingway App
Hemingway is a powerful editor that helps you write with power and clarity by highlighting adverbs, passive voice, and dull, complicated words.
Its one-click integrations with WordPress and Medium blog allow you to publish a draft or live post, right from the Hemingway Editor.
Furthermore, the capability to import and export to Microsoft Word or other editors makes it even easier to work alongside other editors.
Hemingway Features
Better readability features as compared to Grammarly
Readability grade and score
Preserve formatting when you copy-paste your text
Handles all your text formatting with the click of a button
Sentence rephraser
Hemingway Pricing
Hemingway Web editor is completely free for use.
For Hemingway Editor 3 (Mac and PC), you will have to bear a one-time payment of $19.99.
Hemingway Pros
Superb editing features
Neat & Clean interface
Standalone desktop app is available, no internet connection required
Hemingway Cons
Lacks grammar checking capabilities
No plagiarism checker included
---
11. Virtual Writing Tutor
Virtual Writing Tutor is a free all-in-one platform to assist you to check grammar, punctuation, spelling, paraphrasing, and vocabulary, or outline essays and write hypertext narratives.
This website also serves as a trainer for learners and novice teachers.
Furthermore, its scoring system automates the essay evaluation with a score and feedback, thus reduces the teachers' workload.
Virtual Writing Tutor Features
Error Correction Games page
In-built translator
Powerful target structure checker
Integrated dictionary
Automated essay evaluation
Virtual Writing Tutor Pricing
Virtual Writing Tutor is 100% free to use, even membership is free.
Virtual Writing Tutor Pros
Virtual Writing Tutor Cons
No ability to check writing by style
Plagiarism checker is not added
Ads could be another downside
Also Read:
---
FAQs
What is Grammarly?
Grammarly is an AI-powered free online writing assistant that helps you write clean and error-free along with some great suggestions that go way beyond grammar. 
Is Grammarly free?
Grammarly is a freemium (free and premium) software which means you can get started with it for free.
Is Grammarly free on Chrome?
Yes, you can add the Grammarly Chrome extension for completely free. 
Is it worth paying for the premium version of Grammarly?
Grammarly Premium's advanced features and suggestions like Clarity-focused sentence rewrites, Tone adjustments, Plagiarism detection, Word choice, etc. make it worth paying for the premium version of Grammarly.
Can Grammarly be used in MS Word?
Yes, Grammarly is supported in Emails, Messages, Documents, Projects, and Social Media.
What are the best alternatives for Grammarly?
ProWritingAid, WhiteSmoke, and Ginger are some of the best alternatives to Grammarly.
What are the free alternatives for Grammarly?
ProWritingAid, Ginger Software, PaperRater, Reverso Translation, GrammarCheck, QuillBot, LanguageTool, Druide Antidote, Hemingway App, and Virtual Writing Tutor to name a few. 
Grammarly vs ProWritingAid: Which is best?
ProWritingAid has an edge over Grammarly in terms of pricing but when it comes to features like word limit in the free version and plagiarism checks, Grammarly is good to go. 
Which is better: Grammarly or Hemingway?
Grammarly is way better than the Hemingway app as Grammarly makes sure that your spelling, grammar, and punctuations are done right while the Hemmingway app is more into making your content better as a whole for your readers.
Grammarly vs WhiteSmoke: which is better?
Grammarly has easy to use interface and hassle-free integration with MS-office which makes Grammarly the best value for money for writers, bloggers, students, and teachers.
On the other hand, WhiteSmoke's translator service makes it a good choice for those who work with cross-language and cross-country clients.
Which Is Better Grammarly Or Ginger?
In terms of features, Grammarly has a wider range of features that makes it the first choice of business users and writers who work with others.
---
Final Thoughts on Grammarly Alternatives
This is all about the best apps like Grammarly for 2023.
In this post, we included only the best sites like Grammarly that are effective and easy to use.
Though at BloggersPassion, we have been using Grammarly from the beginning and the whole team just loves it.
Now, it's your turn to check out these Grammarly alternatives, and let us know if you found any of them useful for you.
Also, do comment below, which software are you using to proofread your text?