Grammarly Review
$12/month
Summary
Grammarly is a great tool for bloggers, website owners, writers, students and I would say for everyone who wants to improve their online writing skills as it checks our contents for grammatical and plagiarism errors and can be considered as the best proof reading tool. You can try Grammarly for free for the first 7 days before moving to the paid version.
This is my unbiased Grammarly review, based on my extensive experience using the premium version for several years.
In my blogging journey, I have consistently produced a substantial number of blog posts over time. I've learned the craft of creating valuable content through hands-on experience and dedication.
While I've developed my writing skills, I still use Grammarly to eliminate the possibility of any content errors.
Creating engaging content takes serious effort, time, and writing skills. If your content has writing flaws and typos, forget about sales; people will immediately stop reading your blog. Sad truth!
If you want to hone your content writing skills quickly without much effort, I strongly recommend you try the Grammarly tool.
Grammarly is a proofreading tool that helps you quickly find and fix your typos and allows you to improve your writing immediately.
In this Grammarly review 2024 article, I'm going to share my experience with Grammarly for the last 2 years. I'll also discuss its interface, pros & cons and compare it with other tools in the market.
Let's jump into the details.
Grammarly Review 2024: Great Tool to Improve Your Writing Skills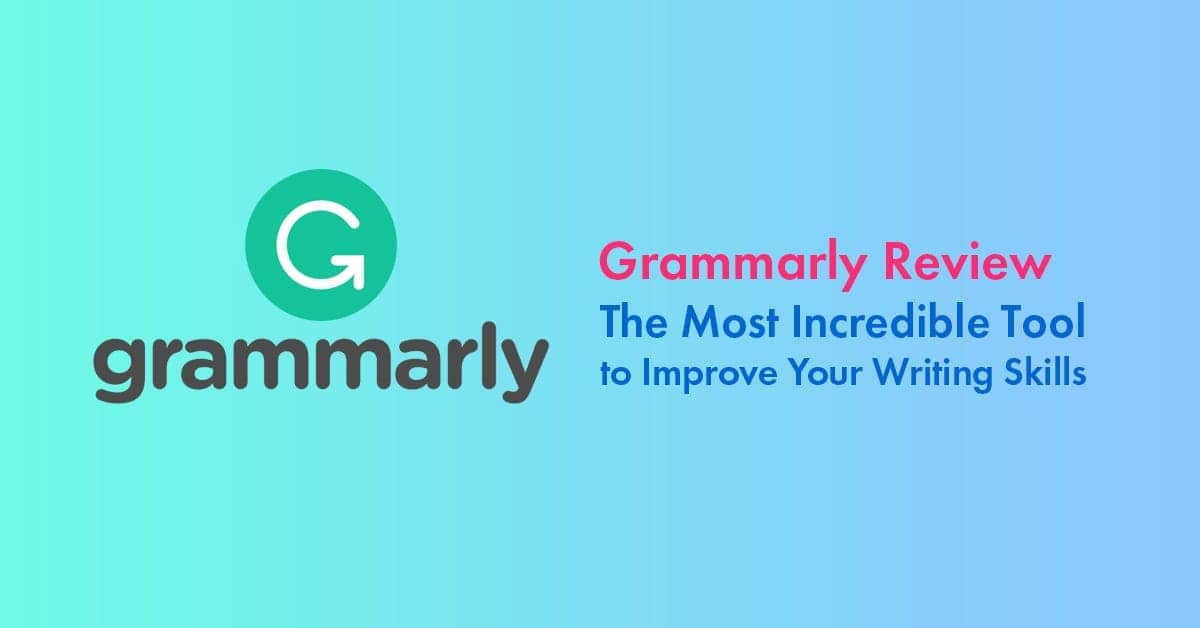 What is Grammarly?
Grammarly is a grammar check tool that assists you in improving the quality and correctness of your written content. Whether you are a beginner writer or a professional, you will find it extremely useful to improve your writing.
It is available as a web application, desktop application, browser extension, and integrates with popular word processors like Microsoft Word and Google Docs.
Grammarly is widely used by students, professionals, writers, and bloggers who wants to enhance their writing skills and ensure error-free content. It offers both free and premium versions, with the premium version providing more advanced features, including the plagiarism checker and tone analysis.
How can Grammarly help you improve your writing skills?
Grammarly checks and analyzes your text for 10x more mistakes than your standard word processors like MS Word.
You can also upload or copy-paste your content into the Grammarly tool to check for grammar or punctuation errors.
Grammarly is the best grammar checker tool, because it has over 250 advanced grammar rules built into it.
So whenever you make any punctuation or grammar mistakes, it will look out for all the possible errors and give the suggestion to fix them.
For instance, In the below screenshot, Grammarly showing one of the grammatical errors and also explains why there's a mistake.
This tool checks for all grammatical mistakes, contextual spelling problems, vocabulary errors, and plagiarism while you type.
Grammarly has a built-in plagiarism checker tool that accurately checks for copied content so you can make sure whether your copy is original or not.
It also gives you automatic writing suggestions while you type so you can effortlessly use better grammar on the go without having to worry about better sentence usage.
Grammarly is compatible with Gmail, Facebook, Tumblr, LinkedIn, WordPress, Twitter, and any other online platform where you write and works flawlessly.
All in all, Grammarly works as your writing editor and grammar coach that helps you easily and quickly improve your writing with almost no grammar mistakes.
What are you waiting for?
Click here to try Grammarly for free
7 Grammarly Key Features That Make Grammarly Incredible
If you are still wondering why should use Grammarly, here are a few fantastic features to help you.
1. Eliminates most of the typos
Grammarly's #1 use is to eliminate all the typos, grammatical errors, punctuation errors, etc., from your writing.
It underlines the grammatically incorrect words and gives you better suggestions to make your writing simpler and better.
2. Sentence Structure
Grammarly's "Sentence Structure" feature help you in constructing well-formed sentences. It analyzes sentence length, punctuation usage, and overall structure. This feature enhances readability and comprehension by ensuring that sentences are clear and concise.
3. Vocabulary Enhancement
Grammarly suggest synonyms and alternative words to diversify your vocabulary. It enriches your writing by offering precise and context-appropriate word choices, making your content more expressive.
4. Plagiarism Checker (Premium)
You get plagiarism check features in the premium plan that ensure the originality of your work. The "Plagiarism Checker" scans your text for duplicate content on the web and highlight the plagiarism content.
5. Works Everywhere
It doesn't matter which platform you are using online; Grammarly works everywhere effortlessly.
You can use Grammarly while writing status updates on Facebook, Tweeting important stuff on Twitter, updating your blog posts or repling to an important email.
6. User-Friendly Interface
Grammarly offers a simple, intuitive interface that is easy to navigate. Its user-friendly design ensures that you can easily understand suggested corrections and learn from them.
7. Uses linguistic technology
Grammarly uses semantic technology that improves writing fast.
This technology combines natural language processing and computation algorithms to give you a better vocabulary and quickly find all the grammar mistakes.
Due to this technology, Grammarly can differentiate between the words "good" and "better."
It is the most advanced technology that your traditional free online writing proofreading tools won't use.
How to use Grammarly Tool
Grammarly provides a range of options to use Grammarly for writing assistance. Whether you write on the web, use desktop software, or work within your preferred applications, you can use the Grammarly tool.
You need to create an account with Grammarly to start a free or premium plan. After that, you can use Grammarly across various platforms using:
1. Grammarly Web App
You can use the Grammarly web app through any internet browser.
This tool works similarly to Google Docs. Simply visit the Grammarly website and log in to your account.
You will have 3 options to use the Grammarly web app
Start writing from the beginning.
Copy and paste the content you already have
Or upload the document file.
Grammarly will analyze it for grammar, spelling, punctuation, and style issues. Within seconds, it will underline all the sentences or keyword phrases filled with grammatical errors.
It offers real-time suggestions, explanations, and insights to help you improve your writing.
2. Grammarly Desktop App
Grammarly offers a desktop application for both Windows and macOS users. Download and install the app, then log in with your Grammarly account.
You can compose and edit documents directly in the Grammarly desktop app. It works seamlessly with your desktop software, offering advanced writing assistance without an internet connection.
3. Grammarly Browser Extensions
I use the Grammarly browser extension, which I find the most convenient way to utilize the Grammarly tool.
The browser extension automatically checks my writing as I compose emails, write social media posts, or create content within various web applications, providing helpful suggestions and corrections.
Grammarly offers extensions for popular web browsers like Chrome, Firefox, Safari, and Microsoft Edge. With this extension, you can ensure that you receive Grammarly's assistance no matter where you write online.
4. Grammarly Microsoft Office Plugin
If you frequently work with Microsoft Word and Outlook, Grammarly offers a plugin that integrates with these applications. Install the plugin to directly access Grammarly's writing assistance within your Microsoft Office documents and emails. It checks your content for issues and provides recommendations for improvement.
5. Grammarly Keyboard
The Grammarly Keyboard is designed for mobile users and is available for Android and iOS devices. Download the Grammarly Keyboard from your device's app store and configure it to work with your preferred apps, including messaging apps, notes, and more. As you type, the keyboard identifies errors and provides suggestions for correction.
Grammarly Pros and Cons
Here are some of the noticeable Grammarly pros and cons.
Pros of Grammarly:
Works everywhere with browser extension
Easy to use
In-built plagiarism checker
Impressive tone detection
Real-time grammar and spell checker
Multiple app options available
Cons of Grammarly:
Only supports English
Not completely reliable with all grammar suggestions
Doesn't work offline
Grammarly Customer Reviews & Rating
Grammarly has excellent user ratings and reviews across all the major product review platforms.
Here are a few of Grammarly reviews from real customers on the major review platforms;
Grammarly Customer ratings on TrustPilot;
On Trustpilot, Grammarly gets 4.6 ratings out of 5 from over 8500 customers. About 71% users give 5 star rating to Grammarly.
Grammarly Customer ratings on G2;
On G2, Grammarly get an amazing 4.7 star rating from over 4300 users. Surprisingly, more than 84% users give 5 start rating.
Grammarly Plan Pricing
Grammarly is a freemium tool that offers both free and premium subscription options. You only need a Grammarly account to start using the free version.
Currently, Grammarly offers 3 plans that include 1 free plan and 2 paid plans.
Free
Premium
Business
1. Grammarly Free Plan
Grammarly free version is ideal for casual writers, students, or anyone looking to improve their writing. You get essential spelling and grammar checks with the free plan.
You can use the free version of Grammarly with no restrictions, meaning you can use it for a lifetime without any limit or trial period.
2. Grammarly Premium Plan
Grammarly Premium offers advanced features like grammar and punctuation checks, clarity and engagement suggestions, and style checks for different writing genres. This plan costs you $12/mo with an annual subscription.
You can choose from monthly, quarterly, or annual premium subscriptions based on your needs and budget.
Annual Subscription – $12/month
Quarterly Subscription – $20/month
Monthly Subscription – $30/month
I am on an annual subscription plan, which results in a significant cost savings of $216 each year compared to the monthly plan.
3. Grammarly Business Plan
Grammarly Business Plan is for businesses and teams, providing all the features of Grammarly Premium, team management, and administrative tools.
This plan costs you $15/ member/ month.
Grammarly Free Vs. Premium Plan Comparison
Grammarly free version provides essential grammar and spelling checks, and the premium plan takes your writing to the next level with advanced features like plagiarism detection, vocabulary enhancements, and style recommendations.
Let's compare the features side-by-side to help you decide which suits your needs best.
Free Plan
Premium Plan
Business Plan
Pricing
Free
$12/month (annually)
$20/month (quarterly)
$30/month (monthly)
$15/month/member
Grammar, Spelling, Punctuation
Yes
Yes
Yes
Tone Detection
Yes
Yes
Yes
Conciseness
Yes
Yes
Yes
Enterprise-grade privacy and security
Yes
Yes
Yes
Consistency in spelling and punctuation
No
Yes
Yes
English fluency
No
Yes
Yes
Tone Suggestions
No
Yes
Yes
Full Sentence Rewrites and Formatting
No
Yes
Yes
Plagiarism Detection
No
Yes
Yes
Word Choice and Sentence Variety
No
Yes
Yes
Expert Writing Help
No
Yes
Yes
Style Guide and Brand Tone
No
No
Yes
Account roles and permissions
No
No
Yes
SAML Single Sign On
No
No
Yes
Best For
SAML Single Sign-On
Professionals
Agency & Businesses
The value of Grammarly Premium depends on your writing needs and goals. You should consider the following factors to decide whether Grammarly's premium is worth paying.
1. Writing Frequency: If you write extensively, such as for work, academics, or content creation, Grammarly Premium can be highly beneficial. It offers advanced grammar, style, and clarity checks that enhance your writing quality.
2. Writing Level: Grammarly Premium is valuable for professionals and writers requiring polished, error-free content. It's beneficial for those seeking to improve their writing skills.
3. Plagiarism Detection: If you work with many freelancers and want to ensure the content is plagiarism-free. Grammarly Premium's plagiarism checker is a valuable tool to ensure content originality.
4. Convenience: The convenience of the browser extension, desktop app, and other integrations can save time and improve productivity.
5. Cost: You should consider your budget and check the ROI of using Grammarly Premiumregardingf content quality. If you are into the content business, you must use the premium version.
If you have minimal writing needs, use English primarily for personal communication, or are on a tight budget, you might find the free version of Grammarly sufficient for basic grammar and spelling checks.
You can even try a 7-day free trial and decide if the added features and improvements are valuable.
Best Grammarly Alternatives
If you are looking for a few better alternatives to Grammarly, I'm afraid to say I haven't found the best one that beats Grammarly yet. But there are a few alternatives you can give a try.
1. WhiteSmoke
WhiteSmoke is a direct competitor of Grammarly, offering grammar and style-checking services. It includes a comprehensive grammar checker, plagiarism detector, and translation tools. WhiteSmoke is known for its accuracy and is popular among students and professionals.
WhiteSmoke offers 3 paid plans and doesn't offer any free plan. Here are the details of the free plans
1. Web Plan: This plan costs you $5/mo and provides grammar check, plagiarism check, and translator.
2. Premium Plan: This plan costs you $6.6/mo. You get all the all the web plan features along with one-click instant proofreading, Integrated with all writing platforms.
3. Business Plan: This plan costs you $11.5/mo. You get all the premium plan features along with phone support and an extended download warranty.
2. Ginger
Ginger is a well-known competitor to Grammarly, offering grammar and spell checking, sentence rephrasing and translation services. It integrates with various writing platforms and provides real-time suggestions. Ginger is known for its user-friendly interface and language support.
Like Grammarly, Ginger offers one free and 2 premium plans
1. Free Plan: This free plan equips you with essential writing tools like a grammar checker and spell checker to improve your English writing skills.
2. Premium Plan: This plan costs $6.99/month and provides unlimited rephrasing, correcting entire sentences/paragraphs in one click, and translating to 40+ languages.
3. Ginger Team: This plan costs $4.99/member/month and is ideal for agencies & businesses.
3. ProWritingAid
ProWritingAid is a powerful alternative to Grammarly that caters to writers, students, and professionals looking to enhance their writing skills. It provides comprehensive grammar checking, style improvement, and in-depth writing analysis.
ProWritingAid offers 1 free plan and 1 premium plan.
1. Free Plan: This plan provides a 500-word count limit, 10 rephrases per day, along with Grammar, Spelling, and Punctuation checker.
2. Premium Plan: This plan costs $10/mo and provides unlimited words and rephrases.
The above list consists of both paid and free online proofreading tools. I think premium tools have a better advantage over free tools, so if you want to improve your writing quickly, you should invest some money.
If you are looking for a comprehensive post on online free proofreading tools, check out this post.
Read: How to Use Semrush Content Marketing Platform?
A few questions About Grammarly
Is the Grammarly tool free?
How much does it cost you?
Grammarly offers a seven-day free trial, as well as they have 3 subscription plans: Monthly – $30. Quarterly – $60. Annual – $144. You can cancel at any time if you are not happy with it.
How does Grammarly work?
You can either upload your content or copy and paste it into Grammar's text editor, which will automatically show you all the grammar, spelling, and punctuation errors you have.
It's easy to use, and you can also use their free browser extension for Safari and Chrome.
I'm a newbie to online writing. Is Grammarly helpful for me?
Yes, it's worth every penny. Use their free trial for 7 days and pay them only if you are happy with the results. It not only helps you find all the errors in your writing, but it's the fastest way to improve your online writing skills.
Does Grammarly tool share my content publicly?
No, I had the same question. Grammarly won't share your content publicly, EVER. Your content is safe.
Final Word on Grammarly Review
More than 30 million users and 70,000 teams use Grammarly worldwide, which makes it a perfect tool for all bloggers and writers to improve their writing.
It's a handy tool for new bloggers and non-native English speakers. If you want to write error-free content, try this tool, and you won't regret it.
Grammarly tool checks for over 250 common grammatical mistakes, and it improves your vocabulary by giving you better suggestions while writing content online.
It doesn't matter whether you want to write flawless content, improve your writing by using better vocabulary, or find copied content; the Grammarly tool provides every solution.
If you are still confused, try Grammarly's 7-day free trial to get hands-on experience with the tool. BloggersPassion readers can save 40% money on Grammarly purchases using this link.
If you like this in-depth Grammarly review, please share it with others. If you have any questions about this tool, I'd gladly respond to your queries in the comments.