Writing is NOT easy. Whether you are a blogger or marketer, you need to create content.
You'll spend a ton of time on crafting blog posts, emails, newsletters, social media posts and so on. Writing is definitely intimidating to a lot of people.
If you're looking to improve your writing, correct your grammar mistakes, perform spell checks, find duplicate content etc – you need to get access to the right online grammar checker tools.
Here's a list of some of the grammar checker tools available online that are mostly free to use.
8 Best Online Grammar Checker Tools for Bloggers And Writers
1. Grammarly
When it comes to online grammar checker tools or proofreading tools, there's only one tool that's used by millions of people worldwide and that is "Grammarly".
Hands down, Grammarly is the top notch online grammar checker tool that helps you find spelling mistakes and grammar errors on the fly.
Although their tool is NOT free to use but they also have a free chrome extension which is quite handy for anyone to write flawless content online.
Here's how it looks like;
As you can see above, Grammarly is the perfect spell and grammar checking tool out there that helps you easily hone your writing skills as a writer or blogger.
Visit their website, create a free account with them and grab their free chrome extension to improve your writing quickly. You can also use their tool to find spelling mistakes whenever you work online (be it on Gmail, Twitter, Facebook or WordPress).
Is Grammarly free?
Grammarly is a freemium tool. You can try Grammarly for free for the first 7 days before moving to the paid version. It also offers you a free chrome extension that can be helpful for correcting your grammar on the go (while you use tools like Google Docs).
That being said, Grammarly offers a 7 day free trial along with 3-subscription plans: Monthly – $29.95. Quarterly – $59.95. Annual – $139.95.
Features of Grammarly:
Grammarly detects grammar and punctuation mistakes from basic to advanced
Detects plagiarism so you can easily find out duplicate content
Provides you incredible features like readability score, sentence-length etc to improve your writing style
Also offers a free chrome extension (useful for most bloggers and writers)
---
2. QuillBot
QuillBot is one of the BEST free online grammar checker tools which is trusted by over 30 million people across the world.
It can be used as a grammar checker, paraphraser, & summarizer. If you're looking to fix your grammar, spelling, and punctuation errors, you should definitely try QuillBot.
It also offers a free Chrome browser extension that you can install to fix your grammar issues on the go.
Its paraphraser feature helps non-English writers write faster and more fluently.
Here's what it looks like;
As you can see above, you can enter any text and the tool will automatically offer suggestions to fix your grammar.
So if you're looking for a grammar checker tool to simplify your writing flow and correct your grammar, QuillBot is what you need.
Features List:
Free tool to check your grammar

Offers you suggestions to check spelling errors

Offers you grammar suggestions

Check punctuation

Provides you Paraphraser to improve your overall writing

Chrome, Google Docs, and Word extensions are available (for free)
---
3. Reverso
Apart from grammar checking, Reverso grammar checker tool helps you translate your text into several languages including French, Spanish, German, Italian, Russian, Portuguese, Chinese, Arabic, Hebrew, Japanese.
The great thing about using this tool is that it automatically corrects your grammar.
All you have to do is to visit their site, enter or paste your text to check your spelling or grammar. You can also translate your text from one language to the other.
Here's how it looks like.
As you can see above, the spell checker from Reverso automatically detects and corrects the grammar. You can also translate your text into multiple languages.
You can also download their free app to use from your androids or iPhones. You can view the dictionaries results on the same page to discover the context meaning so you can quickly improve your overall writing.
Features List:
Automatic grammar checking detection and correction
The ability to translate your text into several languages
Chrome extension for free
Provides you suggestions to improve your writing
---
4. Grammar check tool from Small SEO Tools
This grammar check tool has a BIG database of written words, alternative wordings, international standard grammatical rules etc which can all help you improve your writing.
This free online grammar checker tool shows your spelling mistakes by highlighting them in red and remaining mistakes like punctuation, syntax, grammar errors are shown in yellow.
When you click on the highlight of those words, you will get an explanation so you can quickly correct those grammar mistakes.
This tool is also helpful for finding plagiarised content so you can easily know whether your content is original or not.
Here's how it looks like;
As you can see above, this tool easily detects the spelling mistakes by highlighting them in red color and you can also upload docs if you want to grammar check large documents.
Features List:
Besides English, it supports over 30 other world languages including French, Spanish, German, Chinese and so on
Grammar, punctuation, and syntax errors can be easily identified
Spelling errors detection
Also, it allows you to upload documents saved in .doc, .docx, or .txt format
---
5. SentenceCorrection.biz
Want to correct your spelling mistakes and easily find out incorrectly used words along with improperly used punctuation? Give a try to Online Sentence Correction tool which helps you easily correct your grammatical mistakes.
Visit their website, enter the text or paste the copy that you want to find and fix grammatical mistakes.
Click on "Check your text" button to get suggestions. That's it!
Here's how it looks like;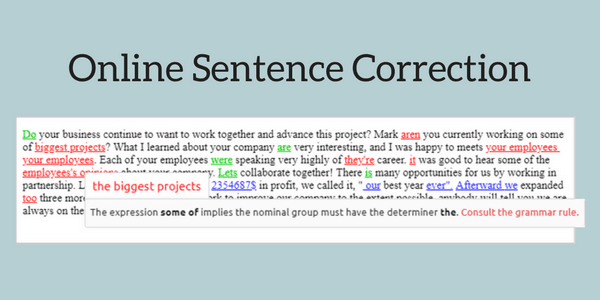 Note: It mostly uses Grammarly uses (embedded with the tool) to analyse your text and find spelling mistakes in your copy. So if you're already using Grammarly, you won't find any new features and benefits in this tool.
Features List:
Spelling mistakes and incorrectly used words
Improperly used punctuation; correct use of semicolons, commas, colons, apostrophes and other marks
Improves your grammar by correcting issues such as dangling modifiers, fragments etc
Helps you find any issues with possible plagiarism
---
6. DupliChecker.com
This tool helps with two things: to correct your spelling mistakes and also to find duplicate content. Isn't it amazing? It's also completely free to use.
Here's how it looks like in general.
As you can see above, you can enter any sentence or paste your text and click on "check grammar" or "deep grammar check" to know whether your sentences are used correctly or not.
You can also choose a file to spell check word documents which is great for writers and bloggers to find grammatical errors in their blog posts.
Features List:
Can be used for capitalization and punctuation
Can easily correct spelling and grammar mistakes
You can check the highlighted words and change them as per suggestions
You can also download their app from the Google Play Store or the App Store to check your documents on your mobile devices
---
7. SlickWrite.com
Slick Write is a powerful and free incredible online grammar checker tool that has a simple and unique dashboard where you can find and fix all your grammatical mistakes.
Here's how it looks like.
Once you visit their site, simply click on the edit section (see the above image) and enter the text you want to correct the grammar.
Once you enter the text, it shows you all the grammatical mistakes on the go (through red color words) and once you click on "check" option, the tool gives you where your copy has grammatical mistakes so you can correct them to polish your writing.
Note: Not only that, this tool also gives you access to your writing statistics like how many words you have entered (along with pronouns, adverbs etc) so you can easily know your writing progress.
Features List:
Also available as extensions for both browsers Chrome and Firefox
Easily analyze your work's flow,
You can check for the passive voice
You can eliminate unnecessary adverbs
It also works with WordPress, Google Docs, selections, and most text boxes
---
8. VirtualWritingTutor.com
Are you looking for grammar check tool to easily check grammar, punctuation, spelling, paraphrasing, vocabulary mistakes online? Or do you want to outline essays and write hypertext narratives? Give a try to Virtual Writing Tutor tool then.
Enter text or copy/paste any of your document to check your spelling, punctuation or grammar. This is a fantastic free tool for beginners who want to improve their writing online.
Here's how it looks like.
Simply enter your text or use a microphone to convert your voice into copy to find your spelling or grammar mistakes.
Apart from the above, this tool also gives you suggestions for your entered text so you can make it better for readers to understand your writing.
Quick note: All the registered members can check up to 3000 words and non-members can check 500 words. Membership is totally free and you can join by clicking the login button from the website.
Features List:
You can even use your microphone to convert your text into speech. Any mistakes that are included in your speech can be shown.
Can be used to count words
Can be used to check spelling, check grammar and punctuation
You can use this tool to check paraphrasing
It will also analyze your vocabulary using a range of vocabulary checker tools
---
Why create flawless content and how it helps you boost your Google rankings?
We now have covered the top 8 best online grammar checker tools to improve your writing, we'll now talk about the most important thing: "why should you create error-free and flawless content? Does it really help?"
Yes, absolutely.
Creating flawless content improves your website rankings on Google.
Here are 3 benefits of creating flawless content.
It improves your reader experience: We all know Google gives #1 results to the sites that give top priority to the user experience. Creating flawless content is a surefire way to improve your reader experience. After all, no one likes to read a blog post that is full of grammatical mistakes, right? That's why it's extremely important for every blogger to increase their reader experience. Then, you will see a quick boost in your search rankings.
It builds credibility: Check out any top blog in your industry and they spend a lot of money and time in creating great content that's error free. Do you know why they spend most of their time on creating epic content? Because they know that's the only way to build and boost their online credibility. Once you have great credibility, you won't struggle to increase your traffic or sales.
Increases your search rankings: If you are someone who would love to get massive traffic from search engines like Google, creating flawless content gives you a BIG edge. Google always penalizes the sites with thin, duplicate and poorly written content. And rewards those sites with informative, error free and authoritative content.
So there you go. Now, you have access to some of the best online grammar checker tools to polish writing and you also know why it is essential for you to create error free content to build credibility and boost your search rankings.
---
3 Ways to Quickly Improve Your Writing Skills
Using best online grammar checker tools is NOT enough. You also need to learn a couple of things to quickly improve your writing skills which are listed below.
1. Proofread everything twice
You write a blog post, hit the publish button and someone points out your grammar mistakes.
How many times has it happened to you? And how many times did you feel awkward when you have poorly written content?
We know how hard it is to write content flawlessly. It's a real challenge especially if you are a non native English speaker.
For bloggers, creating content is one of the BIGGEST challenges. If you create content that's poorly written, no one likes to read your stuff. It's as simple as that.
That's why it's so important to proofread your stuff at least twice. Read it out loud. Take your friends help. Hire an editor. But make sure your content has no grammatical or spelling mistakes.
2. Practice writing daily
If you want to hone your writing skills, write every single day. We recommend you to write at least 500 words or more every day. It doesn't matter how your writing is, you can definitely get better by writing daily.
3. Edit and eliminate
One of the biggest differences between a good copy and a bad one is "editing". Good writers spend a ton of time editing their copy. There are some prolific writers who edit and rewrite almost 90% of their first draft.
Also, eliminate all the unnecessary words. Use simple words. Make sure your blog posts are easier to read.
Browse more Blogging Tutorials:
---
Final Thoughts
Whether you are writing emails or blog posts (or even drafts), you need to make sure your copy is error-free. Otherwise, you'll see less conversions, less user engagement, social shares and so on.
When it comes to online grammar checker tools, there are literally hundreds of tools available and most of them are free. But 90% of those tools are NOT accurate. It means, they are not going to help you improve your writing. Here's where spell checkers come into handy. Using the grammar checkers or spell checker tools can easily help you find grammatical mistakes including spelling mistakes, punctuation mistakes and so on.
So what are your thoughts on using the online grammar checkers mentioned on this post? Do you have any recommendations? Share your thoughts in the comments.