An image is worth a thousand words.
If your blog posts or web pages lack images, they look boring to read. Adding images can increase your search engine visibility (by using keywords in your alt tags) and also enhance your blog posts overall readability as well as quality.
So I've decided to write a detailed post covering some of the best free image editing tools for bloggers.
Why you need image editing tools?
You may ask, why do I need to have access to the photo editing tools as a blogger. That's a fair questions and here are few strong reasons for using graphic editing tools.
They help you easily design appealing images
Images enhance your blog posts quality
Images help you skim through your posts quickly
Graphic editing tools help you create beautiful images without quickly, easily and mostly for at free of cost
That being said, here are some of the best image editing tools for bloggers and designers who are looking for best ways to design stunning images.
Top image editing tools for bloggers, designers and marketers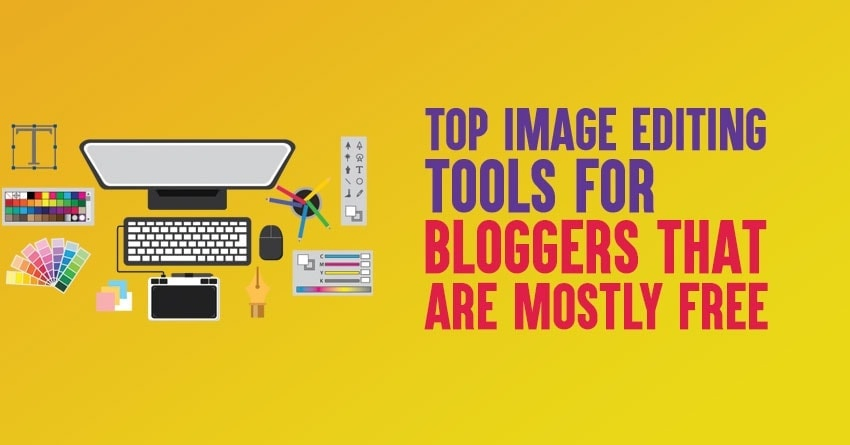 Want to create an attractive design templates for your blog? Be it Infographics, social media images, blog posts images, logos – Canva is one of the best free image editing tools for bloggers. Canva presents you many readymade amazing designs that you can use to create infographics, images and for your instagram too.
From the vast collection of professionally designed layouts, you can customize how you want and can make amazing posters, presentations, wedding invitations, logos, banners, for your social media posts, brochures what's not.
Features:
Canav offers storyboard where you can communicate your ideas very effectively.
With canvas drag and drop design tools you can easily create your own comic strips.
You can create customized quote posters, professional quality posters from canva.
With canva, now it's damn to create presentations as canva provides drag and drop presentation maker.
Canva helps you to create stunning ads to attract customers for your business.
You can create an invoice for your business.
Create brilliant mockups.
You can make personalized stunning labels for any event.
By designing a custom banners, you can make your profile visually stand out in the crowd.
With canvas drag and drop certificate maker, you can create certificate for every award.
Create custom flashcards quickly and easily with canvas brilliant templates and design tools.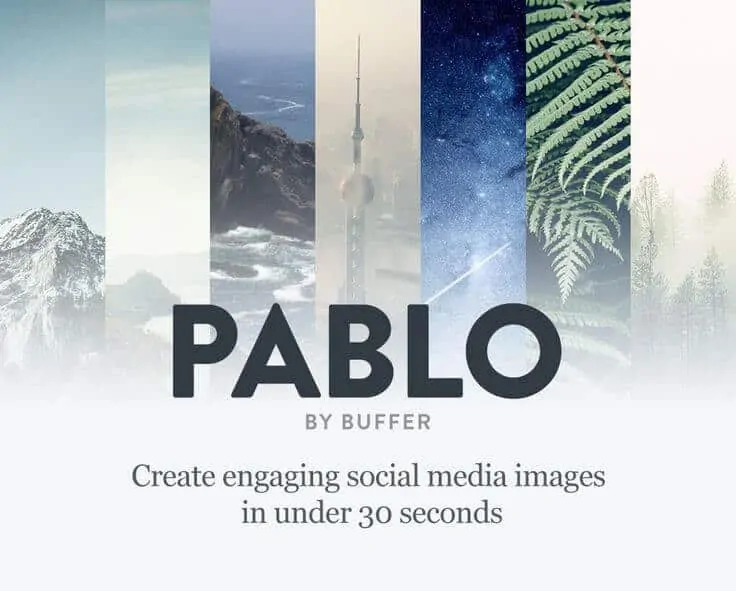 Pablo is another photo editing tool that's extremely helpful for bloggers and designers or all kinds. It's a free tool designed by the Buffer team. Pablo allows you to create stunningly beautiful images very easily to make your posts pop. It has many readymade templates to make any announcement type images, promotion images, quote posters  and outreach.
Features:
You can create design for any kind of posts from its readymade design collection of more than 600k designs.
You can upload your own design too and customize how you want.
With Pablo, you can make your own project branding and ads.
As Pablo is buffer integrated, you can schedule when to share Pablo-created image to any social network.
All your custom logos will be automatically saved and you can turn off the texts within Pablo while you create social images.
You can create an image or upload or grab one directly from a URL location. It supports various image formats.It has a range of functionalities and the app is programmed with Flash.
Features:
If you are familiar with Photoshop, you will find pixlr more easy as the layout looks similar.
It has pixlr express tool which is very helpful for beginner editors.
It offers HP photo editing features and much more.
Just with one-click, you can manipulate size, inversion, rotation and can add instant photo effects.
Pixlr user interface is very simple to use but you need a very basic knowledge of photo imaging software.
This tool is so useful especially for those who edit the aging family portraits.
If you have a pro membership, more advanced features will be unlocked like blending, influence masks, professional hd effects and selection tools. The masking tools are very powerful that you can protect specific images from modifications.
With stencil, you can create visual content very easy and much more faster than you ever imagine. It is designed in such  a way that it not only saves your time but also very easy to use.
Features:
It has more than 9,60,000 stunning free photos to use right now.
You can set size for each image according to each social media network image sizes.
Before you share, you can preview your image in all social media platforms.
Just right click on the image, highlight text on any site and you can add text instantly.
It offers thousands of incredible icons that you can use either for commercial purpose or personal purpose.
Once you create the image, you can schedule it to share on social media as it is integrated with buffer.
Every blogger is aware that how powerful infographics are to bring more traffic and credibility to their website. Piktochart helps you to create stunning and lucrative infographics.
Features:
The piktochart editor empowers you to create powerful infographics from it's available features.
You need not hire designers and no more frustrations over complicated designs. With Piktochart drag and drop editor you can make powerful designs.
You can choose from over 600 professionally designed templates from a vast selection of infographics, presentation and banner format.
It offers over 400 beautifully designed icons and images.
It also provides editable ready made text frames and photo frames to combine your text with visuals and photos.
Once created, you can download your infographics in glorious high definition JPEG, PNG or PDF formats.
Here is the special tool exclusively for creating infographics and charts. With Infogram you can convey complex ideas in a visually engaging way.
Features:
You can create high-quality graphs and charts very easily. Just import your data, customize your chart and share on social media.
You can create lucrative infographics that boosts visitor engagement and traffic on your blog.
It's free map maker is very useful to publish professional looking maps.
You can choose from more than 35 charts templates to create interactive pie charts, bar charts and line charts.
It helps to gain visitor's attentions as most of the readers spend time on pages that has interactive infographics and charts
Sharing infographics and charts  is easy as they are available in all supported formats.
It provides over 1 million high quality stock photographs and more than 5 lakh icons to choose from and design stunning infographics.
You can upload your own images, GIFs and customize how you want.
This tool is exclusively for creating infographics. It has great and flexible features that let students learn through visual and textual design. This tool helps students to learn infographics creation very easily without any support.
Features:
It has thousands of free infographic templates and design objects.
With the help of dragging and dropping design elements, you can create infographic very easily.
More than 4,00,000 users have already registered with Easel.ly and thousands of infographics are produced every month.
It is ideal for students, educators, entrepreneurs and executives who wants to convey a thought or lesson in a visual way.
It has received best website for teaching and learning award in 2013 from the American Association of School Libraries.
You can create slides for presentation, make images for your blog post, generate email templates, build resumes apart from creating infographics.
Get started with Easel.ly today if you are looking for an easy way to convey your visual image in a professional way.
Want to filter images and add effects to create spectacular images for your blog posts?  Then Fotor is for you. It is a powerful FREE photo editor tool which requires no photo editing experience. It's feature rich editor allows you to apply filters to images, add borders and many other effects.
Features:
You can save much of your time with batch processing.  With just one click, you can apply filters, borders and more to a batch of photos.
It's powerful and easy to use tools helps you to create amazing photos.
It offers more than 20 layout design options and free style collage.
Fotor's tilt-shift editor gives your images the depth-of-field which is seen on professional DSLR cameras.
You can mix up effects, borders and text in a style.
It supports wide range of formats that includes TIFF, JPEG, PNG and conversion facilities for RAW files.
Sometimes there will not be time to adjust settings on camera to capture a picture but with Fotor you can give touch-up to your photos
It's a free design tool that you can create images using photos of stocksnap which is an additional side project of Snappa.
Features:
It's fully featured graphic editor allows you to create highly engaging images in just a few minutes.Adding effects is as simple as moving a slider.
You need not create any new. Just take from massive collection from more than 20,000 photos, 3,500 graphics, 200 fonts. All photos are licensed free and you can use for commercial purpose.
There are hundreds of pre-made templates that are carefully crafted by in-house designers and these are available in multiple sizes and are suitable for various niche.
You can turn your twitter header to a Face book cover, instagram post to a pinterest pin and much more in just two clicks.
You can upload your own photo and images too.
You can save your custom images and organize them into folders. Then connect to multiple social media accounts and you can share them instantly.
You can avail video tutorials by snappa if you don't understand how to use the tool.
No need to hire the designers. With Gravit, you can make great designs from anywhere. It lets you create advertisements, documents and illustrations within the browser.
Features:
You can create website mockup and provide visual concept for any project.
With Gravit, you can create your own cartoon character and export it to SVG format.
You can design stunning logos to enhance your brand.
Make such covers for all of your social media profiles that helps your company stand out in the crowd.
You can scale all your designs and export them PDF file format.
It allows you to design beautiful presentations.
It offers many powerful tools like Pen, Knife, Slice, Bezigon and much more that helps you to design stunning photos.
It contains a curated list of Google fonts, rich SVG icons, high quality stock photos. All these are available for free that you can use for any product.
You can import or export your designs in editable format or flat like format and can bring those to other applications or you can even print them.
The tool aims to empower you to create infographics very easily in short span of time.With venngage, you can tell stories and present your data with infographics. This tool is developed by team from Visual.ly.
You can create infographics in 3 easy steps.
Choose a temple from over 100 infographics on venngage.
Enhance your infographic by adding icons and images that are available in venngage library.
You can further customize your infographic design by changing fonts and color with venngage's infographic maker. So that you can make your infographic unique.
Features:
You will find images not only for creating infographics but also for designing posters, social media posts, promotional posts, reports.
Turn complex data into an easy understandable way with stunning charts and visualizations.
You will get real support from the team of venngage.
It's a photo editor as well as design maker. If you want to make your ideas come to life then PicMonkey is for you. You can take your photo editing and design skills to the next level with PicMonkey.
Features:
It makes photo editing a fun due to it clone tool for touching up photos, airbrush, blemish remover, mascara, halloween features what's not everything you need.
You can make edits to photos by just drag and drop which is freaking easy.
It introduced a feature called "The Hub" which allows you to save the images within the PicMonkey application so that you can work on it again later.
You can mash several pictures together with collage and you can customize it how you want which is not possible in most of the photo editing tools.
13. Recite
You can create beautiful visual quotes with Recite. It offers over 42 different pre-made templates where you can create images with the desired text on it. You can't customize text, font, style and placement. If you can get the right template for your quote, your image will look nice.
Features:
You can easily turn quotes into images.
If you're running a meme or quotes related website, this tool is just for you.
There's a ton of quote templates (predefined) that you can use to turn your text into images.
With Pikiz, it is so easy to create and share viral images from anywhere.It allows you to add text to any images and transform any text into images from any website.
Features:
You can create engaging images with free online image editor.
It lets you to monitor the performance of images you have created. You will also get the report and metrics about it.
You can add your own logo to images and build brand authority.
You can optimize your images for better search engine ranking and add a personalized call to action button to convert everyone who view your image.
It allows you to edit and add templates, collaborate on images creation and share your account.
15. Picozu
It's a photo retouching application and an online drawing tool based on HTML and CSS3. it provides an easy way to edit your photos and draw using various brushes, layers, filters.
Features:
It has many editing tools such as color fill, selections, cropping, magic eraser and freehand selection.
You can edit as many images you want without subscribing.
It has image retouching functions.
You can import Adobe photoshop PSD files and edit them.
You can work on multiple images in the workspace and has dynamic color swatches.
You can integrate all your social media accounts to share your created images instantly.
---
Top 10 places to find free stock images
Alright, so far we've discussed some of the best photo editing tools for bloggers. Now where to find free stock images for your blog posts or websites? Thankfully there are so many websites that offers beautiful stock photographs. But most of them are not available for free.
Where to get stock free images?
Here are few incredible places where you can get free stock images:
Browse more Blogging Tools:
Final Thoughts
If you want to enhance your overall blog posts quality, start using appealing images. If you're a beginner blogger, using free image editing tools is the ONLY way to go.
I haven't mentioned some of the best tools like Photoshop, Lightroom etc just because they are too expensive and most bloggers can't afford them in general. So make sure to have a look at the free tools mentioned in this page and pick the right tool for your everyday usage for designing images.
So what are your thoughts? Do you know any of other free graphic editing tools that can be used by bloggers? Share your thoughts in the comments below.