Gone are the days when you can stuff your blog posts with your targeted keywords to get first page rankings on Google.
Google is getting smarter every single day. The way search engines are showing search results is also changing (and improving).
So if you're someone who is still relying upon stuffing keywords by focusing on density, you're doing it wrong.
Most SEO beginners have a lot of problems when it comes to increasing their website traffic from search engines. Indeed increasing organic traffic is a big problem even for most bloggers who have been playing the SEO game for a long time.
SEO is not an easy task and it requires a lot of skills (like on-page, off-page SEO, building links etc) to dominate search results. The most important factor of search engine optimization is "keyword usage". So in this post, we'll talk about what keyword density is and what can you do to optimize your content naturally for higher rankings.
Keyword Density: Everything You Should Know About It in 2023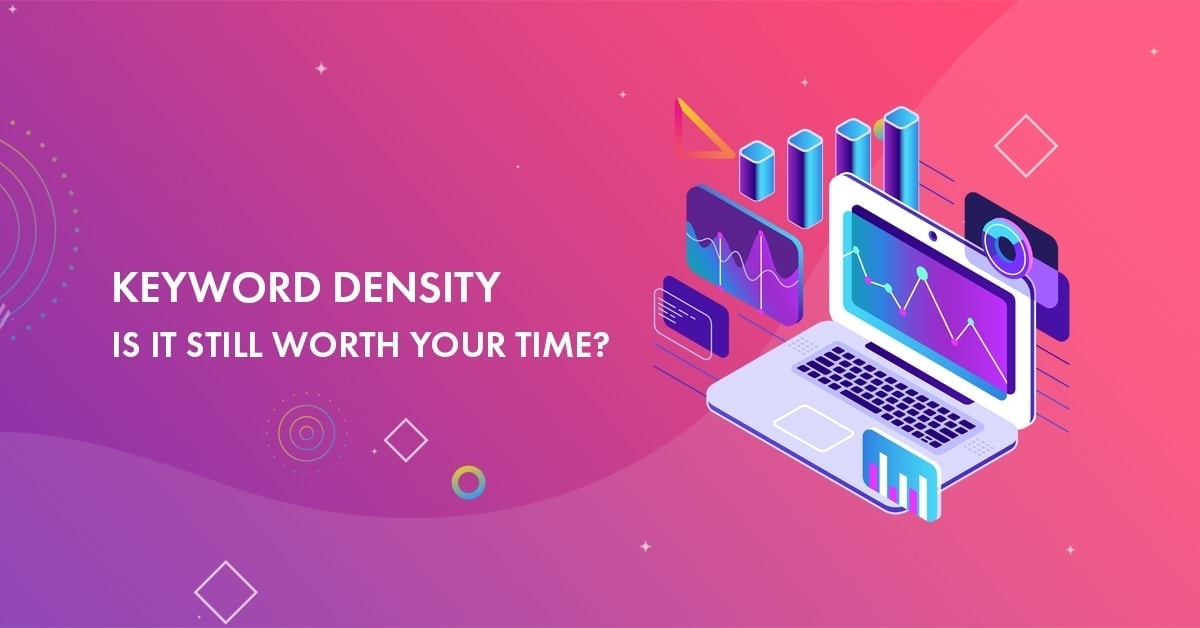 What is keyword density?
Keyword density is the percentage of times a particular keyword appears on a page compared to the total number of words on the page.
For example, if a keyword (be it primary or secondary keyword) appears 20 times in a 2000 word article, then the density of that keyword phrase would be 1%.
How do you calculate keyword density?
Here's an illustration that shows the keyword density formula:
Here's how to calculate the keyword density. In four easy steps, you'll know how to do it right.
Find out the number of words you used on your page
Find out how many times a primary keyword is used on the page
Divide the number of keywords used by the total number of word count
Multiply it by 100 to know the keyword density
So, basically is calculated by taking both the number of keywords and total words in an article and then multiplied it with 100.
Let's take an example so you can understand better.
If you have 2000 words on a page and used your primary keyword 10 times, then here's how to calculate your keywords density.
10/2000 = 0.005
Now, you need to multiply it by 100
0.005 * 100 = 0.5
So, your density of keywords is 0.5. You can calculate your density according to the number of times a keyword phrase is used by taking the total number of words of the page.
But there's something else you should take note of. According to many people, 0.5 density is really really low. You can't rank higher in search results for your keywords with such a low density, right?
Wrong.
If you are using 2 or 3 word phrases (such as long tail keywords) as your target keywords, then the keyword density doesn't really matter. Long tail keywords always have a great edge of getting more traffic from search engines because they have a combination of several keywords.
Not just that, there are a ton of articles that get top rankings for various keywords even if the keyword repetition is just 1 or 2 times.
Does keyword density still matter in 2023?
No.
When you look at the whole thing from the search engines point of view, a high keyword density (such as above 3%) is a STRONG indicator of search engine spam. It can badly affect your overall rankings for that particular page.
Is there any ideal keyword density in 2023?
One of the most searched questions on Google is "what is the ideal keyword density?"
So let's discuss about it. First things first: there's NO ideal density of keywords.
You can use a keyword phrase as many number of times as you want (if they naturally fit into your content). Similarly, you can rank for so many keywords even if you use them once or twice within a page.
Make sure to optimize your primary keyword naturally within your content by placing them in your title tags, meta description, image alt tags etc and you're fine.
See, if you are a beginner and want to increase search engine traffic to your websites, you definitely have to focus on two things.
Finding and using profitable keywords that drive you more website traffic
Building backlinks
If you miss any one among the above, it's really difficult for you to boost your search engine rankings.
While choosing the keywords for your articles or web pages, make sure to focus more on using long tail keywords. Long tail keywords are not only golden but they give you more organic traffic as they include two or more keyword phrases. Google always rewards the sites that often use long tail keywords as their SEO strategy.
So if you have a website, be it professional or personal, if you start using long tail keywords, your website definitely tends to rank higher for various keyword phrases when compared to the sites that use short tail keywords.
If you're confused about long tail and short tail keywords, here's a quick and simple example.
"Fitness tips" is a short tail keyword
"fitness tips for beginners at home" is a long tail keyword (it has 6 words in it)
They also contribute to 70% of total search traffic.
So it actually doesn't matter until you use long tail keywords in your SEO strategy. You just need to worry about the quality of the page and dominate Google search results by using your long tail keywords a couple of times. But if you are writing short articles, then try to keep your keyword density under to 1% (no more than that!) and you will be safe.
That way you will be able to get more traffic from search engine without actually keyword stuffing.
In a nutshell, try to be mindful while optimizing your content for your desired keywords when necessary. Always remember to write for people, not Google. Why? Because in the end, it's people who will be reading, sharing, commenting and buying from you – not Google bots.
That's why keyword proximity and prominence of your keywords is so important (we're going to talk about these two important terms just in a while).
The importance of keyword optimization
You need to optimize your blog posts and pages for your target keywords (be it primary or secondary keywords).
Keyword optimization can help you with;
Better organic rankings
Improved search engine visibility
Higher authority for your target topics
Better conversion rates and the list goes on
While publishing a new post, make sure to include your primary keyword in the title, meta description and content. Don't forget to use LSI keywords (relevant meaning to your primary keyword) throughout your page to get higher search engine rankings.
Always put your reader first. Google gives rewards to the sites that always focus on users rather than the search engines itself. So produce contents that provide value to your audience and also use the optimal keyword density to get more search visibility for your desired keywords.
Unfortunately there's no proper optimal keyword density that we can suggest to you because we don't believe in that concept now. You need to use highly relevant keywords according to the quality and audience you want to attract.
We'll take one real-life example for better understanding of keyword optimization.
When you search for "weight loss tips" on Google, it's showing us the below search results along with featured snippets.
When you click on that result and go to that particular web page, you will find only 3 occurrences of our entered keyword which is "weight loss tips".
So there you go. Even if the main keyword is used just three times, it's still getting #1 result for such highly competitive keyword. It ultimately gives an idea that density of keywords doesn't matter anymore.
There are so many factors like link popularity, reputation of your links, LSI keyword usage etc play a crucial role in increasing the search visibility. So it's not at all about the keyword density as there are many other factors that impact your rankings.
If you do keyword stuffing, you'll simply get penalized by Google core updates or search algorithm updates like Penguin and Panda.
The 2 Most Important Factors
There are 2 significant factors involved in keyword optimization which are;
Keyword prominence
Keyword proximity
Let's discuss about the above 2 factors so you can understand the concept better.
Keyword prominence
Keyword prominence simply means how prominent your keywords are within a web page.
Specifically, it refers to how relevant your primary keywords are when compared to the following elements in a web page.
Title tag
heading tags (such as H1, H2, H3 and so on)
Meta description
So make sure your desired keywords, the overall content and the above mentioned important elements are highly relevant and properly placed. If you're targeting one primary keyword and using different intent keywords in the above mentioned places, you're simply confusing search engine crawlers.
That's why keyword prominence is so important. Using highly relevant primary and secondary keywords in your titles, heading tags and meta descriptions give you an edge in boosting your organic rankings for your keywords.
Whenever necessary, try to begin your first and last sentences of your body copy with the important keyword phrases that are relevant to your primary keyword for better optimization.
Keyword proximity
Keyword proximity is another important SEO metric that generally refers to how close together keywords are to one another on a web page.
For instance, let's take an example of a keyword "Ford car seat covers".
Close proximity – "Our company provides some of the best Ford car seat covers in London"
Far proximity – "We provide some of the best seat covers in London, for manufacturers such as Ford cars"
As you can see above, close proximity is where you can find the example keywords grouped together closely whereas the far proximity keywords are grouped farther.
For proximity, it's always better to find relevant keywords for better optimization. Have a look at the following example.
When you are optimizing your titles, URLs etc – it's always better to go for close proximity keywords. While optimizing your body text (by using LSI keywords or your secondary keywords), you can go for far proximity keywords as it looks naturally.
The importance of LSI keywords
Want to optimize your content in a smart way? Use LSI (Latent Semantic Indexing) keywords. LSI keywords are semantically relevant to the primary keyword you want to rank for.
Google always give more importance to LSI keywords as you will be using relevant meaningful keywords on your web pages instead of keyword stuffing your posts.
For instance, when you search for "yoga tips for beginners", you can see a list of relevant LSI keywords at the end of the search results pages. Here's how it looks like.
As you can see above, it's so much easier to know what are all the relevant keyword phrases people are using while browsing a particular keyword.
So, instead of stuffing your articles using the same keyword, you can use relevant meaningful keywords like "yoga practice tips", "yoga asanas for beginners", "yoga basic poses" etc.
That way, search engine crawlers can instantly determine the relevancy of your web pages for the phrase "yoga tips". Ultimately, you can rank better for the keyword without actually stuffing your pages with the same keywords repeatedly.
Here's How to Optimize Your Blog Posts Without Keyword Repetition
So if you want to properly optimize your pages for your target keywords without focusing on density or repetition, here's how to do it right.
Title
Make sure to include your primary keyword in your title tag as it plays a key role and search engine crawlers easily determine what your content is all about. Keep your title search engine and user-friendly and make them short. Try to limit characters in your titles under 60 characters if you don't want your titles to get truncated.
Meta description
SERP results show only three things which are title, meta description and URL. Meta description plays a vital role too. Although you don't have to necessarily include the exact same keyword you want to rank for within your meta description as using other relevant keywords can also help.
Keywords in prominent places
Try to include your primary and secondary keywords in the following places (not absolutely necessary, but it can definitely improve your rankings if done naturally).
URL
Subheadings
Image alt tags
Sprinkle LSI keywords
For every page that you want to optimize, you need to find relevant semantic keywords. These can be used to sprinkle within your page naturally.
Pro tip: Install Rank Math plugin as it helps you easily optimize your web pages for your target keywords. Extremely useful plugin for WordPress users.
Also make sure to optimize your images with proper alt tags that include your potential keywords. As most of the time, if your images are compelling, you can pull a lot of search engine visitors to your websites just from Google images search results. Don't forget to give credits if you don't own the images you use on your sites.
Keyword density analysis tools
You can also use tools if you want to track your keyword density. Although it's not recommend to use these analysis tools for day to day use, but if you are a SEO beginner and want to have a clear idea about the keyword count you are using on your posts, then they will help you.
Here are few keyword density analysis tools.
Free keyword density analyzer tool by SEO book
Small SEO Tools keyword density checker
Keyword Analyzer tool
Rank Math (a must have plugin for on-page SEO as well as for optimization)
Note: Try to go for o.5 to 1% keyword density (not entirely necessary for all kinds of keywords though) on your web pages if you want to get more search engine traffic without actually hurting your readership. After all, reader experience is more important than keyword density.
What's the point of driving traffic from search engine if they don't engage with your posts or products? So focus on giving top priority to your readers first, then use optimal keyword density to increase your search traffic for various keywords.
Browse more SEO Tutorials:
FAQs
Here are some widely asked questions around keywords usage for optimization.
How do I increase keyword density?
Don't focus on increasing the density of your keywords. Instead, try to optimize your content naturally. Use lots of relevant LSI keywords that are semantically relevant to your targeted keywords. That's the smartest way to improve your organic rankings for multiple keywords (without keyword stuffing).
What is keyword difficulty?
Keyword difficulty score (KD) tells you how hard it is to rank for a particular keyword. It is based on a scale of 0 to 100, 100 being the hardest. The higher the keyword difficulty (KD) score, the harder it is to get into first page results page due to high competition of the ranking websites.
What are the best tools for keyword research?
There are hundreds of tools out there but here's a handpicked list of keyword research tools.
→ Semrush
→ Ahrefs
→ Serpstat
What is LSI keyword in SEO?
LSI (Latent Semantic Indexing) keywords are semantically relevant words to a particular keyword phrase. Usually these LSI keywords are found together. For instance, if a page contains keywords like Macbook, iPhone, iTunes etc – search engines like Google consider these products are relevant to the company "Apple" but not apple fruit.
What is keyword frequency?
Keyword frequency refers to the number of times a keyword or keyword phrase appears within a web page. If you want to naturally optimize your content, don't focus on keyword frequency as it's NOT going to help you. Instead, focus on naturally using your keywords within your web pages.
---
Final Thoughts
Using a ratio of keywords to the total text on a page is NOT a good metric for SEO. You should NEVER focus on how many keywords you're using in a particular web page while optimizing it.
Try to include your primary keywords in prominent places. Make sure to know the searcher's intent, give them the RIGHT information, sprinkle LSI keywords – and you're good to go.
Are you still focusing on keyword repetition? Have any questions? Shoot them in the comments below.