Are you interested in learning SEO? If yes, this page is exclusively for you where you can find a ton of useful and best SEO training courses and certifications you can use in 2022 to hone your SEO skills.
Do you want to master the art of SEO? First things first: SEO is not easy.
To be honest, SEO is a huge ocean and it's a billion dollar industry. So if you want to take it as a career and become an SEO expert, you should enroll in a SEO courses to learn the basics right.
Here's where we're going to discuss 10 best SEO training courses you can take part in. Let's dive into the details without much ado.
Quick Note: Want to learn affiliate marketing? You should check out the list of best affiliate marketing courses from here.
10 Best SEO Training Courses to Learn SEO In 2022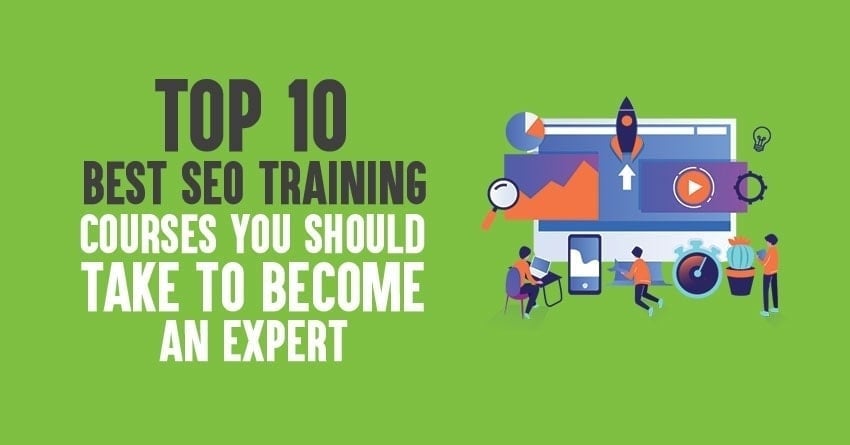 | Best SEO Training Courses | Cost | Join Now |
| --- | --- | --- |
| 1. Moz | Starts at $149 | |
| 2. Coursera | Costs you $49 per month | |
| 3. Lynda | Costs you $29 per month | |
| 4. eCommerce SEO 101 | FREE | |
| 5. Market Motive | $200 | |
| 6. ClickMinded | $497 | |
| 7. Moz Free SEO Training On Udemy | FREE | |
| 8. Serpstat | FREE | |
| 9. Reliablesoft | Costs you $19 (one time fee) | |
| 10. Yoast | Starts at $39 | |
1. Moz SEO Training
Hands down, Moz is one of the best websites in the world to learn SEO. Although there are a ton of video tutorials, in-depth guides along with whiteboard Friday videos to learn SEO, Moz also offers an exclusive instructor-led SEO training program.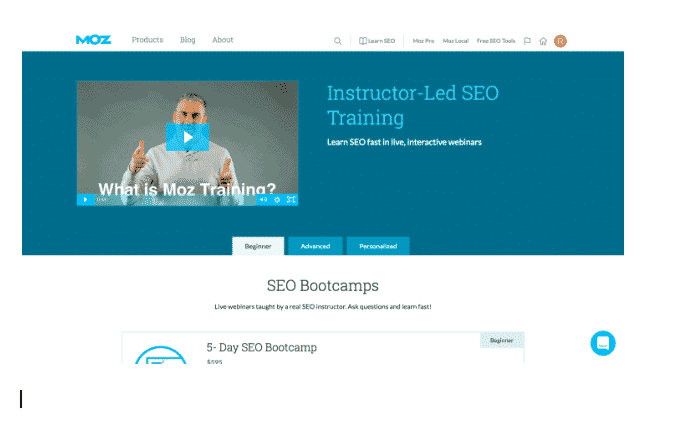 It offers training for all kinds of people including:
Beginners
Intermediate level users
Advanced SEO users and
Personalized training course where you can customize your training experience to learn SEO fast
All in all, Moz Training is the best place where you can spend your time and money to learn all the SEO basics from keyword research to local business to eCommerce related SEO and so on.
What does it offer and how much does training from Moz cost?
Here are some of the things that get covered in training from Moz:
Ranking in Maps
Local business SEO
Improving your content team capabilities
eCommerce SEO
Technical SEO site audits
Fundamentals of SEO and Broad overview
Link building
Keyword research and so on
Their training prices start from $149 and go all the way up to $595 for 5 day SEO bootcamp which is a live, instructor-led class covers essential SEO practices for research, competitive analysis, reporting, link building and many more.
Click here to enroll for Moz training
Quick Tip:
Moz also has a FREE learning center where you can access most of the SEO goodies for free.
Here's the page
where you can find so many valuable SEO resources including videos and in-depth articles to learn and master your SEO skills.
2. Become an SEO Expert with Coursera
Coursera is one of the biggest online platforms that give you access to a wide range of courses ranging from SEO to web design to coding. Coursera was founded by Stanford professors in 2012 and it is currently used by over 24 million people worldwide to learn online course on almost every major subject.

What does it offer and how much does SEO course from Coursera?
Once you've signed up to this SEO course, you'll get access to the following courses:
Introduction to Search Engine Optimization
Search Engine Optimization Fundamentals
Learn the ins and outs of optimizing a website, from conducting an initial audit to getting recommendations
Leverage content marketing and social media as part of your SEO strategy
Website Optimization Client Report Project
You've to enroll for Coursera which costs you $49 per month to get access to this training program and you'll also get access to all the other courses from Coursera.
Try their 7 day course for free
3. Lynda SEO Courses
Lynda is one of the BIGGEST online educational companies which was founded in 1995 by Lynda Weinman and offers courses ranging from free to premium on a variety number of topics including SEO, technology, business etc.
The benefits of taking courses from Lynda are:
Access to over 10,000+ expert-led courses ranging from technology to SEO to photography
Watch as many courses as you like as there's no limit whatsoever
Watch anytime on your computer or phone (they also have android and ios apps)
Easily access and watch courses from your desktop or mobile device and you can also earn a certificate when you complete a course
So if you're looking for a lot of SEO courses apart from digital marketing courses at one place, Lynda is a popular choice for you!
What does it offer and how much does courses from Lynda?
You can find a ton of SEO related courses which are really helpful to hone your SEO skills on Lynda platform and you can find courses which cover topics like:
Understanding keyword research such as how keywords work, how to use long-tail keywords, phrase patterns, and plurals
Discovering searcher intent so you can bring more high quality traffic to increase your sales
Measuring keyword competitiveness and brand impact and examining keyword demand and keyword trends
Applying keywords to your website for maximum searchability
Competitor research and many more
Lynda offers monthly payments where you need to pay $29 per month to access their courses.
Click here to sign up to their courses
4. SEO Certification by Market Motive
Market Motive is one of the best SEO certification platforms that provides you SEO certificates at affordable prices. Here's what you can get access to if you've signed up to their program.
17 + hours self-paced videos around SEO
Practical and hands-on SEO learning (so you can sharpen your skills even if you're a beginner)
15 real-life Industry-based projects to shape up your SEO skills
The course topics include keyword research, on-page and off-page optimization, link building, and webmaster tools.
You'll also get access to downloadable e-book and course assessment so you can learn at your own pace
What does it offer and how much does certification from Market Motive cost?
Here are some of the things you can learn from from Market Motive training:
Keyword Research Best Practices
On Page, Off Off SEO and Competitive Analysis
SEO Friendly Design & Architecture
SEO Site Audit
Webmaster tools
Certification from Market Motive costs you around $200 (with access to their course for 180 days i.e 6 months) and you'll get the certificate from them if you complete 85% of the course and complete 3 projects and 1 simulation test with a minimum score of 60%.
Click here to join their training course
5. eCommerce SEO 101 by Shopify
Do you want to know how to rank eCommerce websites in search engines like Google? Do you know how to find profitable keywords for eCommerces and the importance of content marketing and SEO?
If yes, eCommerce SEO 101 by Shopify is just for you where you can get free access to the video training by industry expert Helen Overland from Search Engine People.
What does it offer and how much does it cost?
Here's the list of chapters you can learn from this eCommerce SEO course:
Why is Your Store Not on Google
What is SEO Marketing
How Does Google Rank Your Ecommerce Store
Keyword Research: Which Search Phrases Should You Rank For
The Importance of Content and SEO
Google Penalties & Key Things to Look Out For
It's completely free to access.
6. ClickMinded SEO Training
ClickMinded is a bundle of digital marketing courses where you can find SEO courses to enhance your SEO skills including keyword research, backlink analysis, site audits and so on. It's a must SEO course for anyone who wants to get access to lifetime updates.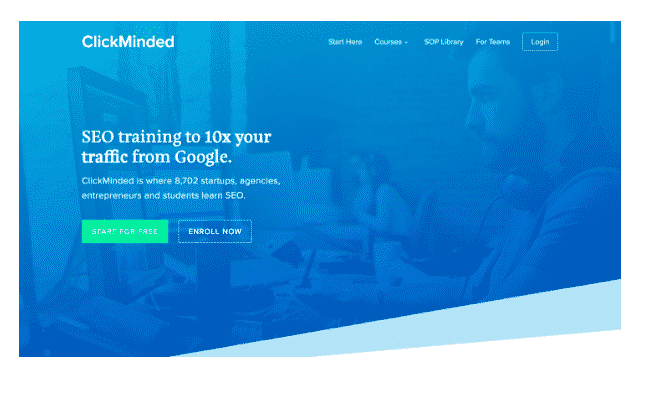 You'll be also getting downloadable & printable slides and quizzes at the end of each lecture so you can remember what you've learned in the course. It also offers ClickMinded SEO Certification for each participant.
What does it offer and how much does it cost?
Here's what all you get with this SEO course:
Keyword research tutorials
Mapping tutorials and Link building
Google search console tutorials and Technical optimization walkthroughs
Start a new site from scratch tutorials
ClickMinded courses cost you $497 (one time payment and lifetime updates). The great thing about taking this SEO course is that you get unlimited lifetime access and free updates for life along with a 14 day money back guarantee.
7. Free SEO Training Course by Moz On Udemy
Udemy is one of the best destinations to take online courses and it offers a wide range of topics you can learn from (the courses range from free to paid) and Moz is offering a free SEO training course on Udemy.
So you simply need to sign up for Udemy using your email or social media accounts to take part in this amazing free training course by Moz.
What does it offer and how much does it cost?
SEO Strategy Development
Site Audits and Structure
Keyword Research Basics
On-Page SEO Fundamentals
Link building and Off-Page SEO
Reporting on SEO
This is a free training SEO course provided by Moz team on Udemy platform. All you have to do is to sign up for a free account on Udemy and click on the below link to join their training courses for absolutely free.
Click here to enroll the course for FREE
8. Serpstat Academy
Serpstat is an all in one SEO toolkit which also offers you free access to their academy which talks about keyword research, competitor analysis etc. It's a great place to start learning SEO from scratch.
What does it offer and how much does it cost?
Keyword research basics
Getting the most out of Serpstat (along with its features and benefits)
Long tail keyword research and competitor analysis
This is a free training course you can join by registering yourself for free on their academy through your email.
Click here to join Serpstat academy for free
9. The Complete SEO Course by Reliablesoft
Reliablesoft.net is digital marketing agency which is also a proud Google Partner that offers an amazing paid SEO course called "The Complete SEO Course". If you're looking for an affordable yet most effective SEO course, you should definitely give it a try.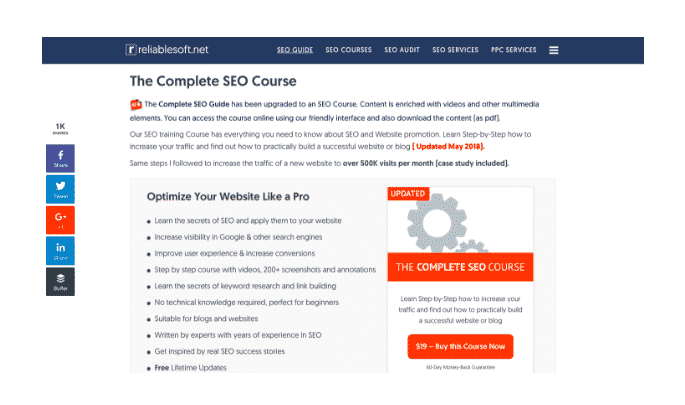 What does it offer and how much does it cost?
Here's what this course offers you;
Step by step course with videos, 200+ screenshots and annotations
Learn the SEO secrets so you can apply them to your website for higher search engine rankings
Increase your online visibility in Google & other search engines like Bing Yahoo etc
Improve your website user experience and increase your overall website conversions along with sales
Keyword research and link building tactics that work in 2022 and beyond
Click here to enroll for the course
This course costs you $19 (one time fee) and comes with a 60 day money back guarantee.
The great thing about taking this SEO training course is that it's suitable even for beginners who have zero knowledge about SEO and written by experts with years of experience in SEO which also gives you access to a ton of real SEO success stories along with free lifetime updates.
10. Online SEO Course by Yoast
Yoast is known for its most popular WordPress plugin called WordPress SEO which has been downloaded by millions of people worldwide and it is still one of the most downloaded WordPress plugins ever in WordPress history.
Yoast also offers a lot of training courses ranging from free to premium that include topics like keyword research, technical SEO, copywriting and so on.
What does it offer and how much does it cost?
Here's what all the major things that you can learn from Yoast;
Yoast SEO for WordPress plugin training
Basic SEO training
SEO copywriting training including keyword research
Technical SEO 1 training
Structured data training
Site structure training
And many more
Yoast offers free online courses along with premium courses that start at $39 and go all the way up to $699 where you can get access to all in one SEO course where you can learn about SEO everything from scratch.
Click here to join the course from Yoast
So far we've talked about some of the best SEO training courses you can take part in, now let's now discuss about the most basic question: why you need SEO training and what are the benefits of learning SEO?
Why You Need SEO Training
Even the most successful SEO professionals like Neil Patel, Rand Fishkin, Brian Dean stay up to date with all the latest developments in SEO. Do you know why?
SEO changes constantly. You must learn the basics and master the SEO tactics in order to attract more traffic and sales to your websites. Here's where taking SEO training can help you immensely. Not only you can use SEO to build a high traffic website but you can also use it land high paying SEO clients.
Read: Best Blogging Courses for Beginners (Free & Paid)
3 Major Benefits of SEO Training In 2022
If you're still wondering why you need SEO training, here are some of the greatest benefits of learning SEO in 2022 and beyond.
1. SEO is a billion dollar industry
Did you know that in 2016, in the US alone, $65.26 billion was spent in search engine optimization? Yes, that's true and this spending on SEO will rise to $79.27 billion by 2020 according to an SEO industry report.
So what does it mean? You're sitting on a pile of cash if you know how to properly use SEO. There's a huge demand for SEO where people are spending billions of dollars every single year to get more results, traffic and sales to their businesses.
With the world becoming more and more dependent on technology and the usage of smartphone growth is only fueling the popularity of SEO. People are using Google search before they buy anything from online.
You can drive more visitors and sales to your sites if you can get first page results for the keywords that people are looking for. If you're still wondering about the importance of SEO, here are few amazing stats about SEO you should know.
There are 863 million websites worldwide that mention SEO and about 164,000 videos in YouTube are indexed under SEO category.
Every month about 9 million people search for SEO and related terms on Google of which 2.24 million are Americans.
There are 13 million blog posts floating around the internet with the word SEO included in the title and the number is just growing day by day!
2. Land more SEO clients
Do you want to take a career in SEO? If yes, then you need to first land high paying SEO clients in order to earn sustainable income. Whether you want to start a digital marketing agency that offers SEO services or you want to become an SEO consultant, you need to find people who are ready to pay for your services.
Here's where you SEO skills come into play. If you've a great portfolio with high traffic websites or high selling projects attained through your SEO skills, you can definitely attract a ton of people who are interested in buying your SEO services.
Just make sure to know the demographics of your target audience or who you are catering to in order to land more SEO clients and build a thriving online business in the long run.
3. Learn how to get more organic traffic and sales
If you've the proper SEO training, you can literally drive thousands of visitors from search engines like Google to your sites or your client's sites. To build any profitable blog that makes money, it needs more search traffic.
Once you master the art of SEO, there's no stopping for you on how much amount of traffic you can bring from Google to your sites. The more traffic you generate from Google, the higher chances you'll have to generate more money. It's as simple as that.
If you can drive organic traffic by using commercial intent keywords, there's only sky's the limit for you on how much money you can make each month depending on the industry you're in.
Another biggest benefit of taking SEO courses is that you can literally build your own website that makes money from scratch. Because once you know how to get more traffic from search engines, you can also generate sales and make money either through affiliate marketing, selling your own courses or through offering SEO consulting etc.
Browse more SEO Tutorials:
FAQs
What is SEO?
SEO stands for Search Engine Optimization. It is a process of optimizing a website so that it can rank well in Google (organically), hence improved traffic and sales.
Does SEO require coding?
No! For doing SEO, you don't need to have coding skills. Generally, SEO is divided into two parts, on-page SEO (optimizing page content) and off-page SEO (links and other external signals).
Can I learn SEO by myself?
Of course, you can. In fact, SEO is not something that you will read a book or join a course and you will become an SEO expert. Rather you will have to practice it and gradually you will learn how to do SEO effectively and will become more confident about it.
What are the best SEO training courses?
Moz SEO Training, Become an SEO Expert with Coursera, Lynda SEO Courses, SEO Certification by Market Motive, eCommerce SEO 101 by Shopify, ClickMinded SEO Training, Free SEO Training Course by Moz On Udemy, Serpstat Academy, The Complete SEO Course by Reliablesoft, Online SEO Course by Yoast are some of the best SEO training courses.
How much does SEO training cost?
SEO training costs vary from course to course. SEO courses we mentioned can be joined by paying absolutely nothing to $497.
Final Thoughts
SEO is growing rapidly and if you want to get ahead of the game, you should start learning SEO today. Just don't delay, start small and focus on the next action item instead of ignoring SEO altogether.
This post compiled a list of some of the top SEO training courses which are ranging from free to premium, so depending on your budget, consider taking those courses.
So what are your thoughts about the best training courses mentioned on this page? Did you find them useful? Make sure to leave your thoughts in the comments and also let us know if we missed any of your favorite SEO course so we'll try to include it on the list.