Alert: This post is going to change the way you look at SEO. This SIMPLE Skyscraper technique is going to push your rankings to the first page on Google for any keyword!
Let's face it.. most advice you find on Google about increasing your website traffic is old. The strategies that worked 2 years ago won't work now!
I know it can be very frustrating if you don't get the results even after spending a lot of time on creating great content. We all know, the most common advice for increasing traffic to a new blog – "create more content, share it on social media, leave comments on other blogs blah blah".
If you're blogging for a while, you'd know that won't work! Because the advice is not specific and it is not PROVEN to bring you results.
So what should you do instead?
You need to find creative ways to promote your blog to build high quality backlinks and increase your overall website traffic.
The Skyscraper technique is one of my most favourite strategies to grow a successful blog. It doesn't matter whether you're building a completely new blog or an old one, you can use this technique to increase your overall search traffic.
Why promotion is more important than content creation?
It feels really bad if you don't get good results from the content that you thought would go viral, right?
There's a difference between creating content that is popular and creating content that would go popular. If you think that a particular piece of content would go viral, it might not be able to get even 100 visitors. So what is going wrong here?
Most people think that, "they've to create more content to get more traffic to their blogs".
It was completely true a decade ago when there was not much competition. But does it work now? NO!
You see, there are a lot of blogs (read thousands) going live and millions of blog posts are getting published every single day. It's almost impossible to get a lot of exposure to your blog posts if you don't promote your content well.
"Focus on spending 80% of your time on content promotion and 20% on creating content".
Let's say if you're spending 2 hours in creating a blog post, spend 8 hours in promoting it to get the REAL benefits from your blog.
So lookout for ways to promote your content. I know there are a lot of promotion strategies out there (including social media, email, SEO, forum submission etc) but there are not highly effective if you're a new blogger. Why? If you don't have enough online connections, no one will share your stuff!
Then what else can you do? How to get incoming links from other blogs and increase your social shares and blog traffic?
Is there any simple technique that helps you bring more visibility to your blog posts?
Yes, there is one.. "The Skyscraper technique".
What is The Skyscraper technique?
Brian Dean first coined the phrase "Skyscraper technique", It is in simple terms – "getting high quality backlinks and more social shares by creating content that is proven to be exceptional".
Benefits of Skyscraper techniques
Want to know why this technique is so effective? Here are few benefits of it.
Skyscraper technique helps you:
build high quality content that is useful for your readers
increase your social shares
increase overall backlinks (Most important aspect of Off-Page SEO) to your blog posts.
increase your blog comments
increase your authority
increase your blog exposure
increase your overall blog traffic from search engines
build strong relationships with other bloggers
All in all, this technique uses a proven content creation framework that allows you to easily climb up rankings on Google and get you more blog readers. That's what we all need to build profitable sites, right? So get the most out of this link building strategy and you will be blown away with the results.
Are you convinced that this technique is right for you? So what are you waiting for? Let's dive into the details of how to use the proven Skyscraper technique to build quality links and increase your blog traffic.
Beginner's guide to using Skyscraper technique to build quality links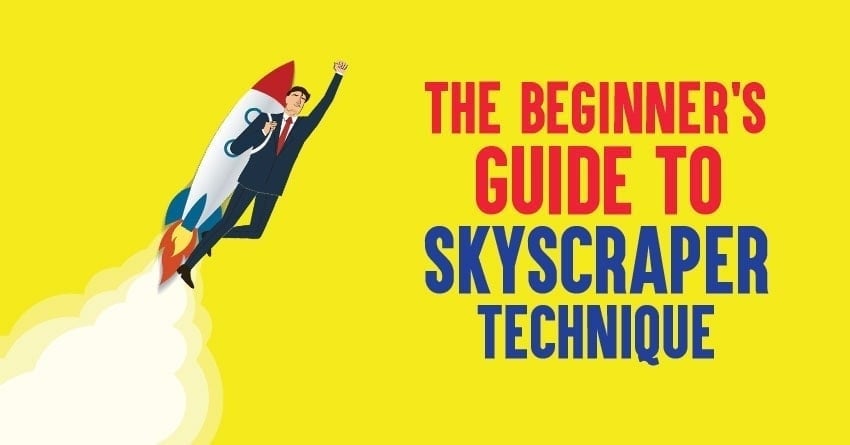 In 3 simple steps, I'll explain you how to use this technique to create content that performs exceptionally well.
Find a list of highly sharable content ideas
Create content based on your ideas, but make it exceptional
Reach out to the right people to increase your blog exposure
Step 1: Create a list of highly sharable content ideas
The very first step in Skyscraper technique is that you have to find the link worthy content. Find out the content that is already performing well in your niche.
Why? If an article, video or Infographic in your industry is performing really well means it already has huge potential to attract thousands (if not millions) of more visitors. By focusing on "viral content ideas", you are ready to rock the blogosphere.
So how can you find the list of sharable and link worthy content in your niche?
What do you need?
I know there are a lot of blogging tools out there but I highly recommend the following two tools for the Skyscraper technique.
Buzzsumo (to find the highly sharable topic ideas around your niche)
Moz (for finding top pages with more links to your competitor sites)
ahrefs Content Explorer (this also give you social metrics and onsite metrics to find better topics in any industry)
Go to Buzzsumo and enter a keyword related to your blog's topic. You'll come up with several top posts in your industry that got more social shares.
Similarly, use Moz Open Site Explorer to find the top pages of your competitor sites and find out who linked to them most.
Once you enter into Moz Open Site Explorer, enter a domain name of your competitor and click on the top pages from the left side of the page to find out the pages that got more backlinks.
You'll now be able to see a list of all the top pages with backlinks.
Few more handy tools for finding great content in any niche are:
Twitter: We all know how powerful micro blogging social platform twitter is. It has millions of active users and thousands of people actively search for various keywords. Just enter your desired keywords and you will come up with the hashtags and links, pick the URL's that get more retweets and comments. You can start making those content ideas even better to get more buzz.
Topsy: Topsy is a free tool that helps you find out what's trending and which articles get more retweets, comments etc. It also allows you to find out who are the influencers tweeted about the stuff you are trying to rank for. Once you create great content around it, you can always contact these influencers to share your stuff. If they find your content valuable, they will definitely do the needful. What else would you want than an influencer sharing your stuff?
Once you have a list of several top performing topic ideas in your industry, you're ready to dive into the next step.
Step 2: Create content based on your ideas and make it exceptional
Now that you found out the list of popular topic ideas in your niche, in the second step, you will make the content more creative to get better results for your blog.
"Creating epic content is the key in getting outstanding results from the Skyscraper technique". If your readers are not completely blown away with your content, you're not going to get good results with this technique. Without having great content on your blog, no one is going to link to your posts or share your stuff. This is the most important step in the this technique.
So what can you do to make the already "performed well" content better?
Add exceptional value.
Here are few effective ideas that will help you create viral blog posts.
Make them detailed: Once you have a list of proven viral blog post ideas, read the posts entirely. Find out what is missing. If they are not detailed, make your posts as detailed as possible. And include everything that makes sense to the blog post ideas you have discovered.
Make it appealing: If the posts that are already performed well in your niche don't have much visual data (like images, videos or Infographics), include them in your blog posts. Did you know that, well explained blog posts with lots of visual data attracts more shares and incoming links? So make sure to spend quality time adding more images to your content.
Must Read: Finding Free Images: Free Stock Photo Websites to Find High Resolution Images
Use resources and data: Research backed up data is the most authoritative content in any industry. If you want to really attract lots of social shares and incoming links from other blogs, make sure to focus on creating real case studies, well researched content etc.
Now that you are done with creating most viral content for your blog, it's now time to promote it to the right people to get some rewards from your efforts.
Step 3: Reach out to the right people
Find out who are interested in linking or promoting your stuff to get more rewards from your content. How can you find someone who is interested in sharing your blog posts?
You can just head over to Buzzsumo and enter the keywords you used on your blog posts to find out who shared the similar contents in your niche.
You can also use Ahrefs to find out the contact details of the people who linked to the content you are inspired from Buzzsumo or Open Site Explorer.
By using Ahrefs, you can easily download the contact details in either CSV or PDF form and copy them into a spreadsheet and remove all the unwanted pages like forums, directories etc.
Once you have the "list of targeted people email addresses", you can then start pitching them about your piece of content.
Create an email that gets opened, read and responded
Here's where the beginner's guide to the Skyscraper technique comes into play. If you forget this one section, you won't get desired results. Ignore this "email outreach" at your own peril.
Email outreach is the biggest strategy that makes or breaks this technique. If you don't know how to write emails that gets opened, you will never be able to get the results you desire.
It's essential to learn how to write emails that gets response.
Unfortunately getting response from the most influential bloggers is not easy as it sounds. They are extremely busy and they don't get a chance to even read your emails sometimes. That's the reason why you need to spend time on crafting perfect emails.
Here are few effective tips to write emails that gets response from influencers.
Write a stunning subject line. Because it is the first thing everyone will see. If it's not compelling, consider that your email is went to trash!
Keep your email short and sweet. Busy bloggers don't have enough time to read long and boring emails. So always keep your emails short and concise.
Serve before you seek help. Before asking for shares or links from other bloggers make sure to first tweet their stuff and frequently link out to them. Blogging is all about win/win approach.
Always use their names and NEVER send automated emails. Personalization is the key to get your emails opened.
Follow up. One of the most common mistakes majority of the bloggers make while sending out emails to others is they just send one email and expect a reply instantly. See, top bloggers in any industry are busy. They get a ton of emails every single day. If they don't respond to your first email, it might got out of their radar, this is the time you need to follow them up with another email. Make sure to follow up with another email after 5 to 6 days. This always gives you better results. That's the secret in making the most out of this this technique.
Here's a sample email pitch that gets good results.
Hi [name],

My name is Anil and I have blog at BloggersPassion. I've been reading your blog from some time and I'm really impressed.

I recently wrote a post that is highly relevant to your most popular post (link).

Hope you'll like it.

I'd appreciate your tweet!

Regards,

[your name].
See, how simple is the above email.
Is it possible to build your blog audience from scratch using this technique?
Yes, absolutely. This technique is the surefire way to build a successful blog from scratch.
If you want to build a large blog audience from the beginning, then you're not alone. By using the proven methods you can definitely build a massive blog. Unfortunately, there are not so many "proven techniques" out there that will get you results.
And creating link worthy content using this technique is really simple. Go and find out the most popular content ideas in your industry and create better content around it. Reach out to the right people and you'll soon start receiving great results.
Make sure to spend extra time in creating longer content, adding compelling images, making your content SEO friendly by better optimizing them and promoting it to the right people to get the most out of this technique.
Browse more SEO Tutorials:
Final Thoughts
We all know the feeling of no one reading or sharing our stuff when we spend too much time creating it. "Lack of readers" is what stops most people to quit blogging. If you are struggling to increase your traffic with content, it's time for you to start using additional proven strategies such as the Skyscraper technique.
Instead of posting new articles daily, it's 10x times better to create exceptional content. A bad post is no less than no post at all. So if you want to bring quality results to your blog, make sure to spend quality time on crafting detailed articles that will help your audience.
If you don't have time to create quality stuff, hire someone to do it for you. But make sure to ONLY post outstanding content that everyone wants to share and link out to.
Be generous in linking to other bloggers from your blog posts. After all, to get more social shares from others you have to first share others and in order to get links from others, you need to start linking out to others.
This technique is highly recommended for beginner bloggers to take their blogs from zero to hero. It's also important to focus on writing great emails to the busy bloggers and get response. If you don't get response from your first email, don't give up, follow them up with another email until they send you a reply.
What are you waiting for? Start implementing the Skyscraper technique to boost your rankings and overall traffic. Please make sure to bookmark the post for future reference and share it with others so they can benefit. Let me know your thoughts in the comments below.