YouTube SEO Tips: How to Get #1 Rankings for YouTube Videos
in SEO Tips
|
Last Updated : September 26, 2018
|
YouTube is the 2nd LARGEST search engine after Google.
More than 1 billion unique users visit YouTube every single month. That's a lot of people, right? If you're not focusing on YouTube SEO yet, you're missing a HUGE opportunity to build and grow your business online.
Here are a few YouTube facts that will mesmerise you: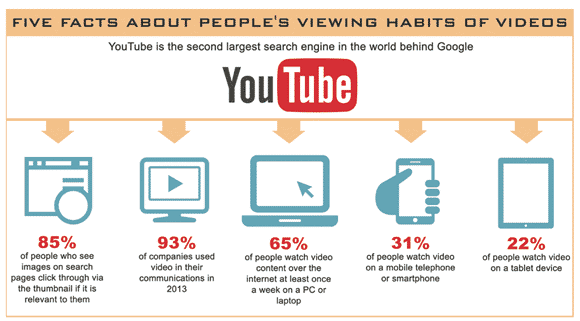 YouTube is a golden platform especially for
Small business owners
Bloggers
SEO's
Marketers
Real estate agents and anyone who wants to build and grow their online presence.
Do you want to get higher rankings for YouTube videos? I'm going to reveal some of the best YouTube SEO tips in this guide so you can rank your YouTube videos fast.
So what are you waiting for? Let's jump in.
YouTube SEO Tips: How to Rank YouTube Videos Fast?
#1. Come up with a primary keyword
Both Google and YouTube search engines almost work the same way. They focus on various factors to place a piece of content (either an article or video) on their search engines. And keywords play a vital role here.
Most people who are doing YouTube video marketing don't focus much on keywords. That's why they fail to get more views on their videos.
Just like bloggers do keyword research before writing an article, you should also do the same before making a video.
Just have a look at the following screenshot and you will know what I'm talking about.
What did you notice from the above image?
If you type the keyword (in our case, it's SEO), you will see the top ranking results using it within their title, meta description and even in their thumbnails.
That's how YouTube determines the "concept of a video" (through keywords). That's the reason why you should be doing primary keyword research before you begin creating videos for YouTube SEO.
Here are some of the best SEO tips that will help you do better on YouTube SEO.
Make sure to come up with a primary keyword. Preferably with a long tail keyword as they generate the majority of the traffic. Instead of trying to rank for a broad term like "SEO", you can get better rankings on YouTube by using a keyword like "SEO tips for New York agencies".
Use tools like SEMrush for coming up with keyword ideas. Yes, you can use free keyword research tools like Google's Keyword Planner but it doesn't really show you potential keywords. Here's where premium SEO tools like SEMrush can help you in finding the most profitable keywords that drive more traffic to your YouTube videos.
While doing keyword research for YouTube SEO, make sure to analyze your competitors. Find out who are all already ranking on first page results on Google for your targeted keyword. Find out why they are ranking on #1 page results. Find out their average video length. This simple analysis can help you a lot while making videos to boost your online growth.
#2. Learn how to optimize YouTube videos
If you've subscribed to Bloggers Passion YouTube channel (if not, please subscribe to it as we'll be talking mostly about SEO, making money and blogging related stuff), you will notice that our videos are always optimized both for search engine crawlers and people.
If you want to get better rankings for your YouTube videos, make sure to focus on the following 3 things.
Title
Meta description of your video and
Tags
Let's now talk about them briefly so you can easily optimize your videos for YouTube SEO.
Video Title:
Make sure to optimize your YouTube video title as it carries more weightage by crawlers. Include your primary keyword (see step #1) in your title. If possible, use your keyword in the beginning of your video title so both people and search crawlers can easily understand what your video is all about.
Youtube Video Meta description:
Just like title, the meta description (the description of your video) plays a HUGE role in YouTube SEO. So make sure you're spending good amount of time in crafting the right description for your videos.
Use links to specific pages (either to your own websites or products) within your meta description and add them in the beginning of your description so people can quickly decide where to go after watching your videos on YouTube.
Video Tags:
Most people ignore tagging their videos with keywords. If you want higher rankings for your videos on YouTube, you shouldn't ignore your video tags.
Instead of using random tags, use relevant tags that are perfectly suited for your videos. For instance, if you're talking about SEO tips on your videos, you can use tags like SEO tips, search engine optimization, how to get better rankings on YouTube etc.
There's no rule of thumb in how many tags to use in a video but you can use tags anywhere around 5 to 10 tags for better YouTube optimization.
#3. Create buzz around your videos
Want to practice the best YouTube SEO tips to get higher rankings? Then, create buzz around your videos.
Why? The #1 reason is: the more people who talk about your videos (or who share your videos with others) the better rankings you can get.
If you're wondering about how to create buzz around your videos, here are few places you can try.
Promote videos from your own blogs:
Even if you're a YouTube marketer who is only using YouTube to create videos, make sure to create a blog. Why? Blogs are really helpful in getting top rankings.
You can use your blog to build an email list, to create buzz around your videos, to link to your YouTube videos and to increase traffic to your YouTube channel.
If you already have a blog, make sure to drive as many visitors as possible from your site to your YouTube channel. You can create specific blog posts around your YouTube videos or you can simple use your sidebar or footer to let your audience know that your channel exists.
Promote in discussion forums:
There are a ton of forums ranging from marketing to SEO to fitness. Simply use search strings like "your video topic" + "forums" on Google to find relevant forums in your in industry.
You can also create free accounts in popular marketing forums like;
Warrior Forum
Digital Point
Blog Engage
Blokube
Forums are great places to begin with if you're just starting out. If you're new to YouTube video marketing, you know how important it is to get initial audience and feedback.
Forums give you an opportunity to really connect with other bloggers and YouTube marketers. That's how you learn and implement successful YouTube SEO tips to grow your business online.
Reply to relevant questions on Quora:
Quora is the #1 platform for Question and Answers. You can find the best answer to almost any question on Quora. It's the platform that's been used by millions of people worldwide.
This platform also helps  you find great topic ideas to create videos. See the image below to understand what I'm talking about.
Just find and follow topics on Quora that are relevant to your YouTube channel and start writing answers to help others. Occasionally, you can use links to your videos from your Quora answers to generate buzz online.
You can also use other marketing channels like Facebook, Twitter, Instagram etc to drive more visitors to your YouTube channel to watch your videos. There are literally thousands of promotional ways to promote your videos if you have enough time.
#4. Attract more clicks with these 5 Youtube SEO tips
1. Use appealing thumbnails:
The thumbnails in your videos play a crucial role in getting more clicks. The more clicks you get the better rankings you get for your videos. So use appealing thumbnails.
Make sure to have a resolution of 1280 x 720 (with minimum width of 650 pixels) to give best thumbnail experience to your users.
Upload your images in quality image formats such as .JPG or .PNG. You can also resize your images before uploading them onto YouTube for better SEO.
2: Click-worthy headlines:
9 out of 10 people read your headlines before clicking on your videos. So don't ignore them at all.
Here are few headline samples that work almost every time.
How to's
How I Did [Something] (case studies)
Lists (10 ways to reduce belly fat)
Controversial type (How Donald Trump is wasting America's money)
3: Increase your subscribers:
What's the best way to get more views on your YouTube videos? Simple, increase your subscribers.
Find out ways to get more subscribers to your YouTube channel. As we discussed above, use forums, Quora, blogs etc to promote your channel to get as many people as possible.
4: Comment A LOT on other videos:
If you have just started creating videos, one of the simple YouTube SEO tips to get more attention to your channel is to leave thoughtful comments.
Find popular videos
Leave funny/thoughtful comments
That's how you get the initial traction to your channel.
Most people ignore this but the best way to get more exposure to your channel is to simply ask others to share your stuff. In the beginning and ending of your videos, ask people to share your stuff. Also ask your friends and colleagues to share your videos on other social media sites to get more exposure.
#5. Create a long term video marketing strategy
Last but not least, make sure to create a long term strategy for YouTube SEO.
I've been doing SEO for a long time now and I know one thing about SEO: you don't get better results or rankings quickly. It takes time to get higher rankings for YouTube videos.
So it's better to focus on 1 year strategy and keep a consistent video posting frequency (once a week or twice a month) if you want to really get the best results from YouTube.
Also make sure to acquire as many subscribers as possible to your YouTube channel as your subscriber count plays a huge role in following things.
Your subscriber count:
Helps you increase your video watching time
Helps you increase your video shares
Helps you get more likes and comments
Helps you ultimately get higher rankings for YouTube videos
So find out various ways to get as many subscribers as you can to your channel. That's how you succeed in YouTube video marketing. Focus on long term goals instead of short term results.
Final thoughts about YouTube SEO Tips
YouTube SEO is NOT easy. You need to learn latest YouTube SEO tips and keep up to date yourself with trends to rank higher.
It's also not a rocket science to get higher ranking for your YouTube videos. All the five tips mentioned in this post are highly practical to implement and I guarantee you can get 1st page rankings on YouTube by following them.
So what are you waiting for? Have you already started YouTube video marketing? Do you have any more YouTube SEO tips to get better rankings on YouTube? Share your thoughts in the comments.