Do you own a WordPress blog and want to start guest blogging activities on it?
But don't know how to go about it and searching for few guest blogging plugins which could make things easier for you? There are some incredible plugins useful for WordPress guest posts available which will make all of tasks associated with guest posting quite easier which we are going to cover in this post.
Whether you know it or not, guest blogging is still one of the most effective ways to grow your audience and increase your backlinks and traffic. There are so many bloggers who are using it to grow their online revenue and email list. So if you are thinking to grow your online presence, make sure to harness the power of guest posting to boost your blog's exposure.
Today I'm going to share list of 7 must have guest blogging plugins for WordPress users. These plugins will be really handy for you if you are introducing guest blogging opportunities on your blogs.
Before discussing in detail about these plugins, there are some basic facts related to guest posting, I would like to discuss with you. Let's talk about them first.
There's a quick way to accept guest posts on WordPress blogs
First of all you need to make sure how you will be accepting guest posts i.e. via Form on your blog or through Email or through direct submission into your blog by their accounts. I used to get 40-50 guest blogging requests here on BloggersPassion.com every month.
So far I haven't been accepting guest posts through a form on my blog. If you are interested in accepting guest posts through a form on your blog, below I'm going to share a plugin which will allow your blog readers submit their guest post on your blog without any registration.
As far as I'm concerned, I used to review guest bloggers posts via Email and direct them to submit on my blog through their contributor accounts.
Accounts Creation Process for Guest Blogging
By default, people are not allowed to create any kind of account on your WordPress blogs. You need to activate it from your WordPress Admin Panel. When you click on Settings –> General option, will see a field membership, you need to select the Anyone can register checkbox available against it.
And then decide the role for new users from New User Default Role drop down. New members can register as contributors, subscribers, editors, authors or administrators.
Subscribers: They can just manage their profiles. This role will be useful when you want to upgrade their accounts for guest post submission after going through their profile only.

Contributors: They can manage their profiles and can submit blog posts for review but don't have permission to publish them. This will be handy when you want to allow your blog readers directly submit their posts for review.

Authors: They can manage their profiles, can submit their posts and even can publish them. This role will be very effective on multi Author WordPress blogs.

Editors: Editors can publish posts, pages and even can manage other people posts.

Administrators: They have access to all of administrative features in WordPress.
I hope you are now in better situation to decide the role that you would like to assign to new members. Here is a screenshot showing New Member registration and roles window in action on Bloggers passion blog:
7 Incredible Guest Blogging Plugins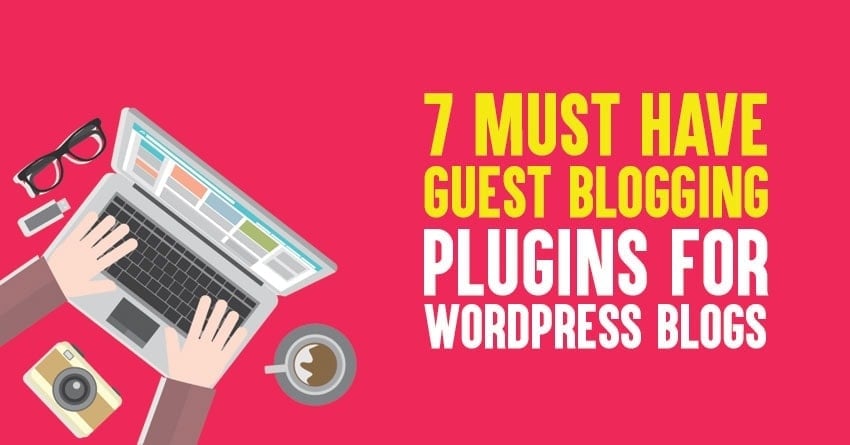 1. Peter's Collaboration E-mails Plugin
This plugin will send automatic notification via email to guest bloggers about their guest posts status i.e. if it's in pending state, scheduled state or approved. I
t will also notify them about the change in status of their guest posts like if their guest posts moved from pending status to scheduled or from pending to draft etc. You as blog owner will get notifications about new guest posts that are submitted and your own blog posts that are published.
After started using this plugin on BloggersPassion, things have become lot more smooth for me. Before using this plugin, I have to manually email guest bloggers about their guest post status like its publishing or scheduling date. Now I did not need to email them about any kind of notification related to their guest post status.
Also I also don't need to go to my WordPress panel over and over to see if there are new guest posts waiting for my attention. With Peter's Collaboration E-mails plugin, I get instant notification on my email address about a new guest post submission. Here is a screenshot showing the kind of notification I'm getting into my Email box new guest post submissions after started using Peter's Collaboration E-mails plugin.
Recommended Blogging Products – Bluehost | Hostgator | GetResponse | Elegant Themes | SEMrush
2. Sabre Plugin
What you will do if seeing lots of spam registrations are done on your blog in the recent times? Sabre plugin can help in solving this problem to great extent. Sabre plugin is basically a Simple Anti Bot Registration Engine.
It will save your blog from those people who use automatic programs or software's etc for user registrations and post submissions. It comes with lots of features like allowing you to add simple or complex Captcha and math test etc. at user registration level.
3. Peter's Post Notes Plugin
This plugin works well in association with Peter's Collaboration E-mails Plugin. With this plugin, you can add notes at edit post and edit page level for yourself and for others. This plugin can be useful in many circumstances. Suppose you are reviewing one of guest post on your blog, if you find anything that is missing in that post, you can add a note against that guest post for its guest blogger. These notes are sent along with the e-mails in the collaboration workflow.
4. WordPress Guest Post Plugin
This plugin gives you the flexibility to accept, edit or publish guest posts on your blog using a Form hosted on your WordPress blog where guest bloggers will not need to create any type of account on your blog. Customized notifications about post submission and its approval can also be send onsite and via Email using this guest blogging plugin.
Here are few interesting features of this guest blogging plugin.
You can easily obtain guest posts without user registration
Your blog users can add their posts right from a form hosted on a page on your blog. No logging in your WordPress admin.
Effortlessly manage and edit post submissions
Customizable post submission notification on site and via email
5. Capacity Manager Plugin
You can use this plugin to create and manage roles and responsibilities of users at different level on your blog. You must have noticed when you go on to submit your guest posts on certain blogs using their WordPress interface, some of them are giving contributor's image uploading facility while others are not.
So they have customized the kind of roles and capabilities you as a contributor can manage. Using this plugin, you can easily set capabilities for users at subscriber, contributor, editor, author and administrator level. Here is a screenshot showing the kind of capabilities you can assign to your blog contributors. You can replicate the similar process for other user roles.
6. User Submitted Posts
This is another easy to use guest blogging plugin that can help you easily manage all your guest post submissions. The best part about using this plugin is that your users can easily submit guest posts and images or multimedia stuff from the front-end of your site. How cool is that?
Here are few features of this plugin.
You can allow your website visitors to submit posts from anywhere on your site
Option to set submitted images as featured images and also have an option to use WP's built-in rich text editor for post content
Your guest post submissions may include title, tags, category, author, url, post and images
Redirect user to anywhere or return to current page after successful post submission
This plugin also includes a set of template tags for displaying and customizing user-submitted posts
Click here to download this plugin for free
7. TT Guest Post Submit
This is another powerful guest posting plugin which makes it extremely easier to let others submit guest posts on your blog. They can also easily add images and multimedia without any hassle.
The best thing about this plugin is your user doesn't have to log in or register to submit a guest post on your sites. Here are some of the great features of this plugin.
Captcha enabled which protects spams
Use shortcode to display the submission form anywhere
Email notification to admin email or any other email after successful post submission
Click here to download the plugin
Browse more WordPress Plugins:
Final Thoughts
So there you! Those are the top 7 plugins which are extremely useful for guest blogging. Whether you are already accepting guest posts or thinking to accept them on your blogs, consider using any one of them by carefully reading the features. You will definitely like them and don't forget that all the plugins mentioned here are absolutely FREE.
I hope the above plugins will help you in making the whole guest blogging process on your WordPress blog very smooth. Do you know about any other guest blogging plugin which are highly useful for WordPress blogs, do share them in the comments.