Want to know what is guest blogging and its benefits? Looking for an expert guide on guest posting? You're in the right place.
Google is the BIGGEST search engine in the world which is handling over 3.5 billion searches per day.
And… we ALL want to get more traffic from Google.
After all, traffic from Google is high quality and FREE.
However, simply wanting more traffic from Google is not enough. You need to take actionable steps to improve your website's ranking in Google's search results.
One of the best ways to increase your traffic from Google is to use guest blogging.
In this post, you'll discover;
What is guest posting along with guest blogging benefits
Proven ways to write powerful guest blog posts
How to find guest blogging opportunities and much more
So are you ready? Let's jump into the details.
What is Guest Blogging: A Practical Guide for Beginners
What is guest blogging?
Guest blogging (also known as "guest posting") is the process of writing content for someone else's blog or website.
In simple terms, a guest post means, you're writing a blog post for a guest website.
In most cases, guest posts are written and published for free, and the guest post author gets backlinks in return.
Usually, a guest blogger (someone who writes a guest post for a website or blog) picks a topic and chooses a website to publish his guest post.
Here's an example of a guest post (which was published by me on the Semrush blog).
For example, if you have a blog about lifestyle, you might want to write a guest post on popular lifestyle websites. If you want to write guest posts, make sure to pick high-quality blogs that are relevant to your niche.
Guest posts are the BEST way to build links, grow your reputation online and drive traffic to your website. If you're interested in writing guest posts, make sure to find a list of websites that accept guests and check for their guidelines for guest post submission.
---
What are the benefits of guest blogging?
Let's find out all the advantages that come with guest posting.
Guest posting helps you build relationships with other bloggers in your niche
It can help you generate more traffic to your blog
Improves your search engine rankings
Can help you with sales or conversions if you strategically link to your high-conversion blog posts
Gives you a chance to showcase your writing skills (this can be so helpful for freelance writers to build a portfolio)
Guest blogging helps you get exposure to a new audience
Provides an opportunity to share your knowledge and expertise with others
Guest posting can help build your credibility online
And the list goes on
---
How to Find Guest Blogging Opportunities? 3 Simple Ways
One of the common questions we get all the time is "How can I find guest blogging opportunities that are a good fit for me?".
You can refer to this free guest posting sites list if you want to quickly make a list of high-quality blogs that accept guest posts. It contains a list of over 350 guest posting sites.
Or you can take the help of a guest posting service that helps you in figuring out the high DA publishers who are waiting for your guest post.
That being said, here are some of the quick hacks to finding guest blogging opportunities in any niche.
1. Use Google search operators
Google search operators are special characters that can be added to a search query to narrow down the results on Google.
The best part? You can use Google search operators to find guest posting opportunities. If you're curious, here's a quick list of search operators you can use to find websites that accept guest posts.
"guest post + your niche"
"write for us"
"submit a guest post"
inurl:blog "submit a guest post"
inurl:contribute "submit a guest post"
intitle:"submit a guest post"
inurl:write-for-us intitle
2. Spy on your competitor's backlinks
The best way to come up with a list of websites to build links for your site is to find your competitor's backlinks.
There are a number of ways to find your competitor's backlinks. The easiest way is to use a tool like Semrush. Click this link to try Semrush tool free for 14 days worth $129.95.
Just enter your competitor's website URL and Semrush will show you its backlinks along with the source websites.
Have a look at the Backlinko.com backlink profile;
See that? Semrush is showing us over 250,000 backlinks along with their sources.
So you can start making a list of all the websites that are relevant to your niche and pitch guest posts if they're already publishing.
3. Check for curated list posts
One of the simplest ways to find sites that accept guest posts is to check for curated guest post list posts.
Simply, enter a keyword term like "guest posting sites" and Google will show you a curated list of all the sites that have covered guest blogging sites list.
Have a look;
See that? Visit each one of those websites, go through all the websites and carefully choose the websites that are relevant to your blog's topic or niche.
---
3 Powerful Tips for Writing Amazing Guest Articles
As mentioned earlier, guest blogging can be an effective way to connect with other bloggers in your industry and share your knowledge with a wider audience.
So how to write guest articles that add value to the blogging community and open the floodgates to more blog traffic?
Here are 3 PROVEN tips for creating an amazing guest post.
1. Create high-quality content
First things first, write a guest post that is well-written and informative.
No blog owner wants to read and publish a mediocre guest post, so make sure your guest content is informative and engaging.
Do A LOT of research. Make sure you know who your audience is and what they're looking for. Read some of the popular posts published on the blog you want to guest blog.
Find and analyze the writing tone used on the blogs you want to publish. Follow a similar writing approach and use similar formatting to appeal to their blog audience.
The KEY here is to write for your target blog's audience. Know what they want and write accordingly.
2. Make it SEO-friendly
The majority of guest bloggers ignore SEO while writing guest posts. They don't do keyword research at all and often ignore optimizing their guest posts for specific keywords.
Don't make that mistake. Always perform keyword research once your topic gets approved and find several long-tail keywords around that topic.
You can use tools like Semrush, Ubersuggest, etc to find traffic-generating keywords for any topic.
At BloggersPassion, we use Semrush for keyword research and it works really well. In fact, we generated over 1.7 million views to our blog in the last year. Read our blog income and traffic reports to find out more.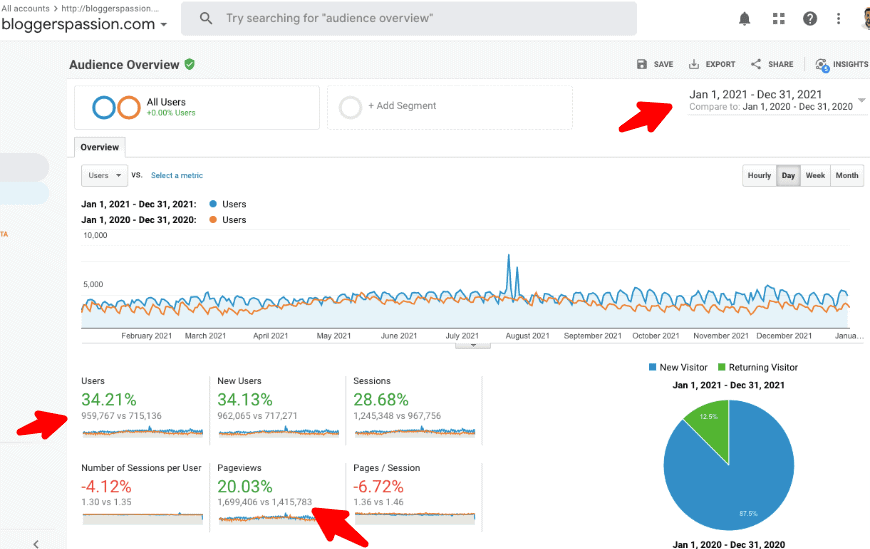 So why not give Semrush a try?
Try Semrush Free for 14 days (worth $129.95)
That being said, here are some of the quick tips to make your guest articles search-friendly.
The first step is to conduct keyword research and pick a target keyword or phrase that you want to rank for.
Once you have your keyword, try to use it in the title of your guest article as well as a few times throughout the content.
Use enough appealing images and screenshots. Images can help you break long-form content which ultimately helps with better user engagement.
Even if you're writing a guest post for someone else's website, make sure to add internal links to their relevant blog posts. Interlinks are powerful!
3. Namedrop other bloggers
Prolific guest bloggers often namedrop other bloggers in their guest posts. Name dropping is when you mention other bloggers' work or their names by linking to their websites.
This is a clever idea as you can email every blogger whom you've linked to. You can also use the relationship to pitch new guest post requests.
It will help your brand grow and be useful to build strong relationships with other notable bloggers in your industry.
Be sure to check the guest posting guidelines as few website owners don't allow you to link to random people's websites. No matter who you namedrop from your guest posts, link to their BEST content that's relevant to the topic you cover.
---
7 Best Practices for a Guest Blogger to Follow
Hands down, guest posting is the best way to build relationships with other bloggers and build backlinks to your site.
But there are SEVEN best practices to keep in mind if you want to become an established guest blogger in your niche.
Firstly, make sure to pick guest posting sites that are HIGHLY relevant to your niche and have a similar focus to your own blog. That way, your guest posts will appeal only to your target audience.
ALWAYS take the time to write a well-crafted and informative guest post that will add value to the blog you're guest posting on.
Make it a habit of doing keyword research for your guest posts and optimizing them for relevant keywords. If your guest posts get first-page rankings, you'll also get benefits in terms of visibility and more traffic to your site.
Be sure to promote your guest posts wherever necessary including your website, email list, social media channels, etc.
Know your goals as a guest blogger. What exactly do you want from guest posting? Do you want more traffic and links or to grow your online reputation? Depending on your goals, you can pick a strategy that suits your needs.
Before you start your guest blogging journey, make a list of guest posting sites. Have at least 20 to 30 sites that accept guest posts. Make sure they're all relevant to the topic you cover on your blog.
Last but not least: create a compelling author bio. Add links to your website or important pages to get some link juice. Keep it short but engaging so other people may show interest in visiting your blog.
---
FAQs | Guest Blogging
Here are some of the frequently asked questions about guest blogging.
What is guest blogging and why is it important?
Guest blogging is when someone creates content for another blog or website. Guest posts are usually written to promote a blog, get more traffic, or build an online reputation in their field. 
Does guest blogging work?
Guest blogging works great if you want to build connections with other bloggers and get relevant links to your blog. However, it's important to make sure that the blogs you guest post on are highly relevant to your niche. 
How can guest articles help build my brand?
With the help of guest blogging, you can write for another blog and demonstrate your thoughts and ideas. Ultimately, it becomes a powerful tool for getting more visibility for your brand. In addition, every new guest post you post gives backlinks to your site. 
Are there any risks associated with guest blogging?
If you're a blog owner who wants to accept guest posts on your blog, there are some risks associated with guest blogging.
– the guest blogger may create inaccurate content
– the guest blogger could include links to malicious or spammy websites
– copied or duplicate content
What are some common mistakes people make with guest blogging?
Here are some common mistakes most guest bloggers make;
– creating mediocre content
– not proofreading their guest post before sending it for the review
– ignoring SEO such as keyword research, on-page optimization
Related Posts:
---
Final Thoughts On What Is Guest Blogging
Guest posting is one of the BEST strategies to grow your blog or website. Why? Guest posting helps you build links, increase your brand awareness, and network with other bloggers.
However, it's important to remember that guest posting should be done thoughtfully and with a focus on quality over quantity.
So what are your thoughts about guest blogging? Are you going to start writing for other websites? Have any questions? Let us know in the comments.