Blogger vs WordPress is a never ending comparison. People all over the world are curious to know the major differences between Blogger platform and WordPress.
Are you searching for a detailed guide on starting a WordPress blog? Are you confused choosing between Blogger and WordPress? And do you want to know why self hosted WordPress sites are better than Blogger? Then you are in the right place.
In this guide I'm going to show you why WordPress is better for your business and I'll also give you a simple step by step guide on how to install WordPress on Bluehost (one of the most reliable hosting services).
Are you ready to find out the difference between Blogger and WordPress? Let's get started.
Why Self Hosted WordPress Blog is Better Than Blogger.com blog:
WordPress is undoubtedly the no. 1 content management system in the world. Most successful bloggers use WP as their blogging platform not just because its robustness, but it has the great ability to handle the security of a blog. Most bloggers, especially the new bloggers are confused between selecting Blogger blogging platform and WordPress.org (self hosted WordPress blogging platform). We will discuss the differences between these two blogging platforms in this article.
The main difference between Blogger.com blog vs self-hosted WordPress is the price factor. Blogger is a free resource to launch your blogs, where you just focus on the content and leave the rest to Google team whereas WordPress.org is a self-hosted platform where you have to buy hosting for your blogs.
The difference is the overall controlling power. You will have more control and power to accessing your sites if you use WordPress, you won't have any control over your sites if they are hosted on Blogger platform (Blogspot.com). Although there are a ton of free blogging platforms to use but let's only talk about the big two. Let's briefly discuss few of the major differences between Blogger.com and WordPress.
Blogger vs WordPress: Which Is Better CMS And Why?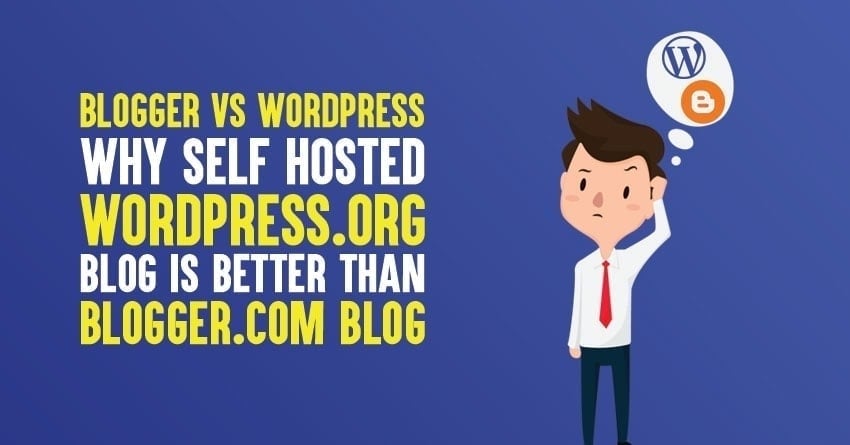 Plugins: You can use any number of plugins you want in WordPress.org whereas in Blogger you don't have the functionality of plugins, it means you won't find any plugins is Blogger platform that's the major defect.
Plugins provide greater functionality to a WP blog that provides much security, speediness, quality maintenance and easiness to the WP users. There are thousands of useful plugins out there in WP plugin directory that are mostly available for free of cost, although there are premium plugins which add premium value to your blogs.
Support: What if your WordPress blog suddenly stops running or what if someone hacks your site?? If you use Blogger, you just have to visit the support forums for assistance. But if you are using WordPress platform, you will have personal support and assistance will be available from the hosting company in case if you lost your entire data or if someone hacks your site, it is very easy to get it back.
Did you know that WordPress is offered in 120+ languages whereas Blogger is offered only in 50 languages? And both of these platforms have built-in visitors stats to check your site traffic.
If you are wondering how to check any website traffic for free, check out this detailed guide.
When you are creating pages, you can only create upto 10 static pages on Blogger whereas in WordPress, you can create unlimited number of pages.
Regular expense: Blogger is FREE of cost. You don't have to spend even a penny to run these blogs, you don't need to even buy a domain name if you are okay with blogspot.com extension. And you don't need to buy a separate hosting or you don't need to worry about the security, Blogger itself has a robust security which is why most new bloggers start with Blogspot blogs.
Suggested Reading: How to Create A Free Blog On Blogspot And Start Making Money
Blogger platform sites are free whereas WordPress blogs are PREMIUM. They are not for free, you have to buy a separate domain name which actually ends with a .com or .net extension and you also have to get a premium hosting for your blogs to run uninterruptedly. But WordPress blogs are not so cost effective, you just have to spend $8/year on domain names and $10/month of web hosting – and you will have the COMPLETE access to your blogs and you will have total control over your blogs. Here's an article about choosing the domain names from most reliable companies.
Themes: What I personally like about WordPress blog is this: they have beautiful themes that are ranging from free to premium are available. "First impression is the last impression in blogging" – without having an appealing design, your efforts will go in vain because most online readers read the content on the blogs that have beautiful typography and design.
Whereas Blogger don't provide much variation in themes, you will probably end up using free and nulled themes which may cause bad SERP results for you blogs in the long run.
Independent site: I used the term "Independent" because all the WordPress.org blogs are fully controlled by its users. You will NEVER depend on WordPress directory or databases to upload or download contents. When you are using Blogger blogs, Google team has all the rights to delete all of your contents without even letting you know!
Here are few more compelling reasons you should always choose self-hosted WordPress over Blogger blogging platform.
WordPress has greater accessibility. It means, you can virtually create and manage your content from anywhere in the world.
WordPress CMS inspires repeated visitors. It also allows you to easily add automated email notifications to let your readers know about your stuff.
WordPress helps you establish authority. We all know that visitors won't get inspired to buy from strangers. They always buy stuff from experts, the ones who considers as an authority. Fortunately with self-hosted WordPress, you can easily create a perceived industry authority.
WordPress is easy to use and learn. Even if you are not a tech savvy, by seeing tutorials (there are so many WordPress tutorials out there), you can learn how to manage your sites from scratch.
So how to get started with these blogging platforms?
If you want a free blog, go to Blogger.com and sign up for free account. If you want a premium blog where you can have total control over your blogs, go to WordPress.org and do the rest!
Here are 3 basic questions that will decide which blogging platform is right for you.
#1. Do you want to make money from your site?
If yes, go for WordPress because you will have full control over your sites. I know you can make money from Blogger blogs too but Google has control over it, so if it decides to delete your site, your efforts will go in vain.
#2. Is ownership important to you?
If yes, WordPress is the ONLY option. Because you are the owner.
#3. How much flexibility do you want from your blogs?
If a lot, go for WordPress as you can tweak however your want.
You can't do much with Blogger blogs. They have limited flexibility.
In a nutshell about Blogger vs WordPress: Don't use free blogs if you are serious about making money blogging. If you are someone who is blogging for fun, you can use free blogging platform like Blogger. If not, only use WordPress to start your blogging journey successfully. The choice is yours – whether you are serious or not.
And not to mention, you have the full control over your WordPress sites whereas in Blogger platform, Google controls your site. That means if you violate any of its rules, they will delete it without even notifying you!
Recommended: Best WordPress Alternatives Worth Trying in 2022
WordPress is the #1 blogging platform and here's why
Did you know that 18% of the blogs worldwide run on WordPress?
WordPress is the number 1 content management system and most people use WordPress as their blogging platform because of its versatility and robustness. There's a reason why people choose WordPress over Blogger and that is the ability to control your sites to build a sites that makes money.
If you are thinking about building a profitable business online, you MUST use the best content management system to keep yourself secure. It's so important to analyze the future of WordPress or blogging if you want to succeed in the crowded niche. We will now discuss about why WordPress is the best CMS and the future of WordPress.
WordPress will be super secure
If I tell you "WordPress won't be hackable" in 2022, you might laugh! Because of the brute force attacks took all over the blogosphere in recent months, it is annoying many bloggers about WordPress security.
If you don't keep an eye on securing your blogs, you will regret it later when someone hacks your account. WordPress is getting safer day by day, with each update it's getting more security functionalities that keeps away hackers from intruding to your sites. This is the reason why self-hosted WordPress always wins over Blogger.com vs WordPress.org comparison.
But WordPress is well known for its regular updates, it is what makes WordPress the best content management system in the world. Within 4 to 5 years, hackers may not be able to hack the WordPress sites, as the WordPress developers are striving hard to make it super secure.
WordPress becomes the largest CMS
Tens of millions of sites are already using WordPress as their content management system (CMS). Not only because WordPress provides awesome features like great plugins, best SEO, super supporting system but also because even the non tech savvy people can find it easy to use.
With more and more users using WordPress as their blogging platform, it's very easy for WordPress CMS to beat its competition in the near future (especially from blogger platform). Most people are now realizing that, before making money blogging – it's essential to invest money online. It's why most bloggers are now migrating from blogger to WordPress platform, it's indicating the importance of WordPress!
Social media plays the key role
The reality of the most successful blogs online is this: they use social media as their biggest asset, most successful bloggers spend quality time to reach out their targeted audience using social media sites like Facebook, twitter and G+ etc. Why social media becomes the futures of WordPress and successful blogging?
Whether you know it or not, social media shares affect your search engine rankings. So if you are thinking to grow your traffic especially from search engines, increase your social shares. This is easy if you have access to right plugins to make it easy for your readers to share your stuff.
Unfortunately I never came across a Blogger blog that has great sharing options. But there are so many gorgeous looking tools and plugins available for WordPress sites to let your blog visitors share your blog content on social media sites without any hassle.
There are millions of blogs being created every month, it means there's so much noise out there, someone without any online reputation hardly survive in blogging world. It's why you need to spend time on social media sites to create thriving audience around your blogs in the long run. Don't misuse social media sites to kill your precious time, most new bloggers get addicted to social media sites and spend time on doing wrong things. If you are one of them, stop misusing it and make technology work for you – but not against you to succeed in blogging.
Content marketing is the NEW king
Have you ever thought why content is the REAL king? Great content (that is perfectly optimized for search engines and readers) is what makes your blog stand out from the crowd. People use Google to solve their problems or to entertain themselves. So it's important for you to create great content that solves your readers problems.
Creating and organizing content is not easy especially with the limited features of Blogger platform. But if you are on WordPress, you will find unlimited possibilities from creating an editorial calendar to maintaining your blog posting frequency. Even if you are a non tech savvy, you will find it super easy to build and maintain a blog with WordPress. So WordPress wins when it comes to Blogger and WordPress comparison.
Without worrying about your readers, you simply can't build a profitable blog or online business in 2022 or in near future. So focus on finding your target audience, CMS is what helps you to do whatever you want. With the help of greatest content management system like WordPress, it becomes a cakewalk for you to develop your content marketing strategy online.
WordPress becomes more search engine friendly
Undoubtedly, search engine optimization is the key to blogging success. Without bringing organic traffic to your blogs, it's nearly impossible to build a profitable blog for your online business or boost your online brand.
Search engine traffic is the key to any profitable blog that makes money. If your blogging platform is not search friendly then you will probably going to encounter serious issues related to site functionality that cost you search traffic. I don't mean anyway that Blogger is not a good platform for increasing your search rankings but it has limited ability whereas WordPress is made for driving more organic traffic.
So what are you waiting for? If you haven't created a blog yet, start blogging by using WordPress platform – I'm sure you are going to love it. Or if you are already into blogging, but not using WordPress, then I strongly recommend to use it, you will notice the BEST results after switching to WordPress.
Step by step guide for starting a self hosted blog on Bluehost
If you've decided to use the self hosted blogging platform like WordPress, then you have to buy hosting to run your websites. Here's where most beginners make blunder mistakes by choosing a free hosting or bad web hosting.
Did you know that the hosting you choose affects your site loading time and performance? Did you know that the hosting you select will impact your search engine rankings? Yes, that's true. Your hosting decides your website's fate in terms of search engine rankings and loading speed.
Which hosting you may prefer? Although there are a lot of hosting companies available but I mostly suggest my readers only these two hosting services HostGator and Bluehost. Here's a detailed explanation about these 2 hosting platforms (if you like to know the differences between them).
I personally use and highly recommend Bluehost for beginner bloggers as you will not only get a free domain name but they have highly experienced staff and reliable hosting service. Here are few features Bluehost hosting offers you.
Unlimited Disk Space, Unlimited Bandwidth, Unlimited Domain Hosting
Free Domain Name for One year
Free Website Builder and unlimited add-on, parked and sub-domains
Unlimited additional FTP accounts
24×7 US Support via Phone, Chat and Email
Google Adwords $100 Free Credit
One click installer for WordPress, Drupal and Joomla etc.
Unlimited Email accounts
Anytime Money Back Guarantee
What are you waiting for? Click here to sign up for Bluehost.
Here's a simple step by step process for launching your first WordPress blog using Bluehost.
Step 1: Click this link to start your WordPress on Bluehost for $2.95/monthly (Special offer for BloggersPassion readers)
Step 2: Enter your domain name (that you want to choose)
Now, you need to enter your desired domain name (make sure to select a .com extension). Try to pick a domain name that is easy to read, type and remember.
Step 3: Enter your account information and click "next"
In this page, you need to enter your account details to buy hosting from Bleuhost.
Step 4: Create a secured password and login
Please pick a strong and secured password that contains alphabets, numbers and symbols to make your password is not easily predictable.
Step 5: Install WordPress from Bluehost
Now, you're almost done! Once you logged into Bluehost cPanel (control panel), Click on WordPress that is placed under "Site Builders". You've successfully installed WordPress on Bluehost, congrats!
I hope the above step by step guide helps you easily start your WordPress site on Bluehost.
Pros, Cons And The Main Differences
We will now talk about Blogger vs WordPress pros, cons and the main differences between the two platforms so you will get a better understanding about which one to pick among them.
Blogger.com Blog Pros and Cons:
Blogger is a blogging service provided by the tech giant Google that is free and reliable. It is quite enough to publish your stuff on the web. However, as Google runs this service, it has the right to shut it down, or shutdown your access to it at any point of time.
New users usually get stumbled what blogging service to use, WordPress.com or Blogger. However, once you see the pros and cons of both the services, you will get clarity which to use.
Pros of using Blogger:
Let's now use this comparison post to discuss about some of the pros and cons of Blogger platform first.
By doing some simple changes to your domain name server settings, you can easily add your custom domain to your blogger blog.
It delivers a user friendly interface with widgets that are easy for users to master.
It is very simple to use. If you use Gmail or YouTube or any of Google's other projects, then you don't even have to sign up. Just go to Blogger and sign in with your Google username and password.
Blogger will give you 1GB of free storage space.
Cons of using Blogger:
Due to increased number of spammers on this platform, Blogger is losing its credibility.
You can monetize it by integrating it with Google Adsense. So, the possibility of earning is through only Ads.
As Blogger has some ownership issues, you really don't own your blog when you make it with blogger platform. Without any intimation, Google deletes many blogs if they find that the user has not logged in for more than 2 weeks to his blogger account.
To increase the traffic and presence of your blog, SEO is very important but blogger has not many SEO tools to increase your blog presence. You don't have options to put your meta tags inside your blog post in blogger.
It doesn't offer a lot of options for more advanced bloggers. You don't find template customizations.
You won't get too much of help and support if you are using Blogger.
So by looking at the above pros and cons, you can conclude one thing. If you are a professional and want a business website then Blogger is not a good choice. Future of Blogger entirely depends on Google as they have the right to shut it down whenever they want.
Blogger platform features:
With Blogger, blogging is done very easily. You can set up your blog, dive right in and write your first post.
To really track the traffic and conversion on your site, you can even add Google Analytics on your Blogger site.
Using Blogger gives you an added advantage of Google's robust secure platform. You don't need to worry about managing your server's resources, securing your blog, or creating backups.
WordPress Pros and Cons:
With WordPress, you use a WordPress hosting provider to host your own site. You have complete control on your website like how long you want to run it and when you want to shut it down. You own all your data and you control what information you share with any third party.
Simply to put, WordPress is a full fledged Content Management System and so it's features are much more extensive than Blogger.The biggest advantages of using WordPress over a platform like Blogger is that you truly own all the rights to your website
Features of WordPress
You have complete control and ownership over what content you publish.
You can grow an email list, promote affiliate links or place ads on your site for profit. There are hundreds of plugins that work with this platform. So, you can modify and extend the default feature set such as adding a store to your website, creating portfolio, etc. You can use WordPress plugins and services to supercharge your site, and much more.
You will have more control over the look and feel of your website. If you need a blog for professional reasons then there are a lot of advanced features too besides getting the domain that you want.
With WordPress, you can move your site anywhere you want. You can move your WordPress site to a new host, change domain name or even move your site to other content management systems.
You can show and hide items on the WordPress admin screen you are currently viewing.
It's dashboard page has several handy shortcuts pointing to different sections of your website. So, you can drag and drop them to rearrange items on your WordPress dashboard.
Pros of using WordPress:
Let's now talk about some of the pros and cons of using WordPress.org platform:
WordPress has thousands of free as well as paid themes. So, if you are looking to create a website with a professional touch, then WordPress is for you.
With WordPress, you will get help in a great way. They have an excellent support system in place. The documentation is great, the forums are helpful and there are chat rooms too in place to give all the help you need from experienced developers.
When it comes to WordPress, portability is relatively easier and risk-free.
You have complete control and freedom to even run banner Ads and affiliate links.
Cons of WordPress:
It is bit expensive considering the fact that you need to get a domain name, hosting and other tools etc.
If you're a complete newbie to blogging platforms, you might find it bit intimidating to use WordPress but when you continue blogging, you will find it much easier than Blogger platform.
So there you go, those are the pros and cons of WordPress that are discussed without any bias. Make sure to pick the right platform depending upon your budget and requirements.
More Posts Worth Reading:
Final Thoughts
I know I'm more biased towards WordPress when I'm doing the Blogger vs WordPress comparison post. The reason is simple, I used both of the blogging platforms and WordPress has more advantages than Blogger platform.
It doesn't matter whether you are launching a blog to make money or fun, you need a better blogging platform like WordPress to secure your sites and manage your files easily.
Blogger is a great blogging platform for starters. If you don't have any online skills (be it writing, marketing or networking) and you want to test the waters, then Blogger.com is the best platform to start with. Anyhow if you want to build a blog that makes money for you in the long run, you should definitely consider getting a self-hosted platform such as WordPress.org.
No other blogging platform can give you more control, features or updates other than WordPress CMS. If you are wondering about using Blogger or WordPress, stop wasting your time on choosing the one and go for WordPress without a second thought.
Let me know if you've any questions on why choosing a self hosting WordPress.org platform gives you more control over your sites. Also let me know what do you think about Blogger.com vs WordPress.org? Please share your thoughts in the comments.