Are you looking for some inspiration to succeed in affiliate marketing? You're in the right place. We're going to show you a detailed black Friday and cyber Monday case study on how we made over $13,000 within a week from this blog, BloggersPassion.
If you're blogging for a while, you might already know that Black Friday comes only once in a year. And that's when majority of affiliate marketers make around 50 to 80% of their whole year's income within a week. That's a BIG week to boost your affiliate commissions.
In 2016, we made over $2500 in affiliate commissions during Black Friday week. That was impressive but guess how much we made this time?
A staggering $13,000. All that money was made just within a week!
Yes, you heard it right. We made over $13,000 in affiliate commission during this Black Friday and Cyber Monday week (when went live from 23rd November to 30th November, 2017).
If you're wondering about how we did it, this detailed Black Friday & Cyber Monday case study on Affiliate Marketing is a treat for you, where you'll also discover the traffic stats along with the commissions. So let's get into the information without much ado.
How we made over $13000 during Black Friday & Cyber Monday [A Detailed Case Study]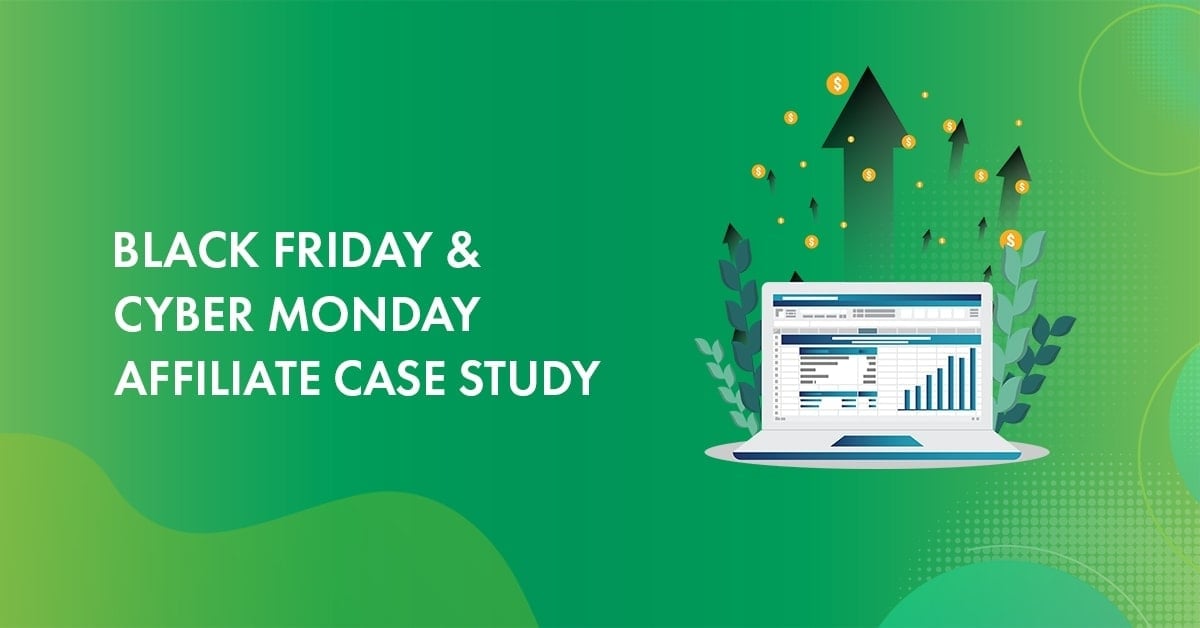 Here's the complete breakdown of all the sales we made from BloggersPassion during the Black Friday
and Cyber Monday week. We'll talk about each of the affiliate products that we used to generate that 13,000 dollars in a week. Let's get started.
Breakdown of Hostgator sales
Ever heard about 80/20 Pareto rule? It means that, 80% of your results are generated from 20% of input.
Similarly, 80% of our black Friday income (13,000+ dollars) came from Hostgator alone.
So let's first breakdown the Hostgator affiliate sales so you'll get a better idea about how you too can do it by next year!
We made 81 successful sales from Hostgator during the black Friday week and that helped us made over $10,000!
Hostgator: 81 Sales
81 x 125 = $10125
Hostgator pays $125 for each successful sale if you refer 21+ signups in a month. And we had over 81 successful referrals within a week. That means, through 81 signups we made over $10,000 by getting $125 commission for each signup.
Here's the screenshot of Hostgator payouts (just in case if you don't know about their commission rates).
If you're wondering about the successful 81 signups from Hostgator within that we made within a week, here's the proof.
If you go through the above screenshot carefully, you'll notice a few important things.
We generated 1,117 clicks within the week (nov 22 to nov 29)
81 actions were taken (actions means successful signups)
So there you go, almost 80% of the affiliate income (10,000$) came from Hostgator alone, now let's talk about the remaining products that helped us hit that mark.
Breakdown of Bluehost sales
Bluehost: 13 Sales
13 x 75 = $975
During black Friday week, Bluehost paid $75 for each successful affiliate referral to their site. We referred 13 people (that means 13 people have successfully signed up to Bluehost using our affiliate links) which helped us made $975 which is a great amount considering the fact that we didn't put too much efforts on Bluehost.
Here's the bluehost affiliate commissions proof.
From the above screenshot, you can notice things like;
373 clicks were made
Out of 373 clicks, 13 people have signed up (to generate $975)
Breakdown of WP Engine and NameCheap sales
WP Engine $800 + $100 from NameCheap
We also promoted WP Engine and Namecheap where both of them gave some nice revenue which generated almost $1000 during the black Friday week.
Apart from them, we also made a couple more affiliate sales:
Elegant Themes (3 Sales equals to $187)
iPage 2 Sales ($210)
SiteGround 4 Sales ($320)
Total amount will be approx: $13K (combining all the sales)
So all in all, we made over $13,000 from all those deals and affiliate products with a week.
Black Friday & Cyber Monday Traffic breakdown 2017
Traffic got double in 2017 when compared to Black Friday event in 2016.
Here's the difference in traffic that happened in 2016 November and 2017 year's November.
If you notice the image above, you'll notice things like;
The traffic increased by 100% sessions
There's an increase of 96% new users to the website!
So there you go. That's what the whole breakdown of both affiliate sales we promoted and the traffic we got to BloggersPassion during this Black Friday season.
Now, let's get to the main point: how we did it? And most importantly how can you do the same so you can make $10,000 or even more by next Black Friday in coming 2023?
I'm glad you asked, let me tell you what are the steps and strategies we've taken to made over $13,000 just within a week during this Black Friday!
Steps we took to generate $13000 this Black Friday & Cyber Monday
If you're wondering about what steps we took to achieve that mammoth goal, here's the breakdown.
Baclinking
Updating deal pages
Increasing speed
Creating new deal pages
Internal linking etc.
Now we'll discuss in detail about the breakdown so you can understand it much better and I hope you too can make at least 5,000 or 10,000 dollars in affiliate sales in the next year during Black Friday week.
The importance of creating deal pages
Before talking about the exact steps that we followed to reach $13k goal within a week, I'd first like to tell you ONE secret: create deal pages.
Deal pages are those pages that are specially designed to promote the affiliate products during Black Friday and Cyber Monday week. The aim with these deal pages is to get rankings for particular keywords and provide discounts when the sale goes live.
Here's an example of how a deal page looks like. Here's a screenshot of how it really looks like when all the deals go live.
These deal pages are really helpful in 2 ways.
They help you get better rankings (because you'll be focusing on particular keywords)
You can provide deals and discounts easily (so your audience can easily buy stuff from you)
So if you want to increase your affiliate sales, create deal pages well in advance instead of creating them when the Black Friday week is coming (by creating deal pages in advance, you can also start building quality links to those pages to get better rankings in the search engines). It's as simple as that.
Okay, let's now discuss about the simple yet most effective steps we've taken during the Black Friday week to get massive sales.
1. Link building
We did a lot of blog commenting, guest blogging, linking to deal pages from Youtube videos, sharing the deal posts on popular social media & social bookmarking sites etc.
You might ask, why should I do link building when I want to increase my affiliate sales?
The reason is simple: affiliate sales won't come easy. You've to work hard. You've to work really hard to get "quality visitors". Where else can you get quality traffic other than search engines like Google.
Google gives #1 priority to backlinks. Just don't focus on building ONLY dofollow links (this is one of the biggest mistakes most affiliate marketers make, they are only after dofollow links).
Links that come from social media, blog commenting, blog directories are nofollow but they give you the right balance between both dofollow and nofollow links so Google thinks you're building links naturally without just focusing on dofollow links. That's the reason why I give equal priority to guest posting as well as commenting.
That being said, let's explore in detail about what link building strategies we used during this Black Friday season.
Guest posting: We did almost 20+ guest posts on various blogs and we often published high quality guest posts by also linking to our deal pages. This gave us some nice boost in search engines to get higher rankings for the deal pages that we wanted to rank for. That way when the Black Friday week came, we ranked mostly in top 3 results because of the quality backlinks we had for those deal pages.
Tip: So make sure to use guest posting as a strategy to build links to your deal pages but don't over do them.
Blog commenting: We did hundreds of comments on other blogs (including the comments we did for our own guest posts) from 3 months before the Black Friday season. That really helped us get some traction in getting search engine crawlers frequently visiting those deal pages.
Tip: Make sure to use your deal pages URL's while leaving comments instead of using your homepage links.
YouTube video linking: We made tons of videos and they became useful for linking to our deal pages. Yes, YouTube video (meta description) links are nofollow but they hold a ton of value in search engines
Tip: Be prepared to make videos related to the products you promote and use your meta description to add links to your deal pages for better SEO.
Social media: No matter how much traction you get with SEO, you can't really ignore the power of social media. Social media shares are really important and make sure to promote your deal pages when they go live during Black Friday to get some additional visitors who are interested in buying stuff from you to save more.
Tip: Create a fan page for your blog on Facebook and start building a group of people who are really interested in your products that you promote from your blog.
Social bookmarking sites: Social bookmarking sites like Reddit, StumbleUpon and blogging forums like Blog Engage, Just Retweet etc can be immensely helpful for you to promote your deal pages during these special events to get some SEO boost really quickly.
Tip: Sign up for all the social bookmarking sites and promote your posts whenever they go live and start engaging with other bloggers on these sites to also build relationships along with traffic and links.
2. Internal Linking
We have linked to deal pages from relevant pages on BloggersPassion and also linked from high DA pages within the site. We linked to all of our deal pages from top navigation, sidebar, high traffic posts that are written around web hosting and special deals.
This internal linking played a crucial role. Most people don't realise the importance of internal linking but it's one of the most effective ways to get better rankings on Google search results.
If you're still wondering why should you do internal linking to your deal pages, here are some of the major benefits.
You can make use of anchor text (but stay away from keyword stuffing with anchor text, it can only do more harm than good)
Decrease your bounce rates
More pageviews
More user engagement
Better search crawling and a ton more benefits
Pro tip: I started using Yoast premium plugin (even their free version is great) for better internal linking. It helps you use the right internal links whenever you update or create a post. I've even written a detailed comparison between both premium Yoast vs free version that you can read if you're curious about quality internal linking to your posts to boost your affiliate sales.
3. Updating the deal pages
Another most important thing we did to make over $13,000 within a week during this Black Friday week is that we updated the deal pages quite frequently to get top rankings in the search engines.
Whether you agree it or not, updating your blog posts can go a long way. It can help you in a lot of ways, updating your deal pages can;
Quickly help you improve your search rankings
Give accurate deals and discounts
So if you're thinking about increasing your affiliate sales during next Black Friday season, be prepared to spend additional time on updating your deal pages frequently.
Pro tip: Once you update your deal pages with latest information (including new keywords and working deals and discount offers), push them to the homepage to get extra visibility to your audience.
4. Increasing the Page Speed
We improved the Page speed for all deal pages.
Here's one of the sample URL's (one of the deal pages) that gives you an idea about how we increased their page speed.
97/100 speed on Mobile and Desktop
So did you notice that? We've a good pagespeed of 97/100 and we tried our best to apply all the suggestions given by PageSpeed Insights by Google to increase our deal pages loading times drastically.
If you're wondering about why did we focus on increasing the website page speed, here are a couple of reasons.
Website speed directly impacts your search engine rankings (Google favours faster loading web pages and penalises slower loading sites, simple as that).
If your deal pages take too much time to load, your audience will lost interest and find the same deals somewhere else where the pages load faster!
5. Creating new deal pages
We also created a couple of new deal pages to promote the products that we are recommending on BloggersPassion to increase our chances of doing well for relevant terms in search engines.
Creating new deal pages should be your #1 goal if you're just starting out. Don't create just one or two deal pages and expect massive results like we got. Spend extra time to create as many deal pages as you can (for ex: we created over 5 deal pages just for Hostgator) as it can give you super value in terms of search engines. You can easily rank for a ton of profitable keywords by creating new deal pages.
To put it short, we have done the two most important things while creating new deal pages.
We created an exclusive category (which we used at the top navigation bar under the logo) where we listed all of the deal posts.
We converted all the deal posts into landing pages by removing the sidebars and used WP Review Pro plugin to start showing star ratings for each deal we used.
Make sure to create dedicated deal pages by removing all the sidebars and try to use landing pages as they don't create any distractions for your audience. You can use tools like Thrive themes to create stunning landing pages within minutes.
Read: Benefits of Affiliate Marketing: Top 8 Advantages of it
---
If we can do it, you too can do it
We didn't write this Black Friday and Cyber Monday case study to just brag about our affiliate income. We did it to inspire you that anyone can do it with a proper plan.
Affiliate marketing is all about helping others. Most people don't make even a single affiliate sale because they are too much concerned about spamming their emails and overdoing everything instead of truly helping people.
Fortunately, special days like Black Friday and Cyber Monday weeks can help you increase your chances of making more affiliate sales by giving your audience HUGE discounts on their products.
When you strategically use the tactics that we've discussed above, you can dramatically increase your sales and you too can make thousands of dollars in the upcoming year. If we can do it, you too can do it and anyone can do it.
Just be consistent, work really hard and have your own goals. That's how you succeed in affiliate marketing.
Here are few more powerful tips that can help you increase your affiliate sales during special days like Black Friday and Cyber Monday week.
Plan well in advance if you want to succeed. If you're targeting to get massive affiliate income by next Black Friday season which is going to happen in November 2023, be prepared from now itself. Instead of wasting all your time and creating deal pages and trying to build links for those deal pages just before a month (this is what most affiliate marketers do, avoid this mistake), make plans from now.
Set a goal for yourself of how much money you want to make in the next year during Black Friday week (we're aiming for $25k next year!) and also find out what are the products that you want to promote to make that money. Don't focus on promoting too many products. Find out the products that are already working well for you, figure out how much commission they are giving you – so you can easily achieve your goals with proper execution.
Last but not least, keep on improving. Every time we made mistakes and every year we learned from those mistakes and we started trying new things. We learned a lot of things and tried to share those tactics with you in this detailed Black Friday and Cyber Monday case study so you too can achieve affiliate success in the upcoming year.
Recommended Reading: Earn upto $200 per sale from web hosting affiliate programs
Final thoughts about Black Friday Cyber Monday case study
As I said above, we haven't written this detailed Black Friday and Cyber Monday case study just for the sake of bragging but to actually show people what affiliate marketing success looks like. Earning $13k within a week is definitely a crazy feeling but you too can do the same with the right execution.
Browse more helpful case studies:
So what do you think? Did you like this case study? Share your thoughts in the comments and also let us know if you've also achieved some success during this Black Friday season with affiliate marketing.
Read: Black Friday Statistics: Trends, Market, Growth & More