Review of Elegant Themes
$80/Year
Product Name: Elegant Themes
Summary
Looking for most unbiased review about Elegant Themes? You'll find all the details of their premium WordPress themes including plugins. Pros and cons listed! You can grab their membership by paying $80 for one year.
Are you looking for the most unbiased Elegant themes review? Well, you're lucky because you just landed on the right page.
Picking a theme that will not require much customization and a theme that will work perfectly with Google Adsense is hard.
You know having a good looking and SEO optimized theme for your blog can change the fate of your online success. Your design is the first thing that your audience will see.
Why Pick Elegant Themes Over Other Premium Themes?
Elegant themes look REALLY gorgeous. And the best part? They all come at an unbelievable price range. They are designed to give you fresh look to any site that you own. No matter which niche you are in, you will find a stunning and suitable elegant theme for your blog.
With that out of the way, let's get to the main business of the day.
Elegant themes come at an unbelievable price of $67 (25% discount). This means that you can get full access to their 87 themes by paying just $67. How cool is that?
If you are searching for beautiful premium WordPress themes, Elegant themes is the BEST option.
This detailed review of Elegant themes gives you better knowledge about their themes collection, why you need to buy and their features. Let's jump in.
Elegant Themes Review 2020: 87 stunning themes for just $67!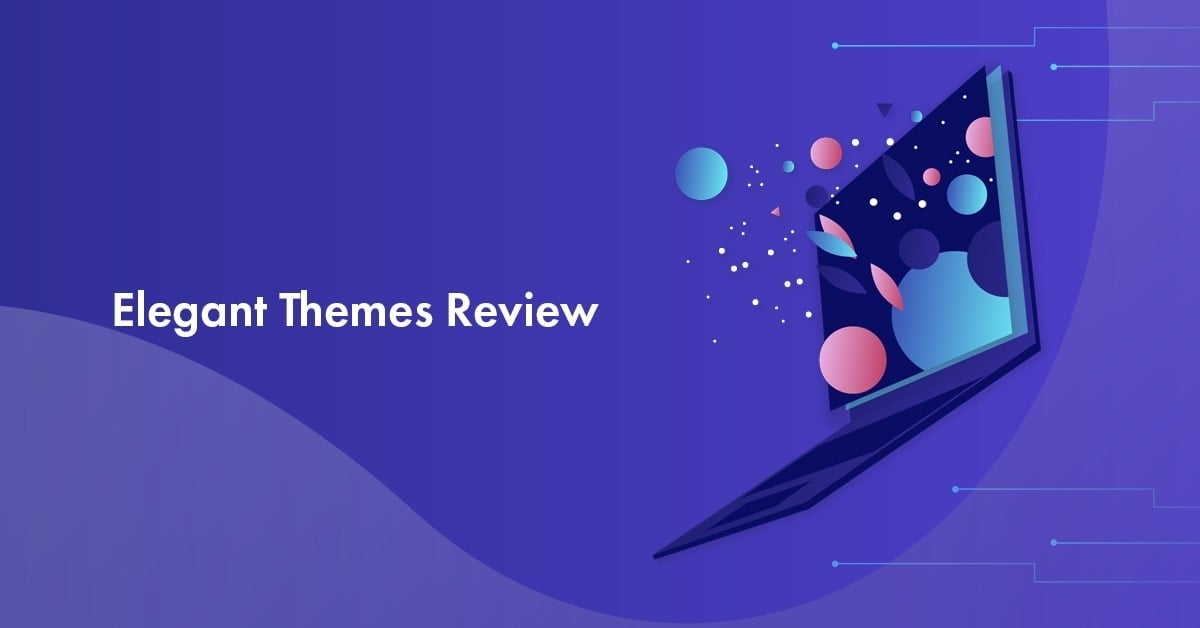 So why should you use Elegant themes over other themes like Genesis, Thesis, WooThemes etc?
The simple answer to the above question is this 3 reasons:
Over 292,799 people are already using their themes (see how popular it is when it comes to premium WordPress themes!)
For $67, you can get 100% access to using 87 stunning themes (all are designed by industry top designers and they look really gorgeous)
Stunning design, great features and experienced customer support team to help you when your in mess with your blog design!
Click here to buy all 87 themes for just $67 (25% Off Coupon Already Applied)
Play with the design however you want with Elegant themes ePanel
If you check most of the other wordpress themes out there, you will find out that it's usually a pain in the ass when you want to customize your design. Except you're a tech savvy, you can't even add a common logo to your site without logging into your hosting panel and making a lot of changes.
But with Elegant themes (and the access to their ePanel), you will find it extremely easy to customize your site. You can make any changes you want without any coding skills. The purpose of this review of Elegant themes is to tell how simple it is for you to make any design related changes.
Have a look at the above screenshot and you will find out adding logos, favicon etc is really simple, all you need is a logo and upload it and you are done!
You will also see things like:
Ad management
Layout settings
SEO
Integration and
Support Docs to help you easily access all the information related to using Elegant themes
When you create new pages on your sites, they will all show up automatically on your home page. It's essential for you NOT to show all of them. However, you should definitely exclude few pages that you don't want your visitors to see.
By clicking on the Navigation section from Elegant themes ePanel, you will find all the pages posted on your sites. You can easily exclude the pages you don't want to show on your home page.
Built-in SEO options
This review won't be useful if I don't take about their SEO built-in features. We all know how important SEO is to build a profitable blog. If your design is not coded well with SEO, you will hate yourself later. Here's where Elegant themes comes handy. It has built-in SEO options that help you easily modify your custom title, meta description, meta keywords, URL structures etc to improve overall SEO of your site.
Elegant Themes Look Gorgeous
They are known for developing beautiful WordPress premium themes. They look elegant, simple and professional. They have a huge collection of 87 themes which are divided into several niches ranging from eCommerce, news sites to portfolio blogs.
Theme functionality is the reason why any theme developer or framework gets more downloads. When it comes to theme functionality, nothing beats Elegant themes design functionality. They have an awesome framework that comes with the widget-ready sidebar, custom thumbnail images, easy to navigate search bar and gravatar ready in addition to many other features.
Did you know they have 10 different categories of themes you could choose from? In this detailed review, here I've enlisted all of them.
App
Blog
Business
Personal
Portfolio
Responsive
Tumblog
eCommerce
Magazine
Multimedia
Interestingly, most of the themes come with many layouts so you can choose the best layout according to your niche, audience and personal interests. Otherwise, you can use your own customizations to tweak your design however you want with their simple easy-to-use customization panel.
Here's how Elegant themes control panel looks like:
Do you want to see how their top 10 premium WordPress themes look like, please check out this post. You'll find 10 of their best looking themes.
Most cheapest WordPress themes (pay less than 1 dollar for 1 theme!)
You can use all of their 87 themes by paying just $67 that means you are paying not even $1 on a theme. Other than Elegantthemes.com, you can't get a collection of beautiful WordPress themes at such a super low cost.
They have two membership plans which include Yearly Access ($67/year) and Lifetime Access ($187 one time) as you can see on the screenshot below:
If you are on a budget and want to get full access to 87 themes for 1 year, then Personal pricing option is for you where you have to pay just $67 every year.
If you also want access to all the plugins made by Elegant themes (they have few essential WP plugins btw!) along with all the 87 themes, then Developer plan is for you where you have to pay $67 per year.
Are Elegant themes search engine friendly and mobile responsive?
Yes, of course Elegant themes are mobile responsive. It means, your site loads the same way across all the devices such as mobiles, tables and PC's. You don't need to install any extra plugins to make your site mobile responsive when using Elegant themes framework.
Elegant themes SEO is incredible as well. They are also compatible with all the major SEO plugins like All in One SEO pack, Yoast SEO and several others so you won't have any issues in migrating to extra SEO plugins for your own SEO purposes.
Get access to 2 of the best WordPress plugins (for free)
Plugins are needed to take the business to next level. Plugins makes our work so simple and helps in focussing more on writing content than on other issues. Let me share you 2 of the best WordPress plugins that are offered by Elegant themes to save your time.
1. Bloom Email Opt-Ins: Wanna more email subscribers? If so, this plugin is for you. It gives all the necessary tools to help you in converting your blog visitors to loyal followers and then customers. Email marketing is an evergreen strategy for any business. The more customer engagement comes from emails than any other social media posts.
Based on your blog visitor location, the plugin helps you to target specific posts and pages. Bloom offers 6 different display types. You can trigger email opt-in forms with time delays and can place it in desired location using any display type. Bloom is very effective if you are serious in converting your visitors to leads.
2. Monarch Social Media Sharing: Well, who doesn't like to get more social shares for their blog post? With this plugin, you can take social sharing to next level. Overall, it offers 20 social sharing networks. You can choose any number of available networks and display on your website.
You can add these sharing buttons in 5 different locations, Floating sidebar, Above and or below content, On images and videos, Automatic pop-up. You can even display your social networking follower count which is very important.
You can place follow button in any location you want. For social following it offers 35 social networking sites. It will display network icon with follower count. What are you waiting for? Pick up the Elegant themes NOW, start using those incredible plugins and start building gorgeous websites.
The Divi builder: A stunning drag and drop editor
Whatever be your WordPress theme, with Divi builder you can build stunning website very easily. You need absolutely "zero" coding skills. With this plugin, you can build anything just by drag and drop. The plugin is compatible with any theme and you can create on your own without taking any help from website developer.
Divi builder comes with 46 content modules that can be combined in any way as you like to create any type of website. Just drag that button and drop at the location you want tin website. You can even create stunning landing pages for your visitors which is required if you want to turn your visitors to generating leads.
You can build story-driven blog posts too to attract your readers. Divi builder advanced design settings gives full control over any layout's design. You can create unique design.
It offers endless layout possibilities. Divi has every module that you need. If you want to integrate third party plugin, there is a module for that too. So, whatever you want to build, Divi has a module to support you to make your vision into reality.
Wanna configure the modules? Yes, it is simple and requires no coding skills. You can apply custom styles to individual modules. Most of the bloggers use single column for their blog posts. Divi builder takes this to next level. You can create and combine any number of columns for creating layouts.
Whatever the element on the page, it can be instantly duplicated. Just copy and paste.
Let's talk about some of its terribly awesome features in this review of Elegant themes:
Simple Configuration Options: Divi builder is equipped with extremely easy to use configuration options. You don't need to learn to code to customize your websites. There are a plethora of easy customization options that will help you easily design your site however you want.
Disable An Item To Hide It On The FrontEnd: If you want to display any seasonal promo or banner, then you can disable the element within layout instead of rebuilding it down the road.
Copy & Paste Items Within Layouts Or Even Onto Other Pages: You can copy items from one page to another page with just copy and paste. No additional software application is required.
Collapse Builder Chunks For a More Concise View of Your Content: You can create high level view of your layout with collapse builder. Within your layout, collapse different sections for a more concise view.
Unlimited Undos and Redos: Whatever the action you take is logged. So, if you want to undo or redo any action, you can do that as every history is saved.
Section and Row Vertical Spacing: Design is the new king. Even though your blog has awesome content, it won't gain visitors' attention  if website has poor design. Divi builder offers wide range of tools to control spacing around the items on the page.
The Divi Builder Library: It houses unlimited number of custom builder elements as well as pre-made layouts. You can add any of these items to the new page instantly as these are saved to the Divi builder library.
Save Any Layout, Section, Row, or Module: Be it an individual module,  entire page layout or rows, you can save anything to Divi builder library. Building new pages and websites is very easy with this feature.
Export & Import Library Data Into Any Site: If you want to start a new project, Divi library makes it easy with import and export functionality. Simply import your Divi Library and you can start the design process.
Multiple Items, All In Sync: If you save any item as "Global" in Divi Builder Library then that single item is placed on multiple pages. As it is global, whatever the changes you make are synced automatically. For example, if you want to share Call-To-Action in the footer of every page then simply turn that single item to "Global" item. So, if you update the item, the whole website gets updated.
With all the above features, Divi Builder turns into a true website builder.
Pros and cons of using Elegant themes
We all know WordPress is the most user-friendly and widely used CMS (Content Management System). It lets you build beautiful and functional websites from its vast collection of themes and plugins. Simply to say,  Elegant themes have developed more than 87 purpose built themes which will be used for all kinds of niche. As every coin has two sides, it too has pros and cons. Let's see that.
Pros:
You can create website very easily and fastly.
You absolutely don't need to learn coding. It takes very less time to just drag and drop to develop a website.
Offers design consistency. It allows you to create template, pages what's not.
Themes are optimized in such a way that it takes about 3 seconds to load.
Cons:
There is a compatibility problem with some wordpress plugins.
If you wish to migrate to another wordpress theme, it is bit difficult. The transition is not so easy.
What I really like about Elegant themes?
At BloggersPassion, I don't usually write product reviews, I only write detailed reviews about the products that I really like. Elegant themes are great for one reason: they are perfectly suitable for bloggers of all ranges.
One of the best things I like about using them is they come at a stunning price. You don't have to spend hundreds of dollars to make your blog design appealing.
Even if you are on a low budget, you could get all of their 87 themes just by paying $67. That's really a steal when you compare them to any other premium WordPress themes like Genesis or Thesis.
Here are few more built-in features that make Elegant themes rock!
Ad management: Elegant themes have a built-in module to easily place your banner ads all over your WordPress sites. You just need to add the URL of the pages where you want to show your banner ads. And you're done, it will take care of the rest.
Integrated tab: It helps you add 3rd party scripts such as Yoast code, Alexa code, Google Analytics etc.
Contact form: Elegant themes framework offers you a built-in contact form to easily integrate on your sites. Normally WordPress don't give built-in contact form, people usually add extra plugins such as Contact Form 7 to do this. So you will not only save extra burden on your web hosting by NOT installing extra plugins but you will find it easy to create a contact page for your WP sites.
Member login: This feature helps you to easily add login and registration forms on your WordPress sites. If you are planning to create a membership site, this is an amazing feature for you where your visitors or members require to sign in to read and share your content.
They Load Very Fast: I bet you already know the benefits of having a fast loading site. According to NeilPatel.com, 40% of website visitors abandon a site that takes too long to load. Mind you, the theme you're using on your site will also impact your loading speed, that's one good thing about Elegant Themes, their themes is designed to load in a super lightening speed.
They Supports Custom SEO Titles: Elegant Themes allows you to add your own custom title for your blog in case you choose to add your own homepage title.
Pplease have a look at their themes collection and pick the best one for yourself.
Elegant themes review: Are they really worth buying?
Whether you are running a small business or blogging for fun, you need to invest on design to make your website stand out from the crowd. Design is what makes people stick around your sites.
No matter how great your content and product is, no one will consider buying stuff from you if your design is ugly. So make sure to invest money on design that looks stunning and simple. Here's where Elegant themes collection comes handy. Where you just have to pay $67 to get their entire collection of 87 cool themes.
Note: All the links used in this page are affiliate links. It means that I earn a small commission whenever someone uses those links to purchase things. It won't cost you anything extra but helps me pay few bills to run the site.
FAQ's About Elegant Themes And Divi Theme Review
Are you still thinking about buying Elegant themes for your WordPress sites? Go and read the following frequently asked questions about Elegant themes to find answers before you give a try.
1. Why pay for Elegant themes instead of picking other WordPress themes?
Elegant themes is the only premium WordPress theme network where you can get access to 87 gorgeous beautifully designed WordPress themes by paying just $67. That means, you'll be paying just $1 per each WordPress theme from Elegant themes. Along with that, you'll also get access to their Divi theme builder which is an incredible drag and drop editor to customize your site however you want.
It doesn't matter whether you're running an agency or running multiple websites, by getting access to Elegant themes, you can easily create a ton of unique appealing themes for each one of them.
Moreover Elegant themes is used by over 500,000 customers worldwide and they have 8 years of experience in web design.
2. Can I use Elegant themes on my client websites for website design?
Yes, you absolutely can. While most of other premium WordPress theme developers don't allow this (or charge extra money) to use their themes on their clients' websites whereas Elegant themes don't charge any such.
So you're free to use your Elegant themes on unlimited number of sites including your clients' websites. If you're a website designer, make sure to buy their "lifetime access" which gives you access to their themes and plugins for lifetime and you can use those themes on any number of sites.
3. What if I need any help to design my WordPress site using Elegant themes?
The great thing about using Elegant themes is that you get instant free access to their forums where you can find documentation for every WordPress theme that comes with your Elegant themes purchase.
That means, no matter what Elegant theme you are currently using, you can easily find all the customization tutorials to easily modify your site to give it a unique and appealing design. Besides forum and documentation, if you've a general question related to Elegant Themes or WordPress, you can simply open up a support ticket and they will help you out right away.
4. How much does Elegant themes cost and what do I get in return?
Elegant themes offers 2 pricing plans.
Yearly access (costs $67 for 1 year and you'll get access to 87 themes along with 5 plugins)
Lifetime access (costs $187 for lifetime, along with lifetime updates, theme and plugin downloads with lifetime support)
Here are some of the things you'll get with each Elegant themes account.
Access To All 87 Themes (as well as all new themes created while you are a member)
Access To All Plugins
Theme Updates
Premium Support
Unlimited Website Usage
5. What if you're not satisfied with Elegant themes?
In any case, if you're not satisfied with Elegant themes or Divi themes, you'll get a 30 day money back guarantee. That means, if you're not happy with Elegant themes or features, you can ask for a full refund of your purchase and they will refund your money no questions asked.
Not only that, you can also cancel your membership or upgrade to a different package at any time after signing up. It's as simple as that.
Final thoughts about the review of Elegant themes
If you've been blogging for a while, you may have already know the fact that design is the king. Google is also giving top priority to sites that have good design elements which can make your site loading time faster.
The only way you can do that is to either hire a designer to design your site or invest some money in getting a design that is developed by the best team in the world just like Elegant themes. This  review on Elegant themes and divi themes is NOT written just to increase my sales but to help you pick the best themes for your WordPress sites at a minimal cost.
So what are your thoughts about the review of Elegant Themes shared here at BloggersPassion? Do you like it, if yes, please share this review with your friends so they can benefit of getting a beautiful collection of themes. Please let me know if you have any questions before buying, I'd be glad to respond! You can also mail me at anil@bloggerspassion.com for further queries.