Creating an award winning headline is an art.
There's no such thing on the Internet as running out of blog post ideas.
If you're struggling to come up with click worthy headlines, we've a simple tip for you: start using headline analyzer tools and you'll end up coming up with a ton of headline ideas within a few minutes.
That's why we've researched a lot to give you a list of some of the amazing headline analyzer tools you can use to create;
Catchy headlines
High CTR ad campaigns
Stunning email subject lines
Emotional headlines that make others click
And so on
So what are you waiting for? Let's discover some of the best headline checker tools along with the title generator tools online that you can use in 2023 and beyond.
Top 10 free headline analyzer tools to use in 2023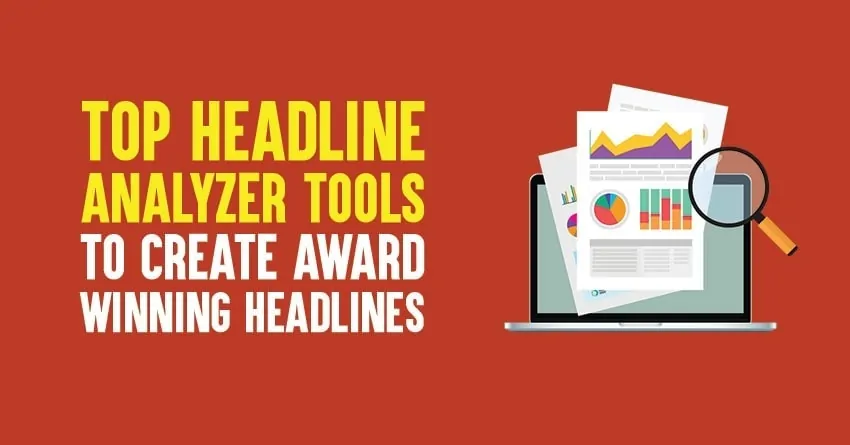 Quick note: The first 3 tools you're going to discover in this post are exclusively made to help you analyse headlines. The rest of tools are title generator tools that help you create stunning headlines quickly.
1. CoSchedule Headline Analyzer
CoSchedule headline analyzer is considered as one of the #1 headline tester used by thousands of bloggers and writers all around the world.
How to use this tool?
Step 1: Click here to visit the tool and enter any headline of your choice
Step 2: This tool will instantly ask you for your information such as email, website, name etc and once you fill them out, it will show the headline score along with all the necessary details.
It looks like this;
As you can see from the above image, you will see a headline score of 67 out of 100. The higher your score is the better and more compelling your headline is. It also shows you the word balance (right side) which gives you an analysis of overall structure, grammar and readability of your headline.
Apart from the headline score, it will also show you the following things.
Email Subject Line Preview (The optimal reading length is around 20 characters)
Google Search Preview (don't go over 65 characters)
Whether your headline is in the right length or not (Headlines with approx. 6 words tend to earn the highest number of click throughs)
---
Before you start giving a final headline to your blog post or video title, make sure to find out how effective it is. Here's where you can use a tool like Sharethrough to quickly find out how good your headline really is.
How to use Sharethrough tool?
Click on this link to visit their website and enter any headline that you want to analyse how effective it is. Once you click on analyze button, it will instantly generate you a headline quality score for you which looks something like this.
If you see the above image, you'll notice that Sharethrough tool gives you a headline quality score out of 100 by also showing the strengths and suggestions to help you how good your headline is.
It will provide you suggestions like;
Increase headline length
Where's the brand
Use more Alert Words
Talk about the body
Try adding a celebrity and so on
All in all, if you're a looking for a free and easy to use headline analyser tool, you should definitely check this out.
---
3. AMI Headline Analysis Tool
Advanced Marketing Institute (AMI) is owned and operated by IMC Digital Universe and it is operating for so long time which offers you excellent tool to easily analyse your headlines. Although the website looks so old but the tool offers you great features which makes it worth using.
How to use AMI tool?
Click here to visit the site and enter your headline to analyse how good or bad it is.
Here's how it looks like;
If you look at the above example of headline we used, it got a 33% EMV (Emotional Marketing Value). The higher your EMV (out of 100 score), the better and most powerful your headline is.
Try to aim to get your headlines a score of 30 to 50 if you really want to use catchy titles that make others to click.
So far we've discussed above the top headline analyzer tools, let's now talk about some of the best title generator tools you can use in 2023 and beyond.
Are you struggling to get more blog post ideas? Are you looking for the best headline testing tools that provide you excellent blog ideas to write about?
Here are some of the free headline generator tools you can use to create stunning headlines within a few minutes.
---
Title Generator is definitely one of our favourite tools which gives you 700 headline ideas for each and every keyword you enter.
How does this tool works?
Enter any keyword of your choice (in our example, we entered SEO as the main keyword) and when you click on "Get Headlines" button, you'll get a list of all the rocking headline ideas.
If you observe the above headline ideas generated by Title Generator tool, you will notice that almost all of the are really click worthy and optimized well for readers.
Quick note: If you scroll down the page once you entered a keyword of your choice, the tool will show you up to 700 different headline ideas you can use to create blog posts.
---
5. Portent Content Idea Generator
We've been using Portent content idea generator tool for last couple of years and it has never disappointed us in giving us amazing blog ideas to write about. If you're looking for an easy to use headline generator or topic generating machine online, you should check this out.
How does this tool works?
Once you're on Portent title maker tool, you'll see an appealing black chalkboard version of their dashboard where you can enter any of your favorite keyword or subject line and when you click on the submit symbol, it will immediately start showing you variety headlines.
You can get more variety of headline ideas, if you click on the submit symbol repeatedly. That's how it work.
You can make your own changes to the headlines according to your website audience and SEO needs.
Quick tip: To get best results out of this tool, make sure to revise the result to create your own magnetic (which is also grammatically correct) headline. Don't just go with what the tool gives you, make sure to tweak your own version it which actually makes sense it grammatically correct.
---
6. HubSpot Blog Ideas Generator
Are you struggling to come up with unique blog ideas to write about? Fret no more as you can start using HubSpot Blog ideas generator to come up with dozens of creative ideas at once.
How does this tool works?
Here's the link to visit the tool and it will ask you to enter up to 3 nouns of your choice. You can either enter 1 noun or for best results, you can enter 3 keywords to get descriptive and natural looking blog post ideas that you can write on your blog or website.
Here's how this tool looks like;
As you can see from the above example, we entered the keyword "SEO" and it gave us instantly a week worth blog post ideas to work on. All the above headline ideas look really natural which you can use right out of the box. That's the speciality of using HubSpot's blog ideas generator tool.
---
7. Fat Joe Blog Post Title Idea Generator
Fat Joe is a link building service but it also offers you one of the best headline generator tools for free which is absolute fun to use. If you want to quickly generate a ton of creative and useful headline ideas within few minutes, start using this tool.
How does this tool works?
Click here to visit the website and enter any topic or keyword. For instance, for the example keyword "WordPress", this tool quickly generate the following amazing titles.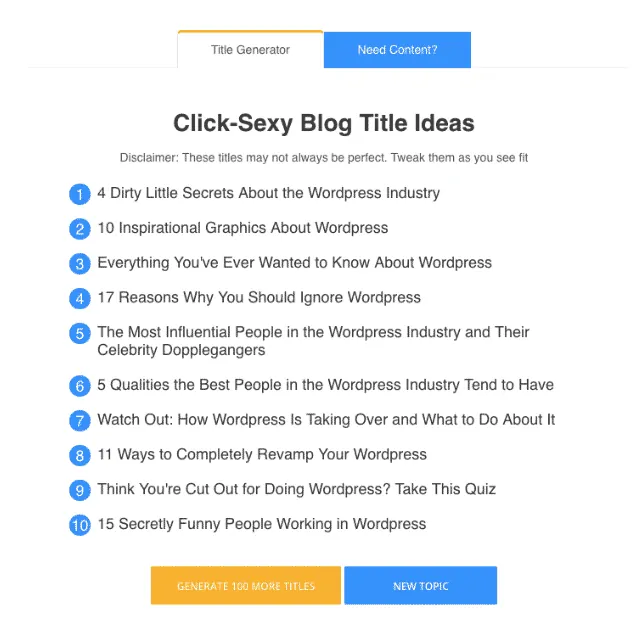 If you carefully observe the above headline samples, all of them are nicely crafted that you can use directly without much tweaking. You can click on generate 100 more titles to come up with even more headline ideas or click on new topic to generate ideas on another topic.
---
8. Content Row Linkbait Title Generator
Content Row is another rocking title generator which generates you hundreds of click worthy titles within seconds. It's absolutely free to use and loads the results so quickly.
How does this tool works?
Click here to visit the tool and enter a subject, keyword or topic ideas to generate titles. Here's how it looks like;
If you observe the above title samples, some of them are not so interesting and unreadable (which are grammatically incorrect) but most of them are too good to use. So make sure to double check your title ideas before using them when you're using this tool.
---
9. TweakYourBiz Title Generator
TweakYourBiz is one of the leading online publications that teaches you about how to build a profitable online business which also covers marketing and technology related news. It also offers you an exclusive blog topic generator tool which helps you craft great headlines if you want to increase your tweets, Facebook Likes and website click through rates.
How does this tool works?
Click on this link to visit their title generator tool and enter your topic and click on the Submit button to continue.
It will instantly generate you a list of headline ideas relevant to your topic or keyword. Here's how it looks like;
As you can see from the above image, you'll find a huge list of headline ideas around our example topic which is SEO.
It gives you ideas based on;
Lists
Best
How to
Questions
Love
Celebrities
Secrets
Business, motivation, problems and so on
Literally you can easily find headline samples almost on any angle you want. Be it motivation, business or how to related headline template. Unlike most other headline generator tools, Tweak Your Biz uses smart technology to give you amazing headline ideas that you can use within your blog posts, email subject lines, tweets and so on.
It also offers you an exclusive feature called "Tweak Your Biz Thesaurus" if you want to generate more headline ideas. So what are you still waiting for? Go give it a try for free.
---
10. Blog Title Generator by BlogAbout Impact
Unlike other title generators mentioned here, BlogAbout headline generator works slightly in a different way where it gives you room for creating outstanding headlines by also giving you headline templates.
How does this tool works?
Click here to visit the tool and enter any keyword (it can be any primary keyword, topic or the industry you are in) and it will instantly generate you some headline templates.
Here's how it looks like;
As you can see above, it won't give you a list of various headlines but it allows you to craft your own unique headline ideas by giving you access to their headline templates.
You can save those headline titles or click on refresh button to generate even more headline ideas with ease.
---
Why headlines are so important?
If you're still wondering about why headlines are so important, you should know one thing. 8 out of 10 people will read a headline, but only 2 out of 10 tend to proceed to read the rest of the post. That means, if you don't create catchy headlines, you simply won't get any clicks.
So if you're failing to capture your audience attention, the best place to start is to analyse your headlines.
Are your headlines worth clicking?
Are they generic?
Are they promising something?
Are they making your audience emotional?
Did you know that headlines improve your website conversions by 528%?
We all know how important conversions on a website is. No matter how much traffic you get, it's essential for you to focus on improving your conversions if you want to build a profitable website or online business. Having catchy headlines not only improve your traffic but also improve your overall brand awareness no matter what industry you are in.
That's why you need to spend more time on crafting great headlines that improve your overall conversions and click through rates.
Why should you use headline analyzer or title generator tools?
If you are wondering about why should you be using these tools, here are few of the benefits to consider them in 2023.
Get unlimited blog post ideas: One of the most biggest challenges a lot of bloggers and blog writers frequently face is the writer's block. The #1 cause for it is running off blog post ideas. If you don't know what to write about, it gets really difficult to even start the writing process.
That's why it's so important for every content creator to have a huge list of blog ideas to write about. Here's where headline generator tools like TweakYourBiz, Portent content idea generator etc come into handy which instantly gives you hundreds of post of ideas to write about.
Fast, easy and free to use: Almost all of the tools mentioned here are completely free to use. We have deliberately excluded paid content generator tools such as Thrive Headline Optimizer because most people who are looking for free headline analyzer tools.
Also all the tools mentioned on this page are easy to use. All you need is to put a keyword and hit enter and boom, the tools will take care of everything by quickly providing you a ton of headline samples and ideas to write about.
Improves your click through rates: Without a doubt, one of the top benefits of using tools like HubSpot, CoSchedule etc is they help you improve your headlines. They give your headline a quality score out of 100 so you can make them better.
By tweaking your headlines, you can improve your overall website click through rates. You can increase your overall search traffic by creating click worthy headlines. So don't underestimate the headline checking tools and make sure to use them within your content marketing strategy for better results.
Helps you be consistent: Do this right now if you're reading it so far, make sure to pick a tool mentioned on this page and start copy pasting all the headline ideas given by it in a spreadsheet. So if you want to be consistent and post different articles at regular intervals, you must have a ton of headline and topic ideas in advance.
Read: Top 10 Semrush Alternatives for All Your SEO Needs In 2023
That way you can perform keyword research around those topics, come up with new post ideas and so on which helps you be consistent with your blog posting schedule.
---
How to write the perfect headline? Use these top 5 tips to write better headlines
For best results, you can use the following tips while using these amazing headline analysing and generator tools.
Know headline capitalization
If you're a blog writer, content marketing strategist or marketer who's running a blog, you must know one thing: headline capitalization. You must make sure your title and headlines are properly written.
There are several headline capitalization styles which are listed below.
Capitalize Words With Four or More Letters (Associated Press style)
Capitalize Words with Five or More Letters (APA Style)
Do Not Capitalize Words Based on Length (Chicago Manual of Style)
Capitalize Major Words and Those With Four or More Letters (MLA Style)
Target a keyword with each of your headline
Most people including bloggers and writers who run blogs often forget one important thing: SEO. If you really want to get more traffic to your articles, make sure to write keyword rich headlines.
To do that, perform keyword research first to come up with a primary keyword so you can always include that within your headline. Then, you can use various headline testing tools to properly craft headlines that are good for both people and search engines like Google.
Read: The Beginner's Guide to SEO: How to Increase Website Traffic In 2023
Include a number within your headline
Conductor conducted a study where they found that headlines with numbers significantly outperform headlines without numbers. In fact, they found that headlines with numbers are 36% more popular.
Address your readers in the second person by using the word YOU
Addressing your reader directly is probably the most effective strategy for writing compelling headlines that draws your readers attention. You can do that by using the word "YOU" in your headlines.
Here are few of such headline samples to help you create better headlines fast;
You Think You Know SEO? Take Our Quiz and Find Out!
3 WordPress Tips You'll Drool Over This Weekend
5 Amazing Tools You Should Never Use In SEO
If you notice the above headline examples carefully, each one of them includes the word "YOU" which actually draws your audience attention and most of them will click instantly if they are curious to know more about the topics.
Just make sure to find out and analyze your target audience to understand what they truly want (also find out their pain points of your audience) so you can craft amazing headlines by using the word YOU.
Think to yourself, "Would my friend share this headline?"
The last yet most important tip for writing better headlines is to ask yourself this question: Would my friend share this headline?". If not, tweak again until you get the perfect and most effective headline for your next blog post, tweet or email subject line.
Don't oversell as there's no point of creating headlines that sound like a sales pitch. Always make sure to talk like a human even while writing headlines. People like human conversation so it's better to craft headlines for people, not for search engine bots and always test your headlines. Fortunately, you can use the above headline checking tools to test how effective your headlines are.
---
FAQs
Here are some of the most important questions you must know before using the headline analyser tools to create maximum impact with your content.
Are headline analyzer tools worth of time?
Yes, they are worth your time and money. They provide you key insights about how good headlines really are.
How can I come up with incredible post ideas?
If you're finding it hard to generate new ideas, just get access to any of the headline generator tools, enter a keyword of your choice and you'll come up with tens of ideas within next few minutes.
How to write a headline that gets attention?
According to a research done by HubSpot, 43% of blog readers just skim through posts. If you want them to digest 100% of what you create, you must need to learn how to write catchy headlines.
Using Headline generator, you can easily write catchy headlines can spark a potential reader's curiosity. Make sure to come up with at least 3 to 5 headline ideas for every blog post you create and pick the best one from them.
What are the 3 best tools for creating awesome blog title ideas?
We personally recommend and use CoSchedule's headline tool which helps you easily write better headlines and this tool also helps you use the right mix of common, emotional and catchy words in your headlines. 
What tools should I use for creating great content in 2023?
We highly recommend you two major tools which can really help you create incredible content that actually brings you more results, traffic and sales.
→ Buzzsumo
→ Semrush
Click here to get a 14 days free trial of Semrush pro account (worth $129.95)
Browse more Blogging Tools:
---
Final Thoughts
If you want to create great content that gets you results, you need to focus on crafting magnetic headlines. You can't create exceptional content without creating powerful headlines first.
Fortunately there are so many headline analyzer tools and title generator tools available online which are mostly for free that you can use to come up with catchy headline ideas quickly.
So what are your thoughts about the tools mentioned on this post? Did we miss any of your favourite tools? Share your views in the comments below.