You may already heard about and using AdSense, but you may not aware of few strategies that will increase Google AdSense earnings as a beginner. If you are looking for the PROVEN ways to maximize your AdSense income, this detailed post is exclusively for you.
Making money from Google AdSense is still the top choice for majority of the bloggers.
The reason being, you don't need any investment or expert skills to make money online using AdSense. It's the same reason why people always search for tips to increase Google AdSense revenue almost all the time.
AdSense is a simple Pay Per Click (PPC ads) system that displays ads related to your website content. You will get paid when someone clicks on your AdSense ads.
But the only problem is you need a lot of traffic in order to make more money from AdSense. Not just hundreds of visitors a day but thousands of unique visitors every single day.
Although there are a lot more alternatives to Google AdSense, but when used right, AdSense income can help you earn decent passive income with minimal efforts. In this post, you will find out how to increase AdSense income without sweating much. Are you ready? Let's jump right into the details.
How to increase Google AdSense earnings in 2023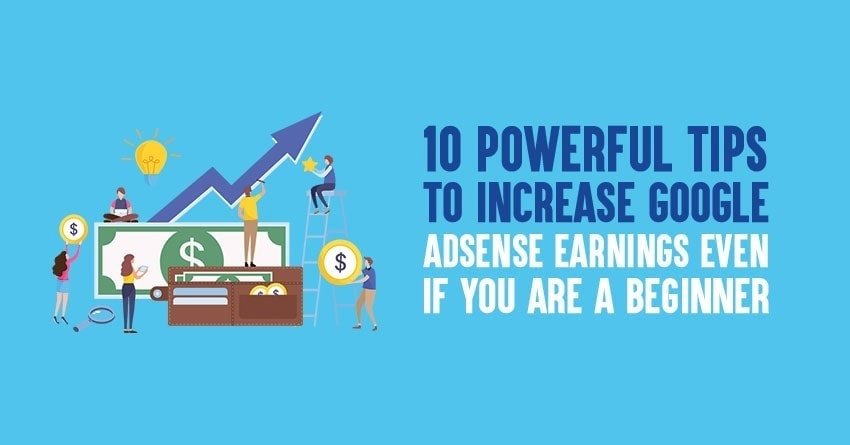 1. Content rich sites can increase your Google AdSense earnings
Most of the beginners are only concerned about increasing their traffic. They use all traffic generation ways to grow their blog's traffic but most of them won't work effectively. Then they fail to increase both their traffic and AdSense income. If you are one among them, stop doing it right away.
To increase your AdSense earnings as a beginner, all you need is content rich sites.
What is a content rich site?
Great content is what makes or breaks any blog's success. Almost every top blog you visit is filled with top notch content almost all the time. Their content is what makes you visit their blogs often.
In a sentence, content rich site has problem-solving content where you can take actionable actions to improve something.
For instance, you can increase your Google AdSense earnings after implementing the tips mentioned in this post. That's what I call a "content rich site". So make sure to build a content-heavy website in order to increase your AdSense revenue.
How to make your site content rich that Google loves?
The #1 way to make your site content rich is to use the Skyscraper technique. It involves in 3 simple steps.
Finding popular content in your niche.
Creating content around it and making exceptionally better
Promoting it to the right people.
If you want to learn more about it, click on this detailed guide to using skyscraper technique, which is written exclusively for the beginners in mind.
In a nutshell, you need to find the popular content in your industry by using tools like Buzzsumo. Then, writing detailed content around it. For instance, if "3 tips to stop smoking" is one of the most popular content in your niche, you can write about 50 tips to do it without fretting much. Are you getting me? That's how you can attract more buzz by writing exceptional content around the topics that are already popular. And finally, you can use tools like topsy to find the people who already shared the content.
3 benefits of creating content rich sites.
They increase your website's search visibility. Google always rewards the site with top notch content.
They increase the average time your users spend on your site, also decreases your site's bounce rate. This will automatically help you increase your overall search rankings.
Other people will start linking to your stuff if they find it useful. They will also share your blog with their blog audience so you will get more traffic coming from other blogs.
The above 3 benefits are enough to increase your overall AdSense earnings even if you are a beginner.
2. Positioning is everything
AdSense policies allow you to place 3 ad units, 3 link units, and 2 search boxes on each page of your site. If you start placing the maximum number of ads on your sites, it can only hurt your readership and they might just abandon your site without clicking on any ad!
So the placement is everything in increasing your AdSense revenue. If you want to get more ad clicks, put your AdSense ad units at the right places.
Put your ads "above the fold" as they always have higher visibility on any site, thus gives you a better click through rate on your ads.
Top left, sidebar and footer are also great positions to place your AdSense ads that can increase your clicks.
3. A/B testing is an incredible way to maximize AdSense income
Doing A/B testing on your AdSense ad units is the proven way to increase your click through rates. It helps you find the best ad variation that can help you increase both CTR and eCPM (effective cost per thousand impressions).
4. Without SEO, your blog dies
Search engine optimization is the key to increasing your AdSense earnings. Without SEO, it will take months if not years to get decent traffic from Google. And spending years of time driving to ONE blog is not a smart strategy to make money online.
You need to learn SEO skills to properly optimize your content, site and structure so you can quickly bring quality visitors to your blogs and you can start making decent income from AdSense. That being said, here are few simple tips to bring more search traffic.
Always keep your visitors in mind. Don't stuff the same keywords again. Instead, start using relevant keywords that make sense.
Start using long tail keywords in your content creation strategy. It's much easier to rank for "best cars in Delhi under 10 lakhs" than competing for short keywords like "best cars in India". Try to use long tail keywords that contain more than 4 words so you can rank easily even if your blog is new.
Don't write too much content without actually building links. Link building is one of the most effective ways to increase traffic to any blog or website. Without links, search engines don't trust new websites. So you have less chances of getting traffic even if you have great content. Search engines give more weight to your content only if someone starts linking to it. So use ethical link building strategies to get natural links to your sites.
Start using the right SEO tools to boost your search rankings. I highly recommend you to try Long Tail Pro, Semrush, Google's Keyword Planner, WordPress SEO by Yoast to increase your search traffic.
5. Find and fix your website issues
One of the biggest reasons most people struggle to increase their traffic from search engines is this: their site has a lot of issues.
Finding and fixing your website issues such as images without alt tags, lengthy URL's, slow loading speed, missing meta description etc can hurt your search traffic. The simplest way to boost your traffic is fix them. But how?
There's an incredible tool called Semrush that helps you easily find and solve your website issues.
It allows you easily find which images are missing alt tags, the posts that have no meta description, too many links etc. So you can easily fix them to increase your traffic. This is the exact same strategy I used to increase my blog traffic by 15% in just 30 days using Semrush.
Try Semrush free trial for 14 days worth $129.95
You don't have to pay even a penny, try them for 14 days, attach your website from the dashboard and you are all set. You can also check others website traffic, find backlinks of any site, find better keywords for your niche and a lot more using Semrush tool. I highly recommend using this tool if you want to increase your AdSense earnings and overall website search traffic.
6. User friendly design is the king
Most beginners to AdSense do one mistake: they don't invest any money. They don't put money either on their design or hosting. They both are equally important.
If you are using a free theme, it won't be search engine friendly and mobile ready which results in a mediocre blog design. If your design is responsive and search friendly, the chances of getting more traffic from Google will be higher even if you have average content.
You need to have a user-friendly design that loads faster across all the devices such as smartphones, tablets, PC's etc. I highly recommend you to check out Elegant themes that not only look gorgeous but comes at an affordable price tag. You need to pay $80 to get 87 themes! It's the best source for beginners who don't want to pay thousands of dollars to get a good design.
Click here to try Elegant themes
Also checkout the detailed review of Elegant themes if you want to know more about it before giving a try.
Quick Note
: We recently moved from a custom theme to
GeneratePress theme
on BloggersPassion. It's a super-fast theme and will cost you $59 only for a year.
7. Multiple ad units always convert better
AdSense offers some of the following ad unit formats that you can place on your websites.
AdSense content units
AdSense link units
AdSense for search
AdSense video units
Although there are multiple places where you can place your AdSense ad units, putting them around your content is always a good idea to increase your click through rates. But make sure the content and the ads you show up is highly relevant, else no one would like to click on them.
8. Test with the color on your ad units
You can either use AdSense predefined banner ad options (blue) or you can customize them by creating your own combination of colors and fonts. Optimizing your ad units color is the easiest way to increase your AdSense earnings as a beginner. I personally recommend you to blend the AdSense ad units color as the same background color of your pages.
If your site background color is white, go with that, if it's black, go with the black. It's as simple as that. You need to just make your ads color blends well with your overall blog design and font styles.
9. Don't forget to go mobile
Responsive ads will help maximize your AdSense revenue by making your mobile visitors click on your AdSense ads. So don't forget about the importance of having responsive AdSense ad units on your blog.
You can read more about creating a mobile friendly website by reading this post or you can simply install a free plugin called WPTouch to make your site mobile responsive.
10. Learn from the experts
Amit Agarwal, Harsh Agrawal and a lot more people are making a lot of money from Google AdSense alone. Their AdSense earnings are really high and if you want to do the same, you need to start learning from them.
Find out what type of content they are creating, the niche they are in, the SEO tools they are using, the way they are using their AdSense ads including the placement – all these things give you a good idea about how to optimize your ads properly to increase your click through rates on AdSense.
Browse more Adsense Related Resources:
FAQs
What is AdSense? 

AdSense or Google AdSense is a program run by Google through which publishers can serve ads on their sites to earn commissions based on the Pay Per Click model. 
How does Google AdSense work?

You just need 3 things to get started with AdSense, a Google account, Phone number and postal address associated with your bank account so you can get paid, and connect your site to AdSense.
Is AdSense free to use?

Yes, Google AdSense is completely free to use. All you need to sign up by providing your site URL and once approved you are all set to turn your passion into profits.
How do you qualify for AdSense?

The one and only thing you should consider before applying for a Google AdSense account is that your site must have high-quality and original content that attracts an audience.
How much can I earn with AdSense?
Well, it's hard to calculate your AdSense earnings as it depends on the niche of your blog, traffic demographics, ad placement and types of ads. 
Is AdSense still profitable in 2023?

Yes, as far as you are getting high traffic on your blog or site and targeting high CPC keywords, AdSense is profitable. 
How to increase AdSense earnings?
To increase AdSense earnings, create content-rich sites, Target the Right Keywords, Follow Ad Placement Best Practices, A/B Test Your Ads Placements, Follow Ad Styles Best Practices, Manage Ads with a Plugin.
Who pays more than AdSense?
Media.net is considered as the highest paying option in the industry. Real Content Network, Trion, DivisionD, Infolinks, Viewdeos, Epom, Velis Media, Brightcom, Primis are some of the best alternatives to AdSense.
Final thoughts on increasing Google AdSense earnings in 2023
Increasing your AdSense earnings as a beginner is not a rocket science if done right. You need to learn the art of bringing targeted traffic to your blogs by using the right combination of keywords while creating content.
Use the proper SEO tools to make your optimization easier, and make sure to invest some money on getting a user friendly design for your sites. Never over optimize and be persistent with your traffic. Also keep your eyes on Google's regular updates such as Panda and Penguin, make the necessary changes if needed.
So what are you thoughts on this post? Do you have any more tips on increasing Google AdSense earnings? Please share your thoughts in the comments.