How to Start a WordPress Blog On Bluehost In Under 5 Minutes [With Screenshots]
|
Are you searching for a step by step process for starting a self-hosted WordPress blog on Bluehost? Don't know where to start? You're on the right place.
Step by step guide for starting WordPress blog on WordPress within 5 minutes
Step 1: Click This Link to start your WordPress blog on Bluehost
Step 2: Select the hosting plan of your interest
Pick the hosting plan from basic, plus and prime on the basis of your need as shown below:
Step 3: Enter your desired domain name  (you'll get free domain for Life with Bluehost)
Try to pick a domain name that is easy to read, type and remember.
Step 4: Enter your account information and click "next"
Here you have to enter your account details to buy hosting from Bluehost.
Here are the Bluehost discounted pricing details for Bloggers Passion Readers:
36 Months: $2.95/Month
24 Months: $3.95/Month
12 Months: $4.95/Month
Step 5: Create a secured password and login
Please pick a strong and secured password that contains alphabets, numbers and symbols to make your password is not easily predictable.
Once you've set your password successfully, you will get something like this;
Step 6: The final steps
Quick note: Previously, you had to install WordPress manually from Bluehost. Now, you don't have to do that anymore! Bluehost takes care of it automatically.
Here are few more final steps that you need to finish before launching your WordPress blog with Bluehost.
Pick a Theme
Once you pick any theme of your choice from Bluehost, you're all set to go! Here's what you see next.
Now you'll be seeing your WordPress dashboard.
By default, Bluehost will show you a coming soon page. You can modify it however you want. You can launch your site, you can publish a new page or post and do whatever you want!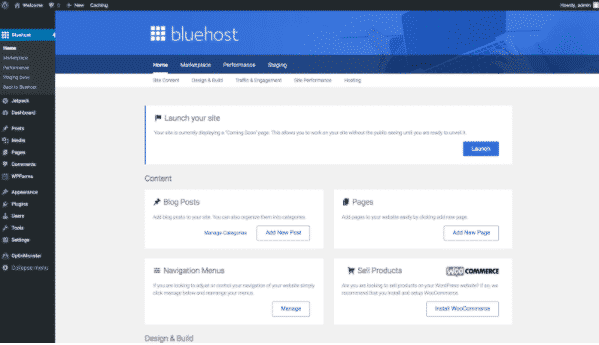 So you're done now. The final step looks something like this.
And you're done now! See, it doesn't take even 3 minutes even if you're a newbie! If you've any problems or queries related to starting a WordPress blog on Bluehost, mail me at info@bloggerspassion.com (or leave a comment on this post) and I'd be glad to help you.
Key points about starting a Bluehost Blog on WordPress Under 5 minutes
Bluehost is one of the most reliable web hosting services and I've been using the same hosting for several years now and I'm really satisfied. They also have any time money back guarantee offer so if you're not satisfied with their services, you can ask for a refund at anytime!
17 Comments