Are you curious to know what is blogging all about? Do you want to know the pros and cons of a blog? You're in the right place.
A blog is a website where you can share your thoughts, ideas, and experiences with the world. You can also use a blog to promote your business, connect with like-minded people, and make money.
Blogs started out as online diaries, but they have evolved into much as most bloggers are now earning a full-time income from their blogs.
In this post, we'll talk about;
What is blogging including the definition and meaning of a blog
How does blogging work, types of blogs, major blogging platforms, etc
Pros and cons of blogging and much more
So are you ready? Let's dive into the details.
What is Blogging? How Does It Work & More
Definition | Meaning of blog
A blog is a type of website where the owner (or author) writes about their experiences, opinions, thoughts, or anything else they want to share with the world. The term "blog" is a contraction of the words "weblog."
In simple words, a blog is a website where people can post their thoughts and opinions on a variety of topics. A blog is an online journal where you can share your expertise and ideas.
A blog MOSTLY focuses on written content (popularly known as blog posts). Blog posts are usually written in an informal or conversational style.
A blog can be about any topic, but most are focused on a specific niche, such as fashion, beauty, lifestyle, food, travel, parenting, finance, etc.
If you're curious, here are some of the interesting blogging statistics for 2023.
According to WordPress, Over 70 million posts are published each month by WordPress users
According to OptinMonster, blogs have been rated as the FIFTH most trustworthy source for gathering online information
77% of internet users read blogs
According to a research, 22% of bloggers publish at least 2 to 3 times a week.
---
What is a blog post?
A blog post (also called "blog article") is an article that is published on a blog.
A blog post is a textual information, which can be a product review, tutorial, or insights article on a topic. Blog posts are often written in a more informal way when compared to traditional academic articles.
Some of the examples of blog posts include;
Personal blog posts
Opinions on current events or trending topics
Stories
How-to blog posts
Tutorials
Difference Between a Blog and a Website
Have you ever been confused between a blog and a website?
What are the major differences between a blog and a website? Let's find out.
Blogs can be part of a website. For example, Semrush.com is the WEBSITE that sells SEO software. Semrush also has a blog where it publishes blog posts to attract more traffic and educate people about its products.
A blog can be a website itself, with a main page and other pages related to the blog. In fact, many popular websites are primarily blogs. Our blog, BloggersPassion.com, is a great example of this. The main page of the blog features the latest blog posts, but there are also other pages, such as an "About" page, a "Contact" page, and an "eBooks" page.
Blogs are organized in reverse chronological order, with the newest blog post appearing at the top. Websites can have a variety of structures, depending on their purpose. For example, a business website might have a homepage, an About page, a contact page, and a product or service page.
A blog often has a conversational tone, whereas most websites use a formal (or corporate) writing tone.
Blogs are interactive as they allow reader engagement, such as commenting, social sharing buttons, etc., which MOST websites do not.
A blog is updated regularly with new content. A website may not be updated as regularly as a blog.
Above all, a blog's main purpose is to educate its audience about a topic (or product), whereas websites focus more on selling a product or service.
How Does Blogging Work?
So how does blogging work?
In order to start blogging, you will need to create an account on a blogging platform such as WordPress or Blogger.
Once you have set up your account, you can start writing posts and publishing them online.
You can also add pictures and videos to your blog, and share links to your posts on social media sites such as Facebook and Twitter.
Once you have an audience or generate traffic from your blog, you may be able to make money from blogging in various ways including;
---
What is a blog used for?
There are a ton of benefits of blogging. The major one is that it helps you make money.
The blog you're reading generates over $15,000 every month. Also, there are a lot of full-time bloggers who earn upwards of $100K every year. You can read our top blogger income reports to find more details.
Here are some of the major reasons to blog in 2024.
Build online reputation: Personal branding is important. Whether you're looking to earn more money, build an audience, or get rich, you must build a brand for yourself. The best way to do that is to build a blog.
With blogging, you can create high-quality content, which helps you establish yourself as an authority. Once you build authority, it can lead to new opportunities, such as speaking engagements, freelance gigs, high-paying job offers, and more.
Make money: Blogging is the best way to make money online. Yes, every niche has huge competition, but if you're consistent with your efforts, you can also make money. There are lots of passive income sources you can use to make money from a blog, such as affiliate marketing, selling courses, selling your own products, etc.
Build and improve skills: Blogging can help you build and improve a number of skills, including:
Writing skills, as blogging requires you to write and publish new blog posts regularly
Editing skills, as you will need to edit your own work, which can help you develop your editing skills.
SEO skills, as you need more traffic to your website, so you will need to learn about SEO (search engine optimization). It is also one of the high-income skills that can teach you how to rank your website on top of Google.
Social media skills, as you will need to be active on social media, which ultimately helps you learn how to use social media effectively for marketing.
Make connections: With blogging, you can network with other bloggers and influencers in your industry. You can follow them on social media, reach out through email, and comment on their blog posts. It can ultimately help you build relationships with other professionals and learn from their experiences.
Generate traffic and sales to business: Whether you're running an online business or a physical store, you can create a website to generate traffic and sales. By publishing high-quality content that is relevant to your target audience, you can attract highly targeted visitors to your website and convert them into customers.
All in all, blogging is a great way to achieve various goals, including increasing online reputation, making money, and building an audience.
Different Types of Blogs
There are a gazillion types of blogs out there. Here are some of the common types of blogs that are popular.
Travel blogs are all about sharing your travel adventures with the world. These blogs are becoming popular, where you'll find tips on finding the best deals on flights and hotels, must-see attractions, and more.
Personal blogs are written by individual bloggers. You can write about your life, thoughts, and feelings, whatever you want.
Niche blogs focus on a specific topic, such as weight loss, parenting, lifestyle, etc. They often target high CPC keywords to make money from affiliate ads or display ads.
Lifestyle or fashion blogs cover the latest fashion, beauty, and lifestyle trends.
Health blogs mostly write about health and wellness topics like nutrition, fitness, and mental health.
Corporate blogs often are used by big brands that cover news and updates about their company, products, and services. Semrush blog is the best example.
No matter what type of blog you choose, pick something that you know about (and are passionate about). Otherwise, you'll give up easily when things don't go your way. Pick a topic where you can work on the topic for at least 1 year without giving up!
Pros And Cons of Blogging
There are a TON of different opinions out there about blogging. Some people see blogging as a great way to network with others and make money, while others consider blogging as a waste of time. So, what are the pros and cons of blogging? Let's take a closer look.
Pros of blogging:
One of the biggest advantages of blogging is that it helps you make money. There are a number of ways you can monetize your blogs such as selling advertising, selling products or services, or affiliate marketing.
Blogging allows you to share your ideas and thoughts with the world. It allows you to connect with other like-minded people and build a community of followers around your blog.
Blogging can help you build your personal brand and establish yourself as an expert in your industry.
It can also be a great way to drive traffic to your website and generate leads for your business. By optimizing your blog posts for search engines, you'll be able to get more people to your site and increase the chances of them doing business with you.
Finally, blogging can help you build and improve your skills such as writing, coding, networking, SEO, etc.
Cons of blogging:
One of the biggest disadvantages of blogging is that it takes time and effort to build a successful blog. If you're someone who wants FASTER results, blogging may not be the right choice for you.
It can be difficult to come up with fresh content on a regular basis, and it can be even harder to promote your blog and get people to read it.
There's a HUGE competition out there. There are millions of blogs on the Internet, so it can be extremely difficult to stand out from the crowd and build a better blog.
Finally, blogging can be a daunting task. If you're not careful, it's easy to get caught up in the day-to-day tasks of maintaining your blog and promoting your content, and before you know it, hours have gone by.
So there you go. As you can see, there are some definite advantages and disadvantages to consider before you start blogging. But if you think you're up for the challenge, then go for it! Who knows, you could end up becoming a full-time blogger like me 🙂
---
Major Blogging Platforms
A blogging platform is a software application that helps you create a blog or website.
To build a successful blog, you must consistently work for several months (or even years). That's why picking the RIGHT platform is necessary if you want to manage your blogs effortlessly.
There are many free blogging sites that you can use to create and manage a blog. But… here are FIVE of the major blogging platforms millions of websites use worldwide.
WordPress: WordPress is the world's #1 content management system, used by most websites. If you're new to blogging, we recommend using WordPress as it is easy to set up and use and offers various features to help you get started (including themes, plugins, etc.)
Medium: Are you a writer or someone who wants to share their ideas with the world? Then, Medium is for you. It is known for its high-quality content and user-friendly interface. It's an excellent platform for those who want to focus on writing and share their ideas with a large audience.
Blogger: This is another popular blogging platform that is managed by Google. Blogger is easy to use and set up, with various templates to choose from. Blogger is a good choice for beginners and hobby bloggers.
Wix: Wix is easy to use, with a drag-and-drop interface to create and customize your blog. Wix is a good choice for beginners who want to create a professional-looking blog without learning any code.
Weebly: Weebly is a free website builder that makes creating a website, blog, or online store easy. On Weebly, you can find hundreds of customizable website templates and SEO tools.
How Do Bloggers Get Paid?
How much do bloggers make? This is one of the most asked questions by newbies.
Here's the short answer: it depends.
The amount of money that bloggers can make varies depending on many factors, such as their traffic, CPC value of keywords, their monetization strategies, the products they promote, and their niche.
For example, the CPC (Cost per click) value of keywords related to credit cards is HIGHER than keywords related to other financial products, such as insurance or loans. This is because credit cards are a more competitive market. You can read our make money blogging guide to learn more.
That being said, here are some of the common monetization strategies almost 99% of bloggers use to get paid.
Advertising: The majority of high-traffic and niche bloggers sell space on their blogs for companies to advertise on. Or they use display ad networks like Google AdSense or Media.net to make money from clicks.
Affiliate marketing: Bloggers can promote other companies' products or services in their blog posts and earn a commission on any sales that are made through their affiliate links. We use the same strategy on our blog, and it's a great way to earn passive income.
Sponsored posts: Bloggers can write blog posts that are sponsored by companies. This means you get paid for writing a positive review of the company's product or service.
Selling products or services: Bloggers can sell their own products, such as eBooks, online courses, etc. They can also offer services such as consulting, freelance writing, coding, etc.
In a nutshell, the opportunities to earn money are unlimited when you have a blog. Also, blogging is not going anywhere as long as there are people searching for information online.
How to create your own blog?
Quick note: We've already covered how to start a blog in detail, so we're going to briefly talk about the simplest way to create your own blog.
Creating a blog is easy and there are many free blogging platforms that make it simple to get started. Here are some simple steps to creating your own blog:
Step 1: Choose a blogging platform: There are many different blogging platforms available, such as WordPress, Blogger, and Wix. Do some research to find the platform that best suits your needs. We ALWAYS recommend WordPress.org as it is SEO-friendly and easy to use.
Step 2: Pick a domain name: Once you've chosen a blogging platform, you'll need to pick a domain name for your blog. This is what people will use to access your site. Choose something catchy and easy to remember.
Step 3: Set up your blog: Choose a web host (if you're using WordPress) and select a theme or template, and customize your site's appearance.
Once everything's done, you're ready to start publishing content. Write about topics that you're passionate about, and be sure to update your blog regularly with new posts if you want to get noticed.
---
Can You Make Money Through Blogging?
One of the common questions most people ask is: "Can I really make money from blogging?".
The answer is YES, you can.
In fact, we're earning over $18,000 per month from the blog you're currently reading. You can read our blog's income reports to find more details.
Here's an earning proof from one affiliate product;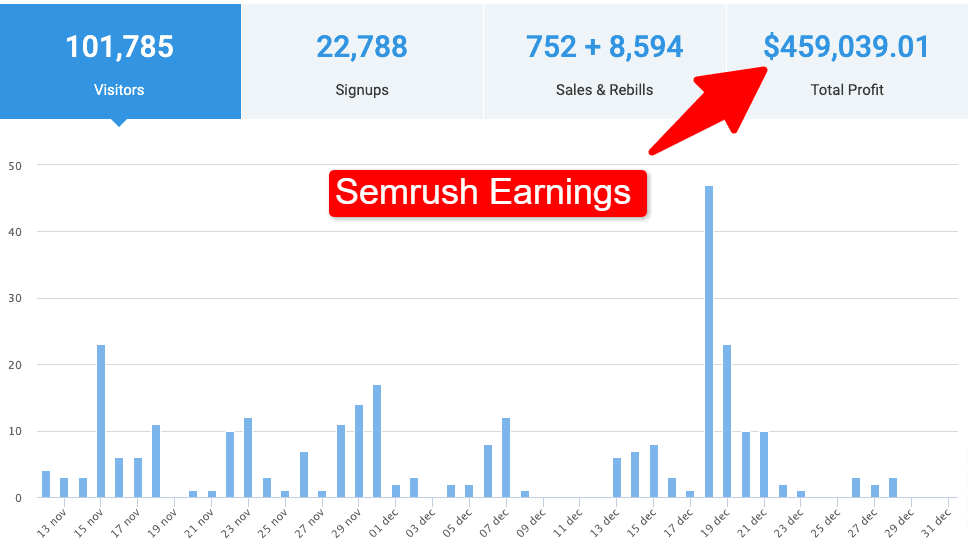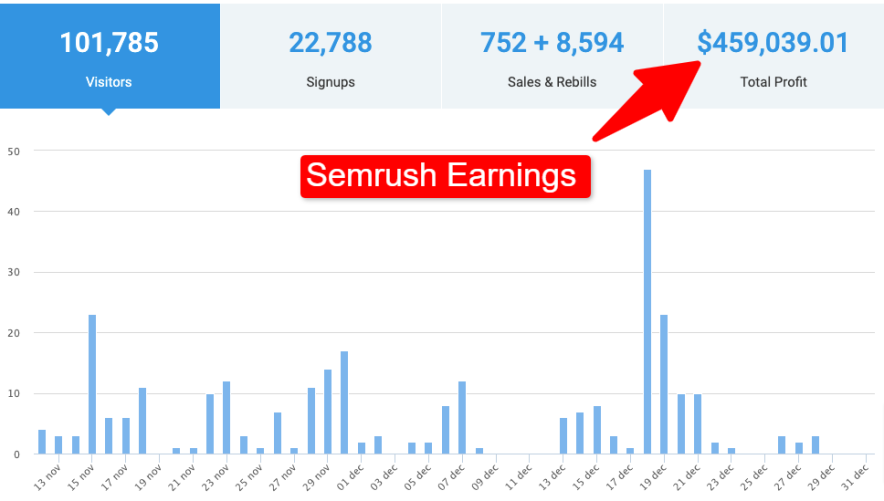 As you can see above, we generated over $450,000 from one product. So if done right, you can make plenty of money from blogging.
But… it's not easy especially when you're new to blogging or don't know how to sell products or services.
It takes time to learn and improve various blogging skills such as writing, SEO, marketing, etc.
If you're serious about making money from blogging, below are some actionable tips to get started.
Find a profitable niche
The first step is to find a profitable niche. A profitable niche is a specific topic or area of interest that has potential buyers willing to spend money on products or services related to that niche.
To find a profitable niche, you can start by thinking about your hobbies or interests. What are you passionate about? What do you know a lot about? What do you like to do in your spare time? You can also consider the skills or expertise you have.
Once you've brainstormed a list of potential niches, the next step is to research whether or not there's a demand for products or services in that particular niche.
You can do this by using keyword research tools like Semrush.
That being said, here's a list of the 13 most profitable niches you can consider in 2023.
Build an audience
Once you've found a profitable niche, the next step is to build an audience.
The best way to do this is by providing quality content that solves people's problems.
This could be in form of blog posts, videos, eBooks, etc.
If you can help your audience with their problems, they'll be more likely to buy products or services from you.
Find ways to monetize your blog
Once you've built an audience, it's time to start making money from your blog.
There are various ways to do this, such as:
Selling products or services
Display ads
Affiliate marketing
Sponsored posts
Promote your blog
The final step is to promote your blog so that you can get more traffic and make more money.
Blog promotion is what makes your blog stand out from the crowd. Spend at least 50% of your time on content promotion.
You can use various promotion tactics like;
Writing answers on Quora
Social media promotion
Email list building
So there you go. Making money from a blog is NOT rocket science. All you need is a plan, consistency, and informative content (be it videos or articles) to build a successful blog.
---
Beginners Blogging Tips
In my 10+ years of blogging, I've picked up some useful tips, especially for beginners. These tips can really help you in the long run. Once you've got these down, you can check out more blogging tips.
Be Consistent: Regular posting is key to blogging success. Use an editorial calendar to stay on track.
Learn SEO: SEO is essential for blog success. Create valuable content, build links, and optimize for keywords.
Find a Mentor: Look for experienced bloggers who can guide you. Check income reports of successful bloggers for insights.
Network with Bloggers: Interact with fellow bloggers through comments, social media, and emails. Connect with micro-influencers in your niche.
Build Content Assets: Instead of regular blog posts, create "content assets" that are highly informative and timeless, like ultimate guides or comprehensive lists.
Read More Books: Read books on psychology, business, marketing, and selling to improve your blogging skills.
---
Browse More Blogging Tutorials:
A Quick Checklist for Beginners to Build A Successful Blog
Here's a handy checklist for new bloggers who want to build a better blog in 2023.
Your blogging journey starts with a niche. Pick a topic you're passionate about (or know a lot about). Make sure it has profitable products or services to promote. Otherwise, you can't make money off it.
Consistency is the key if you're new to blogging. Try to publish new blog posts at least once a week, if not more often.
Traffic is EVERYTHING. Figure out how to promote your blog. Share your blog posts on social media, write on Quora, use WhatsApp or Telegram to share with your friends, guest post on other blogs, etc.
Learn SEO basics. Use relevant keywords throughout your blog posts and titles. Google is the BEST traffic source.
Always build backlinks if you want more traffic from search engines like Google. Links are ESSENTIAL; you can use various tactics like guest posting, influencer marketing, blogger outreach, etc to build links.
Use AI tools like ChatGPT, Bard, etc, for content ideas, website planning, keyword research, etc. Don't use these tools for content creation. AI tools don't create ORIGINAL content. You need 100% unique and helpful content to build a better blog.
Be patient. Building a successful blog takes time. Building a following and seeing decent results from your blog takes several months.
For more details, you can check out our free guide on the blog setup checklist.
---
FAQs
Here are some of the frequently asked questions about blogging.
What is blogging?
A blog (also known as a "weblog") is an online journal that contains posts arranged in chronological order with the most recent post appearing first. Blogs are usually written in a first-person style and can take on a variety of topics, ranging from the personal to the business, lifestyle, political, etc. 
What are the benefits of blogging?
Here are some of the biggest benefits of blogging.
– Helps you make money online
– Improves your skills such as writing 
– Helps you build a brand
– Helps you network with others
Which is the best blogging platform for beginners?
Here are some of the beginner-friendly blogging platforms to try in 2023;
– WordPress.org
– Blogger
– Weebly
– Wix
How do bloggers make money?
There are many ways bloggers make money. One popular way is through affiliate marketing, where the blogger includes links to products on their website and earns a commission on any sales that are generated. Some bloggers also use ads on their blogs, selling their own products, or offering consulting to make money.
Is it still profitable to start a blog?
Blogging is still very much profitable. In fact, it's more profitable than ever before. Thanks to advertising and affiliate marketing, bloggers can now generate a significant income from their blogs. What's more, blogging is still an incredibly effective way of building an audience and networking with others. 
What Is the Purpose of a Blog?
A blog serves to inform, entertain, educate, engage, or promote, depending on the blogger's goals and the reader's interests.
What Is a Blog Post?
A blog post is a written piece of content on a blog. It can cover various topics, provide information, or share opinions, often including text, images, and sometimes videos. Bloggers use posts to engage with their audience and share their expertise.
What are the requirements to start a blog?
Starting a blog is easy, and here are the basic requirements:
1. Topic or Niche: Decide on the subject you want to blog about.
2. Domain Name: Choose a unique and relevant web address.
3. Web Hosting: Select a hosting provider to store your blog's data.
4. Blogging Platform: Use platforms like WordPress, Blogger, or Wix.
5. Content: Create valuable and engaging blog posts.
6. Design: Customize your blog's layout and appearance.
7. Images: Include high-quality images and graphics.
8. SEO Tools: Optimize your content for search engines.
9. Social Media: Promote your blog on social platforms.
10. Consistency: Regularly update and maintain your blog.
Related Blogging Articles:
---
Final Thoughts
Blogging is a GREAT way to build a side hustle, grow your brand, and share your ideas.
If you're thinking about starting a blog, there are a few things you should know. First, you need to decide what you want to blog about.
This can be anything from your personal experiences to your favorite hobbies or interests. Then, start creating content regularly to build an audience. Once you have an audience, it becomes easier to monetize your blog.
So what are your thoughts about blogging? Do you have any questions? We'd love to hear your thoughts. Let us know in the comments.