The Beginner's Guide On How to Start A WordPress Blog in 2019 Using HostGator
|
Gone are the days where you had to spend thousands of dollars on setting up a new website. It's almost 2019 now.. You can start a WordPress blog on Hostgator within a few minutes even if you don't have any technical knowledge in 2019.
That's the great thing about using Hostgator for setting up a new site. In this tutorial, I'll show you how to start a WordPress blog on Hostgator in simple steps so you can launch your own self-hosted blog as soon as possible in 2019.
Are you ready to find out? Let's talk about how you can start a blog on Hostgator quickly.
How to start a WordPress blog on Hostgator in 2019 [step by step tutorial]
Here's the step by step guide on how to start a blog using Hostgator.
Step 1: Click on this special link to start your WordPress blog using Hostgator hosting.
Step 2: You'll be redirected to a SPECIALLY created page from Bloggers Passion (we've tied up with Hostgator to give you HUGE discounts on hosting). Simply click on 'Buy Now' button to continue.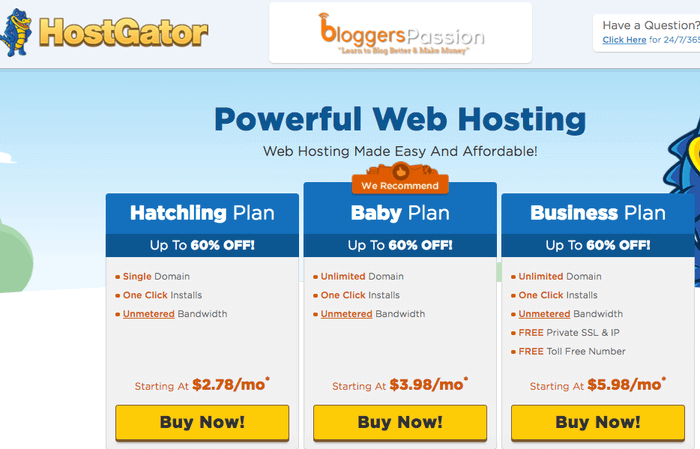 Step 3: Now you'll need to enter a domain name of your choice (if you've already purchased a domain from other service, you can use that too).
Step 4: Select a hosting plan, enter your payment details and click on Check Out Now button to proceed to the final stage! (the coupon code is applied automatically from Bloggers Passion giving you 60% instant discount!)
Here's how it looks like;
Step 5: That's it, you've successfully purchased hosting from Hostgator. Once you make the payment, you'll get an email from Hostgator sharing your billing details. Make sure to mark that email as important so you can access it anytime (you need this email for years, so make sure to keep it safe).
Installing WordPress on Hostgator
So what to do after purchasing hosting from Hostgator? You need to install WordPress on Hostgator and you're set to start blogging.
In the above 5 steps, you've bought hosting from Hostgator, now we'll discuss what you should be doing next to start WordPress blog using Hostgator. I'll make it really simple so anyone can do it within next few minutes. Are you ready? Let's get started.
Quick note: Using Quick Install is the easiest and FASTEST way to create a WordPress blog on Hostgator. It won't take even 5 minutes.
Step 1: Login to your Hostgator cPanel
It looks something like this; https://YourDomainName.com/cpanel (replace YourDomainName with your domain name).
If this doesn't work for you, go to your inbox and search for the email sent by HostGator after you've signed up. You will find your cPanel link, Username and Password. You can use those details to login to your cPanel.
Step 2: Installing WordPress from Quick Install
Once you're on your cPanel on Hostgator, scroll down to select QuickInstall under 'Software/Services'. Then, click on 'WordPress' under 'Popular Installs' from the left side.
You will get the latest WordPress version to install. Just click on the "Install WordPress" button to install WordPress using Hostgator
Step 3: Final step on installing WordPress blog using Hostgator cPanel
Now the final step is fill all the simple details mentioned below.
Select the domain name where you want to install WordPress. Don't install WordPress on a sub directory (otherwise it will be difficult for you to again install back on your original domain name).
Admin Email: Enter your primary email. If you forget your Username or Password, you can get it by using this email.
Blog Title: The name of your blog, you can change it anytime you want.
Admin User: It will be the Username of your WordPress Dashboard. Don't use generic names like "your name", "admin" as usernames as they are easier to get hacked. Pick a username that's hard to guess.
First Name: It will be added to Admin Profile. You can change it anytime you want.
Last Name: This is also the part of Admin Profile name. You can change it later.
Click on "Install WordPress" button to finish installing WordPress on your blog using Hostgator. That's it, you're done!
Once the installation is done, Hostgator will send you an email sending you all the necessary information like your username, password. Make sure to save them in a safe place and login to your dashboard using your details (that you get from Hostgator).
Quick tip: Contact Hostgator team immediately if you ran into any problem while installing WordPress (so they'll tell you what to do to install WordPress easily on your site using Hostgator).
Why should you use Hostgator in 2019?
Hostgator is one of the widely used and most popular hosting services by bloggers all over the world. They are in the hosting industry for over 2 decades now and serving over 1 million domains worldwide.
Here's a detailed review of Hostgator if you're curious about knowing more about their service and features.
Hostgator is known for providing affordable hosting plans without sacrificing the quality and taking care of their downtime issues. If you're looking for an affordable hosting, Hostgator is a great choice to start a blog on Hostgator.
That being said, here are some of the features that make Hostgator the most popular hosting choice in the world.
Features of Hostgator hosting:
Here are some of the features offered by Hostgator
Flexible, Easy to Use Control Panel (cPanel)
Unmetered Bandwidth and Unlimited Sub Domains
Free HostGator Website Builder which includes over 100+ Mobile-Friendly Templates and an Image Library
FTP Accounts for easy and safer website access
Email Accounts
Ultimate 99.9% Uptime Guarantee
No Contract with a 45 Day Money Back Guarantee
24/7/365 Premium Support via Phone, Live Chat, and Ticket System (Email)
Automatic Weekly Offsite Data Backups
24/7/365 Server Monitoring
Unlimited POP3 Email Accounts with SMTP WebMail Access: Horde, SquirrelMail, RoundCube
Receive your email to your phone via IMAP Support
Prevent spam with SpamAssassin
Pros and cons of Hostgator
Here are some of the pros and cons I've noticed while using Hostgator hosting on some of my websites.
Pros:
Unlimited Disk Space
Unlimited Bandwidth
Monthly hosting plans (best for people who prefer monthly plans over yearly plans)
cPanel Interface for convenience
99.9% Uptime Guarantee
45 Day Money Back Guarantee
Host Unlimited Domains (except Hatchling Plan)
Unlimited MySQL Databases
Cons:
Customer support takes a lot of time
Backups are not free (most hosting services like WPX hosting, WP Engine etc are offering them for free nowadays)
It doesn't offer a free domain name (while most other hosting choices include a free domain for 1 year)
Are there any discounts from Hostgator?
Hostgator usually offers a ton of hosting discounts throughout the year but the problem is finding HUGE discounts on their hosting when you want to start a WordPress blog using Hostgator is hard.
But I've a great news for you where you can start a WordPress blog on Hostgator with massive savings on their hosting plans.
Bloggers Passion is tied up with Hostgator to give you 60% OFF (instant discount) when you sign up using the following link.
Start your blog on Hostgator (Get flat 60% discount)
The above 60% discount is limited for only few people so make sure to grab the offer before it ends so you can save a lot of bucks (min. $50 off even on shared hosting plans).
Here are few more freebies that you'll get with Hostgator
$150 worth of Google Adwords or Bing/Yahoo advertising credits that you can use to market your site
Free site transfers when you want to move your website from another host to Hostgator hosting at no extra cost. But keep in mind that, your website migration has to be done within 30 days from the day you sign up (otherwise you've to do it all by yourself or pay extra to Hostgator site migration team for migrating your site).
1-click installs available for all major open-source projects such as WordPress, Magento, and Joomla. These can be really helpful to install WordPress or any other open source project that you're fond of.
Do I recommend Hostgator?
Absolutely. I highly recommend Hostgator hosting if you're just starting out and on a limited budget. But when your site gets bigger and grows in traffic, you can then look for other dedicated hosting options like WPX hosting, WP Engine etc. But when your site is brand new with limited traffic (30,000 visits a month), Hostgator is the most affordable hosting choice.
Frequently asked questions on how to start a WordPress blog in 2019 using Hostgator
What's the difference between a self-hosted blog and free blog?
The difference is simple, with a free blog, you get everything for free (you don't need any hosting service like Hostgator) but you don't have any control over your site. With a self-hosted platform, you need a hosting service, domain name to run your site and you'll have full control over your site. Another thing is that, free blogs are NOT suitable if you're serious about making money from blogging. You need to invest money to make money online.
Why do you suggest Hostgator hosting for new bloggers?
That's a smart question. Hostgator is in the hosting industry for over 2 decades and they are serving over 1 million people so they are a reputed company. Another major reason why I recommend Hostgator for new bloggers is that it's extremely cheap and offers excellent hosting features that most other hosting companies don't offer usually (such as monthly hosting plans, unlimited bandwidth, excellent uptime guarantee etc).
I don't have any technical skills. Can I still start a WordPress blog on Hostgator?
Yes, absolutely. In fact, the very page you're reading now on "how to start a blog on WordPress using Hostgator" is enough for you to purchase hosting and start your own self-hosted blog within 10 minutes. You don't need any technical skills, just follow the simple instructions mentioned above.
How much does it cost to start a self-hosted WordPress blog?
You just need to purchase a domain name and hosting using WordPress. Domain name from Namecheap costs you just around $10 a year and hosting from Hostgator starts from $100 a year. So it takes around $100 a year for you to start your own self-hosted WordPress blog. Apart from that, you can have a look at all the blogging tools we use at Bloggers Passion for professional blogging. They are all worth paying for but not necessarily required if you're just starting out.
Can I start a second blog on the same hosting provided by Hostgator?
Yes and no. Yes, if you've bought their baby plan or business plan (which costs slightly more where you can install unlimited WordPress sites). No, you can't start another blog if you've bought their most basic Hatchling plan. So choose their shared hosting plan accordingly.
Final thoughts about starting a WordPress blog in 2019 using Hostgator
If you're a beginner and searching for an affordable and better hosting choice, Hostgator is highly recommended. This simple guide on how to start a WordPress blog using Hostgator will be very useful even for beginners to start their own self-hosted blog within a few minutes.
So what are you waiting for? Go and set up your WordPress blog on Hostgator by getting a HUGE 60% discount (only available from this page) and let me know if you've any questions in the comments.
4 Comments