Why should you start a blog? Have you ever thought about the benefits of blogging?
Blogging is a great way to share your thoughts and ideas, and it can also help you build your brand and make money.
We launched our blog BloggersPassion in 2010, generating thousands of dollars every month.
In fact, in 2022, we generated over $226,000 from our blog. So yes, blogging can help you make a full-time living.
If you've ever wondered why you should blog, this post is where you'll discover the top advantages of having a blog in 2023. Let's get into the details without much ado.
Benefits of Blogging: 9 Advantages of a Blog in 2023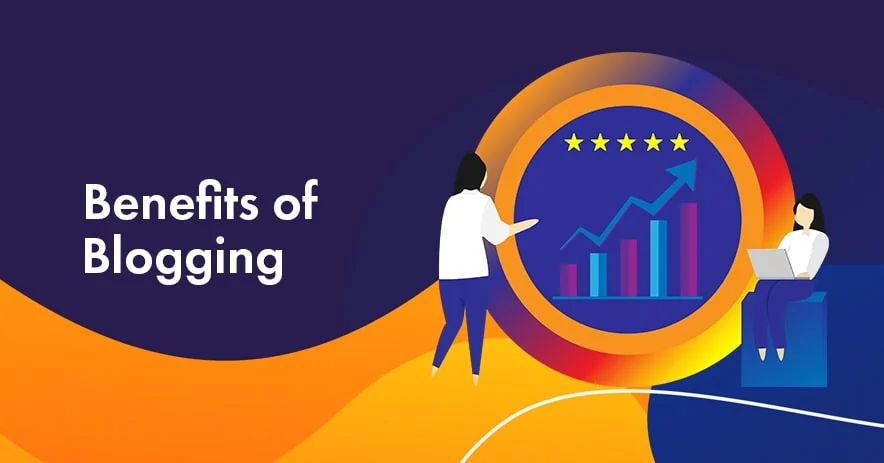 1. Blogging helps you make passive income
One of the BIGGEST benefits of blogging is that it helps you with passive income. That means you can make money even while you sleep.
Of course, you will need to work upfront to earn passive income from your blog. But once you build up a following and traffic to your blog, you can start making money passively.
There are a few ways to earn passive income from blogging.
You can use affiliate marketing, sell products, or even place ads on your blog.
Affiliate marketing is when you promote products on your blog and earn a commission whenever someone clicks on your affiliate link and makes a purchase.
Affiliate marketing is a great way to earn money passively because you only need to promote products that you believe in, and then you can sit back and watch the commissions come in.
We made over $430,000 in affiliate commissions from just one affiliate program (the Semrush affiliate program).
Have a look at our earning report;
Besides affiliate marketing, you can also start selling products on your blog to earn passive income.
You can create an online course, sell eBooks, or even offer one-on-one coaching sessions.
If you have a skill or expertise that others would be willing to pay for, then this can be a great way to earn money passively.
---
2. Helps you network with others
Networking is one of the most important skills you can build in life. Networking is all about building relationships with others.
When you network with others, you create a web of contacts that can provide you with information, advice, and opportunities.
Networking can help you find mentors, friends, and even business partners. It also allows you to learn from others and share your own experiences.
When you network with others, it's essential to be genuine and authentic.
People are more likely to trust and respect someone honest about who they are and what they do. Here's where blogging comes into play as a blog helps you build trust online.
---
3. Blogging can be fun
It's no secret that most people don't enjoy their jobs.
It's important to remember that your job doesn't have to be a source of misery. There are many things you can do to make your work-life more enjoyable.
One better way is to start your blog. It can be a lot of fun. You can share your thoughts and ideas or create content on any topic you enjoy.
You'll love writing more once you start getting comments from other readers.
Once you start generating some money from blogging, you'll want to work even harder.
All in all, blogging can be a fun job. It can also be a side hustle if you work consistently.
---
When you blog for your business, you're not just reaching readers on your website. Each time you write a new article, you create content that can be easily shared on Twitter, LinkedIn, Facebook, Pinterest, and more. This means more people get to know your business, especially those who haven't heard of you before.
But there's more to it!
Your blog can be your secret stash of social media content. Instead of constantly scrambling for new ideas (or doing all the brainstorming yourself), you can use your blog as a source of material.
So, when you share your blog posts on social media, you're not only boosting your online presence but also attracting new visitors to your website through your social channels. It's like a win-win partnership! 😊
---
5. To learn new skills
Why create a blog? Blogging is the best way to learn new skills.
There are many benefits to learning new skills.
It can make you more employable, but it can also help you become more confident and independent. Learning new skills can also be a great way to increase your income.
Few of the high-income blogging skills include;
Writing
Coding
Networking
SEO and more
So what are you waiting for? Start a blog or search the web for some new skills to learn. You might be surprised at how much you enjoy it.
---
6. Blogging helps you with HIGH-QUALITY traffic
Hands down, blogging can help you attract high-quality traffic to your website.
When you blog consistently, you are providing new and relevant content that people are searching for online.
When you provide HIGHLY relevant and informative content, people are more likely to visit your blog and share your content with others. This can help increase your website's visibility and bring more traffic to your site.
Did you know more than 8.5 Billion searches occur on Google per day? And the content Google fetches and supplies to the user is directly coming from websites and blogs.
In other words, there is a huge scope in Blogging.
Our blog is the BEST example of attracting HUGE traffic from Google (when you consistently publish quality content).
Have a look at the traffic report;
As you can see above, we generated over 1.6 million page views in just one year. Thanks to blogging!
With the help of lead conversion tools like OptinMonster or email marketing tools like ConvertKit, you can also convert your blog traffic into qualified leads and earn money.
---
People trust experts and established brands. They buy things online based on reviews from experts.
What's the best way to establish yourself as an authority online? "Starting a blog" is surely one of them.
Think about what topics you're passionate about and knowledgeable about. These are the sorts of things you'll be able to write about most efficiently and with the most authority.
Once you've got a few ideas, do some research to see if there's already a lot of content out there on the topic.
Finally, consider what kind of tone and approach you want to take with your blog.
Do you want it to be lighthearted or serious? Helpful or irreverent? Knowing what you want to say and how you want to say it will help you zero in on the perfect topics for your blog.
That's how you create an impact with your blog.
---
8. You can inspire others
If you want to inspire others to change their lives, blogging is an excellent medium for you.
By sharing your thoughts, ideas, and success stories, you can encourage others who might be struggling with issues in life and business.
No one wants to read about someone who has everything together all the time. We all have struggles and challenges in life, and it's those shared experiences that can help us connect with each other.
Remember, there are people who understand what you're going through and want to help you succeed. Here's where a blog comes in handy as it helps you inspire others with your thoughts and experiences.
---
9. Blogging can lead you to lucrative job offers
In today's job market, most companies and startups are looking for people who have a strong online presence.
Unfortunately, many job seekers have the same qualifications and experience. So how can you make yourself more attractive to potential employers?
One way is to start a blog.
If you have a solid presence online, you'll have a significant competitive advantage in the job market. Many companies are now looking for candidates with strong written communications skills and deep knowledge of social media.
One way to demonstrate these qualities is by maintaining a blog. A blog is an effective platform for sharing your ideas and showing your writing skills.
Not just that, a blog can help you to build a network of contacts and followers. If you're ever searching for a new job, these contacts can be PRICELESS in helping you to land a job.
So why not take the time to start a blog?
---
How to Host a blog on a budget?
Blogging can be A LOT of fun.
But for many people, the cost of starting a blog is a major barrier. So in this section, we'll show you how to start a blog on a budget.
Quick note: We highly suggest Hostinger for web hosting. It is one of the largest web hosting companies in the world, with over 10 million customers. Hostinger is known for its affordability, and offers a wide variety of features, including unlimited storage, bandwidth, a free domain name, and a free SSL certificate.  
Here's a quick and simple tutorial on starting a blog using Hostinger. (The in-detailed tutorial on Hostinger Installation is mentioned here.)
1. Tap here to visit the Hostinger website. 
2. Select Your Hosting Plan The next step that you have to do for installing WordPress is to select a web hosting for you. Hostinger offers different web hosting plans like Shared, Cloud, WordPress Hosting, etc.
As you can see a, above you'll see a ₹149/mo ($2.99/mo) deal. You can use our coupon ANILAGARWAL to get a better discount.
3. Hit the Add to Cart Button
After applying ANILAGARWAL coupon, you'll get it for just ₹134.10/mo ($2.69/mo) which means, for 4 years, you'll get it for only ₹7085!
See that? Once you make the payment, you'll get a confirmation email from Hostinger. That's it, you're done.
Hostinger also offers a 30-day money-back guarantee so you can get a full refund if you're not happy with their hosting or services. 
---
3 Disadvantages of Blogging
So why shouldn't you start a blog? Although there are a lot of advantages of blogging, there are a few disadvantages as well. Let's talk about the top 3 reasons to avoid blogging in 2023.
1. It takes time
It took us almost five years to earn a decent income from our blog. We launched our blog BloggersPassion in 2010 and in the first year, only 3000 people visited our site.
Even in the present time, no matter what niche you choose, the initial 6 months are going to be the hardest for you.
Fast forward to 2023, the blog is generating millions of views and over $15,000 every single month.
While there are some people who achieve sudden success in blogging, more often than not, it takes years of hard work and dedication to make a solid income from blogging.
There is no overnight success. Anyone who has achieved a goal knows that it takes time and hard work. You may have to start small, but you will eventually reach your blogging goals if you are consistent and never give up.
---
2. Website traffic issues
One of the most frustrating things for bloggers is this: lack of traffic. What would you do if no one visits your blog?
According to Ahrefs, 90.63% of all pages in their index get zero traffic from Google, and 5.29% get ten visits per month or less.
It's no secret that website traffic has been declining in recent years. Google is known for frequently rolling out algorithm changes, leading to huge traffic drops on most websites.
There are a number of factors that have contributed to this trend, including the rise of social media.
But whatever the cause, the decline in website traffic has a HUGE impact on businesses. Fewer visitors means fewer opportunities to sell products or services, and it can also lead to lower search engine rankings.
So you should NEVER depend on one traffic source if you want to build a successful website. If not, you should NOT consider starting a blog.
---
3. Consistency issues
A recent study shows that Bloggers who publish 6-8 times a week have 50% more success chances compared to others.
Most NEW bloggers are inconsistent. They spend a lot of time when they start a brand new blog but they'll eventually abandon it if they don't notice decent traffic or sales.
Many bloggers start out with HUGE plans and a long list of topics they want to cover, but eventually lose interest or run out of things to say.
Irregular posting and inconsistency – these can kill ANY blog. Also, you should be aware of Blogging mistakes that could waste your entire efforts and time.
Readers want to see consistent updates, and if a blog goes too long without new content, they will likely move on.
Finally, bloggers need to promote their sites if they want to attract readers actively. Simply creating a blog is not enough – it needs a perfect blog promotion strategy. (A blog can be promoted through social media, email campaigns, SEO, etc.)
If you're NOT committed to posting regularly on your blog for at least a year, you should not start a blog.
---
FAQs
Here are some of the frequently asked questions about the benefits of blogging and starting a blog.
What are the benefits of blogging?
1. Blogging helps you make passive income
2. Helps you network with others
3. Blogging can be fun
4. Turn Your Blog Content into Social Media Ideas
5. To learn new skills
6. Blogging helps you with HIGH-QUALITY traffic
7. Blogging helps you establish yourself as an authority
8. You can inspire others
9. Blogging can lead you to lucrative job offers
What is a blog?
A blog is a weblog or an online journal that contains a collection of posts and pages, archived in reverse chronological order. A typical blog contains text, images, links to other blogs, and other media related to its topic.
What are the different types of blogs?
Here are some major types of blogs you can find on the web.
– Personal blogs
– Fashion blogs
– Finance blogs
– Lifestyle blogs
– Travel blogs
– Food blogs
Is blogging worth it?
Yes, absolutely. Blogging can be a rewarding experience as it can be a platform for sharing ideas and connecting with like-minded people. The best part is that a blog is relatively easy to get started. With a little dedication and consistency, anyone can make money from blogging.
How much money can I make from blogs?
It depends on various factors including your niche, experience, and skills. Most professional bloggers can earn $20,000 to $30,000 every month. On average, a blogger can earn between $500 and $1000 per month.
Related Posts on Blogging:
---
Final Thoughts
There are a ton of benefits of blogging for business. A blog will help you generate passive income, get more traffic, build an email list, and network with influencers — as long as you stay consistent. Also, there are advantages and disadvantages of blog – so know your priorities before blogging.
Yes, Blogging is not dead. Do not live in an assumption. The Future of Blogging is 100% secure. Start a blog and invest time and make a living or grow your business through it.
Figure out what to blog about and start publishing from today. No matter what your reason for blogging is, it can be a great way to express yourself and connect with others. If you are interested in starting a blog, there are many free blogging platforms that you can use to get started.
So what's stopping you from starting a blog? Do you already have a blog? Do you have any questions? Let us know your thoughts in the comment section below.