Over the last 12 years of our SEO journey, we made a TON of mistakes. Some of them are so fatal that we lost 50% of our blogs' traffic overnight.
Yes… SEO is an ocean, and it's easy to make mistakes. But there are a few key things you can do to improve your search traffic.
The most common SEO mistakes are;
Not doing keyword research (or doing it all wrong)
Neglecting your content (and its search intent)
Overstuffing your content with keywords (it is a black hat SEO tactic that can actually get your site penalized)
This FREE guide is where we'll reveal the most common pitfalls of SEO you can avoid for more traffic. Let's get started!
Avoid These 8 SEO Mistakes to Boost Your Search Traffic in 2023
1. Not doing keyword research
There's a reason why we put this on #1 of the list of SEO blunders.
There are lots of bloggers who struggle to increase their search traffic for one major reason: they don't do keyword research at all.
It's important to understand what keywords your target audience is searching for, so you can optimize your content accordingly.
Yes, keyword research is a daunting task. But, it is NOT rocket science.
Here's a quick illustration that shows you how to find better keywords for your website;
If you're getting started, you can use free tools like Google Autosuggest or Ubersuggest to find long-tail keywords in your niche.
If you want to find hidden keywords, you need premium tools like Semrush as they usually have BIG databases with billions of keywords.
Start with seed keywords (ex: "SEO pitfalls") and make sure to come up with at least 10 to 20 seed keywords when you're starting out. Once you have a list of seed keywords, use keyword research tools like Semrush and enter each of those keywords to come up with less competitive yet profitable keyword ideas.
While researching keywords, make sure to pick the keywords between the monthly search volume 100 to 500. That way, you'll be able to find keywords that are easier to rank for.
Quick tip: Make sure to find out all the keywords that you're already ranking for. Go to Google Analytics and see your top posts. Then, find more relevant and long tail keywords and use them in your posts to bring even more search traffic fast.
2. Indexing low-performing pages in Google
If there are too many low-performing indexed pages (or thin content pages) on your site, you should get rid of them as soon as possible.
Why? The overall quality of your website's content can affect your search results.
If you've already published a ton of blog posts on your blog and if you're sure that some of them (or most of them) or not bringing you any traffic, you should start working on improving or redirecting such pages.
What's the best way to fix underperforming indexed pages?
Right now, we're indexing around 800 posts of BloggersPassion in Google search.
Did you know that we've published thousands of posts in the last 12 years? Even after publishing so many posts, we're NOT indexing everything. Why? We either remove or redirect ANY post that's NOT adding value to the people.
And.. we recommend YOU do the same.
If you're wondering how to do it right, here's a simple step-by-step tutorial on how to find and fix your low-performing content to increase your overall search rankings in 2023 and beyond.
Step 1: Go to Google Analytics and find your top 10 (or top 20) pages. If the content on those pages is not up to date, it's time for you to rework on updating them.
Step 2: Also find a list of all the underperforming posts and pages on your site. Check your last 1 year or 2 years traffic report to find those pages which are barely bringing you any visitors from search engines like Google.
Step 3: Make a list of all the underperforming pages in a spreadsheet (along with the URLs) so you'll know which are not performing well but still getting indexed on Google.
Step 4: Start making changes
Once you find the underperforming content, you can do 3 things which include
Update with the latest information, images and internal links
Merge into similar content (if you've too many blog posts on a similar topic, find a blog post or page that is driving the most traffic and merge the remaining posts into that page to make it detailed)
Redirect (if nothing works, you can simply use 301 redirects to redirect your underperforming posts to a page that is generating great traffic, it gives you more link juice and authority to the pages which are already performing well)
3. Ignoring on-page optimization
There are two mistakes most people make.
Not doing keyword research OR
Not optimizing their content for targeted keywords
On page optimization is the process of optimizing your individual pages for certain keywords (called primary and secondary keywords) to improve their rankings in search engines.
That means, you need to first find primary and secondary keywords so that you can use them in the prominent places on your individual places. Here are a few quick tips for proper on-page optimization.
Use SEO-friendly URLs (which should be short but you need to use your primary keywords)
Start the title with your primary keyword (it's often the best way to get more organic visibility as title tags play a key role)
Include as many images as possible to make your content visually appealing (and use ALT tags with keywords to optimize for search)
Insert your keywords in H1 tag
Include your keywords in meta description
Include them in subheadings in h2, h3 and so on
Use your primary keyword in the introduction (if possible within 100 words)
Optimization plugin for WordPress users
The good thing about using WordPress is that it offers a wide range of on page optimization plugins (which are mostly available for free).
We highly recommend Rank Math SEO plugin if you want to optimize your content properly.
Here's what its preview looks like;
It helps you quickly optimize your blog posts and pages for targeted keywords and also it suggests where to insert your keywords in order to make them rank well in search results. It also helps with XML sitemaps, setting canonical URLs and so on.
4. Not fixing your website SEO issues
One of the biggest blunders most bloggers make is this: they don't care about fixing SEO-related issues on their site. MOST website owners are not aware of Site Audits.
Website audit is a FULL analysis of your website where you'll discover all the issues that are preventing your site from getting better rankings. They include issues like missing titles, lengthy meta descriptions, broken links, crawling issues, 404 error pages, etc.
So how can you get started with site audits?
Site audits are definitely a technical-related thing, so if you're not tech-savvy, we highly recommend you pick a few SEO tools.
In our case, we use and highly recommend Semrush tool which is one of the most popular SEO tools in the world used by millions of people. It offers you Site Audit feature where you can easily find and fix all your site SEO or technical-related issues in one place.
Here's what you can do with it:
It helps you find out your site's health (it gives you a health score)
You can easily prioritize SEO issues and decide what to fix first
Track SEO optimization progress
You can find and fix technical issues like hreflang mistakes
You can easily detect all possible AMP implementation issues
Here's what the SEO audit of our blog looks like;
Not only that, it helps you with content related issues such as;
Pages without meta descriptions
Pages with lengthy titles
Missing alt tags in images
Broken links
And the list goes on
All in all, it's a fantastic tool to easily find and fix your site issues using site audits. If you're wondering how to get started with it, let us help you with a free trial.
Use this EXCLUSIVE Link to Get 14 Days Free Trial of Semrush Pro Account (which is worth $129.95)
5. Ignoring duplicate content issues
According to research done by Semrush, 50% of websites (they have collected data from 100,000 websites and over 450 million pages) have duplicate content issues.
So what is duplicate content anyway?
Here's how Google defines duplicate content: "substantive blocks of content within or across domains that either completely matches other content or are appreciably similar."
To put it simply, duplicate content is the "content that appears on the Internet in more than one place."
But here's the thing about duplicate content: it won't get you penalized.
Yes, that's true.
In a Google Q&A session, Andrey Lipattsev who is a Search Quality Senior Strategist at Google, stated that there is no such thing as a duplicate content penalty.
Search Engine Journal (SEJ), one of the authority websites in the SEO industry also confirms the same.
Have a look;
But it doesn't mean, you should practice duplicate content.
After all, search engines like Google want to show "unique and highly informative content" to the users. So if you're practicing duplicate content on your site, it won't help you with search traffic.
Here are a few ways to deal with duplicate content issues on your site;
Use unique headlines while publishing your blog posts, make sure to do a quick search on Google for the headlines you're going to use. Use those headlines that are not available already. If you want a simple solution, you can also use free tools like Portent or ChatGPT to come up with dozens of unique headline ideas for your posts.
Give credits where they are required. For example, if you're paraphrasing someone else's content in your blog, make sure to link to the original source.
Whenever you use data (infographics, charts, screenshots, images etc) from other sites, give a link to their sources to avoid copyright issues (or plagiarism issues) in the long run.
Take inspiration from the posts that you like, but don't copy. Try to make even better blog posts by adding more value by inserting images, infographics, videos or podcasts. And give a link back to those posts where you take the inspiration to write the posts.
6. Not finding and fixing your website's broken links
Broken links, whether they are internal or external links, are harmful to your website's SEO.
A broken link is ANY link that points to a page that does not exist.
There are 3 BIG issues with broken links (both internal and external broken links)
If a user sees a 404 page instead of the useful information they want to read, you'll see a bounce (instant traffic dropdown which also increases your site's bounce rate)
Your visitors will perceive your site as low quality (so your site will suffer with conversion rates)
Google search crawlers issues (whenever search crawlers visit your website, they crawl a certain number of pages, but not your entire site and in case if you have a TON of broken links, your pages won't be crawled and indexed)
So how can you deal with fix broken links?
At Bloggers Passion, we always identify broken links using Semrush site audit tool. It's one of the best features of Semrush where you can easily find all the broken (including toxic links) links on your site.
You can also use any type of link checker plugins or tools to easily find and fix all of your broken link issues.
In case you're wondering about what type of link checker tools or plugins available online, here's a list.
Broken link checker from Screaming Frog (you can use this free tool to easily crawl a website instantly and find broken links such as 404 and server errors and you can also bulk export the errors and source URLs to fix, or send to anyone)
Broken link checker plugin (this is a free plugin which crawls your entire website and finds broken links and images on your website)
Xenu's Link Sleuth (it is a computer program that checks websites for broken links easily)
7. Your website takes a long time to load
There's a quick tip for you: go to GTMetrix and find out your website performance (by entering your URL).
Now, a question for you: is your site taking more than 3 seconds to load?
If yes, you need to give your #1 priority to optimize your site speed. Why? If your site takes more than 3 seconds to load, you're likely losing visitors. Studies have shown that 40% of visitors will leave a website if it takes longer than 3 seconds to load.
So what can you do about increasing your website speed?
We've written a detailed guide about increasing website speed but that being said, here are some quick tips for you;
Move to a faster web host
Install a CDN
Optimize your image sizes
Use a caching plugin like WP Rocket
Use fewer plugins
8. You're ignoring link building
Another most common SEO mistake is: NOT building any backlinks.
Google gives #1 weightage to pages that have relevant and quality backlinks.
You should focus on building "DOFOLLOW" backlinks if you want to get more search traffic.
According to a study by Brian Dean from Backlinko, top ranking pages on Google have more backlinks.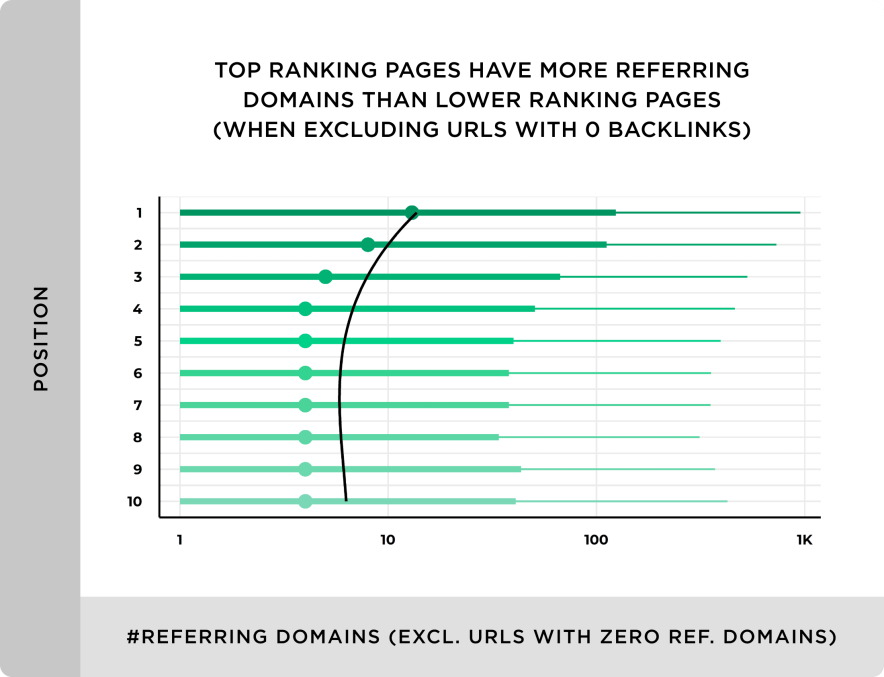 That being said, we don't suggest that you should blind build as many links as you can but make sure to build quality links even if they are less.
For instance, you can get more SEO benefits if you can get just 1 backlink from an authority site (let's say DA 70+ site) rather than getting 10 links from low quality sites (let's say DA 20 sites).
Are you getting me? So stop making this mistake if you want to get more SEO benefits that can bring you more website traffic in the long run.
Create linkable content: Instead of looking for ways to build quality links, why not create content that's worth linking to? That's what we call linkable content which usually includes, highly informative, well researched and useful content for your audience.
Make sure to link out to other bloggers while creating content and let them know after you publish your stuff so that they can reciprocate the same thing sooner or later.
We also highly recommend you to start creating 2000+ word articles over 500 word articles as massive articles always get more search traffic, backlinks and shares.
Write high quality guest posts: Guest posting is still one of the evergreen tactics to build quality backlinks. Just make sure to target top quality blogs with high quality guest posts instead of writing crappy guest posts.
Also make sure to build relationships with other bloggers while guest posting so it can be much more helpful than just link building in the long run.
Do a quick research about the relevant sites to write guest posts, start leaving thoughtful comments on their posts, build relationships before you start your guest posting journey.
---
FAQs | Common SEO Pitfalls
What are common SEO mistakes?
The most common mistakes in SEO are;
– Having slow loading pages
– Not building any backlinks
– Ignoring SEO altogether (keyword research, fixing site issues, etc)
What negatively affects SEO?
Thin content, poor website navigation and bad user experience can negatively impact your search rankings.
How do I fix my website speed?
Using a CDN, installing a caching plugin and moving to a faster web host are the best ways to improve your website speed.
Why is my traffic going down?
There could be a lot of reasons for the traffic drop, such as;
– Google algorithm updates
– Thin or duplicate content
– More competition for your target keywords
Browse more SEO Tutorials:
---
Final Thoughts on SEO Blunders
SEO is evolving. Google is rolling out a ton of freaky updates to make their search engine better.
But by avoiding the common mistakes in SEO listed above, you can give your website a better chance of ranking well in search engine results pages (SERPs). Make sure to start fixing your website issues, track your keyword rankings, and use proper tools to get ahead of your competition.
What SEO mistakes are you making? Share your thoughts in the comments below.