Did you know that the pet care industry is a billion dollar industry? The total value of pet care in the United States from 2013 to 2018 is shown in below illustration.
In 2017 alone, the U.S. market for pet care reached around 48 billion dollars. This is expected to increase to 50 billion dollars in 2018 and beyond.
So if you're into pet care blogging or looking to start a pet care blog, we're going to discuss some of the best ways to make your pet care blog profitable. Let's first start with the do's and don'ts of pet care blogging.
Top 5 ways to make money from your pet care blog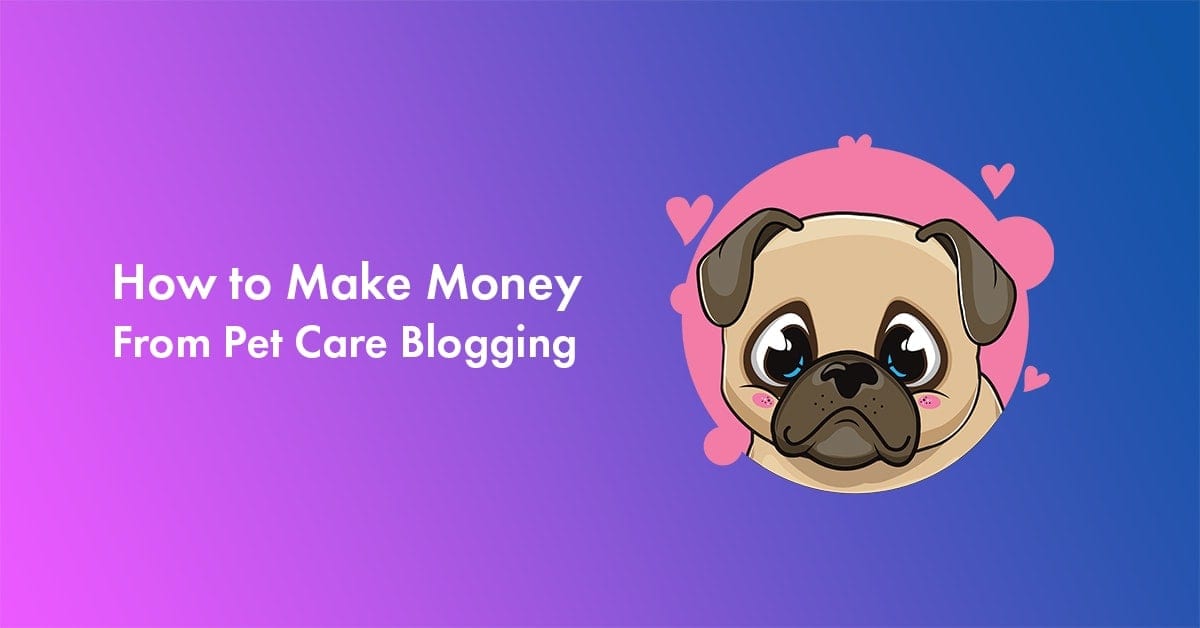 Here are some of the proven ways to make money from your pet care blog in 2022 and beyond.
1. Drive lots of search traffic
Website traffic is literally the currency online. If you want to make money from your blog, find out ways to drive a lot of traffic. The best traffic source is search engines like Google. It sends you the most qualified traffic that actually converts.
To increase your search traffic, make sure to find and use highly relevant keywords. You can use tools like Semrush, Ahrefs and so on to come up with profitable keyword ideas you can use to drive more traffic and sales.
If you're wondering about how to do keyword research, go through this post.
Learn How to Start Your OWN BLOG & Start Making Money (WORTH $197)
2. Sign up for affiliate networks
Affiliate marketing simply means selling others products and earning commission per every successful sale you make. There are a ton of pet care related affiliate programs out there that you can find through sites like CJ, ClickBank, eBay, Amazon and so on.
Almost all of the affiliate networks are free to join and give you instant access. So start finding all the relevant affiliate programs that you can promote through your websites to earn more from pet blogging.
3. Find sponsors
Cooperatize and Taboola are two best platforms to find sponsors. You can also look for sponsorship or paid posts to publish others content and promote their stuff on your blog.
The money you make from sponsorships usually depend on the amount of traffic your blog generates. Typically you can make $100 for every sponsored post you publish on your blog.
4. Start showing ads
You can use banner ads if you're generating decent traffic 30 to 50k visits a month or you can also use display ad networks like Chitika, AdSense, Infolinks and so if you're generating at least 500 visitors a day to your blog from search.
The key here is to wait at least 6 months and drive as much traffic as you can before start putting up ads on your blog. Otherwise, even if your AdSense account gets accepted, it's really hard for you to make even $100 in a month.
Read: Bloggers Income Report: How Much Money Do Top Bloggers Make
5. Ask for donations
There are so many pet lovers all over the world who would love to pay you in donations if you really are helping them with your content. If you provide best tips and show enthusiasm through your blog, people wouldn't hesitate to help you.
You can simply put a PayPal donate button within your website's sidebar and within blog posts and ask for the donations.
More ways to make your blog successful in 2022
Learn from your competitors websites and be everywhere
Quick tip: Use a tool like BuzzSumo to find influencers and track the most popular content in your niche. You can also give a try to Semrush as it gives you even more details like website traffic estimation, best contents, keywords and so on.
Here's a great illustration on how you can perform competitor analysis with ease.
Whether you know it or not, YouTube is uploading 100 new hours of video content each minute and visitors spend approximately 90% more time on sites that include video.
What's more, video earns a site 3 times as much traffic as other types of content and consumers are a whopping 56% more willing to seek out additional information about a product or service. So if you're looking to make your pet care blog successful, give a try to video marketing as you'll see astonishing results.
Read: How to Get Your Blog Noticed In 2022 And Beyond: A Beginner's Guide
Master the art of pet photography
Did you know the #1 effective way to build a money making blog? It's definitely the content you post. When it comes to pet care blogging, photography plays a key role because a picture is worth a thousand words.
Although you don't have to a professional at taking cute pics of other breeds of dogs or pets but you should learn the art of taking impressive snaps to post on your YouTube channels, Instagram, your blog and so on.
Apart from all that, people search for cute pet images on Google, Instagram and everywhere so if you're using proper keywords in image alt tags, you can drive more targeted visitors.
Here are few tips for using high quality images for your blog:
Make sure to include a logo or website name for every image you use. That way it will be helpful for you in two ways; it helps you with branding and the other is image theft (you can prevent image theft by easily using your logo or website name)
Use proper image editing tools such as Photoshop, Canva and so on if you want to take your photo blogging to the next level.
Use right kind of fonts and colours if you're adding any text, quotes etc while using images
Read: Top 11 Headline Analyser Tools to Create Award Winning Headlines In 2022
Be consistent
Writing one post a day for the first 3 months is easy because you'll be curious or interested in the beginning but writing one post a day for a year or two is really hard. That the reason why there are very few blogs that make money. That's why consistency is so much important.
Get Out Of Internet Marketing Niche
I've interviewed several persons who earn over $4,000 with Adsense and they all have the same story. They're not in internet marketing niche. You need to get out of this niche and focus on non-internet related niche. When I got hold of this secret, I quickly backordered an expiring domain name in the dog niche – as fate would have it, the owner didn't renew it and today, it's all mine.
In the first month, I earned $204 from Google organic traffic. So, the bottom line is simple, buy a domain name that has some quality links and traffic (no matter how little).
Write Relevant Articles Only
I'm tired of quality content and all the advice, the best contents that would generate the best click and income for you are relevant content. How do I mean?
Using my dog care blog as an example, I write about dog training and dog foods. The more relevant your contents are, the better advertisements Google sends to you. If your content is generic, you'll receive public ads that earn $0.0 – 0.01. You can't stake your life on such earnings.
I currently earn about $3 – $10 when someone clicks on my pet care ads. It's so high that some months, my income goes through the roof.
Write on keywords that are hot. Ex. if someone is looking for care.com discount code, wireless coupons etc, focus your content on this topic and your Google Adsense click-through rate will increase.
Use Text Link Ads Embedded On the Post
The highest click-able position on your blog is within the content. It should appear at the top right of your posts. This place is a hot angle for readers. You should know how people read content; from left to right. That means when they skim and read your articles, their eye will capture those ads by the right.
And contrary to what people say, I don't like turning my ads color to suit my theme. I make it prominent and this has worked. Don't ask me why because I've split tested and discovered how powerful using different colors will do. I'm a graphic designer so I understand how colors blend naturally.
When you blend red and blue together, the resulting color is often beautiful and pleasing to the eye. So, split test your colors and see which one is right for you.
Google AdSense Case Study Key Takeaway
Making money with Adsense might not happen overnight. You need to consistently write fresh contents, get indexed and start ranking for your primary keywords. Your earnings will increase when your organic traffic increases. So, work on search engine optimization, build quality links like I did on dog care blog and dominate Google top 10.
Read: How To Dominate Google And Profit With Micro Niche Blogs
Do's and don'ts of pet blogging to make money
Do's:
Identify your readers. Find out who your target audience are. Are they looking for specifically information, tips and tutorials related to pets, special dog breeds or food related stuff? Once you know your audience needs, you can easily build a blog that actually makes money.
Know why you're blogging. Are you doing it as a hobby? Do you want to help others to take care of their pets?
Do spend quality time for your blog as it takes time and lots of efforts to build a better blog that makes money. Just like any other business, pet care blogging also takes most of your time and consistent efforts.
Learn SEO and basic on page optimization. If you really want to get more traffic, you should at least learn how to find great keywords and how to use those keywords within your content to drive traffic.
Conclude all of your blog posts with a call to action. Find out what do you want to achieve with each of your blog posts that you publish on your blog. Is it more traffic, subscribers, comments or social shares?
Read: Finding A Blogging Partner to Assist You: The #1 Way to Profitable Blogging
Don'ts:
Don't publish a blog post on your blog without doing keyword research. There's no point of creating lots of content without targeting even one primary keyword. Make sure to find low search volume keywords so you can quickly increase search traffic.
Don't stick to one form of blog content. Most bloggers use only one form to create content. If you really want to find new audience, try and explore all forms of content types include videos, podcasts, infographics, blog posts, case studies, eBooks related to pet care blogging and so on.
Don't use cheap hosting as it plays a huge role. Get a proper hosting that offers you excellent features at affordable prices. We recommend you to give a try to Bluehost.
FAQs about making money from pet blogging
Here are some of the questions you should know before entering into pet care blogging.
How to start a pet care blog in 2022?
How to find blog post ideas?
Use tools like Quora and Semrush to find the blog posts ideas.
How to create a name for blog?
Although there are a ton of domain and blog name generators you can use to quickly come up with domains but you can also brainstorm your own ideas by going through your competitors sites, discussing with your friends and so on.
What are the best pet care affiliate programs?
Affiliate marketing is really a great way to make money from pet care blog. We suggest you to just check out our post on the best affiliate programs to find over 100 networks that you can use to find amazing products to earn huge commissions.
How to get more followers to a pet care blog?
There's a lot of people who are pet lovers on Instagram, so you shouldn't miss out platforms like Instagram where you can share all of your latest blog posts and use relevant tags to get more likes and drive traffic to your site.
More Google Adsense Related Resources:
Conclusion
Pet care industry is growing so if you're running a blog in this industry, make sure to use the monetization strategies mentioned here and focus on the long term goals if you want to succeed.
Are you running a pet care blog? Do you have any questions for us to make money from your blog? Share your views in the comments section below.