Support Options

Performance

Backups & Restoration

Migration & Transfer

Pricing
Summary
ChemiCloud has gained fame for its best-in-class hosting that is fast & reliable.
Based on real tests, I found ChemiCloud exceptionally fast and reliable web host service. ChemiCloud comes with a 99.99% uptime guarantee, 24*7 Live chat support, Free domain, Free migration, and 45 days money back policy.
Pricing wise, it is a little bit expensive compared to other web hosts. However, I found the 3-year "Pro Plan" more valuable and the perfect option to start with ChemiCloud.
If you are looking for a reliable web hosting service that can help you scale your blog or business website faster than your competitors, Try ChemiCloud. I have this detailed ChemiCloud Review that will help you choose a blazing fast service.
It's no secret that for any business to be successful in the modern era, it needs a good website as its foundation.
For a successful online project that helps you boost your business, you must opt for a hosting service that offers speed, uptime, and quick service. Today I will take a look at ChemiCloud, a comparatively less known hosting provider that is even better than some of the most talked-about web hosts.
Disclaimer: All our hosting reviews are based on personal experience and a few tests that I do on our favorite tools. I have tested their speed, uptime and even a service response and glimpses of that will be shared as proof here.
Before I start this ChemiCloud hosting review, you can always refer to the quick summary mentioned at the starting of this review. The summary is especially for those visitors who are in a hurry and don't have time to go through the full article.
---
ChemiCloud Review: Performance Test, Features, Pros, Cons & More
| ChemiCloud Overview | Details |
| --- | --- |
| Pricing | Starts from $2.99/month |
| Uptime | 99.99% (Last 365 days) |
| Speed Score | 97 (Desktop), 95 (Mobile) |
| Refund Policy | 45 Days |
| Payment Methods | PayPal, Credit Cards, Debit Cards |
| Migration | Free |
| Customer Support | Live Chat, Ticket Support, Knowledge Base, YouTube Tutorials |
| Server Locations | Dallas, San Francisco, New York, Toronto, London, Sydney, FrankFurt, Bucharest, Singapore, Tokyo, Mumbai |
| Backups & Restoration | Automated Daily Backups (10-30 Days Retention) |
| Hosting Plans | Shared, WordPress, Reseller, Cloud VPS |
| Domain Registration | Possible |
| TrustPilot Ratings | 4.9/5 |
---
About ChemiCloud
A private company owned by a small number of company members and shareholders, based out of Delaware, United States.
They say and I quote "being an independently owned web host, all of our income is from our customers, and so they become our top priority".
It is comparatively a small organization of only about 50 employees and hence each and every customer is valued by them. The company promises great performance and superior customer support and delivers it as well.
Despite being small in size, you will find best-in-class infrastructure that offers ultra-fast LiteSpeed Servers spread across 7 different locations of the world and a lot of security features. All of them will be discussed below.
I will now try and evaluate ChemiCloud on the following parameters:
Features
Pricing Plans
Payment Method
Ease Of Use
Transferability
Server Location
Uptime
Customer Support
---
Feature: Reasons To Choose ChemiCloud Web Hosting
This is where ChemiCloud really shines, it takes freebies to another level and features all the necessary tools needed to grow your website.
So many features (Or reasons to choose ChemiCloud!). I was surprised!
1. Free Domain Name:
Very few hosting providers give you a free domain name on purchasing their plans but if you choose to get started with even the cheapest, the most basic plan offered by ChemiCloud, you will get a free domain name at no renewal cost.
2. Automated Backups:
Data backups are crucial for any website owner, every starter pack offered by ChemiCloud comes with automatic backup enabled and the user can restore data anytime for up to 30 days in the past.
For Automated Backups & Restore (One click via Inbuilt JetBackup5tool)
For Manual Backups (via cPanel):
Simply go to the control panel of your ChemiCloud account and click on restore, choose the date and time and you are all set to restore your website exactly as it was on the selected date.
3. Free SSL certification:
It allows you to use HTTPS protocol for optimized security and SEO benefits. Website Security is paramount at ChemiCloud and they believe that every customer should be able to use the internet without having to worry about digital threats.
SSL is an additional cost. With ChemiCloud, it is absolutely free.
4. Reliable Email service:
ChemiCloud partnered with MailChannels, a leading cybersecurity company for the sole purpose of making email service a breeze for customers, you will never have to worry about email blacklisting.
5. Website Builder:
A simple drag and drop interface allows you to decide the placement of any feature on your website.
Your website will look as intended and beautiful on any device, mobile, tablet, PC, etc. with a highly responsive design. You can also fine-tune your adjustment setting.
You will also get ChemiCloud's huge selection of 350+ templates and over 40 useful widgets that allow you to add contact forms, image galleries, Google maps, image/video sliders, to name a few, easily to your website.
You can integrate live feeds from various social media platforms such as Instagram, Twitter, and Facebook directly on your website.
A huge language selection makes sure that you are covered, no matter what part of the world you belong to.
6. One-Click App Installs
Softaculous, which is a dedicated software that focuses on installing languages like PHP, PERL, JAVA, JavaScript applications in one click, is available with this hosting. As a beginner, you can focus on using apps without the hassle of finding and installing them. Be it WordPress, Joomla, or Drupal [to name a few], you can install any of them with just one click.
7. Free CDN
Cloudflare is a leading web infrastructure and security company that offers blazing-fast CDN. ChemiCloud partnered with Cloudflare to give users the ultimate content delivery network (CDN) that improves the page load time. Not only that, your site is protected from various online threats like DDOS attacks, etc.
8. Fast SSD Storage
SSD is the latest technology that is faster than a normal HDD. Chemicloud's infrastructure is based on Industry-leading SSD architecture that ensures up to 300% faster access to your online files and databases.
9. Free Website Migration
A team of experts handles your migration with no downtime. The team of experts ensures hands-free migration without any extra cost.
Yes, migration from your existing web host is absolutely free of charge with ChemiCloud.
For details of the site migration, Click here to go to ChemiCloud's official guide, it is a short article that explains everything step by step. For details on domain name transfer to ChemiCloud, Click here.
---
Review of ChemiCloud's Customer Support
After the features, I focus on the after-sales service. You may be a fresher or an experienced webmaster, support is something that you will seek throughout the tenure. Hence before reviewing its pricing and other factors, I decided to test its level of service myself.
I decided to take matters into my own hands and try to find out if they actually hold the boasting rights.
You know that customer support is the backbone of any successful business and ChemiCloud is proud of their "Happiness Engineers" as they are referred to.
To my surprise and delight, the engineer assigned to me (Ryan) responded within seconds of submitting my name and query.
Refer below for a screenshot:
I asked him questions that any beginner would often wonder.
I have attached a series of screenshots below where I put up 3 questions and Ryan responded instantly and explained everything very well for a beginner to understand.
(screenshots below for questions 1, 2, and 3 in that order)
Customer support that is not only quick and willing but also knowledgeable and competent, ChemiCloud sets an example (if you skipped, I suggest you refer to the screenshots above) with their customer support.
I highly recommend you give them a try if you are looking for people that will wholeheartedly help you start from scratch.
You May Also Like These Posts:
---
ChemiCloud Plans And Pricing
ChemiCloud provides different packages for different sets of requirements. Upon that, they also back you up with a 45 days money-back guarantee (in ALL of their hosting services).
I will now dive deep into their plans and pricing details.
ChemiCloud Pricing: The Best Plan?
During analysis, I found the Pro plan more reasonable at the beginning. As traffic grows users can upgrade. The best thing about the Pro plan is you get more resources as well as the essential security feature called Advance firewall protection.
Pro Tip: You can always save more by claiming the latest ChemiCloud coupon code I have updated every week on our post.
Shared Hosting: Instant 70% OFF!
The first category is Shared Hosting aimed at users looking for fast shared hosting on a reliable cloud platform. ChemiCloud offers 3 plans in shared hosting.
See that? You'll get 70% off on all their shared hosting plan with a free domain.
For detailed features and pricing comparison, I have a small comparative table below.
| | | | |
| --- | --- | --- | --- |
| Features | Starter | Pro | Turbo |
| Price | $2.99/mo | $4.79/mo | $5.99/mo |
| Website | 1 | Unlimited | Unlimited |
| Bandwidth | Unmetered | Unmetered | Unmetered |
| Migration | Free | Free | Free |
WordPress Hosting: 70% OFF!
The second category they offer is WordPress Hosting which promises to be a complete solution for bloggers, e-commerce, or company website holders.
Again, you will get a 70% discount on their WordPress hosting plans.
As you can see above, you'll be getting a HUGE 70% instant discount on their WordPress plans (for a limited time).
Let us now review the pricing and features of this hosting plan.
| | | | |
| --- | --- | --- | --- |
| Features | Starter | Pro | Turbo |
| Price | $2.99/mo | $4.79/mo | $5.99/mo |
| Website | 1 | Unlimited | Unlimited |
| Bandwidth | Unmetered | Unmetered | Unmetered |
| Migration | Free | Free | Free |
Here are a few more additional deals on ChemiCloud:
70% discount on Reseller Hosting ($8.99/mo) with a free domain for a year
45% discount on Cloud VPS ($29.95/mo) and you will get 1 months free on a 12-months plan
Up to 94% off on domain registration.
Ready to start with ChemiCloud?
Pick up a plan and Learn the steps of Migration OR domain transfer from the next section. If you have any questions, hit the ChemiCloud live chat widget and take help from the support team.
---
Transferability Or Migration: Is it Free?
Transferring your website is not an easy process and it may cost you anywhere between $10-$100, depending upon the size, content, and magnitude of your website. But with ChemiCloud, it's extremely simple and FREE.
How easy it is to transfer a website to ChemiCloud?
A dedicated team of IT professionals does the job for you in the background while you continue to operate your website from your former host (with 0 downtimes). The team notifies you once the transfer is successful.
Post that, you just have to update your DNS records or name servers to complete the migration process.
The best part is, this service is absolutely free of cost, so forget about any hassle and extra cost for site transfers anymore.
What about Domain Transfer?
Since it is not possible to cover all of them here, I will only go through the basic process of the domain transfer.
Transferring your account from any hosting service over to ChemiCloud servers is a breeze, first, you need to verify with your former host if you are fulfilling their transfer criteria, the most common transfer restriction that most hosting providers put on their clients are:
Make sure your domain name has been registered for more than 60 days.
Make sure your domain name has not been transferred in the last 60 days.
Disable (Whois/Privacy protection)
Make sure you have access to the email id that you registered while purchasing a domain.
Now that you have made sure that you are eligible for transfer, you must prepare your domain for the transfer as well, you need to remove the registrar lock you may have added for added security if not, directly obtain the EPP code from your current registrar.
And now you are all set to initiate the transfer.
Step 1: In your ChemiCloud lab's dashboard – click on the "domains" tab, a pop-up menu will appear that gives you available "actions", click on "transfer in a domain".
Step 2: The interface will now request the domain name that you wish to transfer along with your EPP code, enter the same, and click "order now"
Step 3: You will be asked if you require hosting, select accordingly and click "Continue".
Step 4: Click the "Checkout" button to submit your transfer request.
Confirm the request with your registrar.
So you see how easy it is to transfer your domain name over to ChemiCloud.
Click here to redirect to their official transfer guide.
---
Pros & Cons
I have put together some of the key factors that you should account for while making a purchase. This Pros and Cons list of ChemiCloud is for your reference below:
Pros:
Free domain name
Multiple Data Centers across the globe
High performance with 99.99% uptime guarantee is given
Free SSL encryption (HTTPS)
Free Cloudflare CDN Integration
Super intuitive and easy-to-use website builder.
Free website migration service with no downtime.
45-day worry-free Money-Back Guarantee
Softaculous integration makes app installation super simple
The control panel offers some of the best customizations in terms of accessibility to important tools.
Cons:
Little bit expensive for beginners
SSD space should be more in all plans
---
Ease Of Use
It is very important for any web hosting provider to make it easy for their customer to design websites on their platform, and for this very reason, every company takes a different approach.
ChemiCloud built its website builder from the ground up, keeping beginners in mind and paying special attention to users without any computer coding knowledge.
From Signup to choosing a template and customizing it with added drag and drop for ease of use, to publishing a website in a matter of minutes, the website builder does it all for you. You can get the website up and running in no time.

I found the site builder (included with all ChemiCloud plans) impressive and a quick approach to creating a website from scratch. (If you are a WordPress fan, then you can always try Elementor or other WordPress page builders plugins)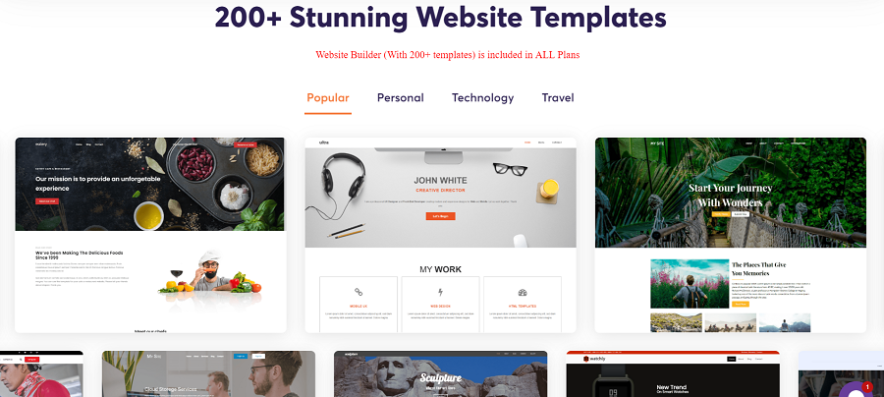 ---
Talking about ChemiCloud User Interface, I found the newly updated dashboard better in terms of overall user experience. (Although I am a fan of Hostinger hPanel user interface, but ChemiCloud also did a pretty decent job.)
Just look at the image below, you will see all the important options (Services, Domains, Billing, Support, Addons) organized into the left bar.
Plus under the active services section, you will get a single click access to the cPanel, WordPress dashboard easily.
Softaculous integration makes hundreds of apps from their store available for 1-click install on your website, WordPress, Joomla, Drupal which makes it very easy for the end-user to use them straight away.
Partnered with MailChannels, an industry leader when it comes to cybersecurity, just for the purpose of providing secure and reliable email service for ChemiCloud customers. So that you don't have to worry about email blacklisting ever.
---
Server Location
ChemiCloud has 11 data centers all around the world so you never have to worry about site loading speeds, in any part of the world.
Dallas, San Francisco, New York US
Toronto, CA
London City Data Center, UK
Sydney, Australia
Frankfurt, Germany
Bucharest, Romania
Mumbai, India,
Tokyo, Japan
Singapore, Asia
This feature helps you host your site closer to your actual visitors, thereby reducing the data travel time. Especially, if you are not choosing a premium CDN, these features help you manage your core web vitals.
---
Uptime
For every online project, 24×7 availability is a must. Uptime is directly linked with your online reputation and profitability. Even a single-minute downtime can sometimes cost thousands of dollars.
I personally decided to host a dummy site on ChemiCloud servers to check the actual uptime performance.
For this, I used UptimeRobot which is a popular and industry renowned software. Using this tool, I monitored the test site for about 478 hours and to my surprise, not even a single minute of downtime was reported.
Refer to the proof below: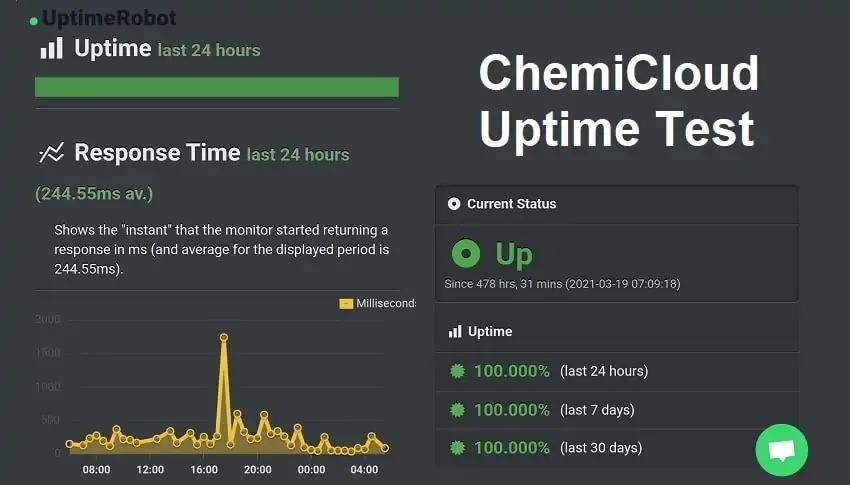 100% uptime in actual as against the 99.99% uptime guarantee is simply amazing.
---
Speed
Do you want you website to load fast? With ChemiCloud, it is really possible. I have tested the same site now on a popular speed checker tool – GTMetrix.
For us, a page should load quickly meeting all core web vital requirements as suggested by Google. However, the speed is not only a function of a web server, your website also needs to be optimized well for speed.
Here is the result:
Our test website loaded within just a second. As per GTMetrix, I got 100% performance score, which means – A Grade. There were absolutely no complaints whatsoever, as per this speed testing tool.
Now, after checking the claims on our test site, I am convinced that ChemiCloud is definitely a good web host if you need a reliable hosting partner. Speed, uptime, and service are three key pillars for every web hosting to be successful, no wonder ChemiCloud is successfully building up its mark for over a decade now.
---
ChemiCloud And Domains
Can you register a new domain name on ChemiCloud?
Yes. The ChemiCloud is one of the popular domain registrars where you can register any domain name for your preferable TLDs. The .com domain pricing starts from just 13.95/year.
I never advised you to buy or register for a new domain solely on ChemiCloud. Because if you register a new domain without hosting then you have to suffer domain charges. Simply buy a hosting (and enjoy a domain for 1 year absolutely free)
---
What Others are Reading:
---
FAQs
How to start with ChemiCloud if I already have a site hosted on another web host?
If you already have a website hosted on another web host service, then you have to first make a request for website migration or transfer. This will be easily done via ChemiCloud live chat widget. Then you have to handover the credential to ChemiCloud support agents and they will do the migration job for you. At last, the step of pointing domain nameservers to the ChemiCloud hosting is remaining. After that, your site will be ready to run within 24 hours.
What are the main reasons to choose ChemiCloud web hosting?
Exceptional performance (99.99% uptime), Free domain name, Automated backups, Free Migration, Fee CDN, SSD storage, and Unlimited Bandwidth are the main reasons to pick ChemiCloud hosting service.
What are the views of other users on ChemiCloud?
After researching tons of ChemiCloud reviews on the internet, I found ChemiCloud is a well rated web hosting platform with thousands of 5 star reviews from users situated all over the world.
Does ChemiCloud offer a "free domain"?
Yes, you'll get a free 1-year domain registration with ALL plans from ChemiCloud.
What is "Reseller Hosting" that ChemiCloud offers?
Reseller Hosting by ChemiCloud is a type of hosting service that gives the client, (you) the ability to start their own hosting business.
Will my clients know it's ChemiCloud or it is me who is providing the hosting service?
Your clients will believe it is YOU. Moreover, you do own all the intellectual and content rights on your servers and you have all the control over your hosting services.
ChemiCloud vs Hostinger, which one is better?
Both ChemiCloud and Hostinger are good hosting companies. Both will provide you LiteSpeed server, 24×7 service, and multiple hosting options. However, if you are looking for the cheapest hosting option, Hostinger is recommended.
I have no knowledge of coding whatsoever, do I need a website designer with ChemiCloud?
No, ChemiCloud's website builder is super intuitive and comes fully optimized with drag and drop functionality so you can place any feature or tool anywhere on your page, without writing even a single line of code.
Is ChemiCloud Secure?
Yes. ChemiCloud is 100% safe for all kinds of websites. Following security features makes ChemiCloud hosting safe and secure: SSL, 2FA, IP Blocker, DDOS Protection, SSH Access, Malware Scanner, Imunify360 Proactive Defense (firewall), 24*7 Monitoring, and Account Isolation.
What are the support options offered by ChemiCloud?
24*7 Live Chat, Email Ticket System, Knowledge Base, YouTube Tutorials are the primary support options found in ChemiCloud.
What is the latest uptime of ChemiCloud?
The ChemiCloud uptime for the last 3 months is recorded as 99.89%
Which payment mode does ChemiCloud accept?
ChemiCloud supported all international debit cards, credit cards, and PayPal as payment modes.
Can I register a new domain name with ChemiCloud?
Does ChemiCloud support automated backups?
---
Conclusion
Web Hosting is the heart of a website, while YOU are the brain. Web Hosting provides the complete set of resources on which your website runs, so it is simple to understand that if your website goes down often you will lose a lot of traffic.
Your visitors don't care about your hosting plan, all they want is a website that just works well and loads fast.
This is exactly what ChemiCloud aims to be, a hosting service that just works. I have tested them through our real test site. This ChemiCloud review is based on the actual facts and findings where I checked their service, products, uptime, and even the speed.
They are a close-knit group of bright individuals who are passionate about Web Hosting and not just an organization that just focuses on numbers.
If you are tired of facing downtime or slow loading speeds with your current provider or unhappy with your incompetent or lazy customer support that just copy-pastes replies to your questions, give ChemiCloud a try and thank me later. :)ma