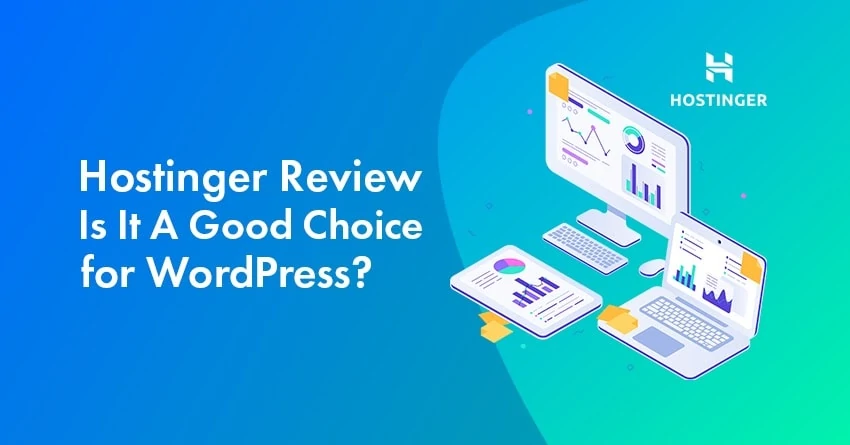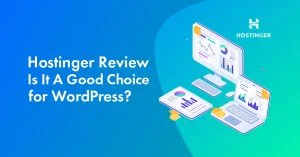 Summary
Hostinger, A reputable web hosting company known for cheap hosting services. Based on 3+ years of experience, I found Hostinger a reliable & trustworthy high performance web hosting solution. It comes with a free domain, 99.99% uptime guarantee, 1-100 website plans, daily backups, 24*7 Live chat support, and free migration.
Use coupon code ANILAGARWAL to get up to 90% off on Hostinger plans.
Hostinger is one of the popular web hosts that was established in 2004 and hosts over 29 million websites across 178 countries.
Hostinger offers a wide range of web hosting solutions including Shared hosting, VPS hosting, cloud hosting, WordPress hosting, VPS hosting, and much more at affordable prices.
I'll be reviewing important parameters of Hostinger including Performance, Hosting Plans, User Interface, Customer Support, etc and finally highlighting the pros and cons.
Is Hostinger a good web host choice for 2023? Let's find out in this detailed Hostinger.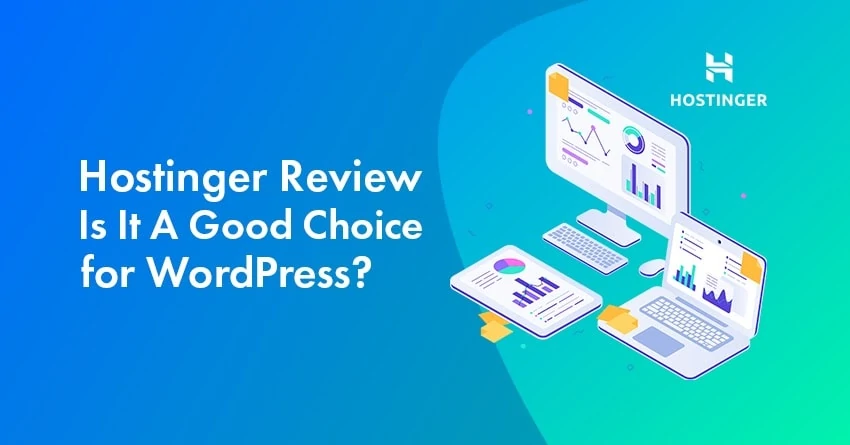 ---
Hostinger Review 2023
Let's start the Hostinger review with its upsides & downsides.
| Hostinger Overview | Details |
| --- | --- |
| Pricing | Starts from ₹62.10/mo OR $1.79/mo |
| Uptime | 99.987% (Last 30 days) |
| Speed Score | 98 |
| Refund Policy | 30 Days |
| Payment Methods | PayPal, Credit Cards, Debit Cards, UPI Payments |
| Migration | Free |
| Customer Support | Live Chat, Ticket Support, Knowledge Base, YouTube Tutorials |
| Server Locations | Netherlands, Lithuania, United Kingdom, Singapore, India, USA & Brazi |
| Backups & Restoration | Free Weekly to Daily Backups |
| Hosting Plans | Shared, WordPress, VPS, Cloud & Minecraft |
| Domain Registration | Possible |
| Security Options | Free SSL, Malware Scanner, Free Backups, 2FA, DDoS Protection, Website Firewall |
| TrustPilot Ratings | 4.6/5 |
Hostinger: The Upsides and Downsides
I have 2 active sites running on Hostinger web hosting. Compiling my 3+ years of experience with Hostinger, these are the Hostinger Pros and Cons (Upsides & Downsides) you should know:
Hostinger Pros (Upsides):
High Performance Even in Low End Plans:
Talking about Hostinger performance, I haven't encountered any down time or website crashing related problems. The last 30 days uptime of our site is 100.00%. All our sites cleared core web vital metrics easily and hence helped us in scoring top SEO positions in SERP.
With the help of website performance testing tools, I have experimented with 4 types of tests on our site: HostingMonks.com. It is running on Hostinger WordPress Starter shared hosting plan.
Despite the BASIC plan, Hostinger stood up greatly to my expectations. Overall, we're extremely satisfied with the speed and website performance of Hostinger hosting services.
Here are the results:
Speed Test
My test site (although NOT optimized well & not running on caching plugins) loads within one second.
Pingdom result:
GTMetrix Result:
Hostinger In-house PageSpeed Tool Result:
Server Response Time Test
I tested the potential of their 2 popular data centers: USA & India. And as a result, I have found both servers are extremely fast and respond within a second.
Uptime Test
When I checked, I was shocked to see that my site's last 30 days uptime result is 100.00%.
Still doubting Hostinger's capability?
With the help of hRank (A uptime test tool), I can finally see the Hostinger hosted sites uptime report. As promised, Hostinger is able to maintain an uptime above 99%.
Stress (Load) Test
Website Stress test is nothing, but a performance test of a site in a situation of a sudden traffic spike.
Hostinger's performance was spectacular even in traffic spikes. The average response time was recorded as just 0.216 seconds which is mindblowing.
After seeing the response time I am sure, Hostinger won't disappoint us in any situation. The servers never got down during the test and this is proof of the efficiency.
---
Huge Savings with Extremely Cheap Web Hosting Plans:
Hostinger ranked #1 when someone talks about pocket friendliness. I also found Hostinger plans cheaper but rich in resources while comparing the various web hosting services in the market.
Hostinger is known for the CHEAPEST plans in the competitive market and they actually mean it. No hidden charges or upselling problems are there. Their plans are based on the number of sites & storage needs. For customer well-being, most of the plans included a free domain & free backup, free CDN, free SSL, and other freebies. Because of such an initiative, Hostinger is able to offer affordable plans.
If you are a beginner and require web hosting for a single website, then you can acquire it in just $1.79 per month (₹62.10/mo). But the Premium plan ($2.69/₹134.10/mo) offers more resources as it is packed with 100 sites support, free domain, extra SSD, and the advantage of unlimited bandwidth.
Obviously, you can approach a Business plan ($3.59 / ₹242/mo) if the monthly traffic exceeds 100k visitors. Business plan is not expensive though at this moment compared to the last few month's pricing.
You might find this disadvantage, but Hostinger plans can only be claimed at the lowest possible pricing if you are ready to commit for 4 years. Investing right now doesn't risk your money at all because of the attached 30 days money back guarantee policy.
Hostinger is also known for its special offers and coupon codes running throughout the year. And at this point too, you will get an amazing offer of 3 months of free hosting in Premium and Business plans.
The plans pricing can drop further if you use my special link (mentioned below) and Hostinger coupon code: ANILAGARWAL.
WordPress, VPS and even Cloud plans of Hostinger are the lowest in the web hosting market. Starting from just $2.99, $5.99, $9.99 respectively.
Don't wait! Want to learn how to install WordPress in Hostinger? Then, this step-by-step tutorial is for you.
---
Free Domain & Money Back Guarantee:
In Hostinger, you can purchase Domain and Hosting together. While this is not mandatory, if you do so you get a free domain name for a whole year. The free domain benefit is attached to all plans except single tier ones. Also, if you are looking to migrate from a different web host to Hostinger, then yes there won't be any migration fees applied.
Most of the users opt for Hostinger plans for four years at once as they offer maximum discounts and are also backed by a 30 days money back policy. Under 30 days Hostinger refund policy: Hosting, Domain transfers, and SSL cost are refundable.
---
Data Centers Located Almost Everywhere:
Hostinger has their servers located around 7 popular destinations of the world (Netherlands, Lithuania, United Kingdom, Singapore, India, USA & Brazil).
Generally people make the mistake of not reviewing the hosting server location during purchase. Well, perfect web hosts are only those who allow users to switch their server location whenever they want. (Hostinger is one of them.)
I verified this manually. Through the hPanel of Hostinger, you can change the server location in a single click:
Plus, Hostinger can be integrated with Cloudflare CDN for free which means you can replace Hostinger nameservers with Cloudflare. And deliver web pages content from the closest server possible.
---
Beginner Friendly cPanel & User Interface:
Hostinger offers hPanel – A modern, user friendly & robust version of cPanel.
One of the most highlighted things I liked about Hostinger is its user interface. Even most beginners give a first preference to Hostinger because of the simple easy to use hPanel.
Hostinger has released the new hPanel interface with a lot of improvements and the old dashboard will no longer be active after Feb 2023.
Compared to the old traditional cPanel dashboard where you get all options arranged in a top to bottom order, Now you can see the better cleaned version where Hostinger put up a separate page for every category.
This is the new Hostinger hPanel: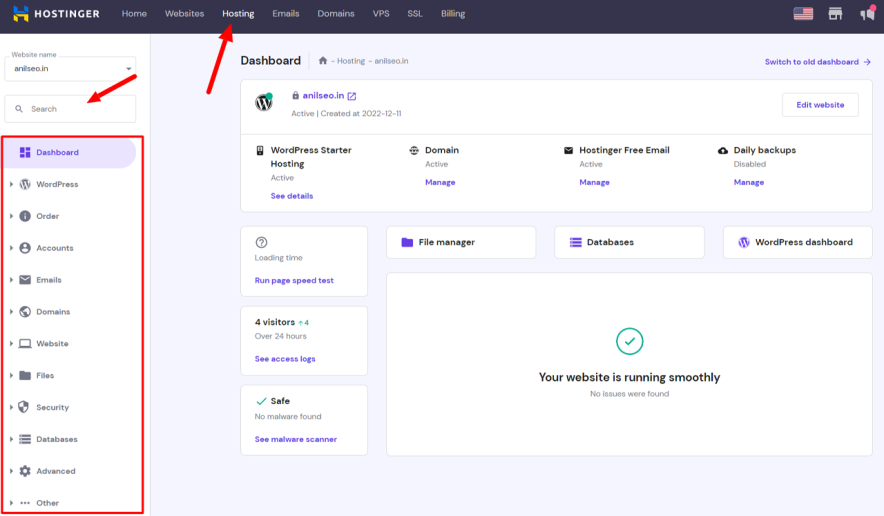 This is the old Hostinger hPanel:
(In the new hPanel) By organizing all the functions into the separate tabs, the Hostinger hPanel looks better and is easy to navigate.
I personally liked the new interface which doesn't overwhelm the user at all. The "Dashboard" is the unique tab where you will find a quick shortcut to access the most common functions (Backups, File Manager, WordPress dashboard, etc).
---
One click WordPress installation (Quick Setup):
I found Hostinger's onboarding process to be quick and smooth.
No matter which Hostinger plan you opt for, installing WordPress is never going to trouble your mind.
Using the AutoInstaller function, WordPress can be started running in seconds. Non techies who hate the traditional FTP method can take advantage of the auto installer to install WordPress & other CMS quickly.
Those who are wondering about the process, have a look at this video. I have installed WordPress on hostinger like this:
---
Free Daily to Weekly Automated Backups Facility
Just checked and discovered that Hostinger provides a free Daily to Weekly automated backup facility. So BIG sites which are supposed to update on a daily basis don't have to worry about backups anymore.
In Hostinger, the user can:
Restore a complete website or specific files in a single click
Generate a new backup manually
Download/Backup/Restore website files & database separately
All you have to do is to click on the "Manage" option shown under the backups in the main dashboard.

One more thing I really appreciate about Hostinger is that they save your site's last 30 days backups on a different server rather than a server where your site is hosted – Meaning no impact on the performance & server uptime.
---
Free Website Builder Included:
A website builder is attached to all Hostinger plans. Have you noticed it?
Hostinger website builder, Or in other words – The Zyro page builder is included in Hostinger.
By integrating with Zyro page builder, Hostinger is able to provide professional editable templates which users can use to create their site in no time.
I prefer page builders plugins like Elementor, but they are available inside WordPress.
So for people who aren't looking to start a blog (site) on WordPress CMS can use Hostinger website builder to create any possible site (eCommerce store, Blog, etc).
There is no learning curve involved in Hostinger website builder. You just have to drag and drop elements included in the given templates and your site can be generated in a much lesser time.
My final opinion: Using Hostinger website builder or not is a subjective choice. It offers great benefits but would be useless if WordPress CMS is your preference.
---
Hostinger Customer Support Evaluation
Just like a web hosting's performance matters, having top-notch technical customer support is equally crucial. Typically, budget-friendly hosts don't prioritize customer support quality. Let's investigate whether Hostinger sets itself apart by offering outstanding support or not.
When looking at Hostinger's plans, you'll see that priority support is only available in their cloud plans. But since our websites are on their premium plan ($2.99/mo), which isn't considered top-tier, it was important for us to check how good their customer support is.
Hostinger offers customer support through 3 ways: 24*7 Live Chat, Email & via KnowledgeBase
We tested Hostinger's customer support through Live Chat and email. We started with simple questions and later asked more technical ones related to website security, performance, DNS, and email issues. This helped us assess the quality of Hostinger's customer support.
Hostinger Customer Support Evaluation Overview:
| Hostinger Support | Details |
| --- | --- |
| Support Channel | 24*7 Live Chat, Email, KnowledgeBase |
| Response Time (After Sales) | Live Chat: Under 1 minute, Email: 4-5 minutes |
| Phone Support | Absent |
| Humans Support or Bots Support | Real Humans |
| Language Support | English (Most of the time) |
| Technical Expertise Level | Medium |
| Complexity Handling Level | Medium |
| Problem Resolution Score | 4.4/5 |
| Availability | 24*7 (365 Days) |
| Friendliness | 5/5 |
| Quality of Suggested Documentation | 5/5 |
| Resolution Time | 10-15 Minutes |
| Follow-up | Yes |
| Ease of Contact | 5/5 |
| Overall Ratings | 4.4/5 |
| Additional Notes | Very Knowledgeable, Patient and Helpful |
Our Detailed Conversion with Hostinger Customer Support Team:
In the interface of Hostinger's customer support dashboard, we've noticed quite a few changes in recent years. When you log in to hPanel and click on the chat widget located in the bottom right corner, you are redirected directly to Hostinger's helpdesk dashboard.
As you can see, Hostinger first suggests that you search for your query in their knowledge base. If you still can't find a solution, you can access live chat support or contact us through email.
I needed personalized help, so I messaged the customer support agent directly. Thankfully, a Hostinger support agent named 'Ignas' replied to my message in under 1 minute. We had a long conversation (approximately 1 hour) via live chat.
I went offline several times, but I always found the Hostinger support agent online on my screen. So, this proves that even in affordable web hosting plans, you get priority response-based customer support. Yes, compared to other cheap web hosts, you are assisted by real humans here, not bots."
Anyways, here are some questions I consulted with Hostinger agents:
Question 1: Do you offer customer support in Hindi?
I had read somewhere that Hostinger's agents can guide customers in numerous languages, such as Hindi, Arabic, Chinese, French, Indonesian, Lithuanian, Portuguese, etc. Upon asking, I was told that currently, support is only available in the English language. I don't know the exact reason behind this, but if this is permanent, it could be an issue for non-English speakers to communicate with Hostinger support.
When it comes to language convenience, Bluehost is better in comparison to Hostinger. Here, you get guidance in local and regional languages such as Hindi, Kannada, Gujarati, etc.
Question 2: How can I achieve a 100% score in Google PageSpeed?
This question was a bit technical. Performance wise, Our Hostinger website was performing well because besides Hostinger optimizations, we had further optimized it using essential WordPress plugins like WP Rocket.
But still, Hostinger support's opinion matters for websites without such plugins. And this is how their agents responded:
They get back to me with the WordPress site speed optimization guide published under Hostinger KnowledgeBase. Although, I liked their optimization guide but still the user has to do optimizations manually.
It appears that Hostinger agents can provide guidance and suggest solutions, but you'll need to implement them yourself. If you choose a high-end plan, they might take care of the implementation for you.
Question 3: Can you troubleshoot my site and find performance issues?
I asked this question to see if Hostinger support only suggests solutions from their knowledge base or if they also take practical actions to help.
In response, they took some time to look at posts on my site and told me that my site was already optimized, which was indeed the case. This means that Hostinger agents can practically analyze your site and provide solutions based on the type of questions you ask.
Question 4: How can I point my domain name to Hostinger servers?
We asked this highly technical question via email. The response rate through email support was excellent, as Hostinger replied to us in under 5 minutes with a detailed solution.
Verdict:
How is the Hostinger Customer Support Overall Quality?
Hostinger's customer support is quite good. They respond quickly through Live Chat and email, and their agents are helpful and patient. However, they mostly use English, which might not work for everyone. While they provide guidance, users often have to do the fixes themselves, especially for complex issues. Overall, it's 4.4/5, but they could improve by offering support in more languages and assisting with hands-on solutions.
---
Hostinger Cons (Downsides):
Starter Plans Lacks Important Features:
Those who are interested in Hostinger high end plans (premium or business) won't face this issue. Cloud and VPS plans are well organized, However, entry level WordPress hosting plans such as Single and Starter lack essential features like free domain, daily backups, and unmetered bandwidth.
This limitation seems BIG, especially to those who have budget issues. However, by making a little room in budget you can enjoy better web hosting resources through premium or business plans.
My personal advice is to double-check all Hostinger plans features before clicking on the payment button.
Lack of Phone Support:
Talking about support, 24*7 live chat lines are open. Hostinger is a well-known web host platform and therefore you will find dozens of tutorials on the internet as well on their knowledge base platform. Phone support is still needed, which counts as a last downside of Hostinger.
---
Hostinger Pricing Plans Breakdown: Which one to Choose?
Millions of people use Hostinger for one MAIN reason: affordable hosting plans. In fact, their hosting plans are extremely affordable compared to their competitors including Bluehost, HostGator, FastComet, and more.
Talking about Hostinger Hosting types, Hostinger offers a wide range of web hosting solutions at the lowest pricing in the market including: Shared, Cloud, WordPress, and VPS plans.
Quick note: Use my special link & coupon code: ANILAGARWAL to claim all the above Hostinger plans at maximum discounted rates. Plus claim 2 months of free hosting on all premium & business plans.
Quick note: The 30-days money back policy is attached to all Hostinger Plans.
Reviewing Hostinger Shared Hosting Plans:
At present, the Hostinger shared hosting plans start at ₹62/mo (Hostinger India) OR $1.79 per month (Hostinger US) and offers features like Free SSL, Free Domain, SSD storage, Free Website Builder, and more.
The Shared Hosting comes with 4 plans. The Premium shared plan produces maximum value for users. The user can install hosting on 1-100 websites in a single license – Huge Savings. The Cloud Startup plan allows 300 website installation.
The Free domain is the MAJOR benefit users get in Hostinger shared plans. However, The single shared plan lacks it. Weekly to daily automated backups facility is provided
In a nutshell, these plans are perfect for sites where traffic requirements are b/w 10k-100k.
Quick note: Keeping in mind, In Hostinger The longer the tenure is the more discounts will be applied.
---
Reviewing Hostinger WordPress Hosting Plans:
In Hostinger, you'll find 3 plans under WordPress Hosting – Started from $2.69/mo or ₹134.10/mo.
The Free domain benefit is included in all WP hosting plans
You cannot find single hosting plan under this category
The user can install 1-300 websites under one license
Perfect for personal sites to medium businesses sites where traffic requirement is lying within a monthly range of 10k-200k.
The pricing & plans of WordPress Hosting looks similar to the Shared plans. However, these are the additional benefits user gets in WordPress hosting of Hostinger:
1-Click WordPress installer
LiteSpeed cache plugin installed by default for lightning fast performance
Auto updation of plugins & themes
Managed WordPress advantage
WP-CLI interface
WordPress multisite management
24/7 support from WordPress specialists
More…
---
Reviewing Hostinger Cloud Plans:
The Hostinger Cloud plans are expensive (starts from $8.99/mo) but capable to produce 4x more performance. Hence they are perfectly suited to large websites (eCommerce). Go with cloud servers when the traffic requirement is more and top notch performance is your MAIN priority.
The main advantage here is your site can consume resources from all the servers within a cloud and won't depend on a single server. This is the main reason Hostinger is able to produce 4x performance.
Quick note: Since all the cloud server plans offer similar features, the user decision should be based on the SSD storage space requirement.
Reviewing Hostinger VPS Plans:
Hostinger also offers VPS plans which are primarily used in hosting web application based sites. A total of 4 VPS plans are available (Starting from just $5.99/mo).
During analysis, We've found the resource allocation is so perfect that no matter whether you wanna host a small web application or a big one, you won't face a limited resources problem.Full root access, Weekly backups, Dedicated IP address is included in all plans. The user should make a decision based on the SSD space & bandwidth requirement.
---
Hostinger Compared with Other Web Hosts (Possible Alternatives)
Hostinger is first picked by the majority when the pocket is tight and the aim is top-notch performance. Even I mentioned it at the top of a list of best web hosting providers.
Out of that list, here are the 5 handpicked Hostinger alternatives you might want to consider:
Other Customer's Views on Hostinger
What Others Are Saying About Hostinger?
On G2 (which has over 1.2 million reviews from REAL customers), users gave the following ratings.
As you can see above, on G2, users gave it a 4.4 out of 5 stars rating which is great.
On Trustpilot (which is the world's most powerful review platform), users gave the following reviews.
See that? On Trustpilot, real users gave it 4.6 out of 5 ratings. Also, it generated over 19,500 reviews from real customers which are incredible.
People are choosing Hostinger over other web hosts because of cheap hosting plans, free daily backups, tons of website security options, rapid customer support, and great uptime reliability.
---
FAQs:
Which Hostinger plan is best?
If you require a simple affordable hosting, then Hostinger shared plans are the best. For those who need a cheap but optimized server for WordPress then WP hosting servers are best. Finally those who need high performance, then Hostinger cloud servers & VPS servers could be a great pick.
Who should use Hostinger?
Hostinger is a perfect web host suitable for everyone (for small sites to big enterprise level eCommerce sites.)
Does Hostinger offer cPanel?
No, Hostinger doesn't offer the traditional cPanel as they have developed their own custom control panel which is easy to use for beginners.
Is Hostinger good for eCommerce?
Hostinger offers eCommerce hosting solutions including Magento Hosting, WooCommerce Hosting, and PrestaShop Hosting. Their eCommerce hosting solutions offer features like high-speed cart performance, free domain, 24/7 support, and more.
Does Hostinger offer a live chat?
Yes, Hostinger provides "live chat" customer support assistance ONLY to their existing customers, not to general website visitors who want to get to know more details about their hosting or features. But you can email them 24/7/365 if you have any hosting-related queries.
Does Hostinger offer cloud hosting?
Yes, Hostinger offers cloud hosting plans starting at just $8.99 per month. The best part about using Hostinger cloud hosting is that every cloud hosting plan comes with a FREE domain name.
Where are Hostinger servers located?
Hostinger's servers are currently located in 7 different regions including the UK, the US, India, the Netherlands, Singapore, Indonesia, and Lithuania. All their servers are protected by multiple levels of safety measurements including fail-safes, RAID-10, and daily, and weekly backups.
Is Hostinger good for WordPress?
Yes, Hostinger is a good hosting choice for WordPress users. In fact, Hostinger also provides exclusive WordPress-optimized hosting plans with guaranteed 99.99% uptime.
What's the Hostinger money-back guarantee? 
All Hostinger's plans come with a 30-day money-back guarantee. However, your domain registration fee is NOT refundable. 
What is Hostinger Google ads credit?
Unfortunately, Hostinger doesn't offer any Google ads credit. However, you'll get a free domain (worth $9.99 value) with all the plans except the basic plan.
What is the uptime of Hostinger?
99.987% – The last month average uptime of Hostinger.
Other FREE Web Hosting Resources:
Final Words: Is Hostinger Worth It?
In recent years, Hostinger has supported us greatly in our blogging business. Earlier there were issues in performance but from the past year, Hostinger has improved amazingly.
In a nutshell, Hostinger is one hundred percent worth it. I recommend both small and big sites to try Hostinger and save their money compared to other web hosting services.
If you're not 100% satisfied with Hostinger, you can also ask for a full refund of your payment as they offer a hassle-free 30 days money-back guarantee.
So what are your thoughts about Hostinger web hosting? Did you find our in-depth Hostinger web hosting review helpful? If you have any questions, let us know in the comments.