Do you want the freedom to work from anywhere, anytime? If so, the digital nomad lifestyle is for you!
Anyone can become a digital nomad.
You don't need a degree or specific skill set to become a digital nomad. All you need is a laptop with an Internet connection.
With the rise of remote work, it's EASIER than ever to live and work from anywhere in the world. If you're looking for work-life balance while having fun, nomadic lifestyle is an excellent career choice.
What is a Digital Nomad?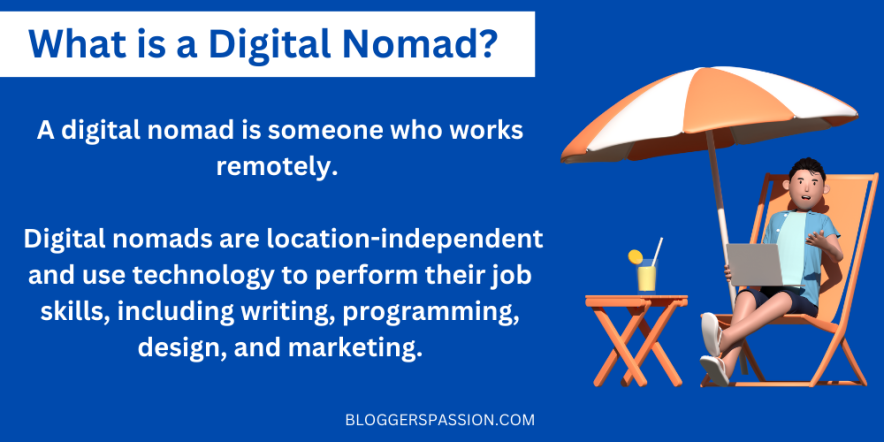 Digital nomads are people who work remotely, typically from their laptops, and travel frequently around the world.
Digital nomad jobs are location-independent, meaning they can work from anywhere in the world. Digital nomads can work in a variety of fields, including;
Web design and development
Teaching English online
Freelance writing
Graphic design
Social media management
SEO, affiliate marketing and the list goes on
No matter what job a digital nomad does, all digital nomads have ONE thing in common: they work remotely and travel the world while they do it.
Want to know more about digital nomad benefits and drawbacks? Read on.
---
Digital Nomad Meaning: The Good & The Bad
The ability to live anywhere
One of the perks of becoming a nomad is the ability to live anywhere in the world.
As long as you have a laptop and an internet connection, you can work and earn from anywhere in the world.
Most people are now becoming nomads because they can work remotely (thanks to the Pandemic).
If you're feeling unhappy, unfulfilled, and stuck in life – you may want to consider being a nomad. Here are some of the benefits of living anywhere as a digital nomad;
You can travel all around the world and for longer periods of time
You can meet new people from all over the world
You can live in places that you love and that inspire you
You can have a more work-life balance
Living anywhere as a digital nomad is the BEST way to experience the world and create a life you love.
Whether you're tired of a traditional 9-to-5 job or working several years in a specific location – a nomadic lifestyle can bring you happiness. Why? Because you can choose to work whenever you want, wherever you want, for as long as you want.
Experience other cultures
Whether you want to meet new people, learn about different ways of life, or experience new things – a nomadic lifestyle is a great choice.
As a digital nomad, you can travel to other countries and learn about different cultures.
While traveling to another country, you can explore other cultures in many ways;
Take public transport
Try the local food, drinks, movies, etc.
Learn the language
Research the local traditions and festivals
Travel to remote places (instead of tourist attractions)
Let's say you've decided to quit your job and travel the world for a year.
You can start your nomadic journey in the US and then travel to India, Thailand, Southeast Asia, Europe, and North America. Along the way, you'll experience many different cultures, meet new people, and have many amazing adventures.
The bottom line? A nomadic lifestyle can completely change your life for the better. You'll become more open-minded and learn much about yourself and the world around you.
Minimal needs
One of the benefits of leading a digital nomad lifestyle is that you can get rid of a TON of stuff and live with minimal needs.
When you're constantly traveling worldwide, you don't have the space or the need for a lot of stuff.
You can get rid of EVERYTHING that you don't use on a regular basis, such as cars, washing machines, furniture, micro ovens, and so on. You can ONLY keep essential stuff such as a laptop, smartphone, books, etc.
What's the benefit of living with minimal needs? It can help you save a lot of money.
Also, you don't have to worry about paying rent or a mortgage. Why? You don't need a home when you're living a nomadic lifestyle.
Living with minimal needs can be a BIG challenge, especially if you're spending A LOT on materialistic things. But it can be a rewarding experience once you get used to it. If you're still spending a lot of money, here are some quick tips to be a minimalist nomad.
Shoot with your phone. You don't need to buy an expensive DSLR as a digital nomad. Many smartphones can take 4K videos and high-quality pictures.
Pack light. You don't need a lot of luggage as a nomad. Not only does it save you money, but also you'll be able to roam around freely.
Try out minimalist apps to reduce your screen time and mobile phone usage. As a nomad, you want to spend as much time as possible on experiencing new things (not wasting time on scrolling the Internet).
It can be affordable
Nomadic life is expensive, right?
No. Millions of nomads wouldn't live that lifestyle if that's the case. Digital nomad life can be affordable.
But… it depends on several things, such as your location, lifestyle, and income. Most digital nomads use the following tips to make their lifestyle affordable.
Most nomads choose affordable destinations to travel to, especially Southeast Asian countries like Brunei, Myanmar, Cambodia, Indonesia, Laos, Malaysia, the Philippines, Singapore, Thailand and Vietnam.
They live with minimal needs
They take advantage of free or low-cost activities such as hiking, biking, exploring local markets, etc
Above all, they travel slowly (in trains, buses, etc), instead of flying from place to place
If you're curious, here are some tips on how to be a budget-friendly nomad;
Choose affordable destinations, especially when you begin your nomadic journey. Do some research before you book your trip to find out which destinations are within your budget.
Travel during the off-season, as you'll get the best deals on flights and accommodation.
Stay in hostels, as they can save you a ton of money. They also help you connect and meet other travelers.
Cook your own meals, as food costs are usually expensive while traveling anywhere.
Use public transportation as much as possible, as it's the cheapest way to get around.
Always look for discounts and deals regarding flights, accommodation, etc.
You learn so much
Living as a digital nomad can help you to grow as a person. You'll learn to be more independent, resourceful, and adaptable.
What's the difference between animals in the wild vs in zoo captivity?
Wild animals must learn to hunt to survive, whereas zoo animals are provided with food. Just as wild animals have to learn to hunt, digital nomads must find work and clients to lead a nomadic lifestyle.
Once you become a nomad,
You'll become more adaptable to working in different environments, with different people, and with different time zones.
You'll become more resourceful as you find work and clients independently.
You'll be more self-motivated, as you don't have a boss or a team to stay disciplined while working.
All in all, you will learn SO MUCH as a nomad.
Let's say you want to learn a new language (for example: Hindi). Instead of learning it on YouTube, you can surround yourself with native Hindi speakers in India and learn so much faster.
The bottom line is you'll learn much more as a digital nomad than someone working in a cubicle.
---
What are the Disadvantages of a Nomadic Lifestyle
As mentioned earlier, a nomadic lifestyle is NOT easy. It has its demerits. Here are a few disadvantages of a nomadic lifestyle
Poor productivity at work
Low productivity level is one of the biggest issues with most digital nomads.
It could be due to a number of reasons, including:
Constant travel, as nomadic bloggers are often on the go, makes it difficult to stick to a schedule.
Wi-Fi can be unreliable in many parts of the world
Distractions, as nomads are often surrounded by new and exciting experiences, which can make it difficult to focus on work.
Unrealistic expectations
Remember that a nomadic lifestyle is a marathon, not a sprint. It's okay to take breaks and not be productive all the time. Keep enjoying your travels and maintain a work schedule as much as possible.
Loneliness
It can also be lonely at times, especially if you're traveling alone. Some people enjoy being alone. If you're one among them, you'll enjoy the nomadic lifestyle.
If you're not, being alone can lead to painful loneliness. Being alone can alone can lead to the following;
Depression and anxiety
Decreased social interaction
Isolation
Decreased self-esteem and more
Remember that being alone can also increase creativity and help your brain recharge. The key here is to have a balance of time spent alone and time spent with others. Try to find destinations (such as Thailand or Bali) where you can find and connect with hundreds of other nomads.
You can't have pets
Do you own a dog or cat? Then, you'll have to leave your pet behind.
Traveling with a pet is almost impossible as some countries have strict regulations on bringing pets into the country.
Yes, you can choose and travel to only those destinations that are pet-friendly. But still, traveling with pets can be logistically challenging.
A nomadic lifestyle may not be the right choice if you can't leave your pet behind for a day. If you've decided to try the nomad life, make sure to take care of your physical and mental health. Get enough sleep, eat healthy foods, and exercise regularly.
---
FAQs | Digital Nomad Lifestyle
Here are some questions people often ask about digital nomadism.
What do digital nomads actually do?
Digital nomads work remotely and are location-independent. They can work in a wide range of industries, such as content marketing, social media, SEO, web development, customer service, etc.
What are digital nomads?
Digital nomads are people who work remotely, typically from anywhere in the world.
What age are digital nomads?
The average digital nomad is 32 years old, and about 35 million of them are worldwide. Most digital nomads begin their journey at the age of 29.
How do digital nomads make money?
Digital nomads make money in many ways, including;
– Freelancing
– Affiliate marketing
– Selling online courses or their own products
– Using display ads on their websites such as AdSense, Ezoic, Adsterra, etc
Who qualifies as a digital nomad?
Anyone who works remotely and travels around the world can be called as a digital nomad.
Is India good for digital nomads?
India is one of the safest (and most affordable) countries for digital nomads worldwide. If you want to be a digital nomad and looking for all the facilities like WiFi, 24/7 electricity, cheap hotel bills, stunning beaches, mountains, etc – India is a great place.
Related Posts:
---
Final thoughts on digital nomad meaning
Hands down, becoming a digital nomad is an AMAZING way to travel, make money and learn about other cultures.
If you want to become one, do your research and make sure that you are prepared for the "remote working" challenges of this lifestyle.
So, what do you think about the digital nomad lifestyle? Have any questions? Let us know in the comments.