cPanel is a graphical user interface that helps you manage your website.
There are many web hosts that come with cPanel installed on their hosting platforms. Also, there are a few web hosts like Hostinger that use their own control panels.
In this post, you'll learn what is cPanel hosting, its major benefits, pros, cons, and more.
So, let's jump into the details without much ado.
What Is cPanel? The Most Used Control Panel Explained for Beginners
What is cPanel?
cPanel (popularly known as control panel) is designed to manage your web hosting easily. The cPanel hosting service is basically a Linux web hosting with cPanel installed.
cPanel is one of the world's most popular web hosting control panels, which is used to manage domains and website files, create email accounts, databases, and more.
cPanel is typically included with most web hosting plans and can be easily accessed by logging into your web hosting account and clicking on the cPanel icon.
Here's an example of what a cPanel looks like (Bluehost);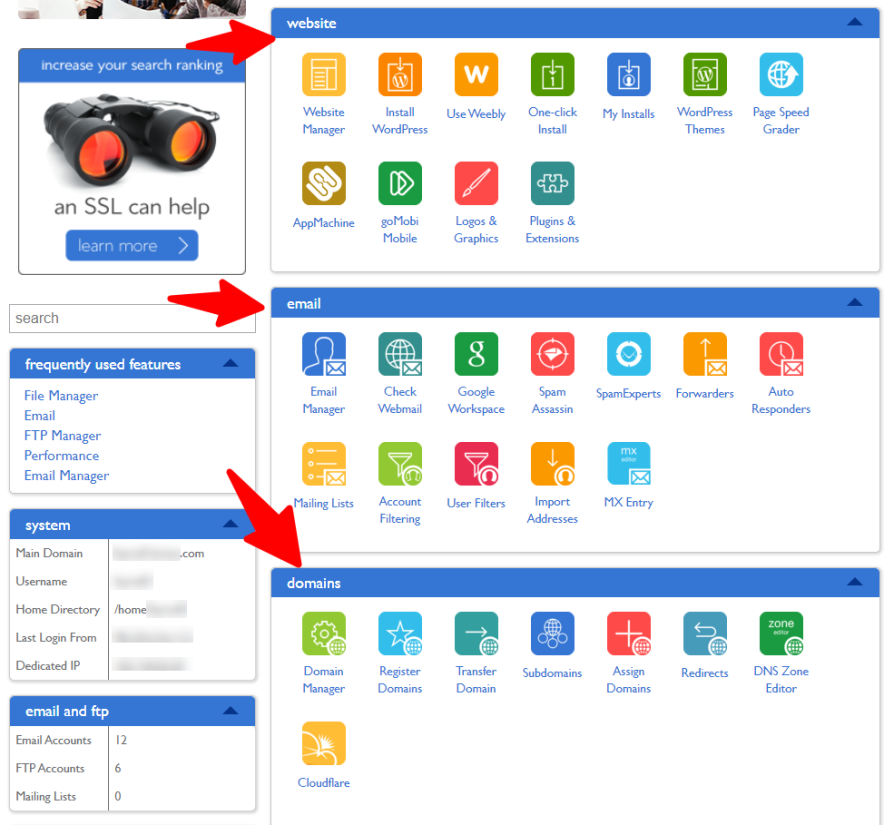 You can also read more about what is shared hosting if you're looking for affordable hosting options.
How to Access cPanel?
Firstly, you need web hosting that uses cPanel. Once you've purchased web hosting, you can find your cPanel username and password in the welcome email that you received from your web hosting provider (like Bluehost).
To log in to cPanel, you can follow these steps:
Open a web browser and enter your website address, followed by a colon and the number 2083. For example, if your website address is example.com, you would enter https://example.com:2083
Then, press Enter, and you will be taken to the cPanel login page
Now, simply enter your cPanel username and password and click the login button.
That's it, you will be redirected to your website control panel, where you can manage everything related to your website
If you have a new website and the DNS records have not yet been generated on the server, you can use your website's IP address instead of the domain name in step 1.
If you forget your cPanel password, you can reset it from the cPanel login page.
---
3 Helpful Things You Can Do With cPanel
cPanel will make it easier to manage many things from your hosting account. Here are THREE useful things you can do with a cPanel.
1. File Management
cPanel makes it easy to manage ALL your website files.
It offers an easy graphical interface, making it easier to upload, download, edit, and delete your website files.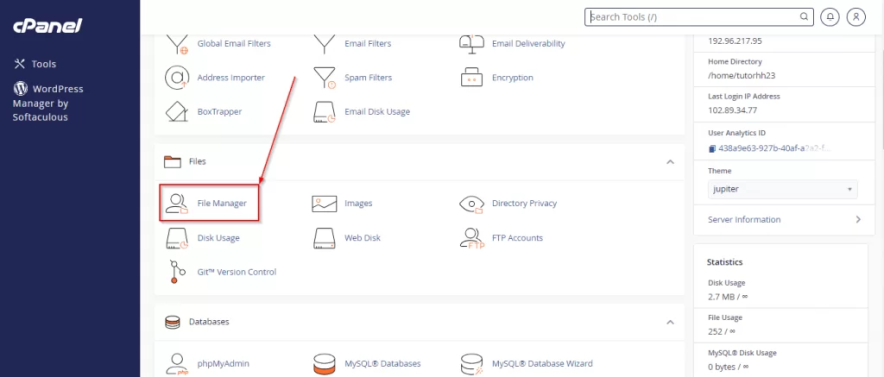 You can manage your website files from the File Manager section of cPanel, which looks like this;
cPanel also gives you FTP access, which helps you zip and unzip files on your web hosting server. It can be extremely useful for compressing and decompressing large website files.
Here are a few things you can do from the File Manager;
Uploading and Editing Files
Creating New Files and New Folders
Renaming Files
Copying Files
Moving Files
Deleting Files
Restoring Files and more
You can also use the built-in text editor to edit your website files directly from your cPanel hosting account.
2. Website Backups
Backups are essential for ANY website. In case of data loss, you can easily restore your files if you've taken backups of your site.
Fortunately, cPanel makes it easier to take full backups (or partial backups) of your website.
Here's what it looks like;
As you can see above, you can generate a full backup, select your backup destination and send a notification it to your email address once the backup is done.
Here are some of the ways that cPanel makes it easy to manage your website backups.
Full Backups: cPanel allows you to create full backups of your website, which includes all of your website files, databases, and email accounts.
Partial Backups: You can also create partial backups of your website, which include specific files, databases, or email accounts.
Scheduled Backups: If you want to schedule regular backups of your website, you can do that as well.
Remote Backups: cPanel allows you to store your website backups on a remote server, such as an FTP server or cloud storage provider (Google Drive, Dropbox, etc.).
3. Database Management
Databases are extremely important as they are necessary to run many applications, including WordPress scripts, shopping carts, bulletin boards, etc.
cPanel gives you all the features you need to make it easy to create, manage, and maintain your databases.
You can do many things, like import and export data, run SQL queries, and create and manage database users.
Here's what it looks like on cPanel;
cPanel also allows you to manage your MySQL databases, including changing their names, passwords, and permissions. Make sure to back up your databases regularly so you can restore when things go wrong.
---
Pros and Cons of cPanel Hosting
So, what are the pros and cons of cPanel? Let's find out.
Pros:
The biggest benefit is that you get access to a user-friendly interface that is easy to learn and use, even for beginners.
All the web hosts that use a cPanel include a wide range of features that cover all aspects of web hosting, from managing website files to databases to setting up email accounts.
The ability to automatically install and update web scripts like WordPress, Joomla, Drupal, etc.
cPanel is supported by most web hosts. No matter your budget, you can easily find a web hosting provider.
You can easily create a new email account.
Adding a domain or subdomain is extremely easy with a cPanel.
Managing or uploading files to your server is easy.
The ability to take full backups of your site effortlessly.
Multiple language support and lots of customizable options for users.
cPanel offers many security features, such as SSL certificates, password protection, and more.
Above all, most cPanel hosting plans are affordable, making it an excellent choice for beginners.
Cons:
Security is one of the major concerns for cPanel hosting as cPanel is widely used and has been the target of website security threats in the past.
cPanel can be extremely slow if your web hosting provider uses traditional servers instead of SSDs or storage with NVMe.
What are the Types of cPanel Hosting?
cPanel is usually available for a wide range of hosting services, but the major cPanels are listed below.
Shared cPanel hosting: Shared hosting allows you to share hosting space and costs with others, making it an affordable hosting choice.
Best for: Beginners who want affordable hosting
Pricing: Starts at $2 to $5 per month
WordPress cPanel hosting: This is an optimized hosting choice for WordPress websites.
Best for: WordPress users
Pricing: Starts at $5 to $35 per month
VPS cPanel hosting: This type of cPanel hosting gives you all the advantages of a dedicated server at a lower price.
Best for: Growing websites and agencies
Pricing: Starts at $20 to $50+ per month
Dedicated cPanel hosting: This hosting gives you access to your own entire server, which will not be shared with anyone else.
Best for: High-traffic websites
Pricing: Starts at $50 to $200+ per month
---
FAQs | What is cPanel Hosting
Here are some frequently asked questions about cPanel.
What is cpanel hosting?
cPanel hosting is a web hosting control panel with a graphical interface to host and manage your website.
What is cpanel used for?
cPanel is a Linux-based hosting control panel that lets you manage all your website files, emails, databases, backups, etc.
What are the benefits of using cPanel?
cPanel offers a number of benefits, including:
– Ease of use, even for beginners
– A wide range of features  
– Automatically install and update web applications
– Lots of security features 
Is cPanel free?
No, cPanel is not free. It is a commercial software product that is licensed to web hosting providers. You need to purchase a web host that uses cPanel to access it.
Who should use cPanel?
cPanel is a good choice for many people, including:
– Website owners
– Beginners
– Freelance web developers
– Agencies and small businesses 
How much does cPanel cost?
The cost of cPanel depends on the web host you choose. Almost all the web hosting providers offer cPanel for free.
Related Posts:
---
Final thoughts on what is cPanel used for
With cPanel, you can easily manage your websites without having to know a lot of technical details.
If you're a beginner looking for an affordable, easy-to-use control panel, you can go with a web host that uses cPanel.
What are your thoughts on the cPanel dashboard? Have any questions? Let us know in the comments.