Are you on the hunt for the best content marketing blogs? Do you want to learn how to create content that sells? Your search ends here.
Content is KING.
The websites with the BEST content ALWAYS generate leads, sales, and profits.
We used a wide range of content marketing techniques including a ton of useful articles, reviews, promos, comparisons, etc to generate sales with content.
According to Content Marketing Institute, 42% of marketers say they're effective at content marketing and 93% of B2B marketers use this marketing approach.
So if you're someone who's looking to learn and searching for the best of the best content marketing blog, this post is exclusively for you.
In this post, you'll discover;
Top content creation blogs to follow in 2023
Why should you read them
What topics you can learn from these blogs and much more
Are you ready? Let's jump into the details.
A Handpicked List of 9 Best Content Marketing Blogs to Follow in 2023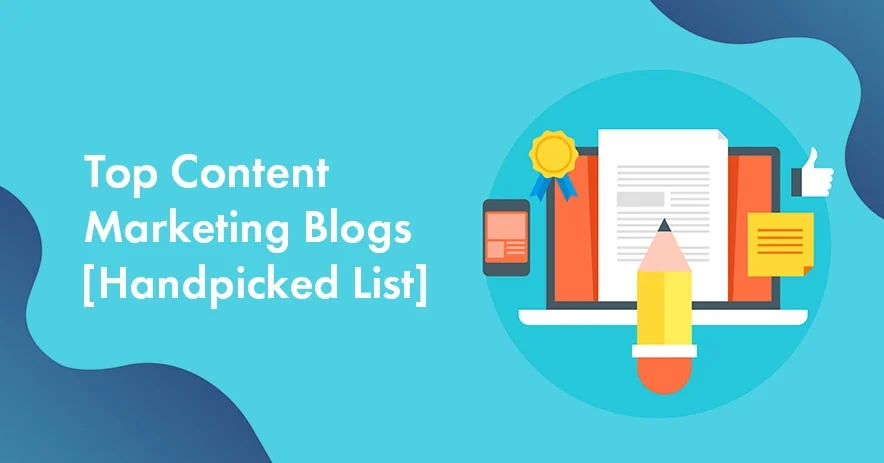 Content Marketing Institute (CMI) is a top content marketing blog that gives content marketing guidance through its blog and digital events.
Who's behind Content Marketing Institute?
Content Marketing Institute was founded by Joe Pulizzi in 2011. Joe is an online entrepreneur, speaker, and author.
Over 210,000 content marketing enthusiasts have subscribed to CMI's blog and they currently have over 300,000 followers on Twitter.
The best blog I have found on their entire website is this: 80+ Content Marketing Trends for Success in 2023.
Other than this, these few blogs of CMI I found are worth reading. The explanation levels are beginner to intermediate but could be very helpful.
Why should you read Content Marketing Institute?
If you're looking for expert guidance on writing and content marketing, you should definitely follow CMI. Here are some of the topics covered on CMI;
Analytics and measurement
Audience building
Content creation
Content distribution
Content optimization
Personalization
SEO
Social media
Video and visual content
If you're an avid book reader, then you can also try their "Epic Content Marketing" book instead of reading their blogs. This book has been rated the best in the Content Marketing niche.
---
Hands down, Copyblogger is probably the most popular content marketing website in the world. Copyblogger used the power of content marketing to build a million-dollar online empire.
Who's behind Copyblogger?
Copyblogger was founded in 2006 by Brian Clark who's a prolific writer, traveler, and entrepreneur. Currently, Tim Stoddart is CEO of Copyblogger.
Copyblogger's mission is to help writers and freelancers earn more with their writing.
Why should you read the Copyblogger blog?
On Copyblogger, you'll find over 3,000 articles on content marketing. 3000 articles! That's a lot of content, right?
The best part? Almost every article or guide published on their blog is top-notch and provides HUGE value.
In case you're curious, here are a few topics you'll discover on the Copyblogger blog;
Content marketing
Copywriting
Headlines
Blogging
Freelance writing
Email marketing
Persuasion
Entrepreneurship and much more
I have read dozens of blogs on the CopyBlogger site. Some of the best mentionings are:
All in all, Copyblogger is an excellent website for everyone who wants to learn content marketing from experts.
---
BloggersPassion is one of India's top content blogs where you can learn how to create traffic-generating content like a pro. You'll also find interesting case studies and a ton of in-depth guides related to blogging, SEO, and affiliate marketing.
Who's behind BloggersPassion?
Anil Agarwal is the founder of BloggersPassion which was launched in January 2010. Anil quit his full-time job as an SEO professional to become a full-time blogger in 2018.
Now, BloggersPassion generates over 200,000 monthly visitors and earns $13,000+ every single month.
BloggersPassion has also been featured on major websites including Forbes, HuffPost, Semrush, NeilPatel.com, HubSpot, G2.com, and many more.
Why should you read BloggersPassion?
BloggersPassion is a one-stop platform for all kinds of bloggers to learn SEO and content marketing.
Much of Anil's success belongs to the high-quality content he generated over the last 12 years. On his blog, he regularly publishes top-notch content on various topics including;
Affiliate marketing
Content marketing
Search engine optimization
Blogging tools & resources
So if you're looking for a real-world example of how a website uses content marketing to generate huge traffic and sales, you should definitely check out BloggersPassion.
Our most hit blog & guides on content marketing are as follows:
---
If you're looking for expert content strategies to build and grow a successful website or online business, Contently is a must-read content marketing website for you.
Who's behind Contently?
Joe Coleman, Shane Snow, and Dave Goldberg are the founders of Contently.
Joe is an entrepreneur and founded two successful companies before Contently. Shane is the author of "Smartcuts: The Breakthrough Power of Lateral Thinking". Dave designed and created the interfaces and algorithms of Contently.
Why should you read the Contently blog?
If you're looking for advice on content marketing and want to create high-performing content, you should follow the Contently blog. Here are some of the things you'll learn on Contently;
Content strategy
Digital Transformation
Storytelling
ROI and more
---
HubSpot is an industry-leading software provider that offers a wide range of products for inbound marketing, sales, content marketing, etc.
On the HubSpot marketing category page, you will find a lot of premium level blog guides for free. I recently read this "Content Workflow" and learned why Content workflow is useful in marketing and business.
Who's behind HubSpot?
Hubspot was founded by Brian Halligan and Dharmesh Shah in 2006. Yamini Rangan is currently the CEO of HubSpot, Inc. They currently have over 158,000 customers across the globe.
Why should you read HubSpot?
If you're looking for a ton of free articles, guides, how-to posts on content marketing, HubSpot is the ultimate website for you. You'll also learn a variety of topics including;
Email marketing
SEO
Content marketing
Business
Entrepreneurship
Sales, customer experience, and much more
---
Semrush is a powerful SEO toolkit that offers over 50 SEO tools and is used by over 10 million people worldwide. Semrush helps with everything from keyword research to competitive analysis.
One of the most useful things about Semrush is the content that gets published on their blog. Semrush publishes in-depth guides on content marketing and SEO.
Who's behind Semrush?
Oleg Shchegolev is the CEO and founder of Semrush. Semrush was launched in 2008 and is now used by more than 10 million users, including 30% of Fortune 500 companies.
In case you want to try it for free, use the following link to get its free trial. Semrush also has an amazing "Content Marketing Platform" (set of CM tools) which helps you to drive real results from all your efforts.
Why should you read Semrush?
Apart from the articles and how-to guides, Semrush also sends highly-informative newsletters around content marketing and SEO.
If you're interested, here are some of the topics you'll discover on their blog;
Reporting & Analysis
Page Performance
Local SEO
International SEO
Content Strategy
Content Creation
Keyword Research
On-page SEO
Link Building and much more
---
Convince & Convert is declared one of the top content creation blogs in the world by the Content Marketing Institute (CMI). It teaches you the RIGHT type of content that you need to grow your online business.
Who's behind Convince & Convert?
Convince & Convert was founded in 2008 by NYT best-selling author Jay Baer who's an expert blogger, keynote speaker, and author of "Youtility: Why Smart Marketing Is about Help Not Hype".
Why should you read Convince & Convert?
If you're looking to learn how to captivate people with your content, the "Convince & Convert" blog is an essential read for you. You'll find a wide range of topics on their blog including;
Social media
Content marketing
Influencer marketing
Customer experience and much more
Their top 3 content marketing guides (blogs) I found best this year so far:
---
Rock Content is a popular platform that offers content marketing products and services. It was founded in 2013. Over 2000 customers use Rock Content including Red Bull, IBM, Cisco, FedEx, Autodesk, Reuters, Yahoo, American Express, etc.
Who's behind Rock Content?
Diego Gomes is Chairman, CEO, and Founder of Rock Content who is a blogger, researcher, and evangelist.
Why should you read the "Rock Content" blog?
If you're looking for expert insights on content marketing and content strategy, Rock Content has the best content for you. You'll also find news around following topics.
SEO
Content marketing
Content experiences
Design
Sales, social media, and more
---
Search Engine Journal is an SEO-focused content marketing website that offers Google algorithm updates, interviews, how-to guides, etc from marketing experts.
Who's behind Search Engine Journal?
Search Engine Journal (SEJ) was launched in 2003 by Loren Baker and is now owned by Alpha Brand Media. Jenise Uehara Henrikson is currently the owner and CEO of SEJ.
SEJ publishes daily on topics including SEO, content strategy, content marketing, etc.
Why should you read the Search Engine Journal?
Search Engine Journal's approach to content marketing is totally unique as they often publish news and guides on search engine optimization. You'll find all kinds of content marketing guidance apart from SEO stuff including;
Content Strategy
Content Creation
Content Marketing
Content Trends and more
If you're looking for search marketing content, "Search Engine Journal" is worth following.
You can start reading right now. These are the post that is standing top in their blog catalog:
Did you know the best thing about SEJ Blog? You don't have to visit this site daily for new post updates. Simply subscribe to their newsletter and you're good to go.
And yes… Make sure to tick the mark on "Content" before signing up.
Browse More Blogging Tutorials:
---
FAQs
Here are some of the frequently asked questions about content marketing blogs.
What is content marketing?
Content marketing is a marketing strategy used to educate customers about products or brands by creating informative and relevant content. Content marketing helps you generate more traffic and conversions from targeted audiences by solving their problems. 
What are the best content marketing blogs?
Here are some of the best content marketing blogs to follow in 2023;
– Copyblogger
– HubSpot
– Contently
What are the top content marketing blogs in India?
Here are a few top content marketing blogs in India.
– BloggersPassion 
– Digital Vidya
What is an example of content marketing?
Examples of content marketing include blog posts, eBooks, videos, podcasts, infographics, webinars, and more. 
What type of content is most popular?
Blog posts, videos, and podcasts are the three most popular forms of content. 
Does content marketing come under Digital Marketing?
Yes, content marketing comes under the branch of digital marketing. Content marketing specifically deals with content whereas digital marketing also includes SEO, SMM, PPC, influencer marketing, and more.
Relevant Blogs to Follow: