Summary of WPEngine
WPEngine is the best managed hosting service for WordPress sites. Choose WP Engine if you want to choose a hosting which is trusted by top bloggers in every industry and want a fast loading website. Here's the full WPEngine review along with features, pricing, pros and cons.
Are you looking for the best WordPress web hosting?
WP Engine is one of the best WordPress web hosting services available in blogosphere right now. It not only offers incredible features but it also has a great customer support who solve your hosting issues in minutes.
Why choose WP engine over other hosting services?

Although there are many reliable hosting services like Bluehost, HostGator, Dreamhost etc, WP engine stands out from the crowd by offering some unique and amazing features.
Here's a list of some of the incredible features that are provided by WPEngine:
Free access to Genesis framework (which itself costs you $60)
Gives you access to 35+ StudioPress themes for free
24/7 chat support
Dev, Stage, Prod Environments (extremely useful for website developers)
Transferable Sites (free site migration)
PHP 7.3 ready
SSH Gateway for better security
LargeFS
Access to Global CDN for faster speeds
Page Performance
Automated SSL certificates
24/7 phone support (except startup plan)
60 days money back guarantee
Amazing list of features offered by WPEngine, right? So what are you waiting for? Use the following link to get started with WPEngine hosting now.
Click this special link to sign up for WP Engine
Looking for more details? Let's dive into the WPEngine review so you can find all the details.
WPEngine Review: Why Choose WPEngine Host for WordPress Sites In 2021?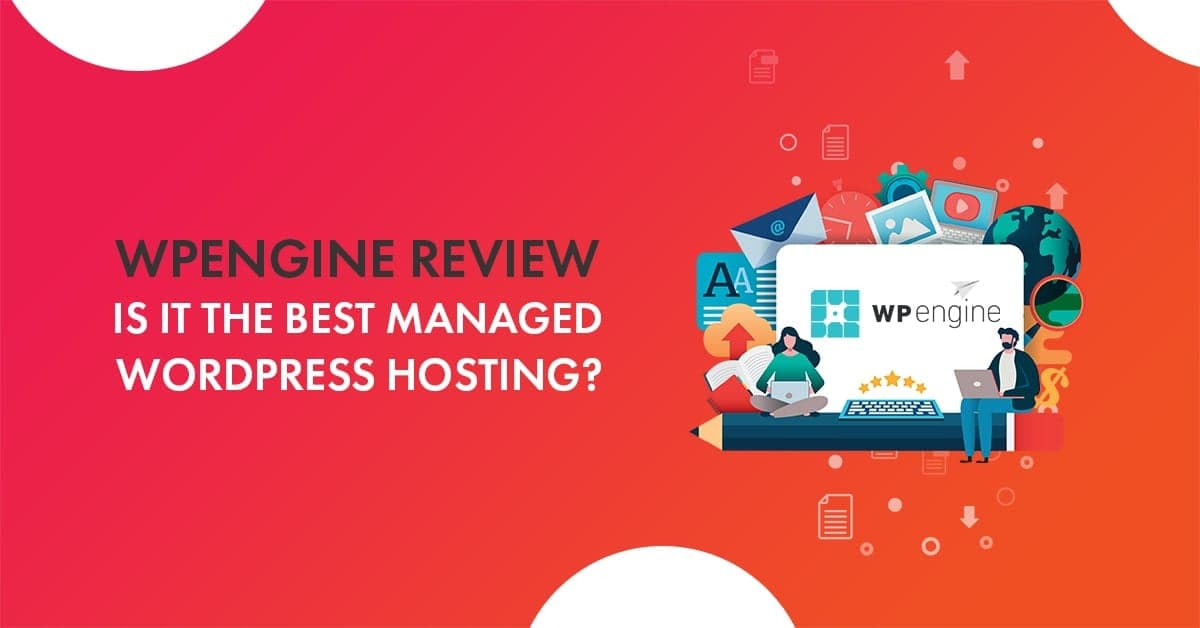 5 Benefits of Using WPEngine
If you are wondering why you should consider it over other web hosting services such as HostGator, Bluehost, JustHost etc. don't panic! Here are five incredible benefits of picking WP Engine over other WordPress hosting services out there.
1. Achieve ultimate speed with WP Engine hosting
Google knows how essential speed is for any website. That's the reason why it is giving better search engine results to the faster loading websites. Luckily, with WP Engine advanced hosting servers, it's very much possible to make your WordPress sites incredible faster.
WP Engine has a built-in CDN (Content Delivery Network) which helps you speed up your sites really fast. Their highly scalable hosting architecture helps you build a robust, reliable and faster site.
Did you know the sites that run on WP Engine actually runs 4 to 6 times faster at an average than the sites hosted on other hosting services? Their robust front-end technology makes it possible.
They also provide an advanced caching functionality that reduces your website server load to a great extent which in turns helps you create a super fast website.
2. Bulletproof security
Although WordPress itself is hard to hack but with the advanced hacking techniques, your sites might easily get hacked if you don't take the right steps.
Fortunately with WP Engine hosting your sites, you are in safe hands. Not only it blocks millions of hacking attacks every single day they migrate brute force attacks to prevent attacks from the hackers.
They implement PHP tuning to disallow dangerous or insecure commands made by hackers.
They also perform frequent, proactive vulnerability scans and do a lot of testing to make your sites really secure.
Even after all these security features, if your site gets hacked, WP Engine will fix it completely for FREE. Normally, if your site gets hacked, it could easily cost you hundreds to several thousands of dollars depending upon your site requirements. But with WP Engine, you can save all that money!
Click here to get 2 months free hosting when buying hosting for a year.
3. Regular backups
Did you know that WP Engine performs daily backups of your WordPress sites?
Whether you know it or not, regular backups of your site is extremely crucial. You never know when your site gets hacked or lose all your blog's content. With daily backups done by WP Engine, you can recover all your data easily using their backup restore points.
On their support garage, when you click on Backup Points option, you will see all the restore points which you can use to restore all your data if needed. Have a look at the below screenshot for better understanding.
Not only that, you can create manual backups if you want by clicking on the Backup Now button from your WP Engine dashboard. It will send you a notification when you manually backup your site. This feature is useful especially when you create a backup before making any major changes to your WordPress sites.
4. Grab Genesis framework and themes for free
Whether you know it or not, WPEngine acquired StudioPress WordPress solutions in the last year i.e 2018. It means, they also got their hands on the most popular Genesis framework along with StudioPress themes.
Now what's the benefit for you?
Since its acquisition, WPEngine started offering both Genesis framework and over 35 StudioPress themes for free to all its customers (even if you're using starter plan from WPEngine hosting, you can grab them for free).
Genesis framework alone costs you $59.95 and each one of their themes cost you differently ranging from $50 to $200! The good news is that, you can get access to over 35 themes along with Genesis framework at no extra cost.
Genesis framework is SEO optimized and mobile responsive. It's also designed by top class website developers to make it super fast. So if you're looking for a combination of great hosting along with the free access to great website design, WPEngine can be a great fit for you!
Liking this detailed review helpful? Then, use the following link to get started.
Click this link to start your website on WPEngine hosting
5. Around the clock support
WP Engine technical support team is fully covered by WP experts who are also available 24 x 7 and around the clock. Even if you encounter any issue related to your sites, they will get fixed quickly by their support team.
They provide assistance in all available formats 24 x 7 x 365 via live chat, tickets and phone. You can pick any of them to get your problems rectified. They have over 100 WP experts to solve all your site related issues so you will always get quality recommendations.
Free migration plugin
They also have an incredible plugin (which comes at free of cost) that helps you migrate your WordPress site to their hosting platform within a few minutes and with just a few clicks. That means, this one plugin is enough to eliminate all the blog migration costs, time and efforts.
60 day money back guarantee
WP Engine gives you 60 days money back guarantee offer. If you are not at all satisfied with their pricing, features or hosting, you can simply request for a refund and you will get the full refund with NO questions asked.
But make sure to request a refund within the first 60 days once you bought their hosting.
Click here to Host your website on WP Engine NOW
How to Launch A WordPress Website On WPEngine Hosting?
If you're looking for a simple tutorial on starting a WordPress website using WPEngine hosting, here's the step by step guide for you which can be helpful for you to start your website within a few minutes.
Step 1: Here's the exclusive link to get started with WPEngine hosting. Once you click on the link, you'll be taken to their page which looks like this;
As you can see above, click on the "Get Started" button to continue.
Step 2: Once you click on the above link and click on "get started" button, you'll be provided with their 3 pricing options.
As you can see above, there are 3 pricing plans offered by WPEngine. Pick any of their plan to continue.
Step 3: In this step, you'll be taken to their sign up page where you'll find your hosting plan details along with the billing info. Fill all those details and click on "Create my site" button to continue.
Step 4: Once the payment is successfully made, you'll receive a welcome email from WPEngine with all your login details. Once you login to your account, you can access their dashboard which looks like this;
As you can see above, WPEngine offers a clean interface where you can find almost everything at one place (it doesn't offer the traditional cPanel that most web hosts like Bluehost uses). You can find everything including:
CDN
Website stats (visitors, bandwidth, storage)
SSL
Site migration
Backup points
And so on
Who Else Is Recommending WPEngine?
Did you know that over 2 million attacks blocked every day for WPEngine customers? Whether you know it or note, 90,000+ customers in 140 countries trust WP Engine.
If you're curious to find out who else is recommending WPEngine, have a look.
WP Beginner run by Syed Balkhi recommends WP Engine to all readers and subscribers. Top agencies like Pragmatic, WebDev studios also use and rely upon WPEngine hosting.
SoundCloud (#1 music and podcast streaming platform) also recommend WPEngine. So as you can see, there are a lot of authority sites and widely popular platforms are using and recommending WPEngine as their preferred web host.
What else is holding you back to try WPEngine? Start using their hosting and build a website today!
What About The Pricing? How Much Does WPEngine Cost?
WPEngine managed WordPress hosting offers you the following pricing plans.
1. Startup plan: This is the basic and cheapest hosting plan from WPEngine hosting which costs you $35 per month and you can install only 1 website but you'll be getting the superior performance and managed WordPress hosting from WP Engine.
Here's what all you get with the startup plan from WP Engine.
Up to 25,000 visits
Up to 10 GB of local storage
Up to 50 GB of bandwidth
Manage 1 site
As you can see from the above features, you can install only 1 site with this starter plan which can handle up to 25,000 visits per month.
2. Growth plan: This plan is suitable for small businesses, eCommerce stores and most of the websites and it also offers you great features. This plan costs you $115 per month.
Here's what all you get with the growth plan from WP Engine.
Up to 100,000 visits
Up to 20 GB of local storage
Up to 200 GB of bandwidth
Manage 5 sites
As you can see from the above features, you can install 5 sites with this highly popular plan which can handle up to 100,000 visits per month. This plan is suitable for the majority of the sites that get decent traffic (upto 100k visitors a month)
3. Scale plan: If you have a really high traffic website, this plan is just for you which is also the most expensive plan from WPEngine which costs you $290 per month.
With this plan, you'll also get access to their 24/7 phone support (along with 24/7 live chat).
Here's what else you'll get with the scale plan from WP Engine.
Up to 400,000 visits per month
Up to 30 GB of local storage
Up to 400 GB of bandwidth
Manage 15 sites
As you can see from the above features, you can install up to 15 sites with this advanced plan which can handle up to 400,000 visits per month.
Quick note: WP Engine also offers you a custom pricing option for large scale businesses that delivers high performance with managed onboarding and fastest support response. You need to get in touch with their sales specialist to get your custom quote details for hosting.
So what are you still waiting for? Go pick a suitable plan according to your budget and website needs and click on the below link to get started with WPEngine.
Click this link to start your website on WPEngine today
How to save up to $580 on WPEngine hosting?
Is there any way to save more on WPEngine hosting?
We know that WPEngine hosting is bit expensive especially when you compare it with other hosting choices like GoDaddy, HostGator, Bluehost, SiteGround etc.
So if you're looking for ways to save more bucks on WPEngine hosting, here's our recommendation: go for their annual plan instead of paying monthly.
You can save up to $580 on their hosting if you pay annually. Yes, you heard it right.
Here's how much you'll save with each plan when you pay annually.
With Startup plan (which costs you $35 per month), you can save $70 by getting 2 months free with annual prepay
With Growth plan (which costs you $115 per month), you can save $230 by getting 2 months free with annual prepay
With Scale plan (which costs you $290 per month), you can save $580 by getting 2 months free with annual prepay
All of their hosting plans come at 60 days money back guarantee which means, if you're not happy with their features or hosting, you can ask for a full refund within 60 days after signing up. This is the industry highest money back guarantee as most hosts like Bluehost, SiteGround only offer you a 30 days money back.
Click on this link to save up to $580 on WPEngine today
How fast is WPEngine hosting?
Hands down, your website speed matters a lot. It also impacts your search rankings as Google takes speed as a ranking factor.
Your website speed depends heavily upon your web host. That's why you need to invest in a better hosting like WPEngine as it's a dedicated managed hosting for WordPress which gives you superior performance and speed.
Firstly, make sure to find out how fast your website is. You can use tools like GTMetrix, Pingdom Tools etc to find your speed. Or you can also use WPEngine's speed test to easily find out your website speed and performance.
If your website is taking more than 2 or 3 seconds to load, you need to work on bringing it down to 2 seconds by using image optimization, moving to a faster web host like WPEngine, installing a cache plugin etc.
So let's come back to the main question – how fast is WPEngine?
According to Web Hosting Secret Revealed, Time to first byte (TTFB) of WPEngine hosting is at 224ms. That's extremely fast.
The reason why WPEngine host provides you faster website speeds because of its features including;
Uses global CDN to provide faster loading experience to all your website users no matter where they are visiting from
Uses NGINX extension which allows them to prioritize human traffic over robots (or spam traffic)
Offers you Performance Intelligence solution where you can get real-time data about your website's performance along with recommendations to make your site loading times really faster
Why Is WPEngine Hosting Expensive?
Have you ever wondered by WPEngine hosting is expensive when compared to other web hosts such as Bluehost, HostGator and so on?
First things first. WPEngine offers you managed WordPress hosting.
You'll find cheaper plans from web hosts like Bluehost because of one reason: shared hosting. Shared hosting is where you'll share your hosting resources (such as bandwidth, storage etc) with others.
In managed WordPress hosting, less people share the resources which means, increase in performance and speed and literally no downtime issues.
Here are few more solid benefits of using managed WordPress hosting.
Optimized hosting exclusively for WordPress
Top notch customer support assistance
Automatic backups
Staging feature
Superior website performance and faster loading times
Bulletproof security
The above are the same reasons why managed WordPress hosting platforms like WPEngine hosting costs you more than the other web hosts.
Do We Recommend WPEngine for WordPress Sites?
Absolutely yes.
If you are happy to install 1 website and looking for superior website speeds and excellent security, WPEngine is for you (where you can simply choose their startup plan as it costs you just $35 per month).
You can also recover your investment on their hosting by promoting their web hosting affiliate program where you can earn $200 for every new customer or 100% of the first month's payment whichever is higher.
If you're looking for cheaper alternatives, we recommend you to give a try to Bluehost WordPress hosting (particularly WP Pro option where the pricing plans start at $19.95 per month or you can simply go with their regular $2.95 per month hosting plans).
Pros and Cons of WPEngine hosting review
Pros
Top notch and most experienced customer support staff who are available 24 x 7 via phone, live chat and email.
No bandwidth limit whatsoever.
Daily backups. It's impressive.
In-built CDN to make your sites load blazing faster.
There are so many exclusive WP Engine coupon codes available to get huge discounts on their hosting plans.
Widely used by industry leaders and top brands such as Unbounce, Asana, SoundCloud etc.
Cons
Bit expensive when compared to Bluehost, HostGator etc.
Their website server environment is shared.
Limited allocation of monthly visits.
Other Web Hosting Reviews:
MilesWeb Review: Is It Worth The Money?
Scala Hosting Review: Is it the best hosting for your site?
Kinsta Review 2021: Is it worth The Money?
HostArmada Review: Is it a Game-Changing Web Host?
SiteGround Hosting Review: Best Hosting or Just a Fad?
Namecheap Hosting Review: Is It The Cheapest Hosting For WordPress?
Hostinger Review: Should We Give a Try to This Hosting?
FAQ's
Here are few questions you might have before grabbing the WP Engine coupon. So make sure to refer them if you are really keen to buy hosting from them.
What's the basic cost of WP Engine hosting?
You need to pay $35 per month so you can host 1 WordPress site on WP Engine.
Where can I get the best WP Engine coupon code that helps me get maximum discount?
Click here to get 2 months free hosting when buy any of plan for a year.
What if I face any issues while migrating my site to WP Engine platform?
WP Engine provides you a free WordPress plugin which makes it easy for you to easily migrate your WordPress site to their hosting platform. If you are not sure how to do that, you can seek their support team help and they will do it for free of cost.
What if I'm not satisfied with their services?
You can ask for a refund. You will get your full refund back within 60 days of your hosting purchase from them.
Are there any other hosting services that are better alternatives to WP Engine?
Yes, there are so many out there that provide you hosting services at a cheaper price range. Hosting companies such as HostGator, Bluehost, JustHost etc provide you hosting plans ranging from $4 to $20. Then again, WP Engine is unbeatable when compared to these hosting providers although it is expensive.
Recommended: WP Engine vs WPX Hosting: Which host to pick in 2021?
Recommended Web Hosting Resources:
Final Thoughts
When it comes to choosing the best web hosting for WordPress, WP engine beats the competition in almost every aspect from site security to speed. If you are looking for a hosting service that is trusted by thousands of bloggers and if you want fast loading websites, WP engine is for you.
Here's the secret link to get a huge discount (2 months free with yearly plan) on WP engine hosting service.
Note: I get a small commission if you buy WP engine hosting using any of the links given in this article. You don't have to pay any extra bucks. But you definitely get the best discount available when you buy using the links mentioned in this review post.
I tried to give my honest opinion on WP engine hosting in this post, if you have any more questions related to buying WP engine web hosting please let me know in the comments.