Namecheap Hosting Review
$17.76 for One Year
Summary
Namecheap shared hosting is the most popular and affordable shared hosting for WordPress users to create a site within a few minutes.
Namecheap offers some incredible features such as free CDN, free SSL, SSD storage, free website backups, and more. Here's the honest Namecheap hosting review along with its pros, cons, pricing, and more.
Are you looking for an in-depth and honest Namecheap hosting review? You're in the right place then.
If you're looking for secure, reliable, and extremely cheap shared hosting to run your WordPress site, Namecheap is one of the best choices for you.
Namecheap is one of the very few hosting companies that doesn't belong to the EIG group (Endurance International Group which owns over a dozen hosting companies like Bluehost, HostGator, etc).
Namecheap itself is a separate entity in the hosting industry which was founded in 2000 and attracting millions of customers since then.
So in this detailed Namecheap review for 2023, let's talk about some of the benefits of using it along with the pricing, pros, and cons. Are you ready for the Namecheap hosting review? Let's get started!
Unbiased Namecheap Hosting Review for 2023 with its Benefits, Pros & Cons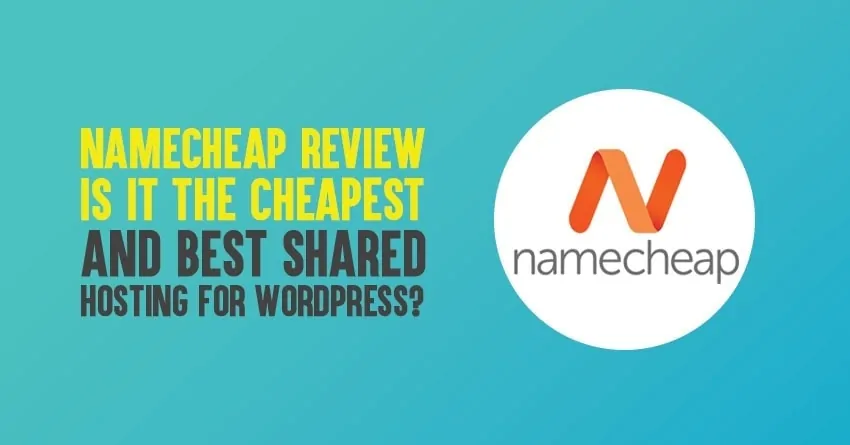 Quick note: Before jumping into the Namecheap hosting review for 2023, we want to let you know that the links used here are affiliate links. That means we earn a small commission when you purchase Namecheap shared hosting plans at no extra cost to you (you'll also get the best possible discounts through our links so grab them before they are gone).
Hands down, Namecheap offers the cheapest shared hosting plans on the planet right now.
In fact, their shared hosting plans are cheaper than a domain name purchase. Namecheap offers a wide range of shared hosting plans to match all the budget needs of a wide range of customers.
Apart from the stunning hosting prices and features, Namecheap also gives you;
A free .website domain (for ex: www.yourdomain.website)
Free WhoisGuard protection (to protect the privacy of your website domain information)
Their shared hosting plans start at just $17.76 per year and go all the way up to $58.88 per year for their ultimate hosting plan called Stellar Business (where you get ultimate hosting features like better security, faster speeds etc from Namecheap).
You'll find out all of the shared hosting plans along with the pricing of each one of them in the pricing section at the end of the same post.
The best part is that their basic shared hosting plan costs you just under $18 and you can install up to 3 domains! Yes, we have too many companies such as Bluehost, ChemiCloud, JustHost etc claiming the cheapest hosting plans but none of them come closer to the offers given by Namecheap. So what are you waiting for? If you like this Namecheap WordPress hosting review, try it out today.
Quick note: By clicking on the above affiliate link, you'll be redirected to the Namecheap homepage where you can register a domain and purchase hosting by also getting a discount (we also make a small commission when you sign up using the affiliate links mentioned in this post).
---
2. Free hosting migration to Namecheap
Are you using some other hosting service that you think sucks and want to migrate your website to Namecheap shared hosting? Then, you're in good company. Namecheap offers site migration completely for free.
We all know how difficult and painful it is to migrate all your site files to a new hosting platform without losing files. If you're a beginner, you'll find it almost impossible to do the migration. Here's where you can simply use Namecheap site migration service where your site can be migrated from an existing hosting to their hosting servers by their well-trained migration team at no cost.
They deal with all types of site migrations for free which include;
cPanel site migration
Site without cPanel (iPage hosting etc) migration
Email transfers
Transfer to a VPS or dedicated server etc
So what are you waiting for? Go launch your website now using Namecheap or migrate from your existing hosting to Namecheap free of cost.
---
3. cPanel access to give you full control
A cPanel (control panel) is what provides you an easy to use interface where you can manage and maintain all the website related stuff including emails, databases, domain parking, site backups etc.
Here's what the cPanel of Namecheap looks like;
You'll notice from the above screenshot that you can access everything from email accounts to domains to file manager in one place. Even if you're a beginner, you'll find it extremely easy to manage your cPanel account from Namecheap.
As a side note, if you're picking any web hosting service make sure to use only those hosting services that offer you a cPanel interface. Otherwise, it would really difficult for you to manage all your files, databases, domains etc.
You can also find out all the files and database information from your cPanel from Namecheap and you can modify, create new tables or delete them whenever you want (or when your storage space goes up).
---
4. Namecheap offers around the clock support
One of the essential things to consider while picking any shared hosting platform is how good their support team availability. Fortunately, Namecheap offers 24×7 support assistance to all its hosting users and lets you connect with them in so many ways which include;
Knowledgebase
Submit Ticket
Live Chat
You can get in touch with their support team simply by logging into your cPanel account by entering your user name and password or if you're not yet a user of Namecheap yet, you can simply use their "Submit a Ticket" page to ask queries regarding the hosting or domain registration.
Let's explore each one of them briefly so you'll get a better understanding of how to resolve your hosting or domain registration related issues when they arise.
Knowledgebase: It is the largest base where you'll find all the video tutorials, articles and answers to all the questions which are related to your web hosting related stuff.
Submit Ticket: If you don't find an answer or solution to your query or issue on Namecheap knowledge base, you can use "Submit Ticket" system to resolve your issues. Then, you can enter your cPanel details and attach the files or images (if any) and submit it to resolve your web hosting related issues.
Live Chat: Using their Live Chat feature, you can simply pick a category where your related problem is (hosting, billing, domain related etc) and enter your queries to start chatting with the customer staff to resolve your issues with Namecheap.
---
5. Namecheap offers most secure hosting servers
Website hacking is becoming common practice these days. There are literally thousands of websites getting hacked every single day which means so much loss in sales.
If you don't want to deal with all the security breaches on your site, it's essential for you to pick the hosting choice that gives top priority to securing their sites and hosting environment.
Namecheap exactly does that by providing their hosting servers with SSL certificates, WhoisGuard, incredible OS, and data servers. Both SSL certificates and WhoisGuard features are provided for every Namecheap customer free of cost.
SSL certificates: These will protect your website's customers against identity theft (useful for online transactions)
WhoisGuard: This keeps every domain owners' contact information safe and out of the public Whois database
Liking our Namecheap WordPress hosting review? Why not give it a try today?
---
If you're running an eCommerce store or dealing with high traffic website, you must need a high performance premium DNS over free or ordinary DNS. Namecheap offers premium DNS for website security enhancements powered by Verisign.
With Namecheap, you can get access to their premium DNS by paying just $5 a year but there'll be a ton of useful benefits you'll get with their premium DNS. A DNS (Domain Name Server) directly impacts your website security and performance which include;
Redundancy
Speed of queries
Security
Usually, other domain registrants such as GoDaddy charge hefty rates for premium DNS whereas Namecheap offers it at a really cheap price which allows anyone to try it on their sites.
Quick tip: If you're running an eCommerce store, digital media agency or anything that you consider a serious online business, try to get a premium DNS (Namecheap offers it just for $5 a year, so it's not expensive) and it will give you a ton of benefits as discussed apart from 100% uptime and full security.
---
The best part about using Namecheap for hosting and domain registration is that SSL certificates are installed for all new domains, subdomains and addon domains which gives you enhanced security for all your domains and websites.
What are SSL certificates?
SSL which is also known as Secure Sockets Layer is simply a standard security protocol for establishing encrypted links between a web server and a browser.
These SSL certificates are usually used to secure all the credit card transactions performed through your sites, logins information and other data transfer stuff. So a site that uses SSL certificates is considered safe and secure to shop around online.
Did you know that SSL certificates (URLs with https) usually improve your search engine rankings and good for your website's SEO? Yes, it's true.
Https is a search engine ranking signal since 2014 so if you want a better SEO for your site, SSL certificates are a must.
Https (SSL encrypted) sites load much faster than http (non https) sites and tend to give you better search rankings on Google because Google rewards the faster loading web pages to give their users better experience.
These SSL certificates give you protection in 3 layers which are listed below.
Encryption ensures that your website user's activity cannot be tracked
Data integrity prevents your website files from being corrupted as they're transferred
Authentication protects against all the DDos and hacking related website attacks
So there you go, that's what we can talk about now about SSL certificates, so who can all qualify for FREE SSL certificates from Namecheap shared hosting?
You can qualify;
If you've created a new shared hosting account with Namecheap
If you are using shared hosting plan with your newly created hosting account
If you are adding new domain names (addon domains) to your existing hosting account with Namecheap shared hosting plan
Quick note: You will get one free SSL for every unique domain and subdomain from Namecheap hosting and there is a maximum of 50 free SSLs per cPanel account.
Liking this Namecheap review 2023? Use the following link to try it today.
Activate Namecheap Best Offer to launch your blog on Namecheap
---
8. Offers excellent website performance
It doesn't matter which hosting platform you prefer but you need faster and more secure website performance in order to keep your site safe from hackers and all other security threats.
Here's where Namecheap offers an excellent shared hosting environment for all its users.
Namecheap shared hosting environment uses the best in field CloudLinux operating system which makes all the shared hosting servers extremely reliable and increases their website performance rapidly.
This sharing hosting OS has its own benefits which include the following;
It helps to secure the hosting environment servers from slowing down due to the activities of one or more clients.
It also separates all of its shared hosting server users from one another to limit security breaches by providing bulletproof security to all users.
It often limits the malware and virus within any client's website whose files are stored in their servers and databases (so enhanced security from security threats).
Apart from that every one of their hosting servers has at least;
2 processors
16GB of RAM
4 hard drives with RAID protection
All in all, Namecheap shared hosting servers are located in a safe, faster and better OS environment which saves your website from all the security threats such as DDos attacks, brute force attacks, malware etc.
---
9. Uptime? You can expect 100% uptime from Namecheap
Namecheap offers a monthly uptime guarantee of 100% which is great. If you get any downtime issues, you can claim for their uptime guarantee where you will be eligible for a Service cycle prolongation for the time the service was unreachable (max of 1 month of free hosting from Namecheap).
For all the non-scheduled maintenance and downtime issues from Namecheap shared hosting environment, they will offer you a 1-day Service cycle prolongation for each hour of downtime experienced.
What is uptime? Why is it important?
Uptime simply tells you how long the system or hosting environment has been running. It simply means, how fast and often your website visitors can access your website without any issues. The more uptime a hosting company offers the better experience you can give to your website visitors because no one likes to visit a site that crashes or goes down frequently.
So why is it important?
If any web hosting company is offering a 99% or more uptime guarantee then you can consider that the sites hosted on their platform will rarely go down which is good news.
Having better uptime has the following benefits.
Better user experience
Your website will run often (without any crashes or slowing down)
Better user retention rate etc
---
10. Gives you effortless integration with a ton of useful apps
Namecheap integrates with over 100 incredible apps seamlessly. These apps include everything from website building apps to productivity. Here are a few of them just in case you want to know.
Uptime monitoring from Namecheap: This free app lets you monitor your website's uptime where you can easily track all your downtime issues, report them easily and track your website's overall uptime activity.
Strikingly: This is a paid app (which costs $10/mo) that helps you easily turn your normal website into mobile responsive effortlessly. This app is supported by Namecheap so you can easily access it from your cPanel dashboard.
Canvas: This is a fantastic website builder which is completely free for Namecheap users that you can use to build stunning websites including image galleries.
Recommended Reading: Namecheap promo codes to save more money on Hosting & Domains
---
Namecheap Pros and Cons
Most Namecheap reviews don't cover pros and cons. So let's talk about what's good and bad about Namecheap hosting. Here are some of the noticeable Namecheap pros and cons to run your WordPress sites at an affordable price.
Pros of Namecheap Hosting:
Cheapest shared hosting plans (which costs less than a domain)
24/7 customer support access
Claims very good uptime of 100%
Free website migration
Supports 3rd party apps
FREE SSL certificates for 1 year
Easy to use interface and cPanel access
Enhanced security features to safeguard your site
Cons of Namecheap Hosting:
Limited space with all the plans
Gets expensive after 1 year of your hosting renewal (it's still not much expensive when compared to other hosting services though)
---
So how much does Namecheap shared hosting cost you?
Without talking about the cost of their hosting plans, this detailed Namecheap shared hosting review will be incomplete.
Namecheap offers you the following plans in their shared hosting environment.
Stellar
Stellar Plus
Stellar Business
Now, let's discuss each of the above shared hosting plans from Namecheap along with features and pricing so you can easily decide which plan suits you the best.
Quick note: Go with the Namecheap 2-year billing cycle if you want to save HUGE on their hosting plans. You'll get up to 58% discount on 2-year plans.
1. Stellar Shared Hosting Plan from Namecheap: This is the starter shared hosting plan from Namecheap which is also the cheapest plan and it costs you just $1.48 per month.
If you're a beginner who's looking for the cheapest hosting plans, you should go for this plan but it only allows you to host up to 3 websites in 1 hosting account. Here's a list of all the features that you get with this starter plan from Namecheap shared hosting.
You can host up to 3 domains (and add up to 50 subdomains)
20 GB SSD disk space
3 FREE SSL certificates included
Unmetered bandwidth
100% uptime guarantee
Unlimited parked domains
Twice a week backups
Access to 100+ free apps with 1 click installs
Create up to 50 FTP users
Create up to 50 email accounts, forwarders and autoresponders
Manage up to 50 MySQL databases
Click here to start your blog on Namecheap today!
2. Stellar Plus Shared Hosting Plan from Namecheap: If you want a cheap yet better feature-equipped shared hosting plan from Namecheap, you should try Stella Plus.
It costs you just $2.18 per month and allows you to install unlimited sites on the same hosting account.
Here are a few incredible features that you get with this plan.
You can host unlimited sites on the same hosting account
Unmetered SSD disk space
FREE SSL certificates included
Unmetered bandwidth
100% uptime guarantee
Unlimited parked domains
Add unlimited domains
Twice a week backups
Access to 100+ free apps with 1 click installs
Create unlimited FTP users
Create unlimited email accounts, forwarders and autoresponders
Unlimited MySQL databases
3. Stellar Business Shared Hosting Plan from Namecheap: This shared plan from Namecheap is the most recommended plan as it gives you a wide range of ultimate hosting features including daily backups, priority support and so on.
This plan costs you just $4.98 per month where you can install any number of sites you want.
Here is a list of a few great features that you can avail yourself of with this shared hosting plan from Namecheap.
You can host unlimited domains
50 GB Pure SSD disk space
Unmetered bandwidth
FREE SSL certificates included
100% uptime guarantee
Unlimited parked domains
Add unlimited subdomains
Access to 100+ free apps with 1 click installs
Create unlimited FTP users
Create unlimited email accounts, forwarders and autoresponders
Unlimited MySQL databases
6 x Daily + Weekly Backups
Quick note: All the shared hosting plans from Namecheap come with a 24/7 customer support live chat option. Stellar Business Shared hosting plan also offers you priority customer support.
Does Namecheap shared hosting offer monthly hosting plans?
Yes, it provides monthly shared hosting plans and here's the breakdown of their pricing plans if you're going with their monthly option.
Stellar (monthly hosting costs you $4.48 per month)
Stellar Plus (monthly hosting costs you $6.48 per month)
Stellar Business (monthly hosting costs you $9.48 per month)
Namecheap shared hosting includes excellent features like 100% uptime, WordPress and cPanel is included in all the plans which make it easier for you to manage all your emails, databases, files etc at one place.
Quick tip: Already hosting your website somewhere else? Do you want to migrate your site from your existing web host to Namecheap? Namecheap offers you a free website migration service where your websites will be migrated within 24 hours with no more than 15 minutes of downtime.
Can you cancel your shared hosting plans from Namecheap?
Yes, you can cancel your shared hosting plan and cPanel user account with Namecheap at any time you want but you'll get your money back only if you ask for a refund within 14 days (first 2 weeks) of your purchasing date.
You can simply cancel your account from your cPanel from Namecheap or contact their support team through live chat or the ticketing system to finish the cancellation process. You won't get any money if you ask for a refund after 14 days of your hosting purchase but you can cancel your account at any point in time.
Can you upgrade or downgrade to a better shared hosting plan in the future?
Namecheap offers a ticketing system where you can simply login to your cPanel account and contact their support team to upgrade or downgrade your shared hosting plans. You just need to provide the domain name of the current package and the name of the package to which you wish to upgrade or downgrade and their billing customer staff will take care of the rest.
You'll have to pay extra money if you're upgrading to a better shared hosting plan. In case of downgrading your hosting plan, the difference between the two packages will be credited to your Namecheap account balance that you can use to purchase domains or future hosting for your business.
Other Web Hosting Reviews:
Hostinger Review 2023: Is It the Cheapest Web Host?
Scala Hosting Review: Is it the best hosting for your site?
WPEngine Review: Is it the best Managed WordPress Hosting?
WPX Hosting Review with 50% Promo Code Inside
HostArmada Review: Is it a Game-Changing Web Host?
Kinsta Review 2023: Is it worth The Money?
ChemiCloud Review 2023: Why We Think It's An Amazing Host?
ChemiCloud Review: Why Are We Recommending Them?
---
FAQs | Namecheap Hosting Review 2023
Here are a few important questions about the Namecheap web hosting review for 2023 that might help you whether it's right for you or not.
What is Premium DNS in Namecheap?
Premium DNS from Namecheap gives your site more security with guaranteed uptime, 24/7 customer support, superior speed, faster response time, and so on at an extremely cheaper price that starts at $5 per year. Premium DNS is one of the most powerful features of Namecheap.
What is Namecheap?
Namecheap is one of the world's largest domain registrars (which is an ICANN-accredited registrar) that primarily provides domain name registration along with web hosting solutions to all kinds of websites and online businesses.
How long do Namecheap DNS changes take?
When you update the nameservers for a domain on Namecheap, it will usually take up to 24 to 48 hours, to be precise, it won't take more than 2 to 4 hours depending on your location (and 48 hours at max).
How do I create a subdomain for my domain from Namecheap cPanel?
To create a subdomain from your Namecheap cPanel account, you need to first log into your cPanel and then select "Domains section" and Subdomains menu.
How to transfer domain from GoDaddy to Namecheap?
To be able to transfer a domain from GoDaddy to Namecheap, you'll need to obtain an Auth Code (in most cases) from GoDaddy and you will need to make sure that the domain is unlocked, otherwise, you won't be able to do the domain transfer from GoDaddy.
Also, if the Whois Privacy Protection service for the domain is enabled on GoDaddy, you will also need to disable it as you can't make any domain transfers if that's enabled.
Who owns Namecheap?
Richard Kirkendall is the founder of Namecheap Inc which founded it in 2000 and Mohan Vettaikaran is the CTO of Namecheap, which is also the fastest growing American company according to the Inc. 5000 which has over 10 million customers worldwide.
Where are Namecheap data centers located?
Namecheap data centers are located in both the USA and the United Kingdom, so if you're residing near to USA, you should probably prefer the nearby data centers which are located in USA and the same goes with UK-based data centers.
How to point the Namecheap domain to HostGator hosting account?
To do that, you first need to login to your Namecheap dashboard and click on the Domain List and find the Manage button (pick the domain that you want to update name servers). On the Name servers section, choose Custom from the drop down menu.
Now, simply enter your name servers that you find on your HostGator hosting account (you can find them in your email from HostGator). You're done.
How to set up free email forwarding on Namecheap?
To set up an email forwarding with Namecheap, firstly you need to login to your Namecheap account and click on "Domain List", then select Manage option. In the Manage option, go to Advanced DNS tab to find the Mail Settings section and select Email Forwarding from the drop-down menu.
Choose the Domain tab and scroll down to the Redirect Email section. Now, click on the Add Forwarder button. Fill in the details and within an hour, your email forwarding will be done.
How to redirect a domain on Namecheap?
To redirect a domain on Namecheap, firstly log in to your account, click on Domain List, and find the domain that you wish to add a redirect to.
Then, enter your domain in the Source URL field (e.g. yourdomain.com) and the link to which you need to forward your domain in the Destination URL field. If you want both yourdomain.tld and www.yourdomain.tld to be redirected, add the record for www accordingly to make necessary changes.
What happens after I purchase shared hosting from Namecheap?
You'll get a confirmation email with your login details. You can simply login into your cPanel account and install WordPress to start creating content and growing your network.
How long does it take to activate my website hosting from Namecheap?
Immediately after you purchase any of the shared hosting plans from Namecheap, you'll get a confirmation email in your inbox. 
Can I buy both hosting and domain name from Namecheap?
Yes, you can buy both of them from Namecheap.
Which is the RIGHT hosting plan for my site?
 It depends on your budget, website needs, and other factors. If you're a beginner and want to try their shared hosting, you can go for either "Stellar" from Namecheap (which costs really less).
Can I get a refund? from Namecheap
Yes, if you're not satisfied with the Namecheap hosting environment and want to cancel your shared hosting account with them, you can get in touch with their customer support team (which is available 24×7) for a refund within 14 days of your purchase.
Browse more Domains Related Tutorials:
---
Final Thoughts on Namecheap Hosting review
If you're just starting out and looking for a reliable and extremely cheap shared hosting environment, Namecheap is a great choice. Considering the fact that, Namecheap is in the domain and hosting business for a decade, you can expect incredible features along with reliability.
So did you like this detailed Namecheap web hosting review for 2023 along with the pricing, pros, and cons? Did we miss anything in the post or do you have any questions before starting a blog on their hosting servers? Share your thoughts in the comments.