So which is better: affiliate marketing or dropshipping?
If you're looking for a profitable business model, dropshipping is best. If you're looking for a low-cost option, go with affiliate marketing.
Affiliate marketing is promoting another company's products and earning a commission on each successful sale you generate.
Dropshipping is where you sell products from a third party (usually a product wholesaler or manufacturer) without ever having to hold inventory. The third-party product creator will ship the product directly to the customer, so you don't have to worry about inventory or delivery.
In this free guide, you'll learn the following;
Affiliate marketing pros and cons
Dropshipping pros and cons
Which one's right for you in 2023 and much more
Are you ready? Let's get started.
Affiliate Marketing vs Dropshipping: Pros and Cons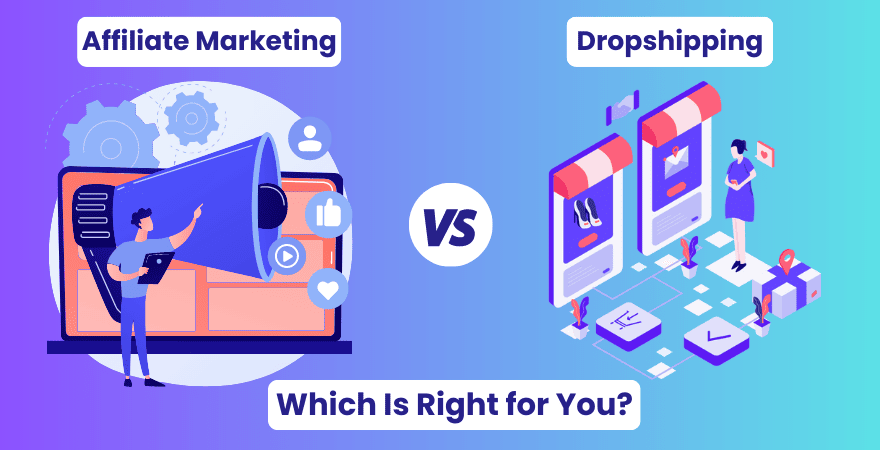 Pros and cons of affiliate marketing
Pros of affiliate marketing:
You don't need any technical skills or prior experience to get started.
It costs ZERO dollars to start selling affiliate products. It's better if you have a website. You can sell products even without a website.
You don't have to provide customer support or ship the products to customers, as the product vendors will take care of those things.
The sky's the limit to your affiliate earnings. But, the commission varies as it depends on the products you choose.
It is a passive income source. It means you can make money even while you sleep. You can work from anywhere. All you need is a laptop with an Internet connection.
No inventory to manage, as the product vendors will manage all of that.
You can build your own brand as an affiliate marketing expert in your niche, which can help you with higher commissions.
There are hundreds of products you can promote as an affiliate. Also, there are a ton of affiliate networks you can join instantly to start promoting.
Cons of affiliate marketing:
It takes time. Most beginners NEVER make even $100 from affiliate marketing. That's because affiliate marketing requires "TRUST." If you build an audience, you can generate sales.
It's NOT in your control, as few affiliate product creators can terminate your account or stop their program without prior notice. The best example is SiteGround, which has terminated its affiliate program in the Indian region.
There's HUGE competition in almost every industry. You need to generate high-quality traffic in order to generate sales, and if there's a lot of competition, your sales will drop.
Your affiliate marketing income is TOTALLY dependent on the performance of the products you promote. If people don't find value in them, they'll stop purchasing.
Pros and cons of dropshipping
Pros of dropshipping:
Just like affiliate marketing, there's no inventory to manage. The third-party product vendor will handle everything, including inventory, shipping, customer support, etc.
There's a HUGE potential for high-profit margins. You can set ANY price you want on the product. That's how you can generate huge profits on each sale.
You can sell many products through dropshipping, ranging from earphones to laptops to leather bags.
Dropshipping is an excellent option if you want to build and grow your own brand and have 100% control over your profits.
It is easy to start, unlike other offline businesses. You only need an online store or a website to start selling products online.
Easier to scale as you can sell as many products as you want, and your profits depend on your overall sales.
You don't have to invest thousands of dollars as you can start with a little upfront investment.
Cons of dropshipping:
Unlike affiliate marketing, dropshipping is an ACTIVE income source. It means you'll have to invest your time to make money.
When you have an inventory of products, you can easily identify the products that are in stock. But with dropshipping, you'll rely on third-party vendors who'll also ship to other people (so the inventory availability can change daily).
You have no control over the supply chain, as you'll work with multiple dropshippers.
No matter how good a dropshipper is, you'll sometimes face fulfilling orders or supplier errors.
---
Tips to Increase Earnings With Affiliate Marketing
We're generating over $15,000 a month from our blog BloggersPassion. Most of that income comes from affiliate marketing.
Here's one of the earning reports from the Semrush affiliate;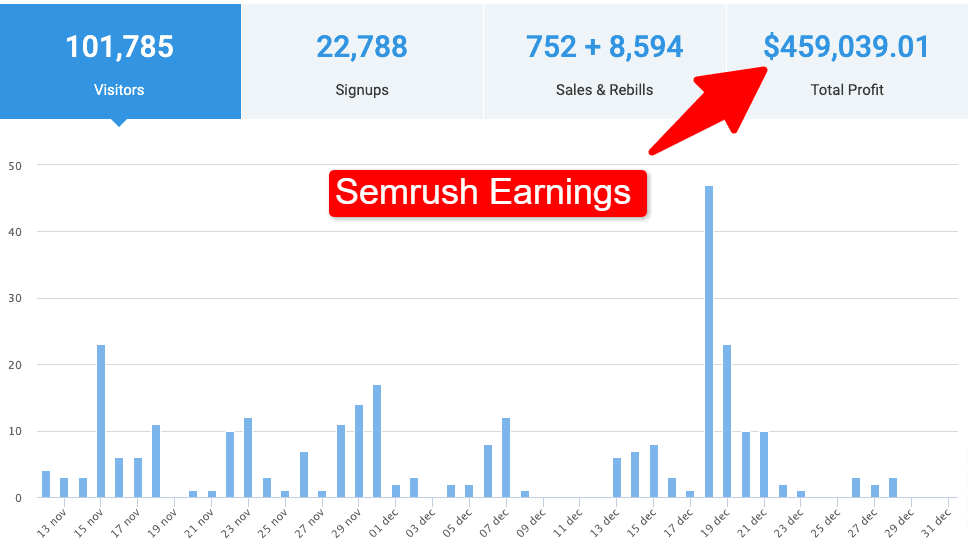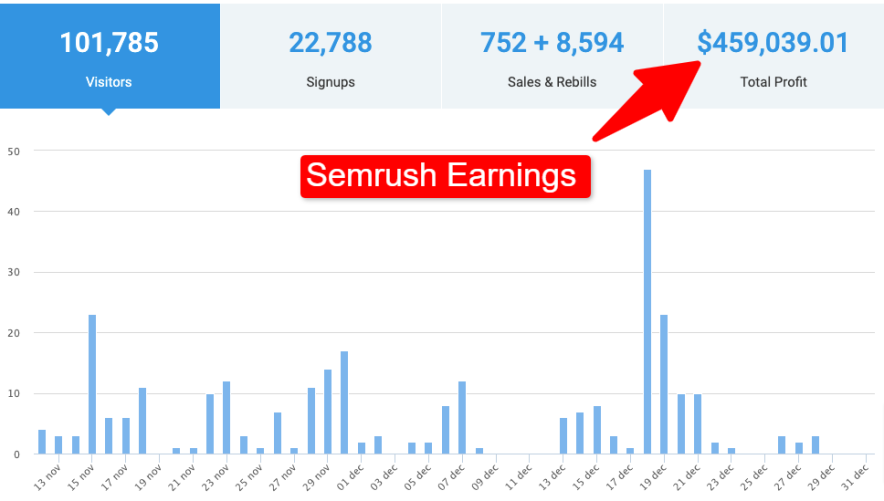 If used right, affiliate marketing can generate a ton of money.
Here are some things that work really well for us to generate more affiliate sales.
Focus on SEO: You need a lot of website traffic to generate more affiliate commissions. Not random traffic but targeted website visitors. The best way to generate targeted traffic is through search engines like Google.
SEO (Search engine optimization) can be your best bet. You should find relevant keywords when creating content for your affiliate website. You can use a keyword research tool like Semrush or Ahrefs to help you find the right keywords.
Know everything: Know everything about the affiliate products you're recommending. Don't promote a product just because it offers high commissions. Trust is the key to more sales.
You'll gain trust when you recommend helpful products to your audience. Write more informative and engaging content about the products you promote. Try to talk about the real-life use cases of the products and how to use them.
Be honest and transparent: Don't just recommend products because you get a commission from them. Be honest with your audience about the pros and cons of the products you recommend. Try to show them better alternatives if any.
Provide incentives: Last but not least, you must provide special discounts, free trials, or offers. We made over $450,000 from the Semrush affiliate program because we were able to provide exclusive 30-day free trials for many years. You'll often have better conversions if you can offer something "exclusive" to your audience.
---
Tips to Make Profits With Dropshipping
So how to generate more profits with dropshipping? Here are some proven ways for you.
Be picky: You'll succeed in dropshipping only when you sell great products. That's why you need to be selective about the products you recommend. Don't just recommend any product that comes your way. Only recommend products you believe in and think will be valuable to your target audience.
The reason ONLY a few people are successful in dropshipping business is because they always care about their target customers. They only recommend products that are actually worth using.
Identify your target market: If you observe any successful dropshipping business, you'll notice that they understand the NEEDS of their target customers.
Make sure to know who you're targeting. Who are you selling to? What are their age, gender, income level, interests, and needs?
In dropshipping, it is crucial to know your customers by understanding their wants and needs.
Offer excellent customer service: Most beginner dropshipping websites miss this out: they don't provide customer service at all.
How can someone trust you if they're NOT sure about the product's quality? If you can provide quick support and offer a money-back guarantee, you'll boost your sales. Thanks to AI chatbots like ChatGPT, you can now easily provide automatic responses.
Do competitor research: To succeed in dropshipping, you MUST find and analyze the competitors. Make sure to pick a small niche market and use tools like Semrush to quickly find the competitors in your niche.
Make a list of all the products they sell. Find out all their high-traffic pages and keywords so you can also target those pages to get more traffic from Google.
Most beginners often forget about competitor analysis. That's why they never go forward. Don't make that mistake.
Above all, you should offer special rewards to customers who repeatedly purchase from you. You can offer extra discounts, free shipping, special offers, or other things. That's how you can build a loyal customer base who'll purchase from you again and again.
---
Dropshipping or Affiliate Marketing: Which is Easier?
So which one is easier: affiliate marketing or dropshipping?
Both these business models are tough, and they both have their own challenges.
Also, they both are rewarding. If you're willing to put in the work, you can get excellent profits with either one.
With affiliate marketing, you need to build an audience, know their needs and recommend products that solve their problems. Building TRUST is the key to generating more affiliate sales.
With dropshipping, you need to manage several things, including finding relevant products, offering customer support, managing inventory, and more.
In that regard, affiliate marketing is easier than dropshipping.
But… you need to remember a few more things like;
Dropshipping can be more challenging to scale, as you'll need to find new suppliers as your business grows regularly.
Affiliate marketing is where you need to educate your audience through blog posts, videos, or email newsletters.
Ultimately, the best way to decide which is right for you is this: try to experiment with both and see which one you prefer.
---
So which one is right for you?
Which business model is suitable for you? Affiliate marketing or dropshipping?
There are a few things to consider before deciding, including;
your skills, passion, and interests
Your prior experience
Your investment
Affiliate marketing may be a good fit for you if you want to promote others' products and earn passive income.
However, dropshipping is the way to go if you're interested in setting up your own business (like an online store) and selling products without having to handle inventory.
Final thoughts
Both affiliate marketing and dropshipping are excellent business models for beginners and advanced marketers. They both require little upfront investment and the sky's the limit when it comes to earnings.
Choose the one that suits your skills and expertise. If you want to build your own brand, dropshipping is best. If you're looking for a passive income source, affiliate marketing is a great choice.
So what do you think about the comparison of affiliate marketing and dropshipping? Which one are you going to try in 2023? Have any questions? Let us know in the comments.
Related Posts:
FAQs on affiliate marketing or dropshipping
Here are some FAQs most people ask about dropshipping vs affiliate marketing.
What is dropshipping?
Dropshipping is a business model that purchases inventory and fulfillment logistics from a third party instead of shipping the products themselves.
What is affiliate marketing?
Affiliate marketing is a commission-based business model where you earn a commission on every successful sale through your referral links. 
What are some of the most popular dropshipping platforms?
You can use the following platforms for dropshipping.
– WooCommerce
– Magento
– Shopify
– OpenCart
– Spocket
How do I find high-quality affiliate products to promote?
You need to know your target audience needs. Only then, you can find products that solve their problems. You can use platforms like Amazon, Clickbank, CJ.com, etc. to find tons of affiliate products to promote.
Is affiliate marketing free?
Yes, affiliate marketing is free as you can promote affiliate products even without a website. You can use email lists, social media platforms, etc. to start affiliate marketing. However, having a website can help you with SEO traffic.
How much does it cost to do dropshipping?
Starting a dropshipping business should cost under $100 to $200. You need to set up a website or online store to start selling products to your customers. The budget depends on the web hosting provider you choose and the tools you use to run your store.