Are you a travel enthusiast? Are you looking for the top travel blogs in India? You've come to the right place.
One thing I like about travel blogging is it gives you freedom.
It helps you:
Spend your time however you want
TRAVEL around the world (whenever you want by making money on the go!)
Travel blogging is NOT new.
Ever since Tim Ferriss released the book The 4 Hour Work Week, it has spread like wildfire. it is evolving swiftly in the recent years in India.
If you're in a hunt for the top travel blogs from India, this post is a treat for you.
Are you curious to find them out? Let's get started.
Top travel blogs in India you should follow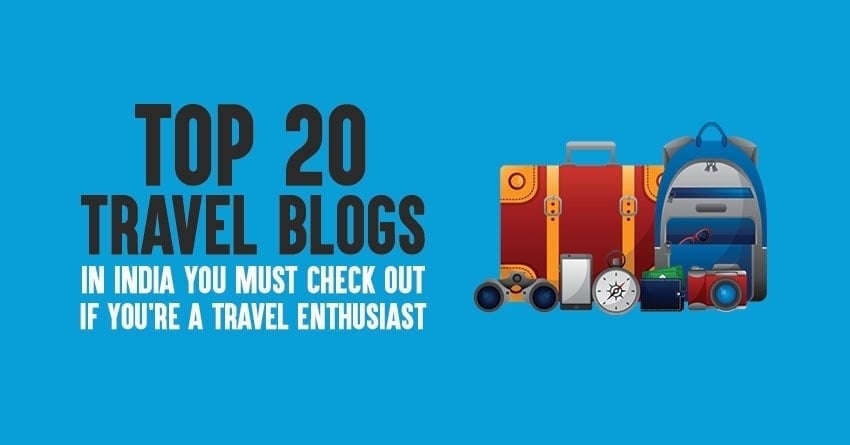 Quick note: This post will be updated frequently. If I missed any of your favorite travel blogger in the list, please make sure to let me know in the comments so I can update the post. I'm going to mention the names of the bloggers as well so it will be easier for you to recognise their blogs.
Shivya Nath is a young Indian travel writer, quit her corporate job to travel the world in 2011 and on a mission to inspire other young women to travel solo and be independent. She has received many travel blogging awards.
She turned her passion of travelling into a means of living. She has been to more than 20 countries across four continents and also writes for various online and offline publications. She writes about lesser known destinations.
Her blog "The shooting star' is undoubtedly one of best blogs in India where can read about living in chocolate farms of Costa Rica to hitch-hiking tour of Romania. She has also been featured on various leading channels and publications like Times of India, NDTV, BBC Travel, etc.
She writes the destinations to be seen in the countries she visited, the hotels to live and several travel tips.
Ankita Sinha is one of the stylish travellers who believes in discovering and exploring the corners of the globes rather than adding names to her travel list. In just 2 years, she travelled to 7 countries, covering 12 international destinations.
She has been invited by Visit Britain, Visit Scotland, Canada Tourism, Thailand Tourism and several other international brands. She has also won a couple of awards for her writings, and is known as one of the best adventure bloggers.
You will learn how to indulge in the most extreme adventure sports, including mountaineering, cliff jumping, zip lining and more on her blog 'anki on the move' you will also get the information like best time to visit places, adventurous places. She has also a video blog related to each place she visited.
If you are an adventurous freak then you should definitely visit her blog.
Lakshmi Sharath is a multi-talented world traveler as well as an explorer. She is also an inspiration to all the women solo travelers who wish to travel the world. She gave up her 15 years corporate job and have covered five continents and been to over 25 countries.
Her passion lies in exploring the nooks of India and mainly focuses more on Indian villages. If you would like to know more about the cultures of your hinterlands in your own country, then head onto her blog LakshmiSharath.com'.
She loves to find hidden temples and villages which are not found on any map. She got India's best travel blog of the year award in 2008 and has been rated on several lists among the Top Bloggers in India and digital media influencers in the country.
Anuradha Goyal motivates others with her book and travel writing. Having lived in many cities, she has been blogging for more than 8 years. She worked in IT industry for more than 12 years and it has been more than 7 years that she gave up formal employment and now also does consulting in Business Innovation.
Her book reviews are all listed under one blog called AnuReviews. She is also the author of The Mouse Charmers – Digital Pioneers of India.
In her blog, 'Inditales', she shares stories related to international travels, places she visited in India and travel tips, how to reach the destination. You can also have a peek into the hotel reviews she visited on her trips.
She has a passion for travelling around the world. She started blogging in 2005 and her blog was honoured as the 'best travel Indi blog' at the India Weblog Awards in 2007. She did a Ph.D. from IIT Kanpur and quit her job as a professor in 2015.
Her blog has also been applauded by the BBC and the Guardian, National Geographic Skoda Yeti Video. On her blog, 'Travel tales from India', you will find hotel reviews of the places she visited, adventurous trips, travel insurance, what places to see at different countries, how to reach to travel destinations.
She loves travelling in metro trains and covered several metro posts from few cities in the world.
Recommended: Most popular blogs on Women to Follow in 2021
He is not just any type of blogger, he is a biking blogger who has been featured in many top media outlets.Travelling is his life, career, passion and inspiration. His blogs and photographs have been all over, some of them were even featured in the National Geographic Traveller India Magazine.
He left his 8-year old corporate sales and marketing career in the IT industry and started traveling across the world. He blogs about vegetarian cuisine, wildlife holidays, unique cultures, and visas for Indians in 'Be on the road' which is his travel and photography blog.
It also talks about Travel Tips, Travel and Vegetarian Food, Travel and Fashion, Travel and Technology, Travel Gear, Travel and Finance, Travel and Visas, Travel in India, Experiential Travel Stories, Rich Global Travel Photos and much more.
There is an 'Incredible India' section on the blog which lists all top holiday types such as motorcycling, honeymoon destinations, monsoon vacations, food trails, etc. There is also a section which is devoted to videos and pictures and will give you an idea of your journey.
If you are looking to travel cheaply and efficiently, and especially love to explore India, then you should visit his blog.
Siddhartha is a product designer with a passion for traveling and sharing experiences who travels with a motto and truly believes that we live only once. He makes most of his life by travelling around the world and possible even outside.
Started blogging in 2010, he has been bringing out the best travel-stories. He also runs a project called "Tell Me Your Dream" where he captures the simplicity of hopes and dreams of people.
He truly believes that only traveling can break barriers and make us more tolerant and accepting of our differences. He got featured in Times of India, Hindustan times, the better India, business standard and also nominated for Indian Blogger awards too.
His blog 'The Wanderer' is one of the must read travel blogs talks about culture, architecture, street food and also captures the soul of places across the globe. He also writes detailed review of hotels, coffee shops and restaurants with pictures that will make your travel easier. You can also find travel tech related posts.
If you want to know the places that can be visited with families, then you should visit his blog 'desi traveler'. You can get all the advice you need on travelling to locales such as UK, US, Thailand, Hong Kong and Switzerland from his blog. You will get an insight on holy temples of India.
He is a regular everyday traveler who visits different places with family like most Indians. In his blog, you will find not just about the places he visits but it is about what he has discovered.
You will find personal travel stories and travel tips with a focus on travel that connects you with local people.
The pictures on his blog do not just showcase the places he visited but also has human element in them. He majorly focuses on something that can be enjoyed by a family.
Ajay is one of the top bloggers in India and also a passionate photographer. Ajay took a trip to Kunzum La pass in Lahaul Spiti in 2007 and this amazing trip turned out an inspiration and he started 'Kunzum.com' blog.
He also runs Kunzum Travel Cafe in Hauz Khas in Delhi. As you enter this cafe, you will be impressed with the ambience of the place. You can easily hang around at this place , meet travel minded people over a cup of coffee and pay whatever you feel like.
Ajay has a unique style of writing, exciting stories along with captivating images and videos has won him many followers. On his blog, you will find both International destinations information and destinations in India. You will also get information related to hotel reviews of the places he visited, what routes to take, tribal places, holiday destination places.
Sam and swati are software engineer duo who has passion for travelling. In their blog 'The Tales of a Traveler' the couple shares the best of luxury stay, offbeat locations, food finds, weekend getaways, restaurant reviews, and travel tips to plan your vacations having a full-time job.
They save their hard earned money to travel the world apart from occasional sponsored trips.They travelled to 13 international destinations and 22 states in India in just 3 years.
You will find a menu tab called 'travel tips' in which you can access helpful tips for travelers such as tourist visa for Indians, travel ideas, etc. They also share photoshoots of the places they visited on their video blog.
Rohan is a person with an undeniable passion for exploring the quirky trails of India.
Through his articles, he shares his amazing experiences with others in his blog 'Traveler lust' so that more people can receive an explicit idea of how one should plan the trips and what all nooks and corners can be covered during the trips.
You will find several information like travel tips, travel guide, places to travel, reviews, adventurous places, trekking, flower markets etc.
He's one of the best bloggers that you should follow if you want to learn more about travel blogging and living an adventurous life.
Neelima Vallangi is obsessed with the mountains and does not travel to the usual destinations. She always wishes to unravel the lesser known places in India. She traveled to Ladakh in 2008 and that trip turned her into a hopeless and incurable travel addict.
An incredible travel writer and photographer Neelima started chasing her travelling dreams since then. She very recently quit her job as a programmer just to be a full time traveller. Her stories and images have appeared in BBC Travel, National Geographic Traveller India, The Hindu and The Alternative to name a few.
She has cycled up to Ooty, to Mullayanagiri, Munnar, Thekkady, Madikeri to name a few where she covered at least 150+kms over the weekend with lots of uphill climbing and downhill riding. In her blog 'travel with neelima', you will find the places to be visited in any country that she visited.
Sudha Ganapathi is an armchair and actual traveller, a book nerd, an editor, a communications consultant, an amateur photographer, a classical music (Indian, Western and Arabic) lover, a mythology enthusiast and a closet graphic designer.
Mumbai based Sudha writes occasionally on social issues that matters to her or interest her. She has been to places which have featured in paintings like Canaletto's 'A view of Greenwich from River Thames' near London or Constable Country in Suffolk, United Kingdom, where John Constable painted his most famous landscapes.
You will find all the places that should not be missed in Indian states that she visited and also other countries. Her blog 'My favourite Things' is definitely one of the best blogs from India where you will also get information about travel, books, photography and design.
The Bangalore based wanderer narrates her travel experiences with the world through her blog 'i share these'.She classifies her travelling moments as vacation, virtual travel, and UNESCO world heritage sites and these expeditions have expanded to countries like Italy, Austria, Thailand, the Vatican City, Belgium, Germany, France, Switzerland etc.
Her travelogue has been published in an international book and also her article on Eco-tour has been published in a national magazine. So far, she had been to 20 countries and covered many states in India.
You will find what places to visit in the countries that she visited, cuisine that is special to those places, hotels to stay, products that are special and unique to the place.
A software project manager by profession, Dheeraj Sharma is an avid traveler, a day – night dreamer and a passionate lover of Himalayas who has a high zest for driving whilst exploring new places in Himalayas.
He is working hard to materialize the vision & mission of DoW Travel Community. He is a pious worshipper of Leh-Ladakh and has successfully explored some of the off-beat destinations on wheels in Ladakh and shared travel guide on his blog 'Devil on Wheels'. The one tip he always gives for anyone traveling in Himalayas is 'Leave Early, Sleep Early'.
If you love himalayan trips and need complete guide for that, then his blog helps you with all the information you need. You will find good hotels to stay, guide to Leh and Ladakh from anywhere. You can even ask him for guidance in planning your trip and you will get an immediate response.
With fabulous pictures and picturesque landscape photography, Aravind writes about his journeys and adventures through different parts of India.
You will find more scenic photos in every place he visited in his blog 'Treks and travels'.
His article on the jeep safari through Leech waterfall is quite adventurous with some excellent images.
Every article on his blog is attention grabber as they are more a photo-essay with vivid photographs.
Arti enjoys traveling to spiritual destinations in India and records the experiences in her blog 'My Yatra Diary'.
She loves to travel with her best friend – her father and both have visited the unknown places of the world together.
You will find delightful photographs, places to stay and eat, shopping and much more. She shares travel tips to pilgrim tours in India. If you like to explore spiritual places then you should definitely visit her blog.
If you love road trips on bike then Venkat's blog guides you with all the information. After his amazing solo bike trip in 2011, he quit his job to travel around India on a motorbike. He travels without a plan to unknown destinations, having misadventures where none exist.
If you are on a mission to travel across India on Motorbike then you should follow 'IndiaBackPackMotorBike.com' for travel tips. It will influence and inspire you to hit the road. You will find travelling guide to several places on motorbike and budget travel advice.
The Pune based business analysts, this amazing couple share their love of travel and photography. Travel has become simply an integral part of their lives.
It started as a photo-blog on blogspot to fulfil the requirements of a photography competition in 2010. After more than one year they started including travelogues along with the photographs and continued to expand further.
In their blog, 'shadows galore' you will find travelogues, travel tips, photo essays, photography lessons, book reviews, film reviews, travel ideas, travel guides, hotels to stay, luxury retreats and much more.
Sandeepa is an Electronics Engineer who designed circuits and is now the writer for this blog. Chetan worked in digital media for almost 12 years and is now the photographer for this blog. The amazing couple with a desire to uncover the amazing beauties around the world has travelled to numerous destinations.
They quit their jobs, sold their house and decided to travel the world. They have traveled widely across India especially the Himalayas. They have traveled extensively around South America, New Zealand and some of Southeast Asia. The have been featured in Your Story, Yahoo Travel, Indiatimes, The Better India, Scoop Whoop, Tripoto and much more.
They have brilliantly captured each and every journey of their life in their blog, 'Sandeepa Chetan' you will find step-by-step guide to travel to places like Kashmir and biking trips, food trips, beaches to see in every place and much more.
Recommended Reading: Best Travel Affiliate Programs from Bloggers
More Resources Worth Checking:
FAQs
1. What is a travel blog?
Like any other niche blog, a travel blog is where you can share your travel experiences with your audiences and make money online.
2. Do travel blogs make money?
Yes, they do. You can earn a decent amount of money from a travel blog as well.
3. How do travel bloggers make money?
For travel bloggers, there are so many ways to make money starting from Advertising, affiliate marketing, ebooks, sponsored posts, etc.
4. What are the best travel blogs in India?
The Shooting Star, Anki On The Move, LakshmiSharath.com, Anu Reviews, Travel tales from India, to name a few.
5. How can I become a travel blogger in India?
To become a travel blogger all you need a domain name and web hosting and start sharing your travel experiences.
Conclusion about top travel blogs from India
As I said earlier, travel blogging in India is evolving at rapid pace.
If you're a travel enthusiast, I hope you like the blogs that mentioned on this page. Make sure to check out the blogs, subscribe to them if you find those topics interesting and do connect with them to start your travel journey (if you're interested).
Did I miss any of your favourite travel blogs from India in this list? Do share your thoughts in the comments and I'd be glad to include them in the list.